After almost 2 weeks in Ft Lauderdale on the mooring ball, we were ready to get moving again. We had ordered parts and repaired quite a few things that had broken in the Bahamas: new anchor windlass motor ordered and installed, new propane solenoid control panel, repaired primary winch, etc. We had also spent a lot of time at the beach, seeing friends, eating out, shopping, and going to a couple of movies. Definitely a great intro back to the States.
The plan was to head north in the Atlantic Intracoastal Waterway, go as far as we felt like during the day, and choose an anchorage when we felt like stopping. This area is notorious for having lots of drawbridges with restricted openings, meaning that they just don't open on demand, instead opening on a schedule. For instance, if a boat is requesting, the bridge will open on the hour or half hour. Or maybe the :15 and the :45. 30 minute increments are normal.
We weren't sure, then, how long it would take, and we also weren't sure if it would be super annoying waiting on the bridges where we might want to break up the travel into more days. Lot's of cruisers really hate going through areas like this, and we had heard and read complaints about this particular area of transit. However, we have done days with lots of bridges in our travels on the Gulf side Intracoastal, and it never seems to bother us as much as others.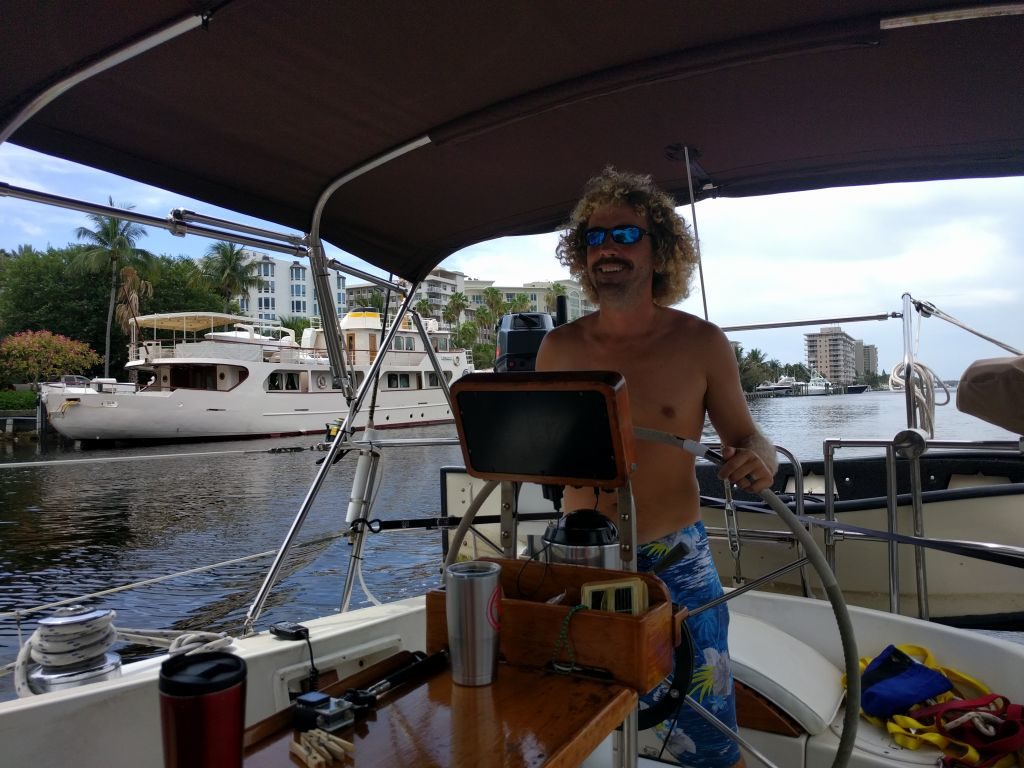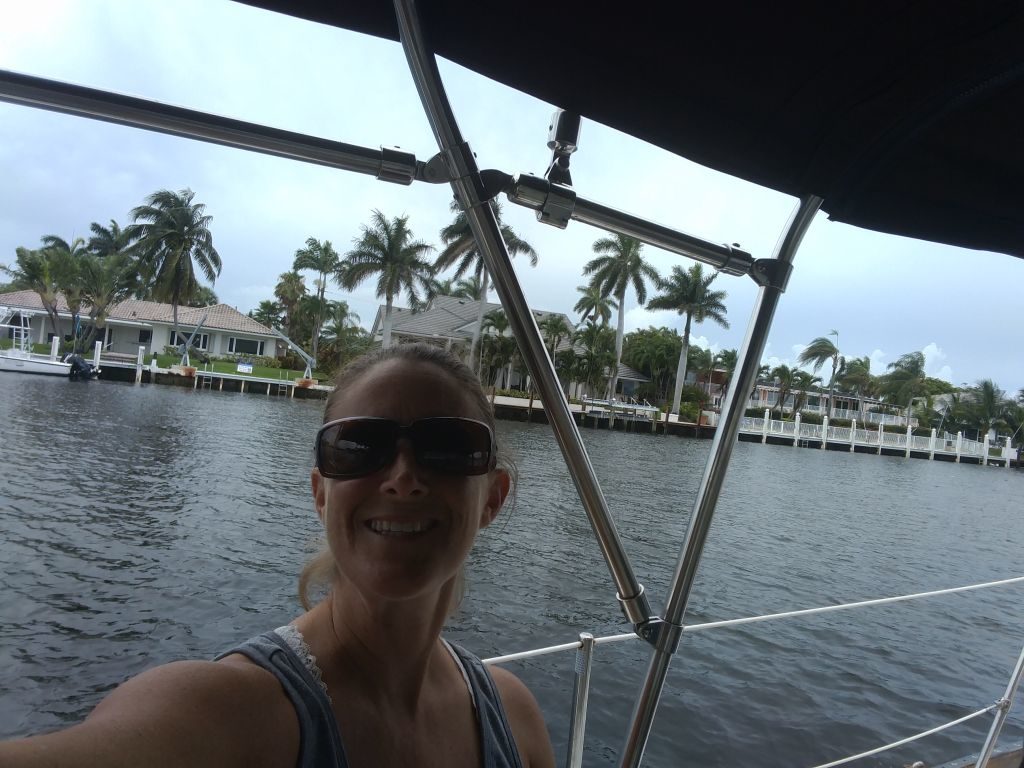 We set off about 8:30 AM with the attitude that we would see a lot of cool boats and houses and that the different bridge openings would be a neat experience too. Lindy had written down all the bridges with the opening schedules and the miles to travel between them. I studied the list and noticed that if I hauled booty, I could just make it to a bunch of them, hitting the openings just right, not having to wait around, and making great time. This area of the Intracoastal is all mostly narrow. So, it would be a day of motoring.
We made it under the first few bridges and were having a great time. Both of us could pretty much tell it would be a fun day and that we would probably keep going about as far as we could get before sunset. Most of the anchorages around here are just for overnight resting and don't have shore access. You're basically anchored in the backyards of gajillion dollar houses. So, there isn't really any benefit to stopping unless you just want rest. The few anchorages with shore access sort of look like Ft Lauderdale part 2 or 3 or 4. Not that that is bad, but we had just spent a while in Ft Lauderdale and were ready for a change.
We knew that the North Lake Worth anchorage in Palm Beach was somewhere we wanted to stop and thought we could make it with a little day light to spare if I could keep Holiday moving close to 7 miles an hour between a few of the bridges with tight schedules and distances. If we didn't quite make it to a few of them, each miss would be a half hour wait, and we'd need to anchor a little further south. No biggie.
We had also learned from The Facebook that our friends Ken and Lisa on SV Quest were at that anchorage. They were on their way south, but as often happens while cruising, it might work out just right where we would get to hang out for an evening before heading in different directions. We had met Ken and Lisa in the Exumas at Warderick Wells. They are also on a Tartan, and we were excited at the chance to see them again.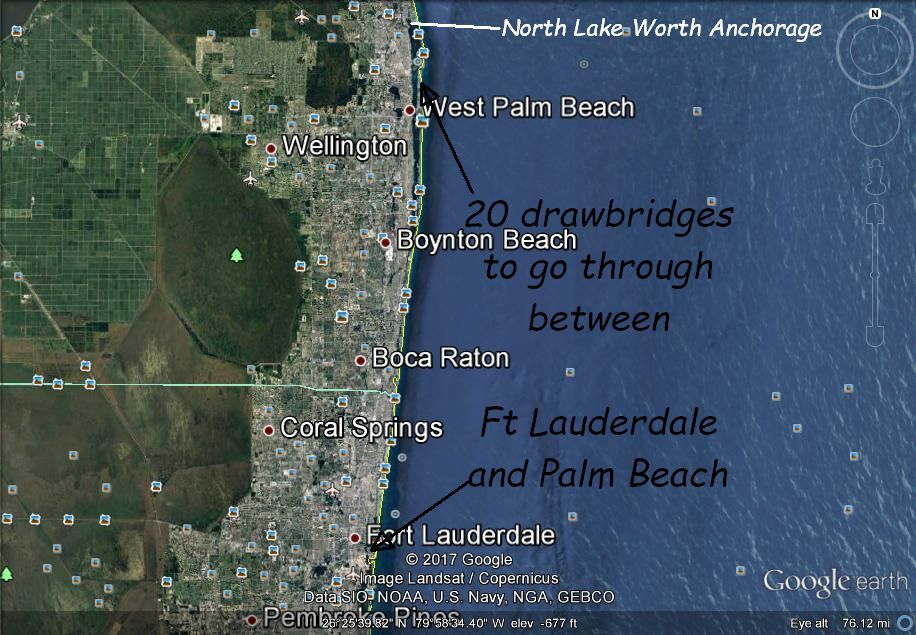 We continued on through the middle of the day sometimes going under a bridge every 15 minutes and sometimes it would be 45 minutes or so. There was never an hour that we didn't go at least under one drawbridge. Holiday did well and with a favorable current we were just squeaking by and making the openings we had planned out.
Cruisers that come down through the crowded winter will probably find this unbelievable, but other boat traffic was minimal. I had heard horror stories of constant giant wakes from giant yachts and crowded waits for bridge openings where you were worried about hitting others or being hit while trying to hold position in wind and current.
All day long, we were the only boat at the bridges we went under, and we would go hours at a time without crossing another boats path. Travel this area on a weekday in the summer, and boat traffic isn't an issue. I think we had two, maybe three big wakes rock us in almost 50 miles. The traveling was relaxed, and we enjoyed it a lot.
Imagine a 50 mile plus span of road  with giant luxurious estates on both sides. That's what we went by all day. Hard to imagine where all that money comes from. Most of these houses aren't your average rich person house. Literally it's hundreds of mega rich people's houses lined up in a row. Cool sight seeing for sure. These are pro athletes, movie stars, etc, and their neighbors.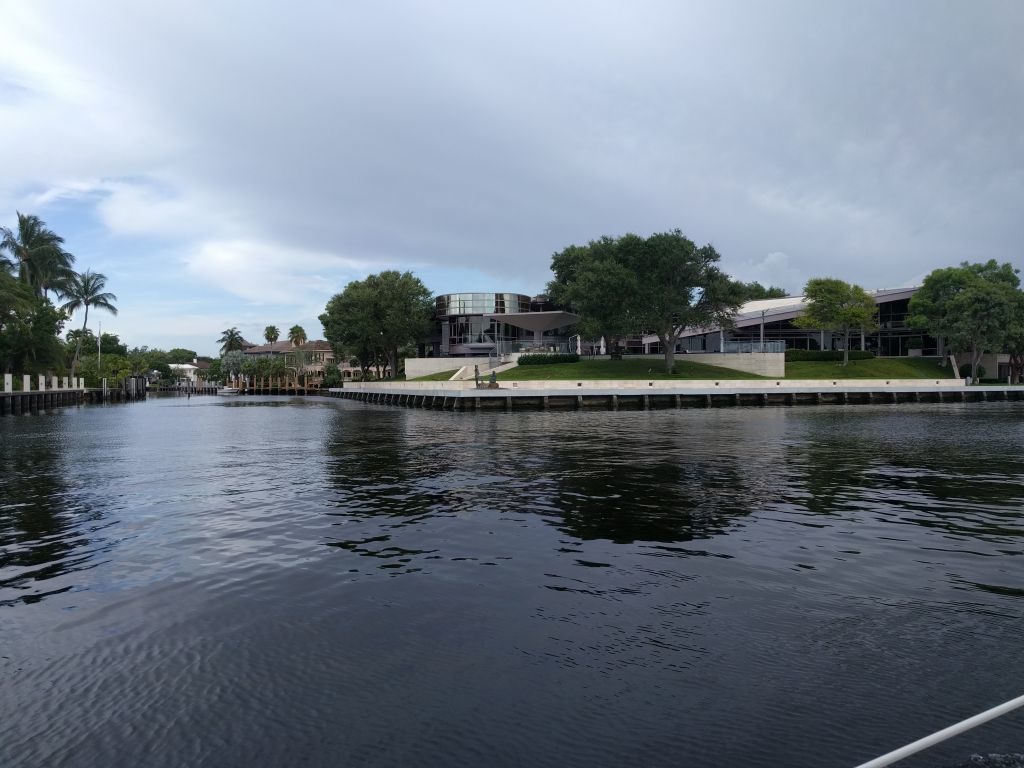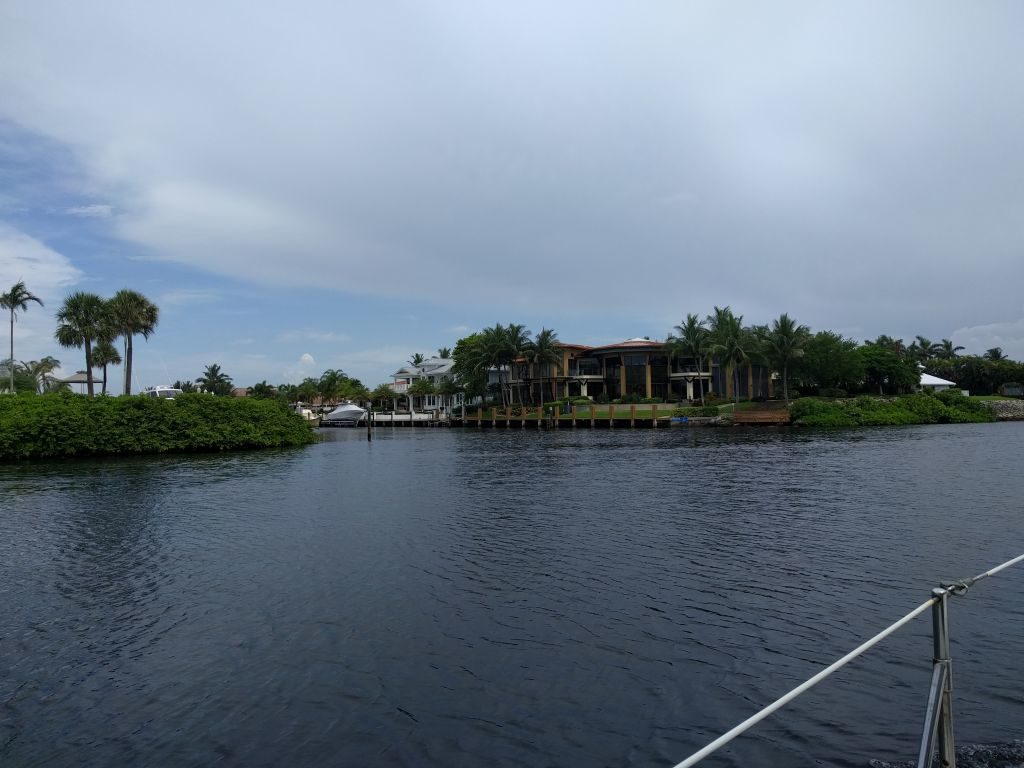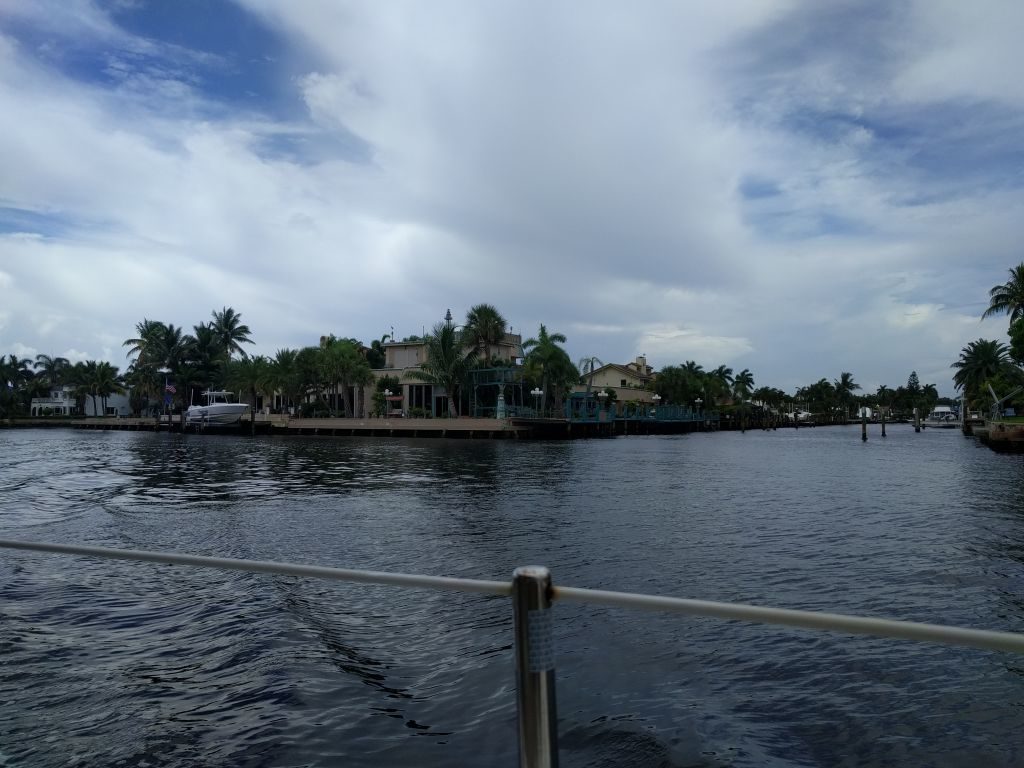 As afternoon approached, we were noticing darker, threatening skies to the west of us. As it appeared they were moving closer, Lindy brought up the weather radar. Wow! Florida looked a mess. Hard to believe that we hadn't gotten rain already. However, the proximity of the bad storm had made for more comfortable lower temperatures for us. And, although unlikely, we never got rained on that day until after we were anchored, even then, not much.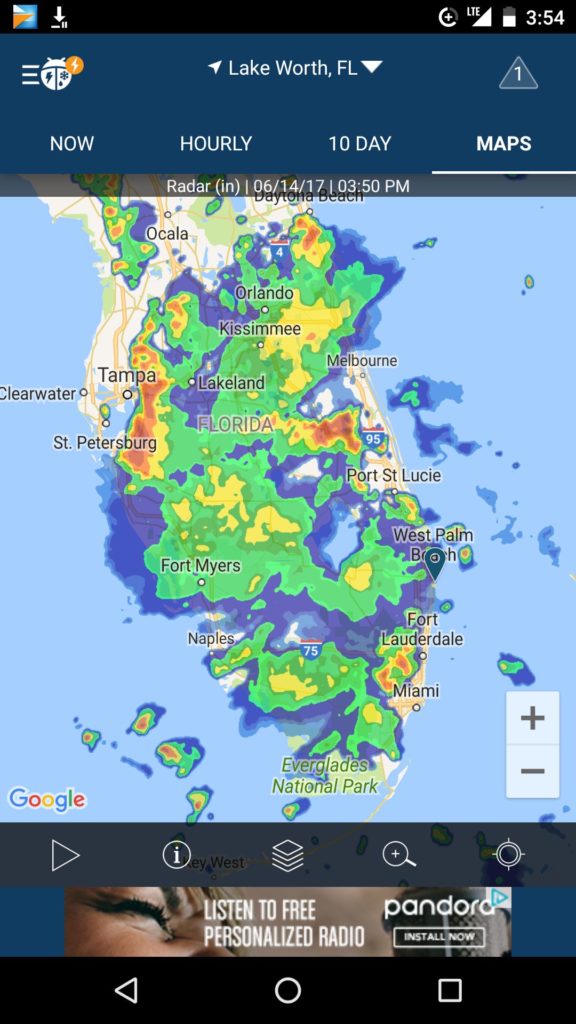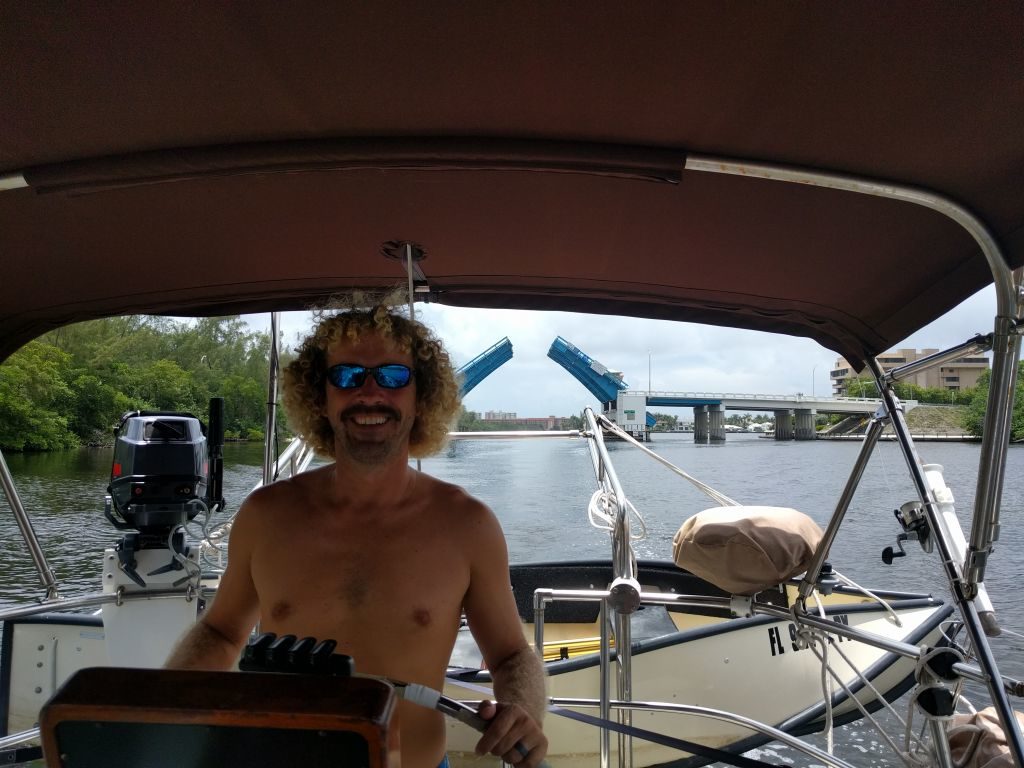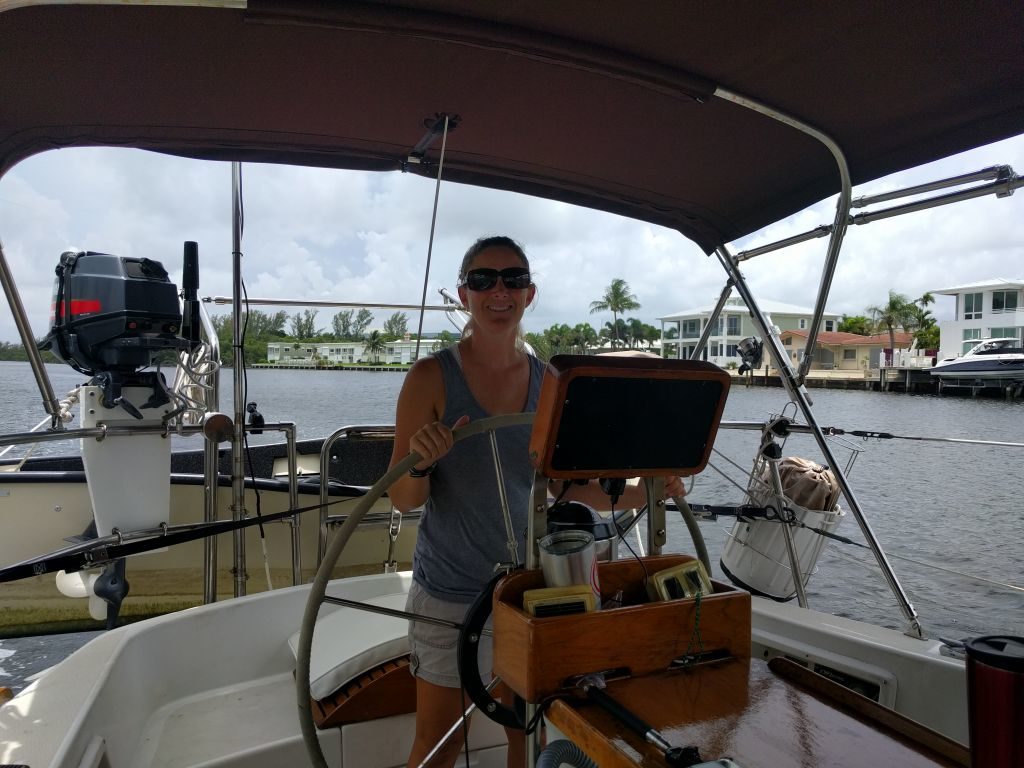 As we approached Palm Beach, we noticed an Active Captain "hazard" mark along the Intracoastal on our electronic charts. We always click on these if they are on our route to make sure we don't run over something or what not. Well, this one was labeled "Southwest Edge of Presidential Exclusion Zone". Hmmmm, that certainly required more investigation. Lindy busted out The Google, and it turns out we were about to go past President Trump's Mar-A-Lago Club. Whenever he is visiting, there are security zones set up where boats either can't go or must continue on without stopping.
Since we were entering Security Zone 2 and had a drawbridge to go under in it, we were curious if The Donald was around. Lindy found a website that indicated he was elsewhere so we continued on glad that we probably weren't being monitored by the Secret Service (probably by the scope of a high powered rifle). In addition to the rule we found below, we read elsewhere that boats waiting for the drawbridge were excluded and could stop, but that you might get a quick inspection by the Coast Guard or other security officials on boats while waiting.
"Zone 2: All vessels transiting the second zone shall maintain a steady speed and shall not slow or stop from waters of the Lake Worth Lagoon including the Intracoastal Waterway from the southern tip of the Everglades Island in the north to approximately 1000 yards from the south of the bridge on the south and from the western shore line to the western edge of the Fisherman Island in the east."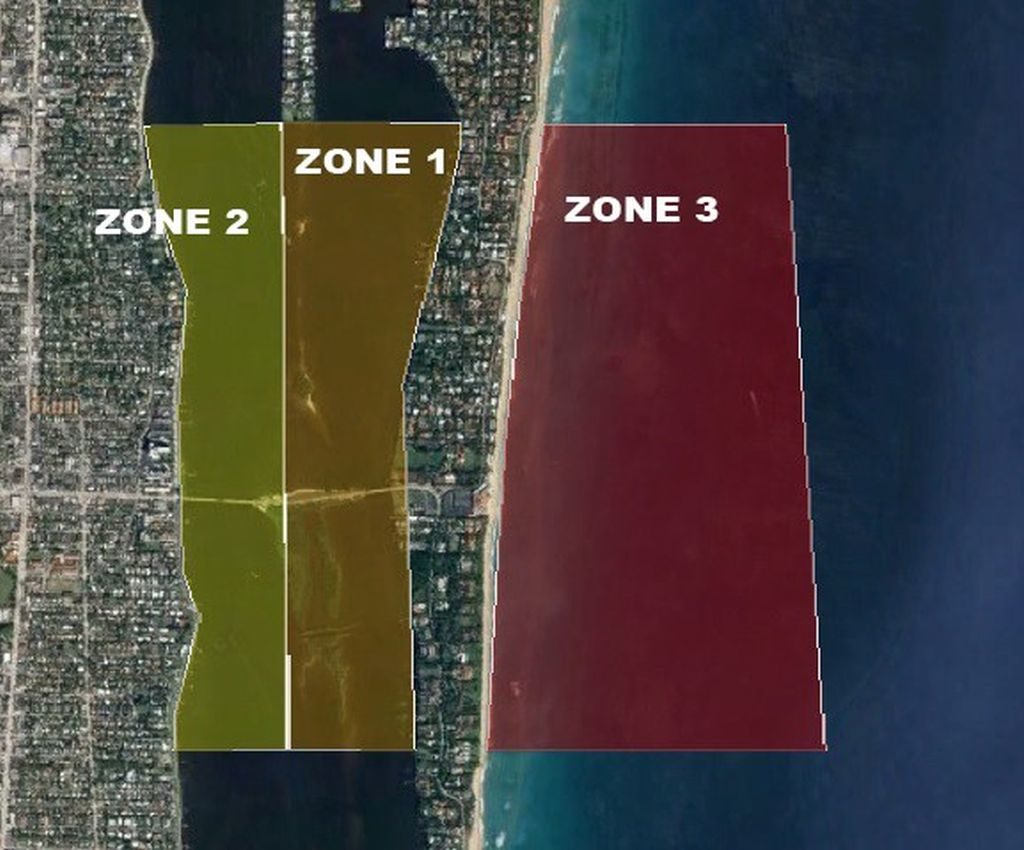 The Mar-a-Lago sighting was interesting but thankfully uneventful, and we motored on, now getting close to our anchorage. It had been a long, fun day, and we could now tell that we would make it to the North Lake Worth anchorage.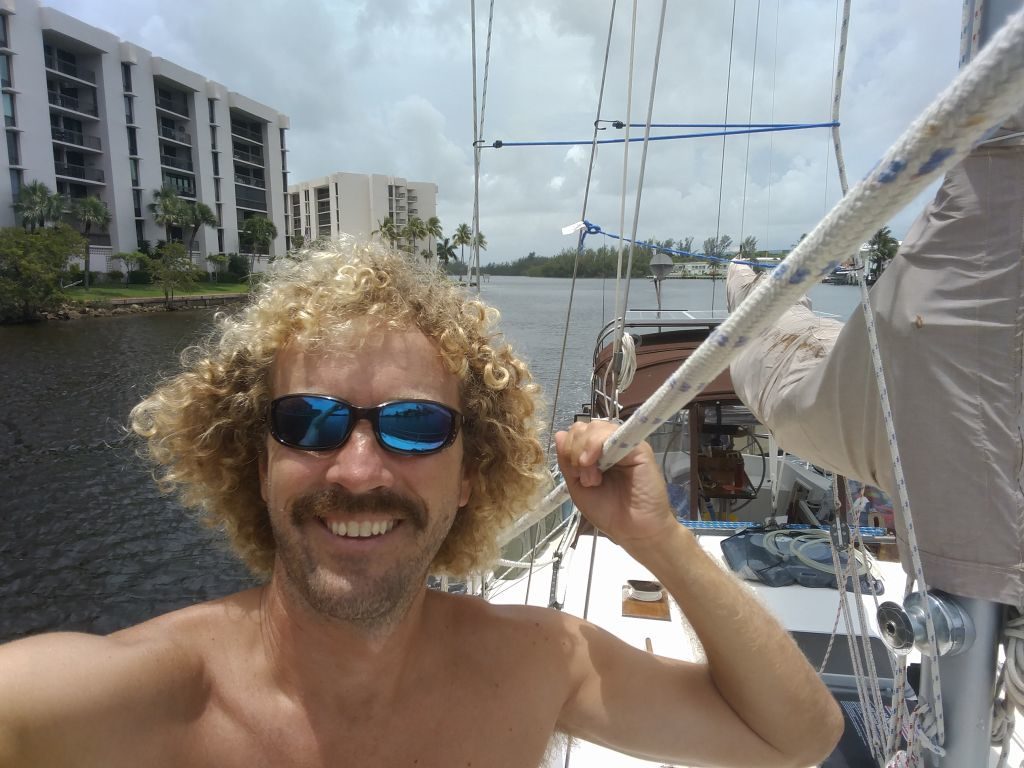 As we approached our last drawbridge before the anchorage, we tallied up our total. 20 drawbridges! I couldn't believe it. Honestly, I would have guesses 12 or 15 or so. We had only just missed an opening maybe twice all day, having to wait most of a half hour period. All the others, we either made just in time and didn't even have to slow down or got there within 10 minutes of the scheduled opening.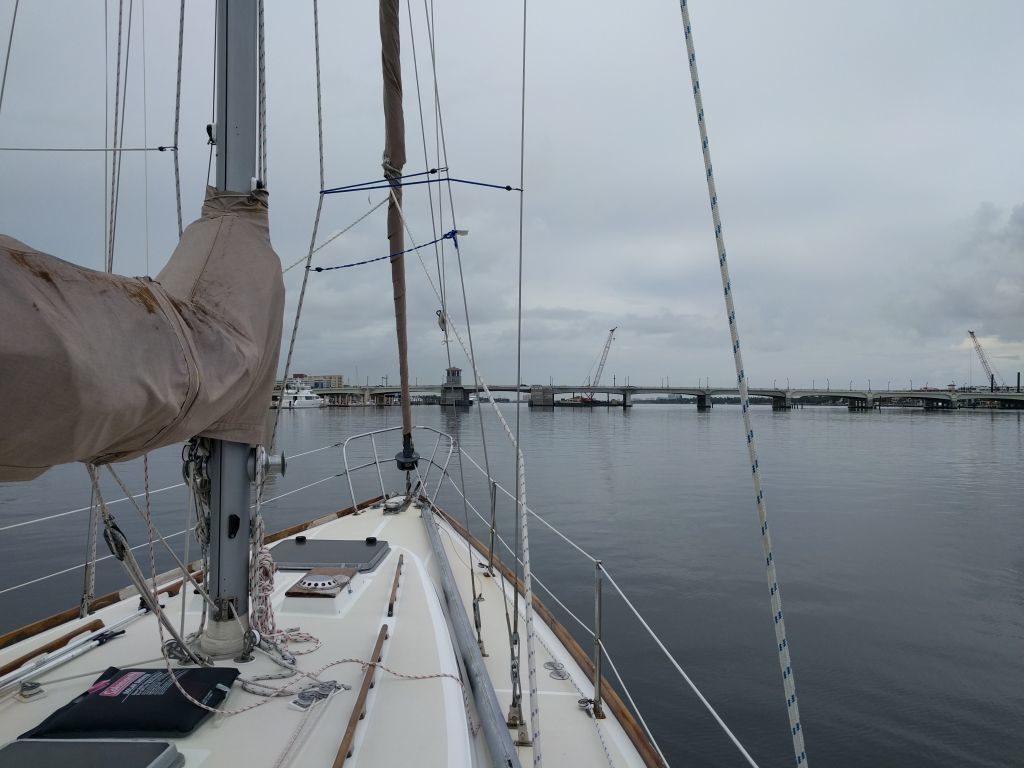 At about 6:30 PM, 10 hours after leaving Ft Lauderdale, we dropped anchor next to Quest. Tired as can be, we were thankful that Ken and Lisa had prepared dinner and invited us over. We ate, swapped sailing stories, and watched this beautiful sunset.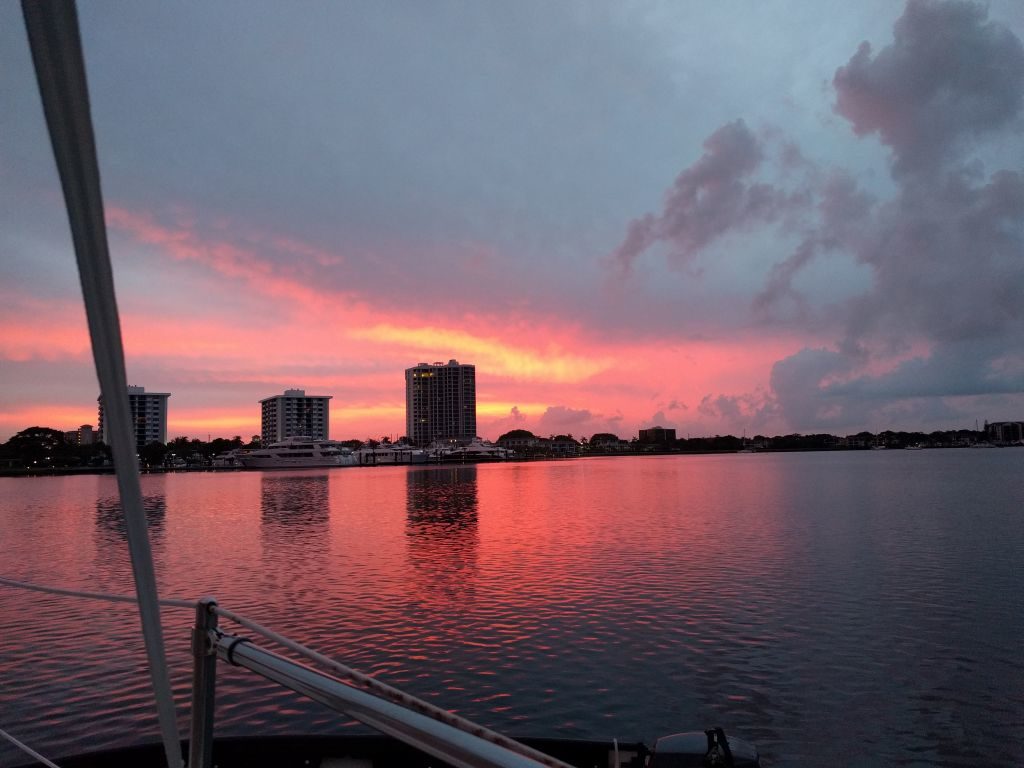 The North Lake Worth anchorage really is a great stopping place. It's a large area, good protection, and at a dead end channel. You get some wakes, but not nearly as many as the other Lake Worth anchorages that are just off the Intracoastal. There is a place to land the dinghy close by and just a short walk from there to all kinds of shopping for provisioning, etc.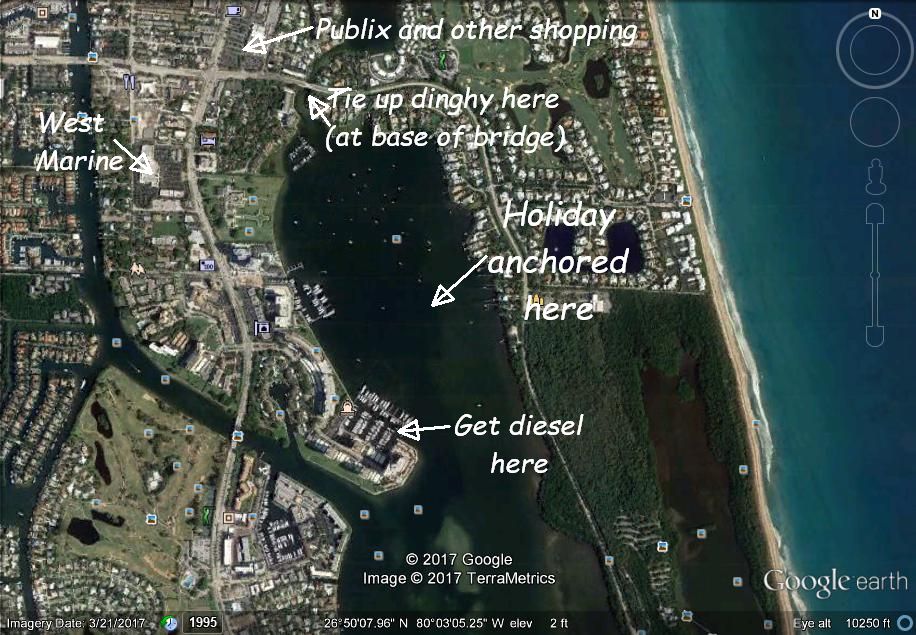 So, where is Holiday heading? The planned next adventure is to cross Florida in the Okeechobee Waterway to the Gulf Coast. We are really excited to give this a try. We'll have to go through quite a few locks (never done that before), sail across Lake Okeechobee, and even get Holiday leaned over to make it under a 49 foot bridge (our mast is over 50 feet). We'll accomplish this by having barrels of water tilt the boat until we can make it under the 49 foot bridge near Port Mayaka. Stay tuned as we head a little further north before pointing it west and sailing cross country style!