With one final sunset in the ol' US of A, we got a restless night of sleep in Boot Key Harbor before waking up on March 31st prepared for our long voyage to the Bahamas. We took one final look at the weather and after a good bit of discussion decided to go ahead and go. It was Friday, and we had winds forecast 10-15 out of the SE. A good forecast. Saturday's weather was even calmer and still out of the SE, but we weren't sure how long the trip would take (somewhere between 30-40 hours if we kept moving the whole time), and Sunday night into Monday, the winds would pipe up to near 20 and be out of the NE. Wanting to avoid any chance at still being out Sunday night (in case the going was really slow or we needed to anchor for some rest), we decided on leaving Friday over Saturday.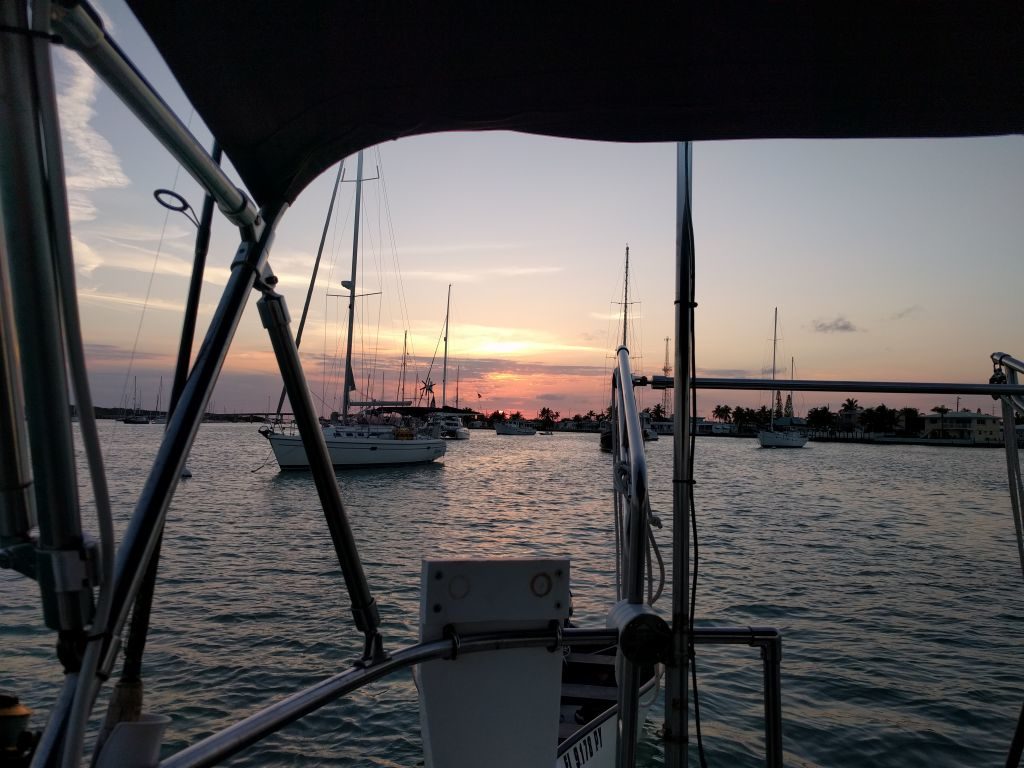 Well, it turned out that it was pretty rough out there as soon as we left Boot Key Harbor. We both doubted our decision a little but knew we could turn back at any time and wait. We continued on, but neither of us were having any fun especially with the knowledge that it would be worse in the Gulf Stream. For the best idea of what it was like, watch our video here.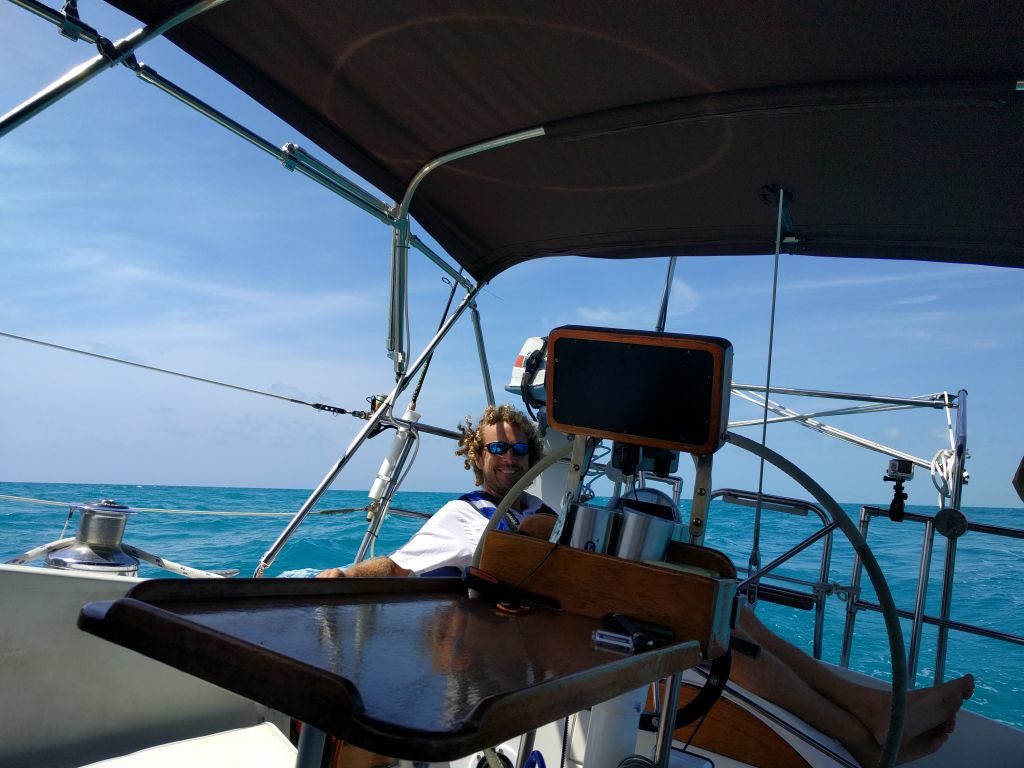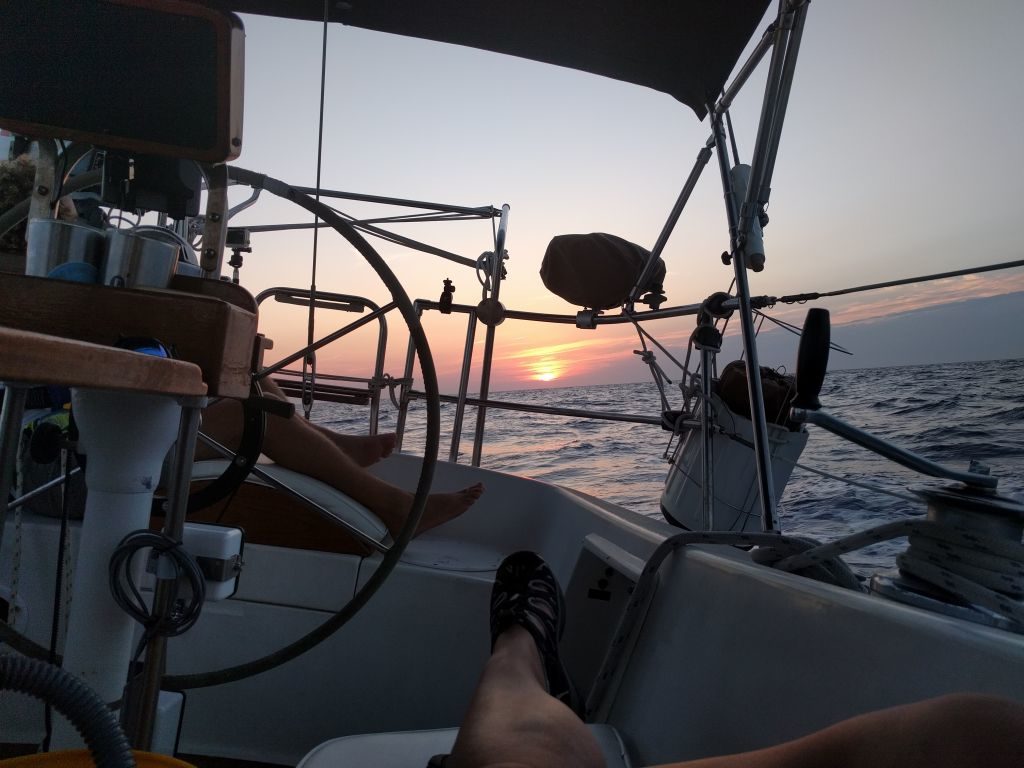 We continued bouncing along through the Gulf Stream, and I tried to make the best of it even though I was feeling seasick, and Lindy had basically stopped talking for hours at a time. I didn't even once put a fishing line in the water. I couldn't imagine adding anything else to a situation that already had so many unknowns and moving parts. It wasn't all bad though. At times the motion was tolerable, we started speaking to each other again, and we were also flying. The current in the Gulf Stream had us going constantly over 8 knots. Since I had been very conservative and calculated off of a speed in the low 5's, we knew we would make the whole trip in just over 30 hours and that the Gulf Stream portion would be over as quickly as possible.
Day turned into night and then night back to day, and before long we were motor sailing in the calm Saturday conditions across the beautiful Great Bahama Banks. Those last 10 hours or so of the trip passed by comfortably although we were tired, hungry, stressed, and just ready to be done with the passage.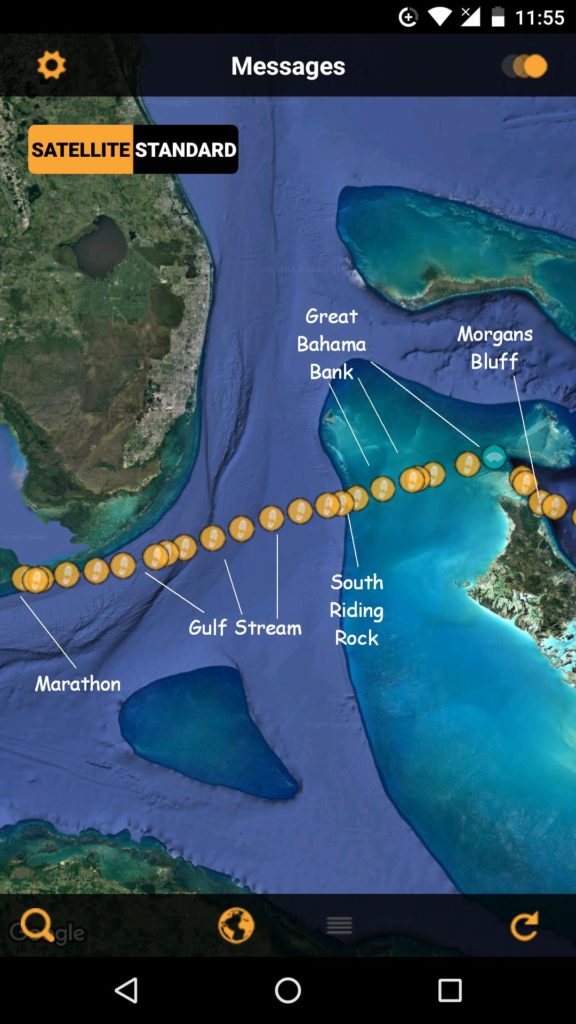 So, in retrospect, how did we do with choosing our weather window? Lot's of boats were leaving Boot Key Harbor in the week surrounding us for the same trip. We were the only ones that chose Friday.
Those that had left a few days earlier on Tuesday later told us they motored the whole 30 some hours with the wind too far on the nose, had bad motoring conditions in the Gulf Stream with high seas, had to anchor on the banks to get a day time arrival to Morgan's Bluff, and had 6 foot seas in the Tongue of the Ocean making a very slow, rough, ending motor to Morgan's Bluff.
Those that left the day after us on Saturday did end up with low winds and seas, but had to motor the whole 30 some hours. They did make it well before any bad weather Sunday night.
Certainly, if we would have left Saturday, we would have had a much more comfortable passage. But, we did get to sail for over 24 hours, before the wind slowed, and we motor sailed for about 6 hours only dropping the sails the last couple of hours when the wind died completely in a flat Tongue of the Ocean. Total passage was 32 hours.
If we had to do it again…..I would have probably chosen Saturday, but I can't help but think that we also probably chose the best weather window…like if we were real sailors or something…
What can we pass on to others that may be making the same trip?
Even east winds will put you on the edge of motor sailing. It takes a good southeast wind to have you just past close hauled at about 55-60 degrees apparent. This is because from Marathon to South Riding Rock you have to steer a course of about 90 degrees true (96ish magnetic) to account for the northern drift of the Gulf Stream at over 2 knots.
If you have a SE wind, or better a S wind, count on hours of sailing over 8 knots. You won't be going the normal 5.5 knots or so that usually happens during passages.
At 10-15 forecast, you better believe there will be some 15-20 mixed in. Reef the sails whenever you even think about it. I am SO glad I put an extra reef in the main when the wind kicked up a little just before sunset. Always avoid any situation that might have you leaving the cockpit after dark.
Lastly, apparently all the big ship traffic comes out in the middle of the night, and they will be present all the way to within a couple hours of South Riding Rock. Stay alert! Again, watch the video here to see more of all this.
Enough of all that! What about Morgan's Bluff on Andros Island?! Well, the anchorage there was just beautiful: the water swimming pool clear and surrounded by beaches. It was like a Boot Key Harbor Part II as we were mostly surrounded by the other boats that had left there recently to clear in here. It felt so good to be done with the difficult passage and finally in the Bahamas.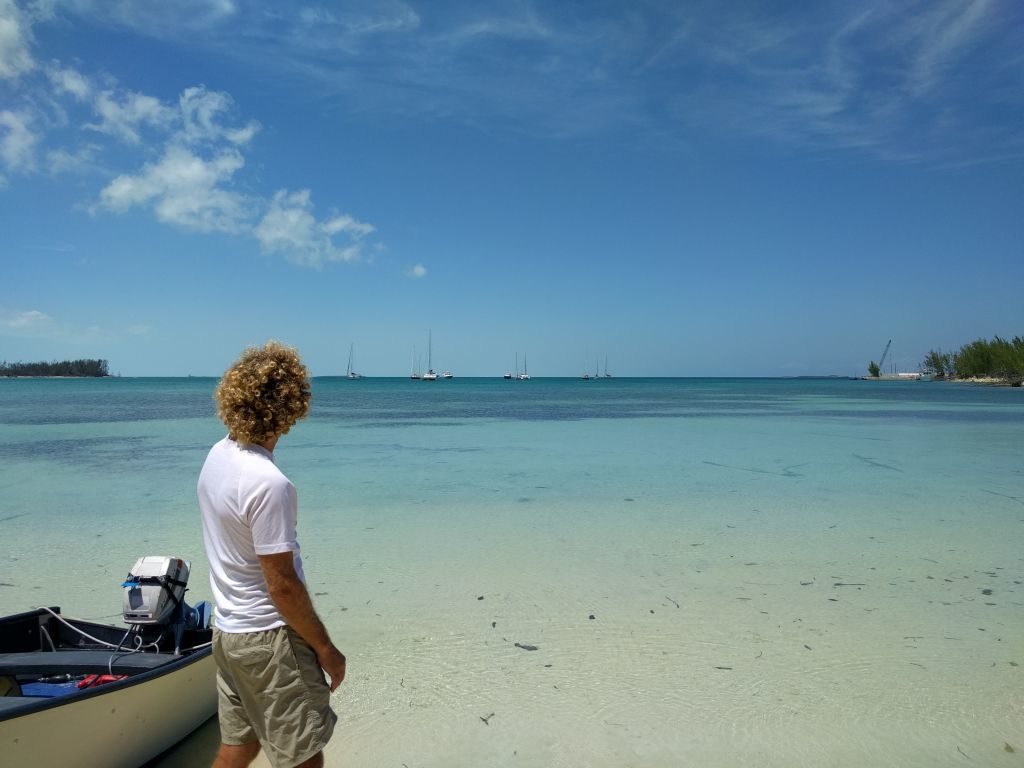 There were a lot of wrecks around courtesy of last year's Hurricane Matthew. Sad to see lost boats, but it also gave some interesting scenery to the area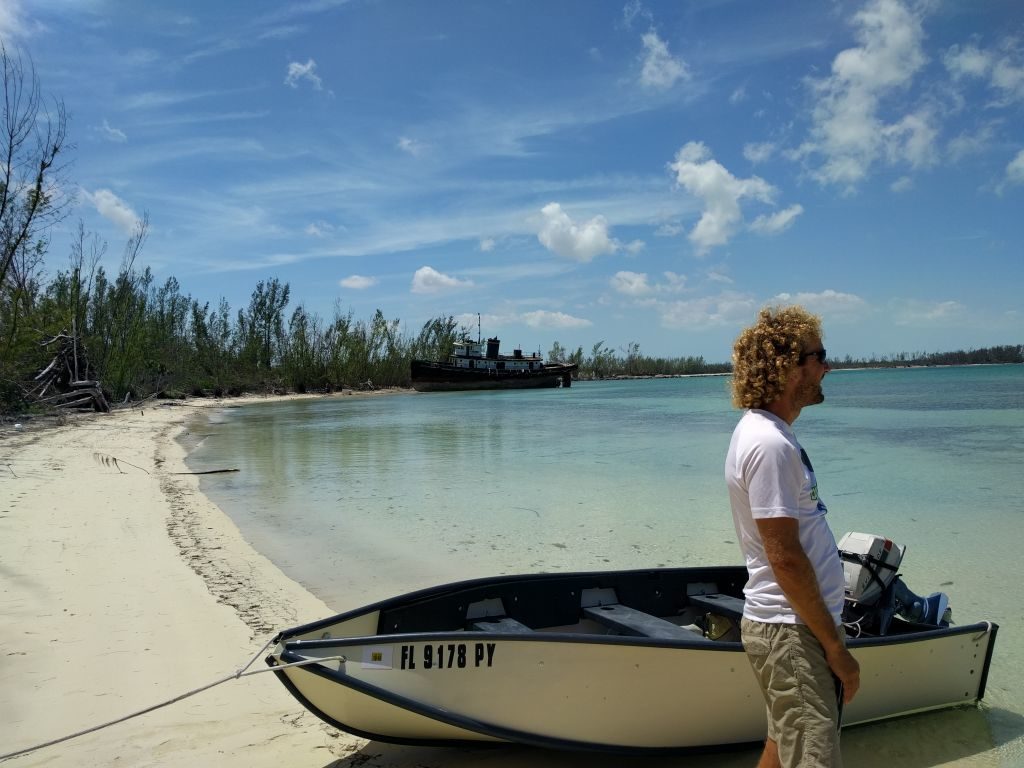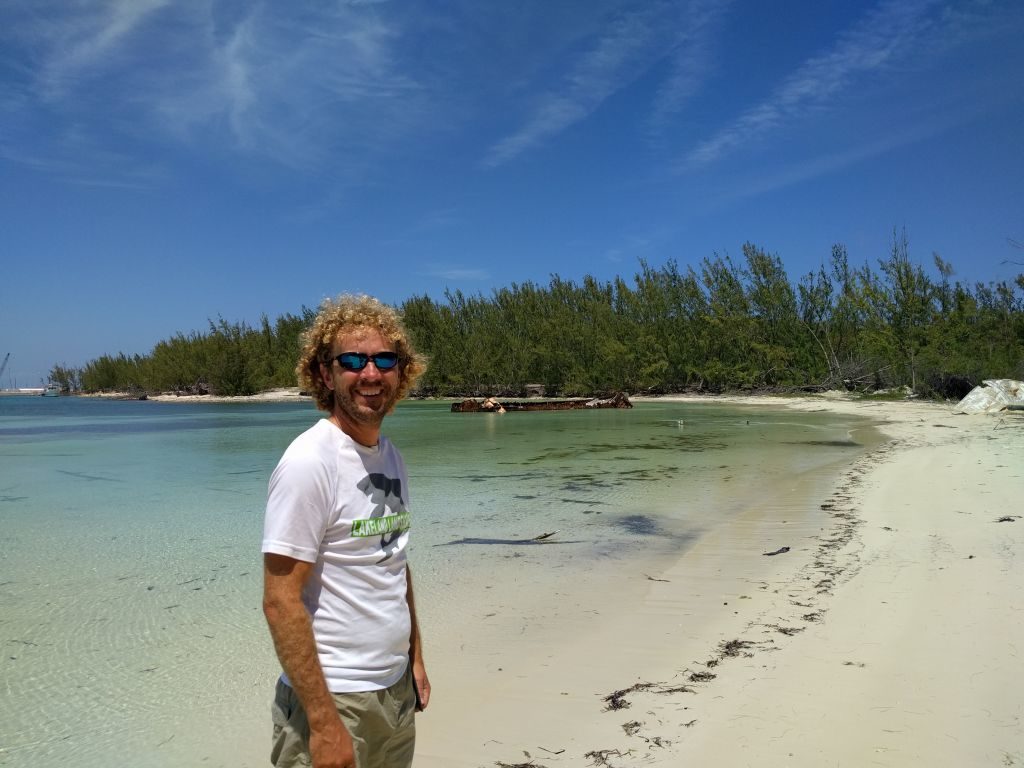 There is basically not a lot to the town of Morgan's Bluff. It's a deep water port of entry for a cargo ship that brings water and supplies to the island of Andros. At the ship docks, there is a small office where cruisers can clear customs, one bar/restaurant, a sometimes open fuel station, and a single road leading either away from town or up to a small row of houses where some locals live. Again on land, you can see the lingering affects from Hurricane Matthew. I wouldn't call it a destination for cruising, rather the closest place to check in. Hopefully, the endless work we saw the locals doing trying to clear the damage from the hurricane will bring the city to a more functional level in terms of businesses and infrastructure.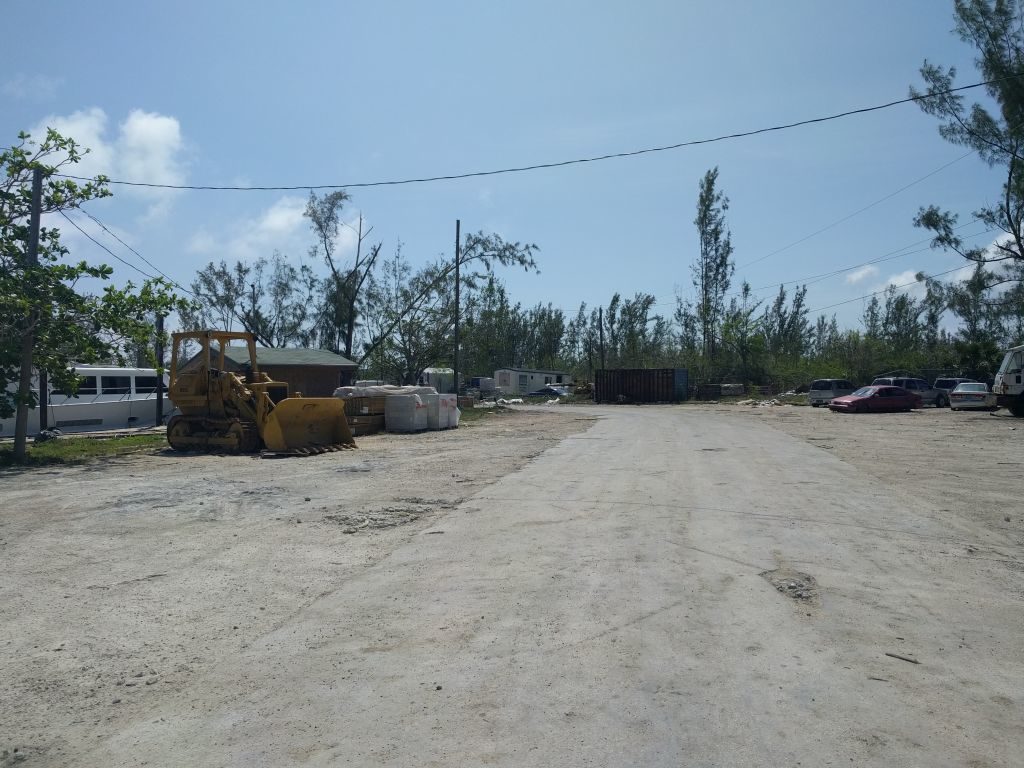 We headed over to the customs and immigration office and went about getting us and Holiday legally in the Bahamas. It was a painless process, aside from the $300 fee, and only took about 30 minutes, most of which was us filling out forms that we could have done ahead of time had we downloaded them.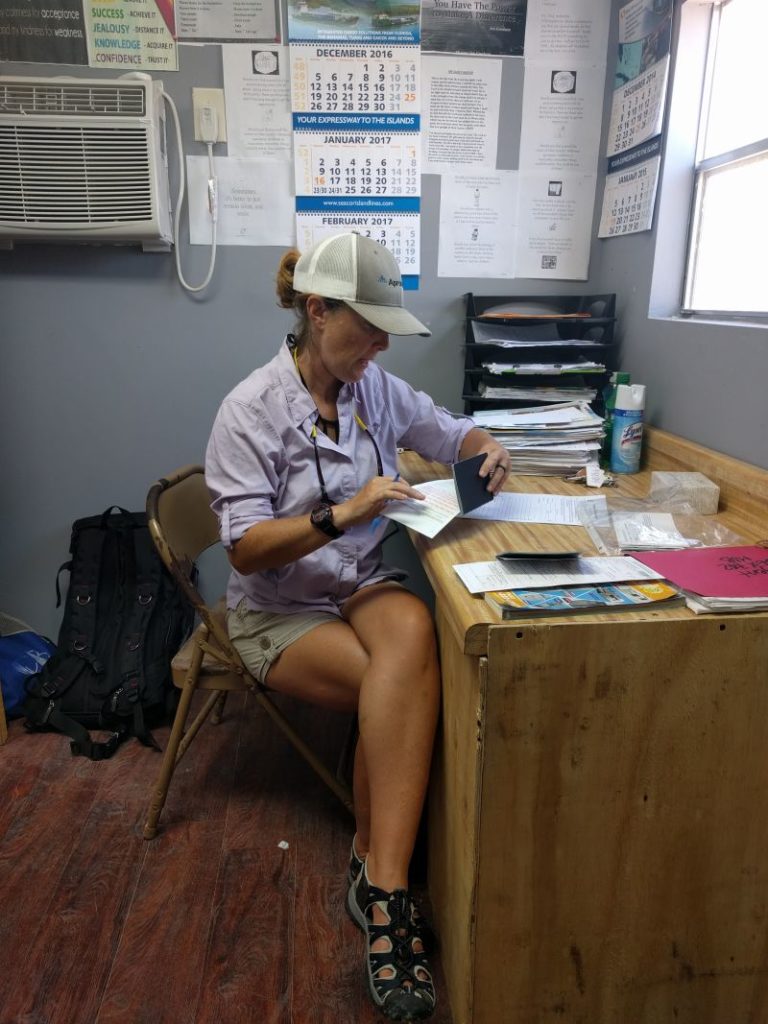 Of course during our stay, we had to hike around and check out the area. We had heard the city was named for the pirate Henry Morgan, and there were caves where he was rumored to have buried his treasure although it still hasn't been found. We hiked by the area where the locals live and then found the caves.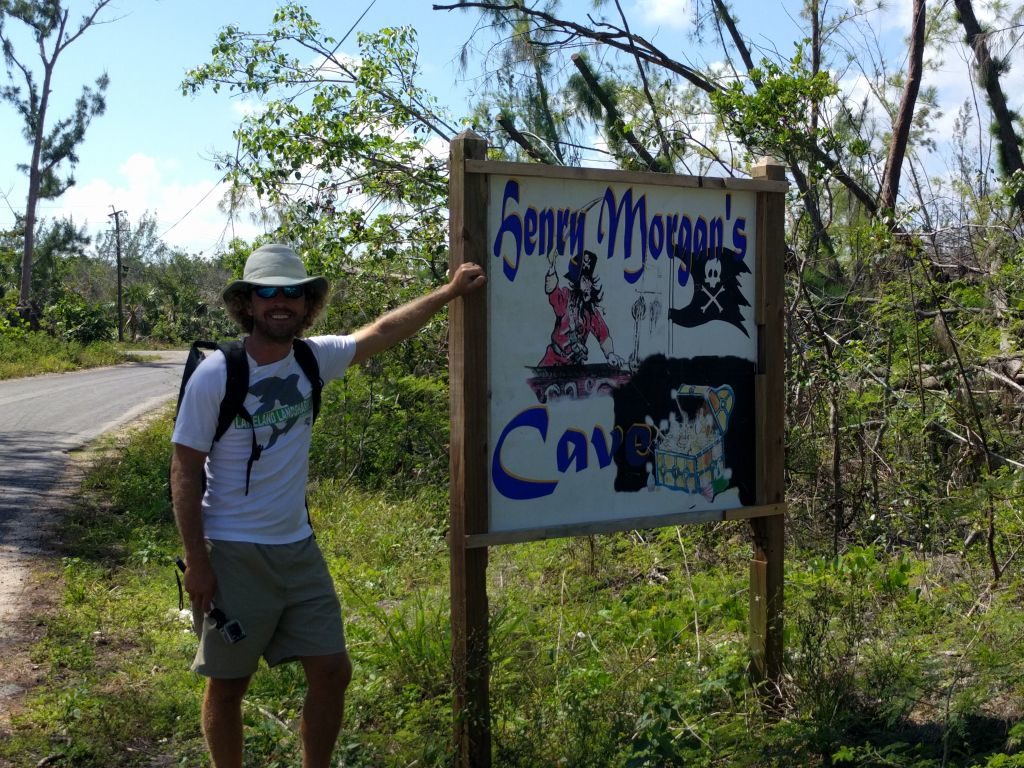 I must have forgotten to take pictures in the caves themselves, but I know I got video. Stay tuned on our YouTube channel!
Outside the caves, we did find this cool picnic table. I just had to try sitting in the "kids" section, where on any picnic table I'd ever seen before was just wasted space. What an ingenious idea!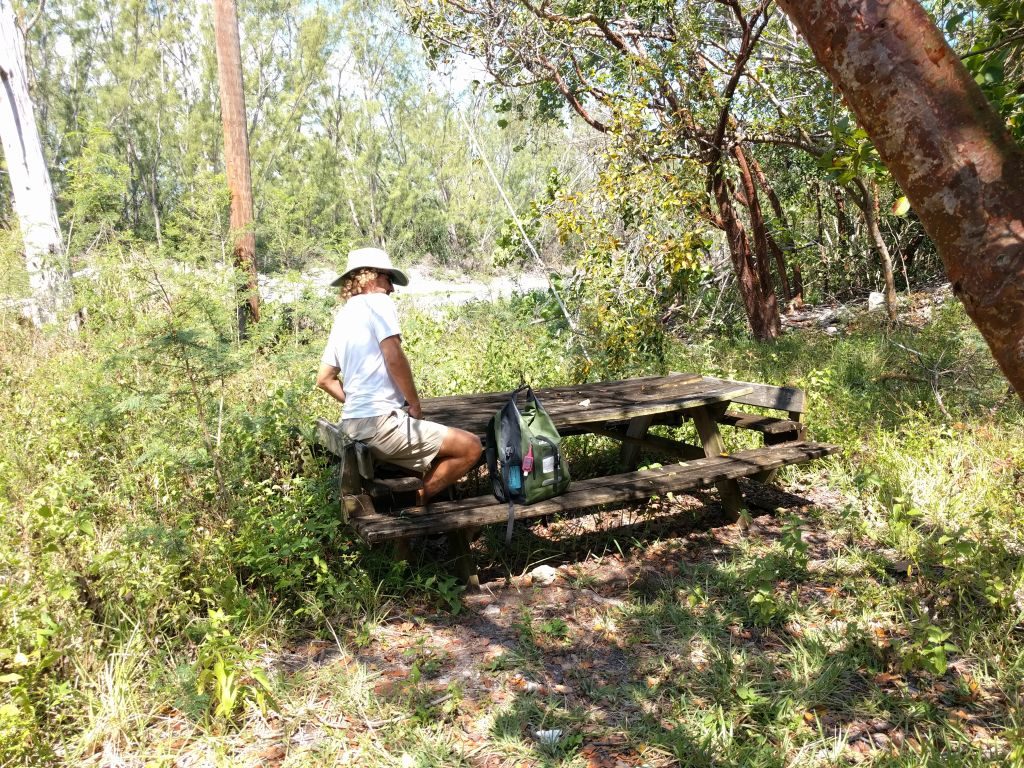 Further up the road were the actual "bluffs" of Morgan's Bluff. Probably one of the most beautiful places I've ever been. We watched a pod of dolphins swim directly under us in the crystal clear water.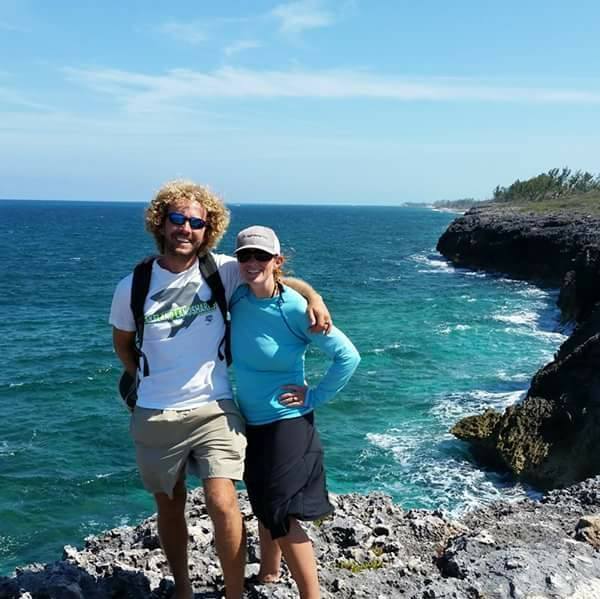 Back on Holiday, you know Lindy had us eating good! Sausage with peppers, onions, and mushrooms along with a homemade roll. Boom!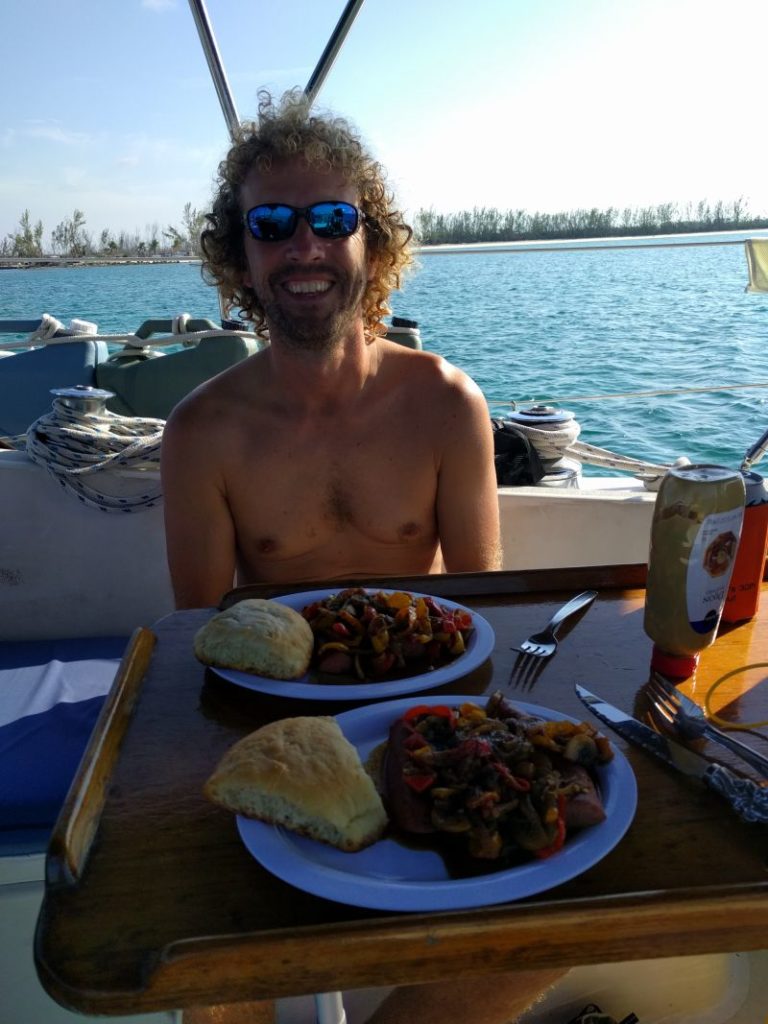 One evening, a boat in the harbor came around and announced a get together on the beach to watch the sunset. Everyone brought an appetizer, talked and laughed the evening away, and I broke out the uke for some music. It was a blast!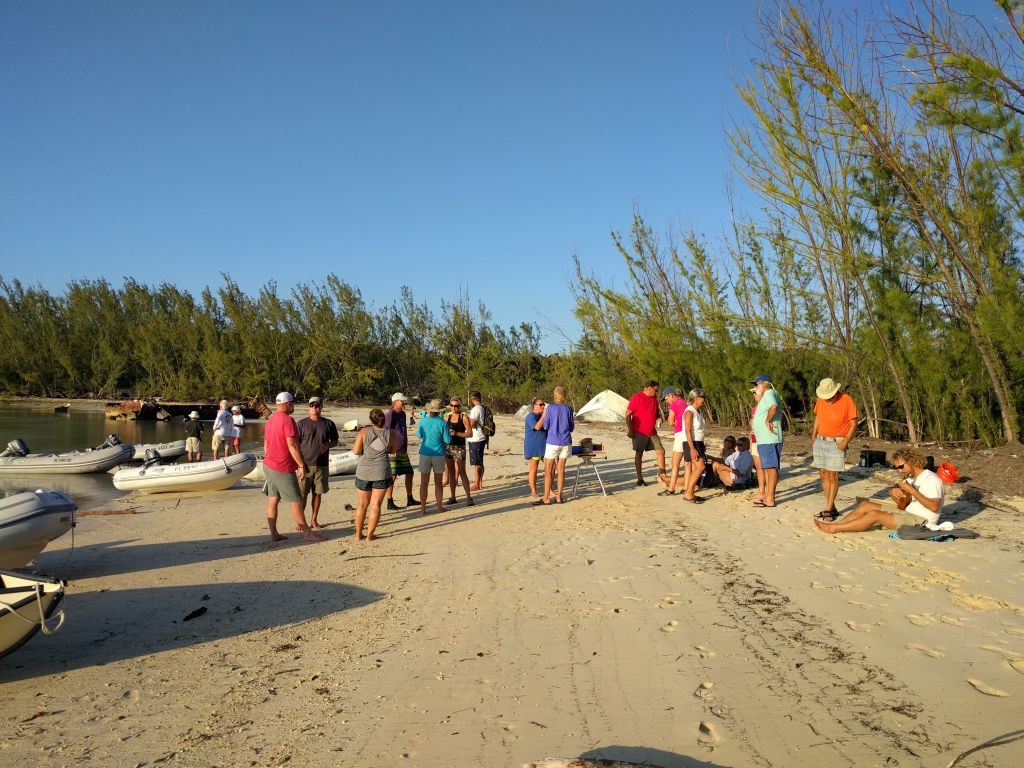 We were all treated to a beauty of a sunset that evening.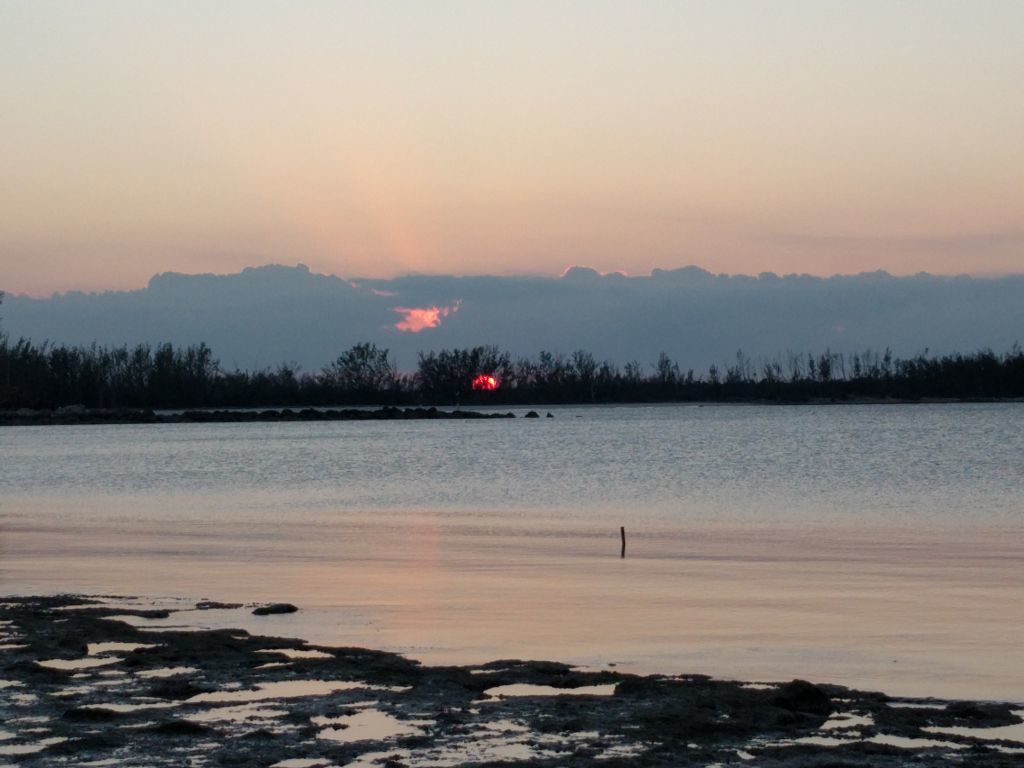 After a few days, it was time to head over to New Providence Island to continue on our trek to the Exumas. There was a north wind forecast that would be pretty strong, and Morgan's Bluff is exposed to northern swell off the deep Tongue of the Ocean. Not a good combo!
We were back to picking weather windows, and as always the wind seemed to be coming just from where we wanted to go. We headed out for West Bay on New Providence for a 26 mile or so crossing of the Tongue of the Ocean.
Let's just say it wasn't the most pleasant motor sail in the world, bashing into 3-4′ waves on the nose, but it only lasted about 5 hours, and we got the anchor down in another beautiful locale.
This is my crazy "I'm getting tired of rough sailing" face from West Bay: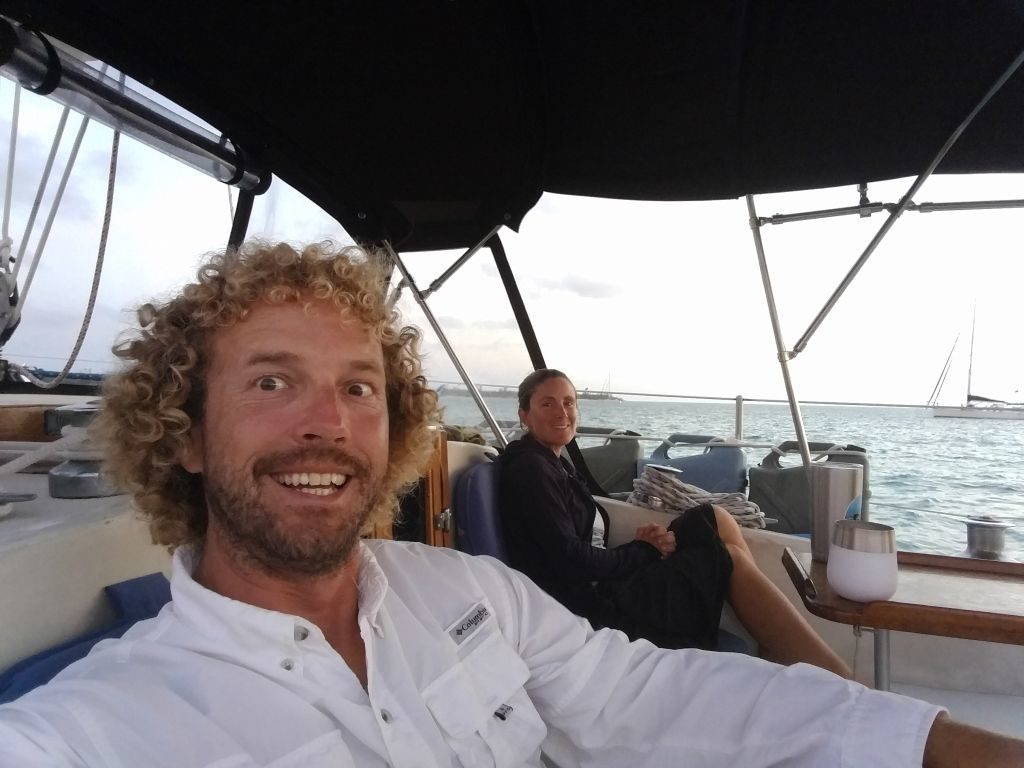 West Bay is lined with giant, luxurious looking estates. New Providence is the island where the capital of Nassau is, and West Bay is on the opposite end of the island. It must be where all the head honchos live to get out of the busy city.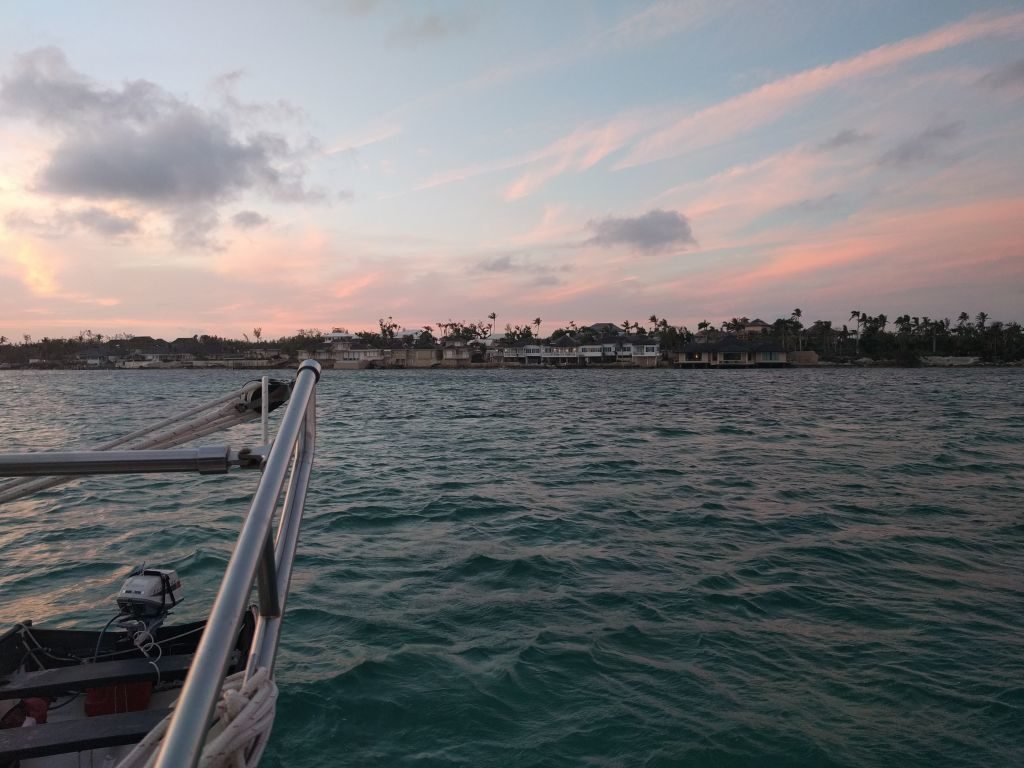 We were just staying in West Bay one night, again running from weather (I see a theme developing). There was a beach at a park there but that was pretty much it. It was a beautiful spot though, and we got a beautiful sunset that night.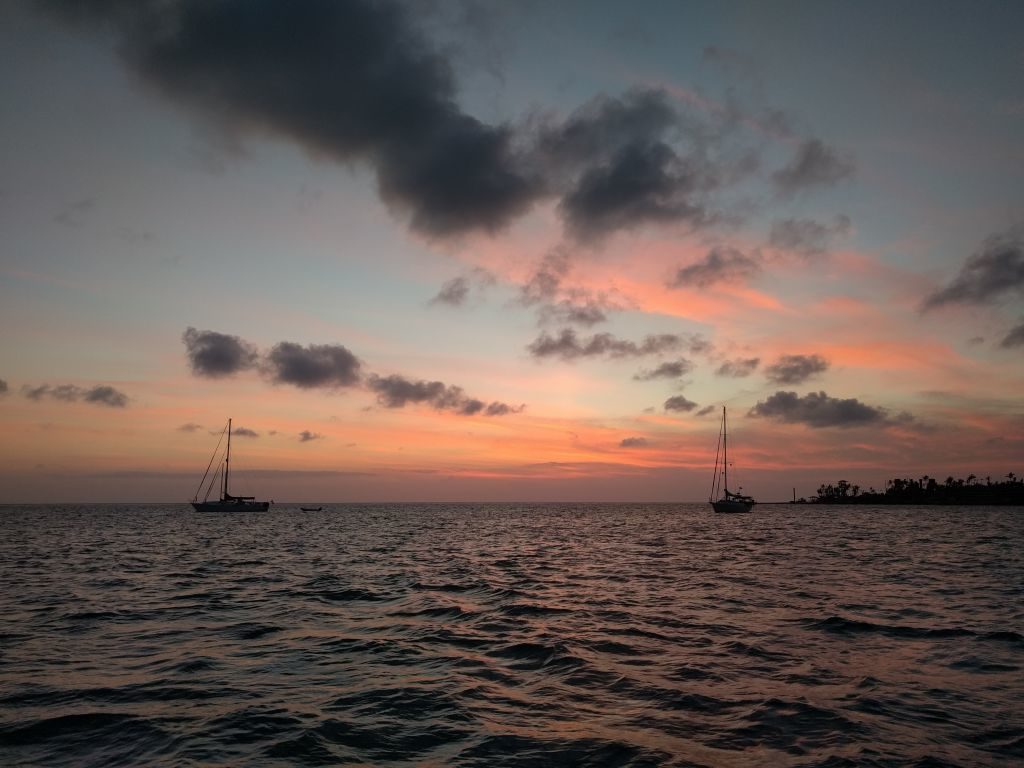 The next morning we headed from West Bay across the north side of New Providence. With a south wind, we were in the lee of the island and had a beautiful beam reach sail for about 4 hours. We went past the city of Nassau with it's famous cruise ship docks, Paradise Island, and Atlantis resort. We had decided to head to Palm Cay Marina on the southeast coast to wait out the strong northern winds before heading to the Exumas. Well, when we turned the corner of the island to head south to Palm Cay, we got the full brunt of 20 knot winds right on the nose again. The final two hours of the sail were pretty rough, and we were also dodging coral heads for the first time in our trip.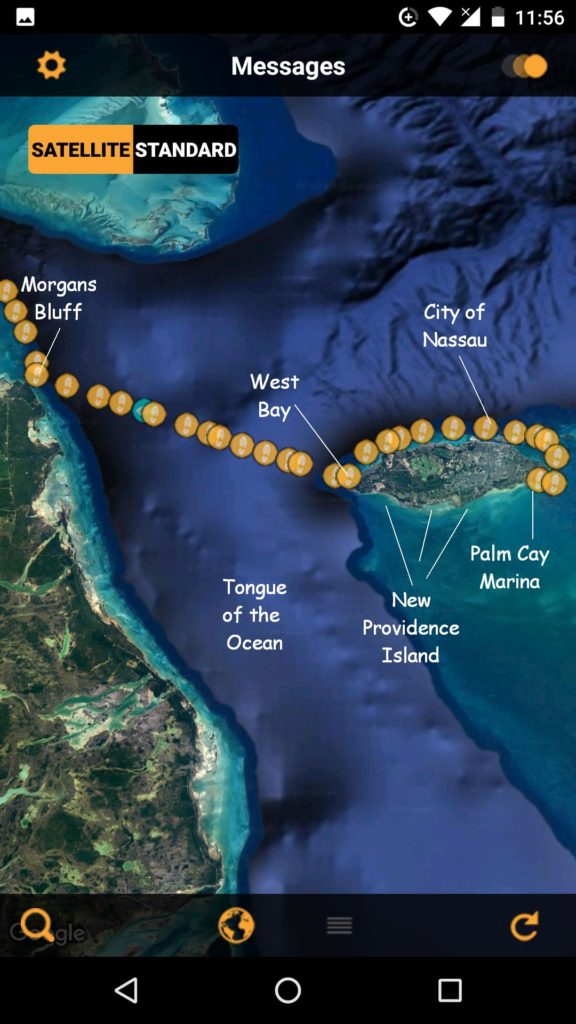 But, finally we made it into the marina and tied Holiday to a dock for the first time in 6 months.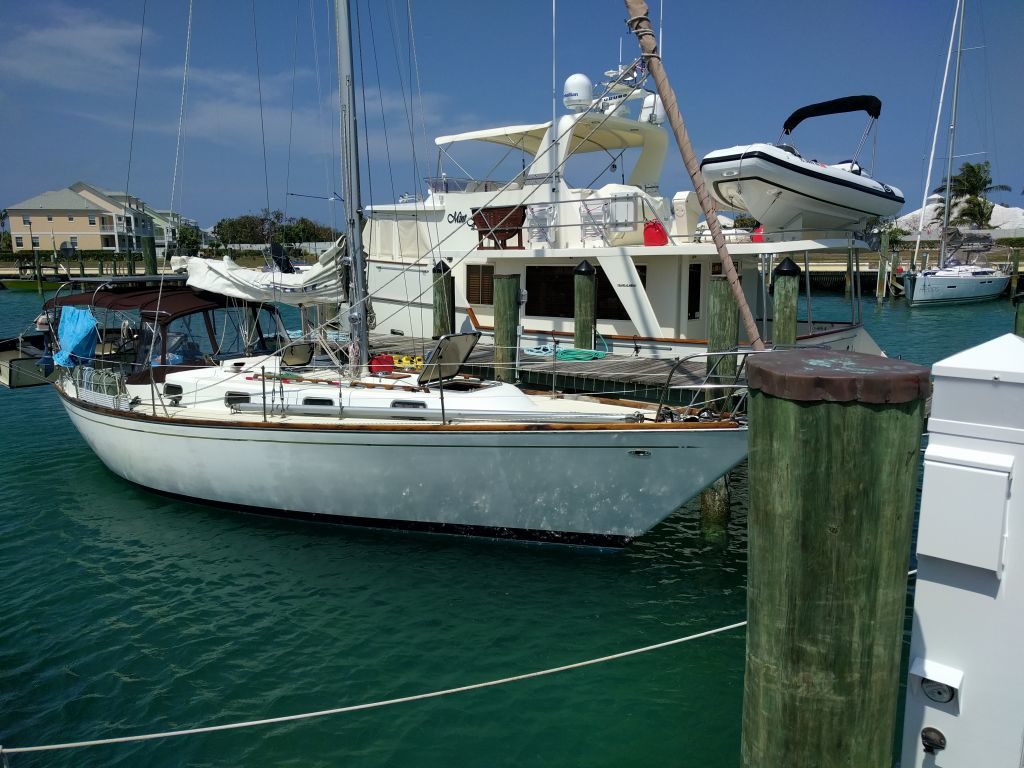 We've been loving the Bahamas, but we had been beat up by some rough passages and running from weather. So, it was a nice change to be in a marina, not having to make any weather decisions, and relaxing at a resort type beach.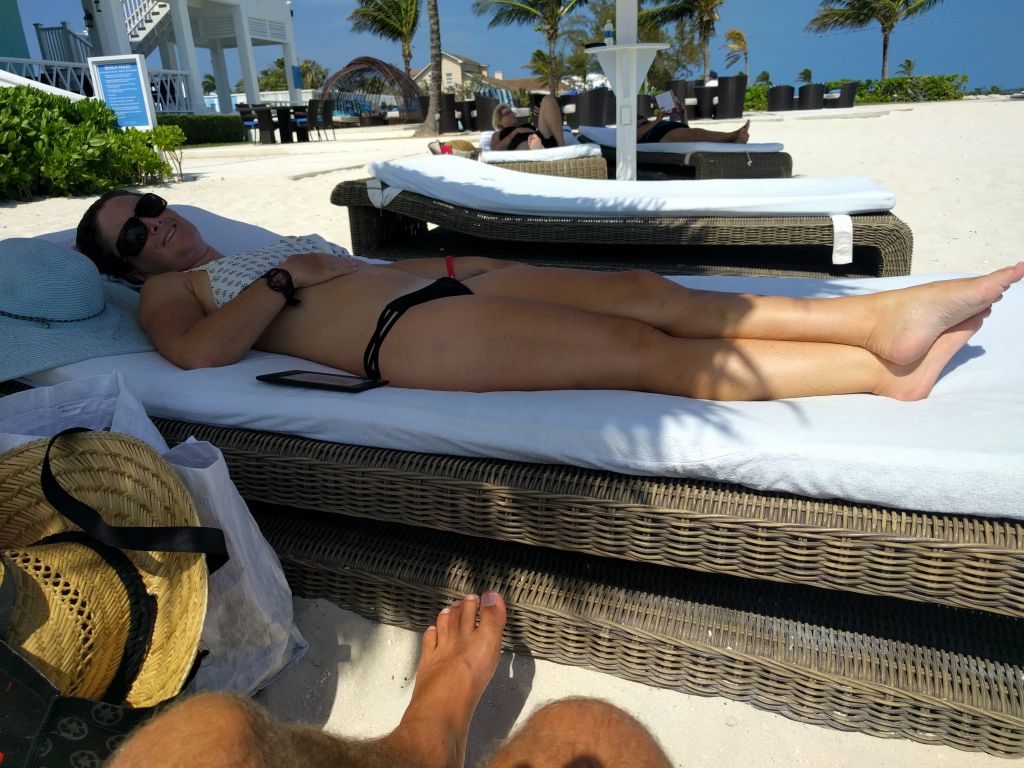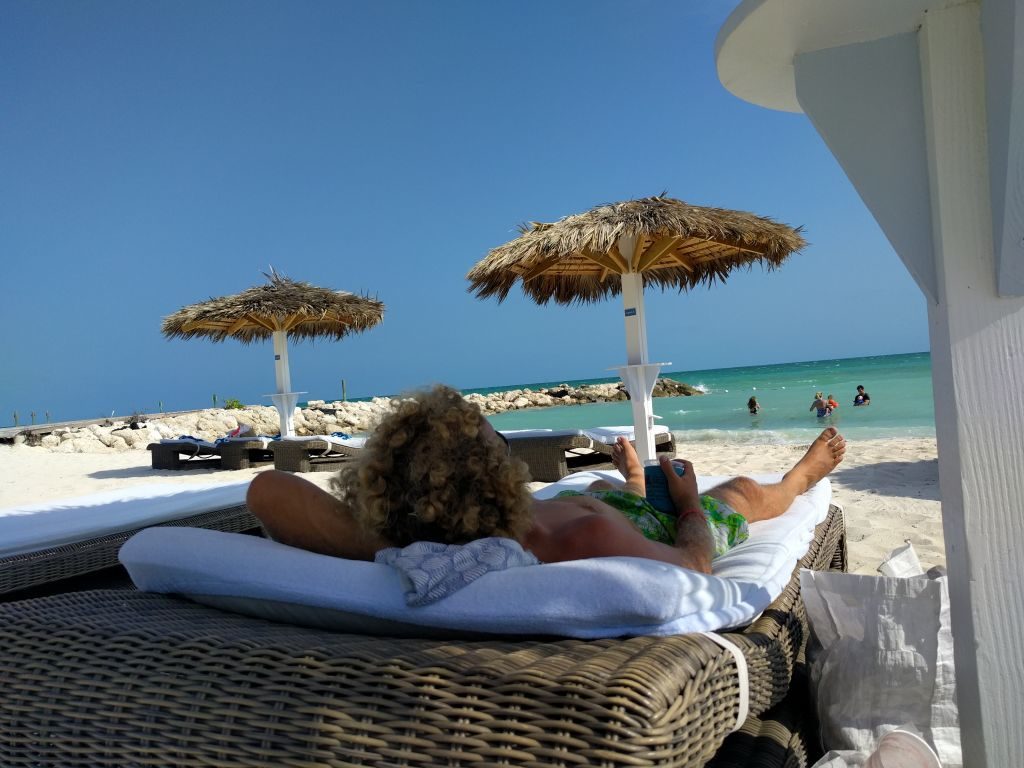 Some of our friends on SV Elsie Mae, John and Val, pulled into the marina a couple of days later also. We've been hanging out with them since Marathon and keep ending up in the same places. It's been a blast here. On Saturdays and Sundays, they serve a traditional soup called Souse along with Johnny Cake or yellow grits. It's really yummy, and we think the Bahamians use it as a "hangover helper". The first weekend we all tried a bowl. Yummy!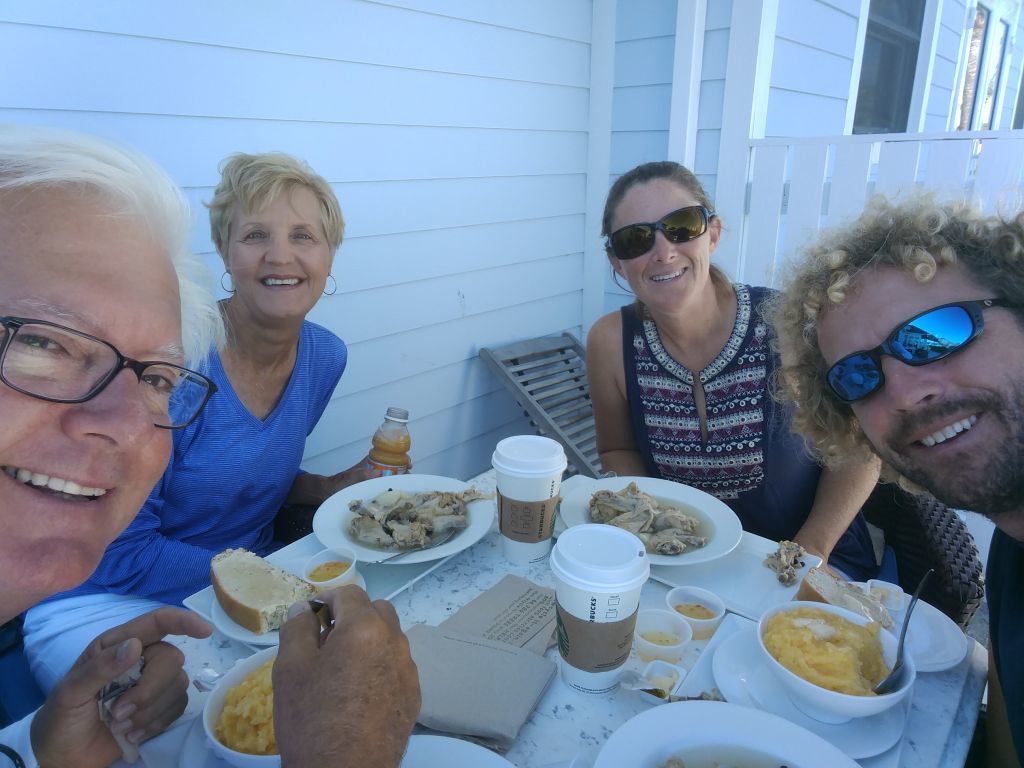 So, what's next? Well, we've been here almost a week now in the marina (the plan was to only stay a few days). I told Lindy we weren't leaving until we had a good weather window for sailing to the Exumas, and it's been blowing 15-20 or 20-25 from the E or NE the whole time. I think it's kind of strange weather, but even though we're blowing our budget a little this month, we're going to wait it out. It may even be 5 or 6 more days from the looks of things, but then we'll take a nice sail over to what we hear are the best cruising grounds in the Bahamas.
We plan to spend a month or so island hopping down through the Exumas and eventually making our way to the cruising Mecca of Georgetown. Watch for us on the Spot messenger once we get moving and look for new updates!