Leaving Johnston Key, we skirted the boundary between the Gulf of Mexico and the flats and mangrove islands of the north side of the Lower Keys all the way east to Big Spanish Channel. The motor over was mostly bashing into the wind, but it was less than 3 hours to the turn into the channel. So, it wasn't too bad.
We had noticed on the charts that there was a section of Big Spanish Channel that was pretty shallow (possibly less than 5 feet, and we draw 4 feet 2 inches), and it was near low tide when we were going through that section.
Invariably, the waters have been deeper than charted so far on our trip, usually by a couple feet. However this section of Big Spanish Channel was an exception. For about a half mile or so, we watched the depth finder show 5 feet and sometimes less into the 4's. Pretty crazy to think there was only about a hands width between the bottom of our keel and a grounding.
But, we made it through luckily. I wouldn't recommend Big Spanish Channel to anyone over 4.5 feet of draft unless going through at the highest of tides.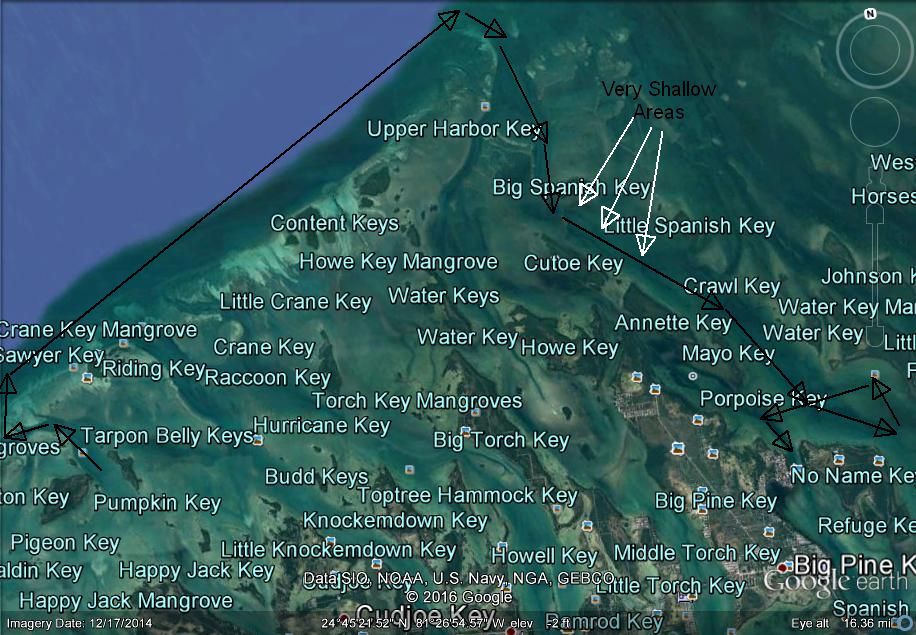 Our original destination anchorage was Little Pine Key, but when we got there the swell was coming in with the wind not quite far enough north of east. So, we changed plans and headed over to Doctor's Arm anchorage in between Big Pine Key and No Name Key. This was where we were planning to go following Little Pine anyway, and the water there was very calm.
Switching destinations on the fly like that is something that definitely would have made us nervous a few months back. But, now we are getting the hang of anchoring and know not to mess around with an uncomfortable night's sleep.
So, we dropped anchor just before sunset, and settled in to watch nature's show: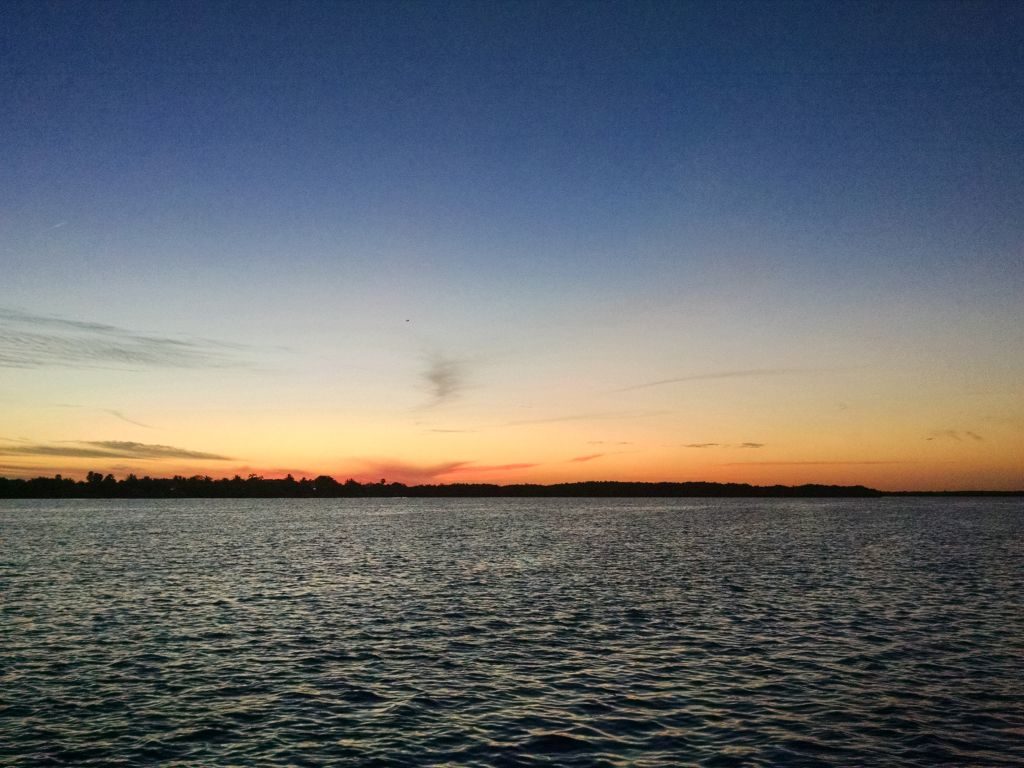 The area right around Doctor's Arm has quite a few cool, quaint things to do. There is a neat little marina called the Old Wooden Bridge that you can tie up to for the day for $5. Within walking distance is the famous No Name Pub whose slogan is "A Neat Place If You Can Find It."
First, though, we walked across the Old Wooden Bridge (which wasn't old or wooden) for a view of Holiday at anchor. On the other side of the bridge was No Name Key where we heard they had only in the last 5 years or so connected electricity to the island. Sounds like my kind of place!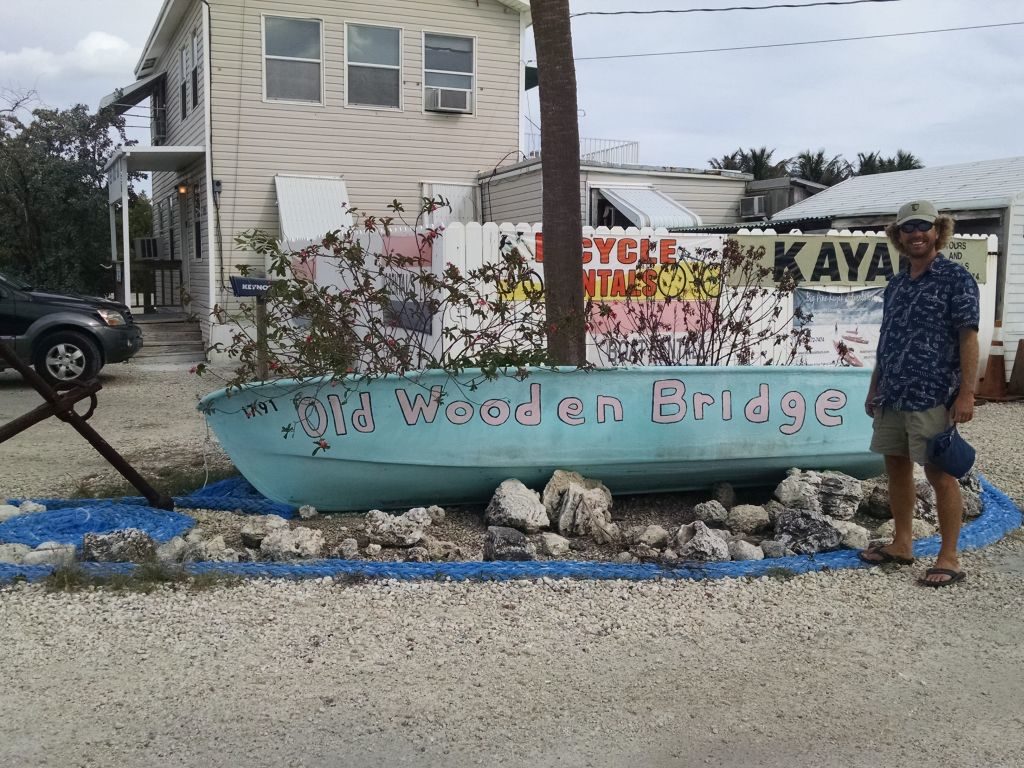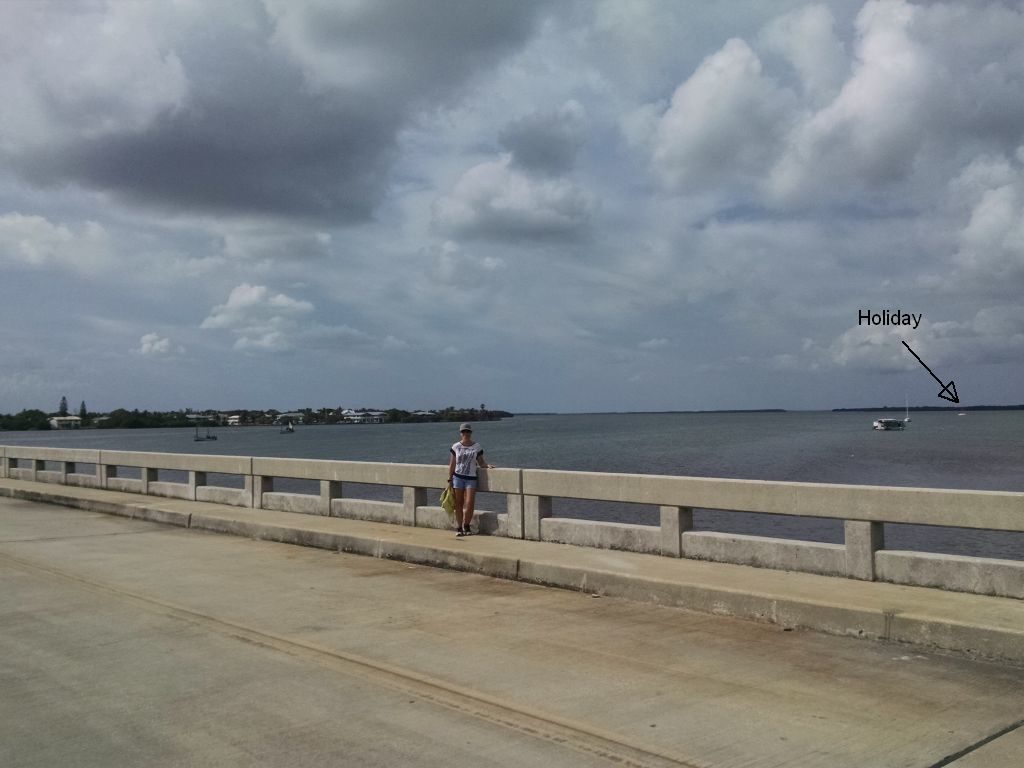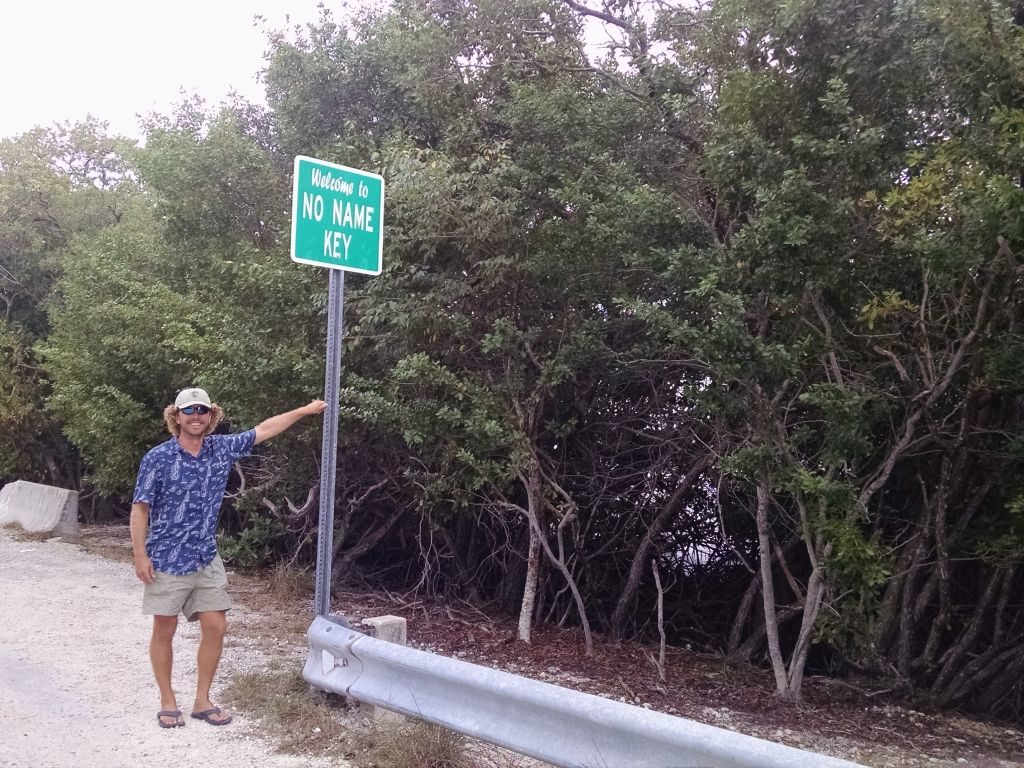 After our stroll across the bridge, we came back and made our way over to the No Name Pub. This place really is an out of the way place. It's close to our anchorage, but if you were to come by car, it would be a long drive off the main Overseas Highway through the Keys. Definitely not a place you get to unless you are specifically following directions to get back there to it.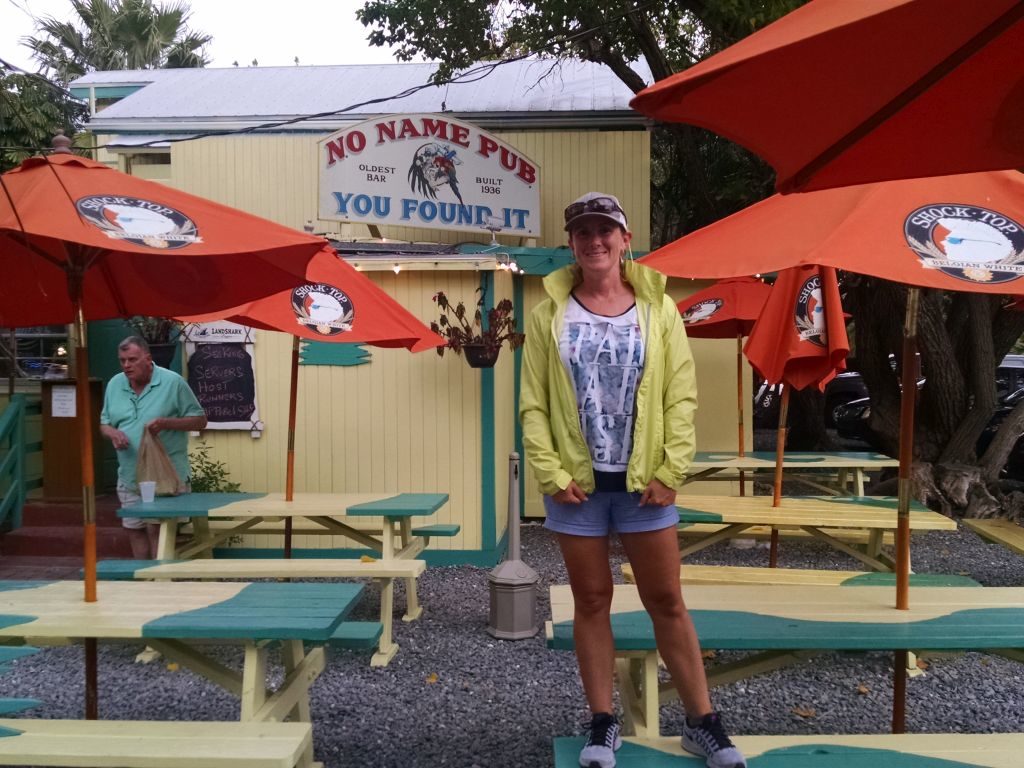 After our week anchoring in the backcountry, it was nice to sit at a restaurant and have someone else do the cooking. It's a funky little place covered in dollar bills with people's names written on them. This seems to be a theme for funky little restaurants in out of the way places along the Florida coast.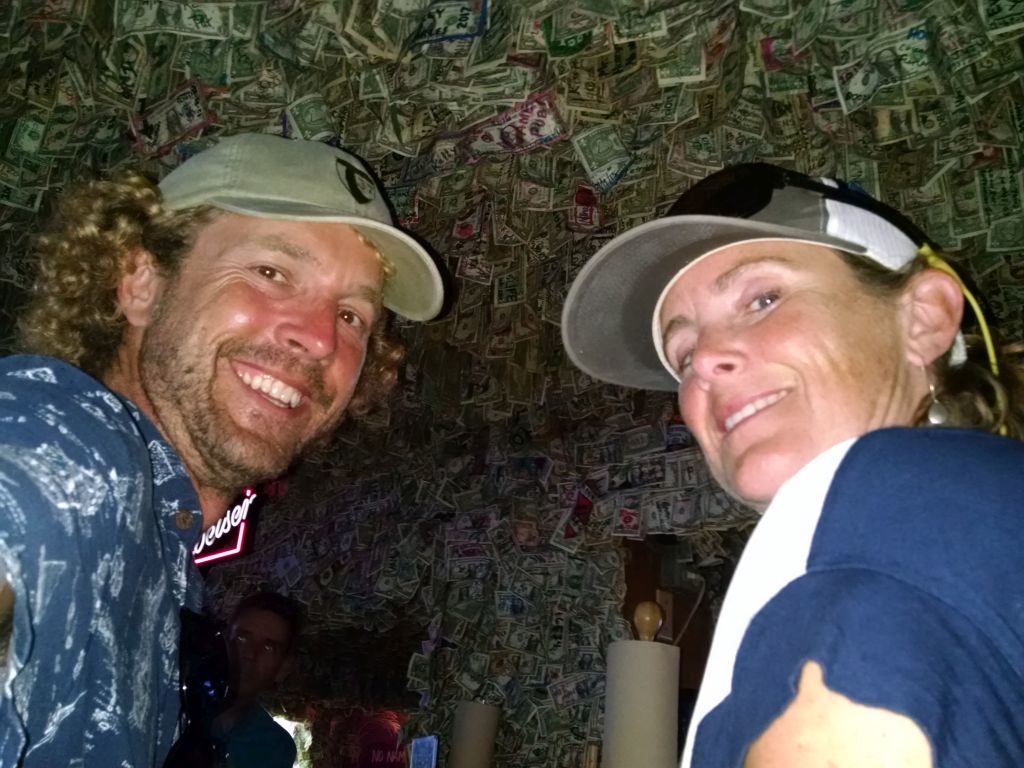 We spent a nice few nights at Big Pine Key still pretty much away from any cities but with a few nice amenities to enjoy ashore. As always, we saw some great sunsets. On the night before we left we moved up to the "End of the Road" anchorage just north west of us to get a little break from the wind changing direction and enjoyed the final sunset there.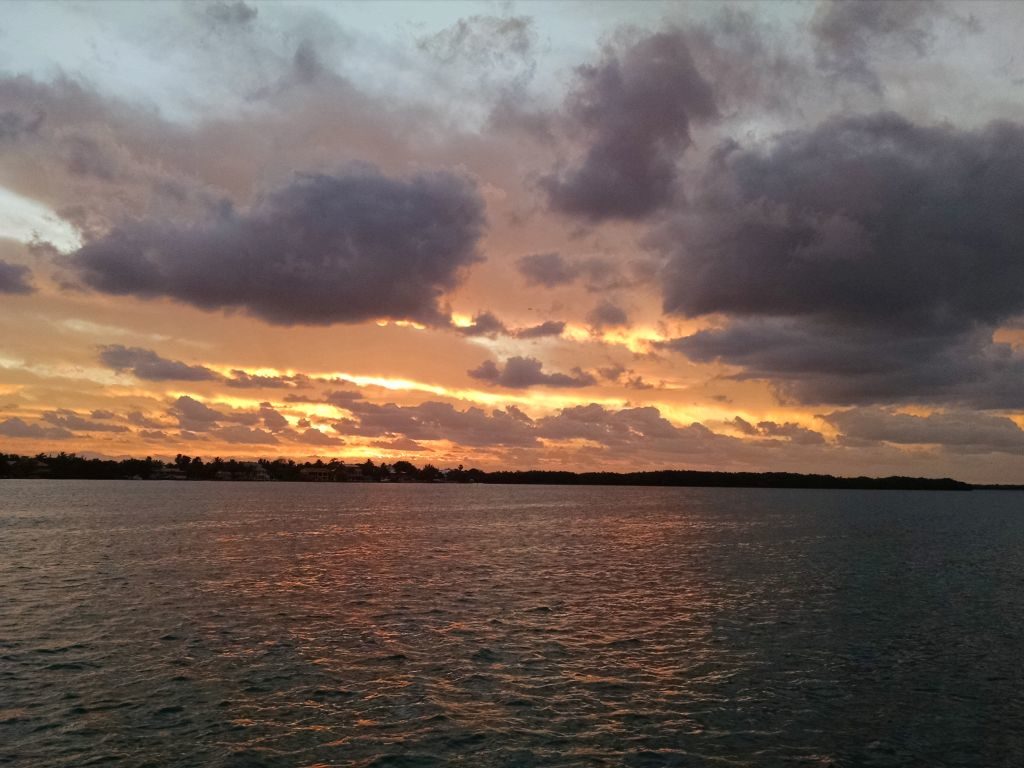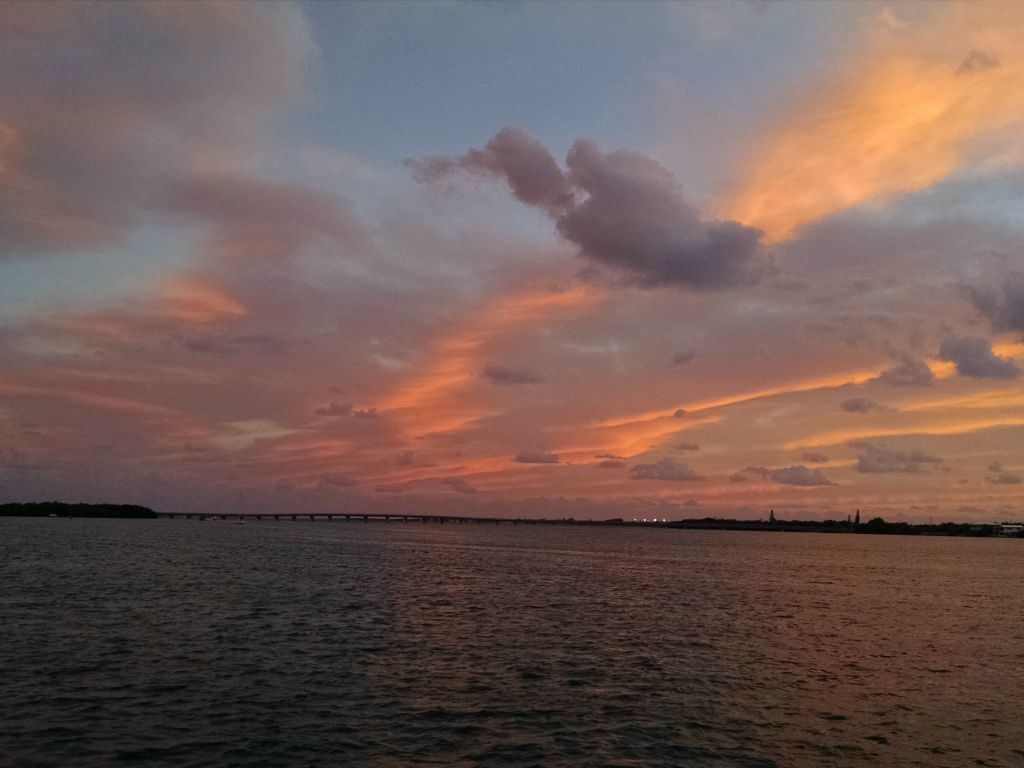 The next morning we up-anchored early with the sunrise and sailed away in light winds.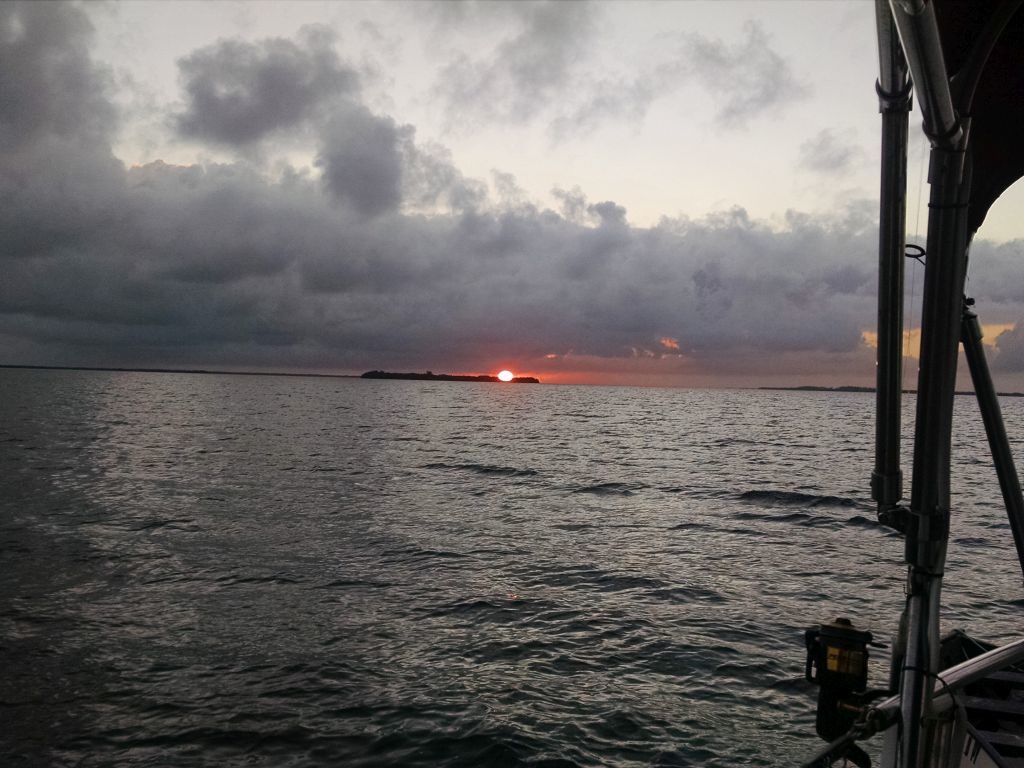 We were headed back to Marathon and Boot Key Harbor after being away for about 5 weeks. The sailing was excellent on a beautiful day, and since we weren't in a hurry, we just put up the head sail and sailed slowly and peacefully along.
After a couple of hours we once again sailed under the 7 Mile Bridge and into the Atlantic. Our first circumnavigation! Well, only of the Lower Keys, but none the less, we were proud 🙂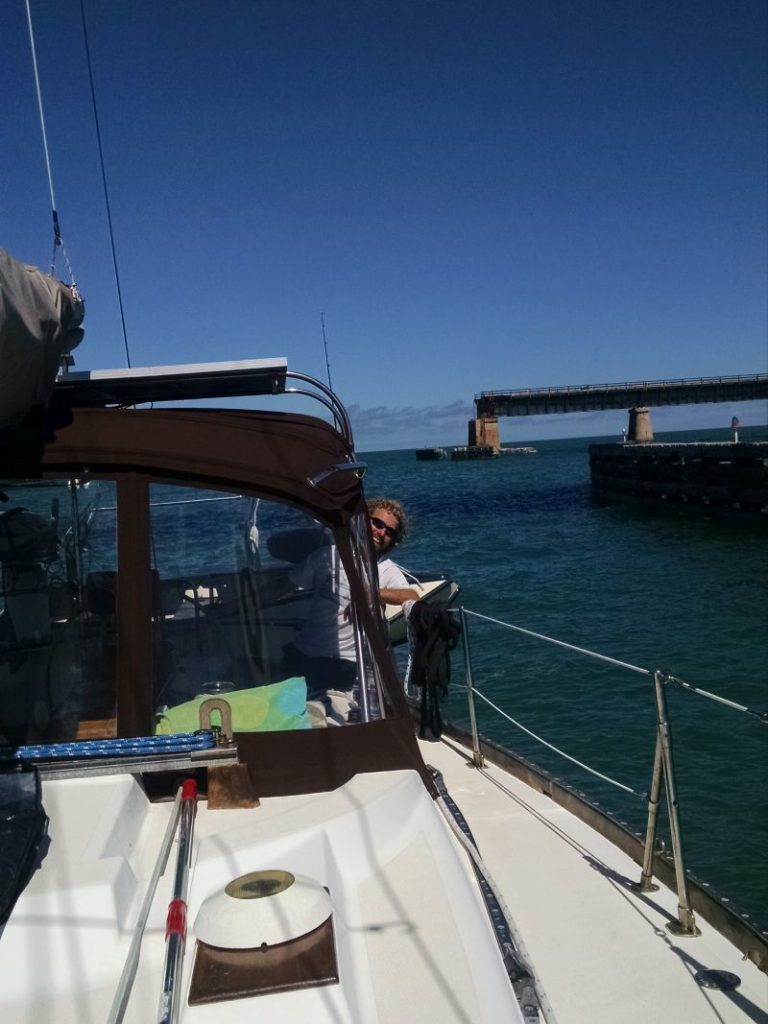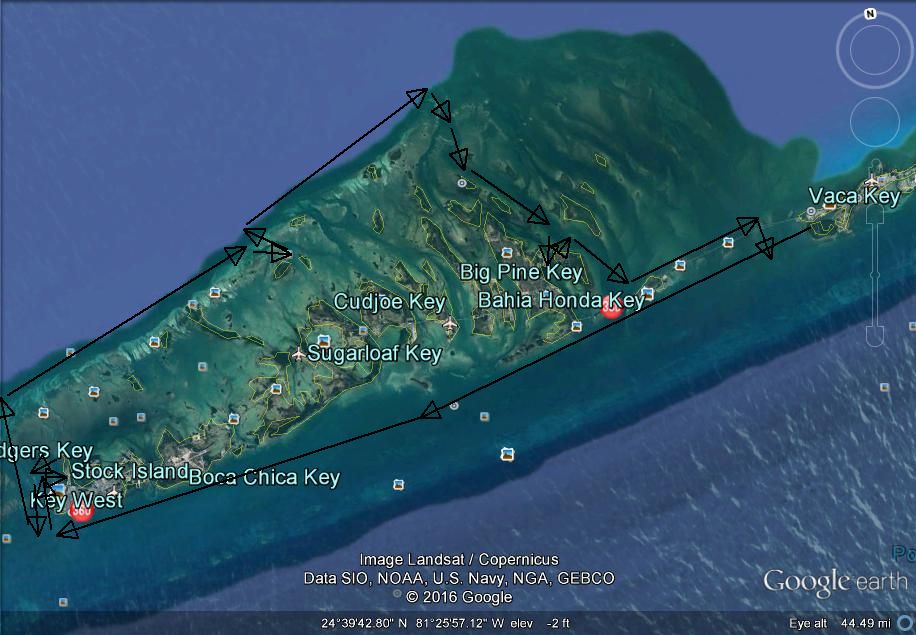 Since it is the thick of the season, all the mooring balls at Boot Key were taken so we decided to try our hand at doing a Med Moor style anchoring in Sister's Creek just off the harbor.
It was our first time trying this so it took us a while, but we finally got all tied up snugly. The method is to drop anchor just out from the mangroves then tie the stern of the boat to the mangroves holding Holiday perpendicular to them.
Basically, this is a maneuver to hold the boat in a more exact place in a tight area instead of swinging with the wind and current.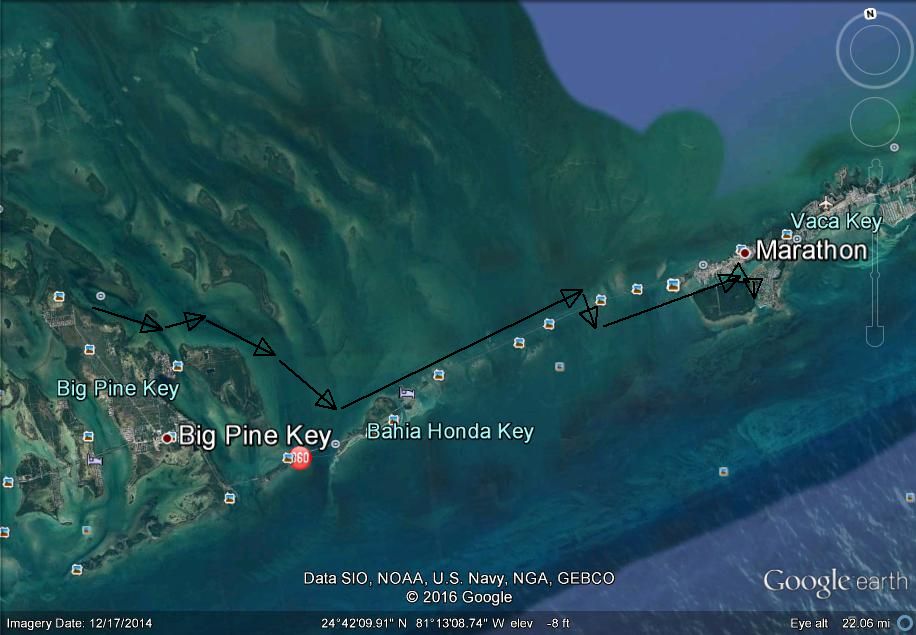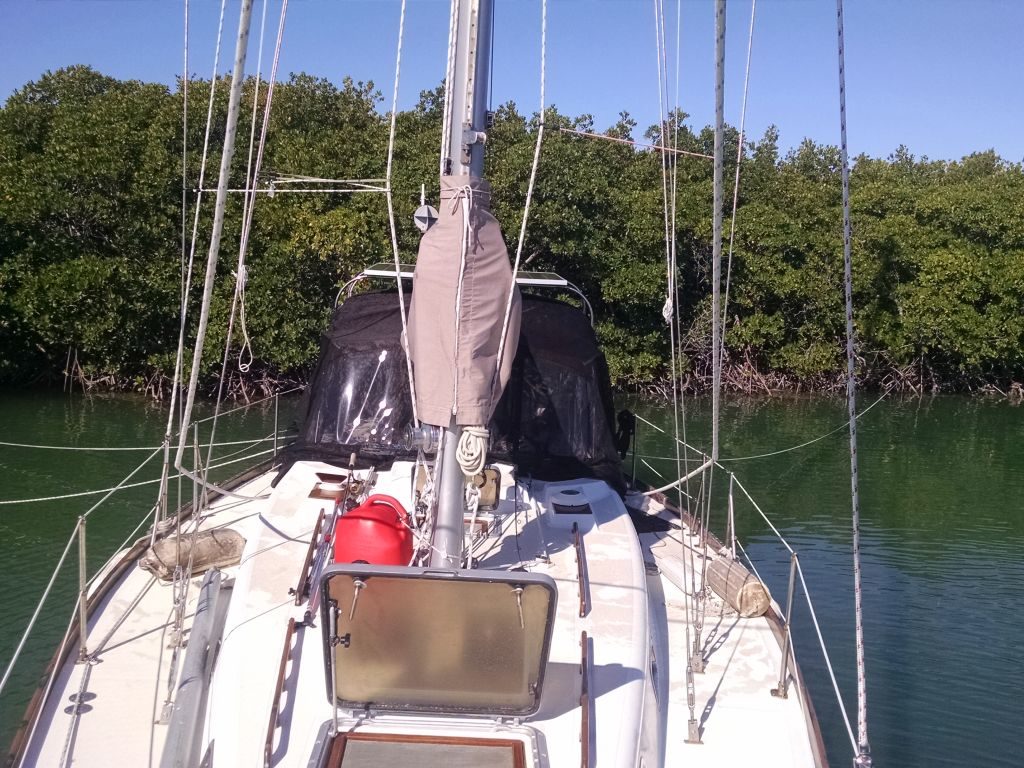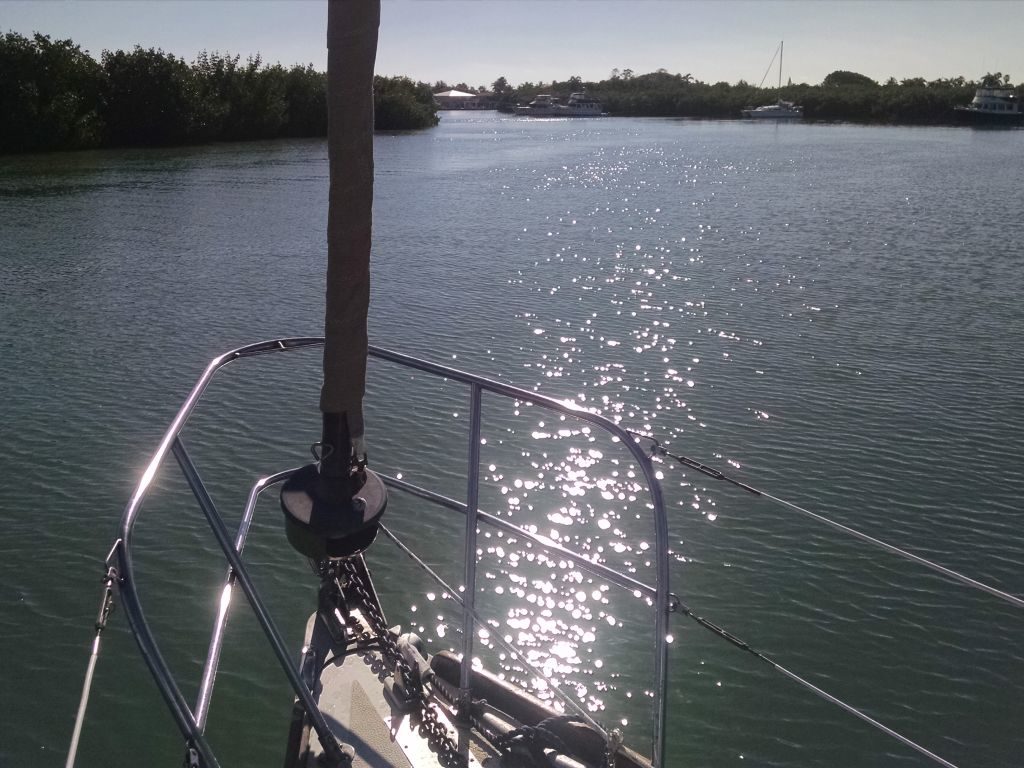 So, Sister's Creek is where Holiday sits as I type today. We've come full circle and enjoyed every minute (well….most) of our time in the Lower Keys.
We feel like we are at a crossroad trying to decide where to go next. After watching so many of our friends make the jump over to the Bahamas, we are starting to feel the pull of the islands, and a trip that direction is starting to sound more and more like something we want to do this year.
For now though, we'll enjoy some more time at our favorite spot in the Keys: Boot Key Harbor. Just got the call today that our mooring ball is ready and will head to it tomorrow. Stay tuned as we figure out what's next!