It was nearing a month in the Key West mooring field, plus the month and a half we spent just prior in the Boot Key Harbor mooring field at Marathon, and we were more than ready to get out of the city. I love touring around interesting places, sampling local eateries, and having access to grocery stores, etc, but honestly, being away from all those things seems to be my favorite part. That is…until I've been at a secluded anchorage for a few weeks, and we're out of something important! 🙂 And, you can bet I'm carrying a few extra pounds around the waste line! So, I'm also ready to work on that, which happens naturally at secluded anchorages.
The real thing we've learned about spending an entire winter in the Keys is there just aren't that many protected spots to stay. The Keys jut out into the open water of the Atlantic and the Gulf of Mexico. And, you are contending with unpredictable cold fronts that can bring uncomfortable (or dangerous) conditions. Further south (next winter) into the Caribbean, and we'll be out of Coldfrontville! So, we've picked our couple of spots here in the Keys and enjoyed the heck out of it!
I had just a few things left to do including scraping the ever growing sea life off the bottom of Holiday. This, like a lot of things, is a chore I used to hire out, but not anymore. It's not too bad. Takes a couple of hours of diving again and again, working my way back and forth with a dry wall scraper thingy. One thing I learned though is that I needed a hood. Ya see, one of the things I'm scraping off is millions of krill like shrimpy things that come off in clouds. I didn't realize this until after my first scrape when I was covered with them, including in my very thick hair and even in my ears! Took forever to get them out of my mop of a head, and I had Lindy pour alcohol in my ears to make sure that if anything was still in there, it was dead. Yuck! Anyways, with my new hood, I finished the job, and Holiday was ready to head out.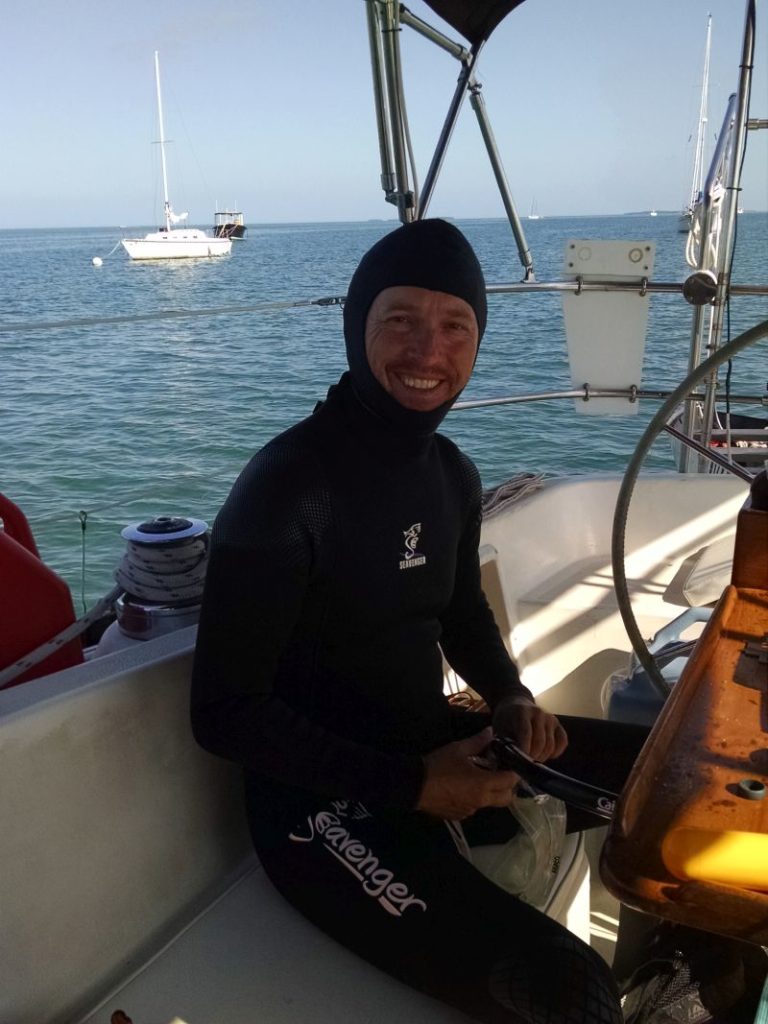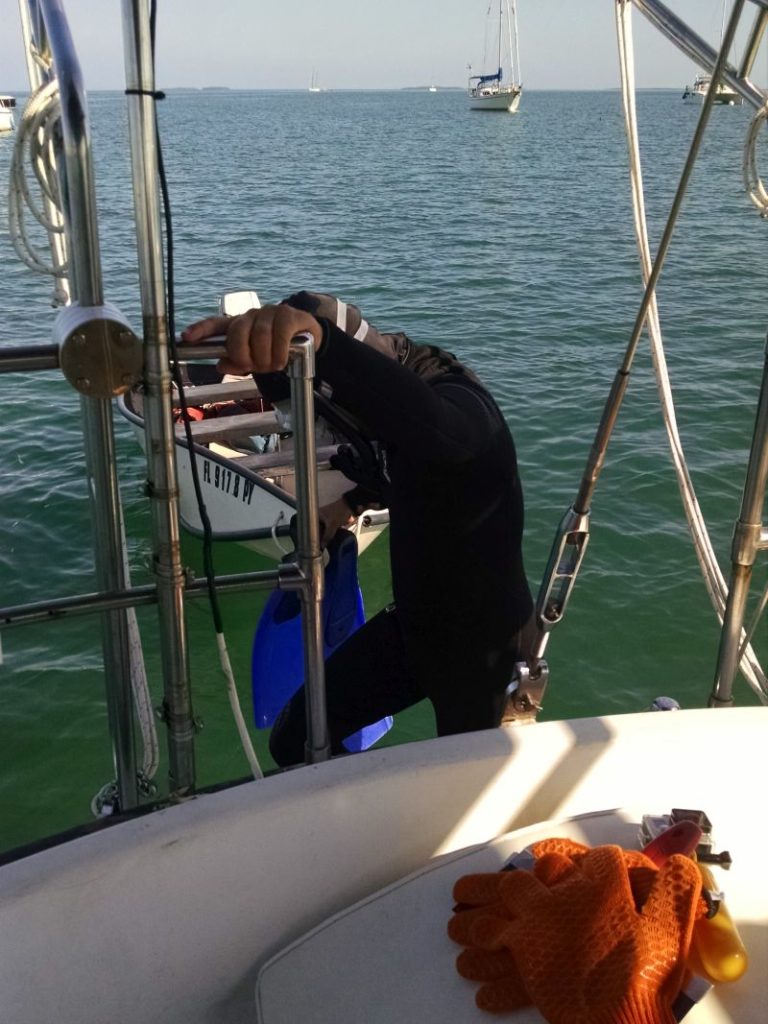 We took one last dinghy ride in, showered, dropped off trash, filled spare water tanks, filled spare gas tanks, and turned in our mooring field keys.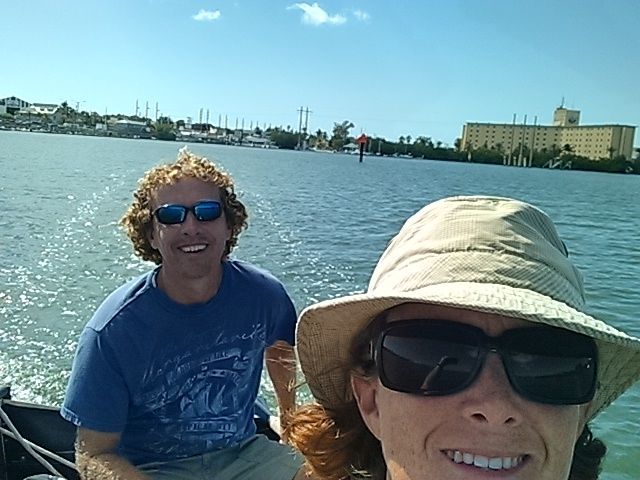 We were itching to find a weather window and head around the north side of the Keys. Leaving south Florida by car, the Keys are a thin line of islands all the way to Marathon, but just past the Seven Mile Bridge, the Keys fan out into a wide area. The cities are still all along the narrow strip that contains the Overseas Highway on the southern edge, but north of that is a vast area of mangrove islands that have nothing on them.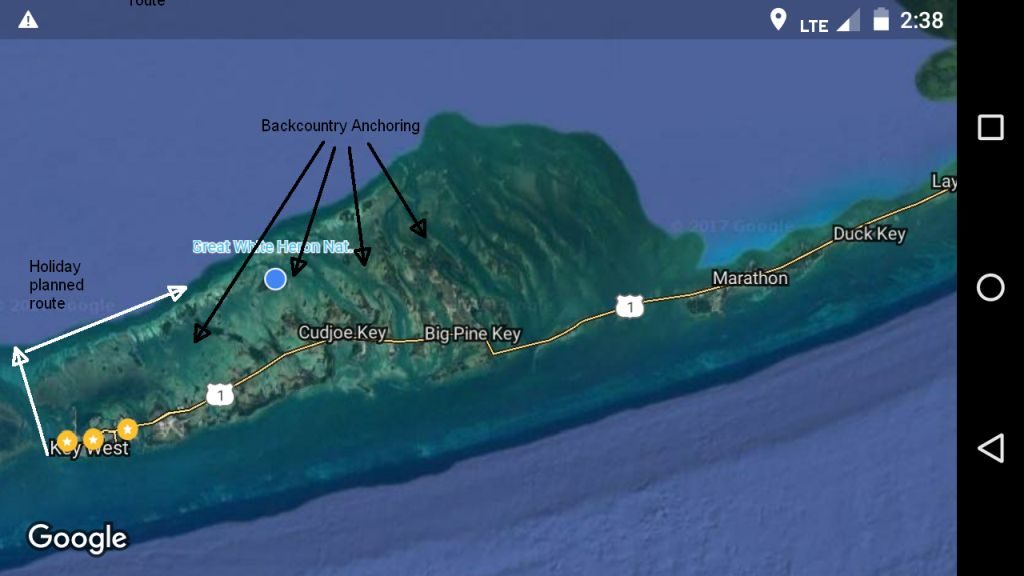 Amongst some of them are deeper channels that go inside the shallow flats where Holiday can go anchor. That's where we're headed now. It's time for some fishing, dinghying to beaches where we are the only ones there, days where we don't see even another person or boat, and time enjoying nature while sitting in the cockpit. Stay tuned for the next leg of our adventure!