Well, we've been here in Boot Key Harbor, Marathon, Florida Keys for over a month now. "What do we do everyday?" you might ask. Good question! We're tied up to a mooring ball and sort of at one of our "destinations." The cruising life is different here than the previous months where we were anchoring and moving around a lot. We've been doing all kinds of different things some days and other days, nothing at all. It's kind of been all over the board so I thought I'd just pick a day, walk around with the camera, and take you all for a ride on a day in the life of Fun on Holiday! Buckle up! (this was yesterday, by the way)
So, first, I open my eyes…just kidding…well, no really, eyes open up, and when I see blue sky instead of stars through the hatch above my head in the V berth, I know it's morning time. Sweet!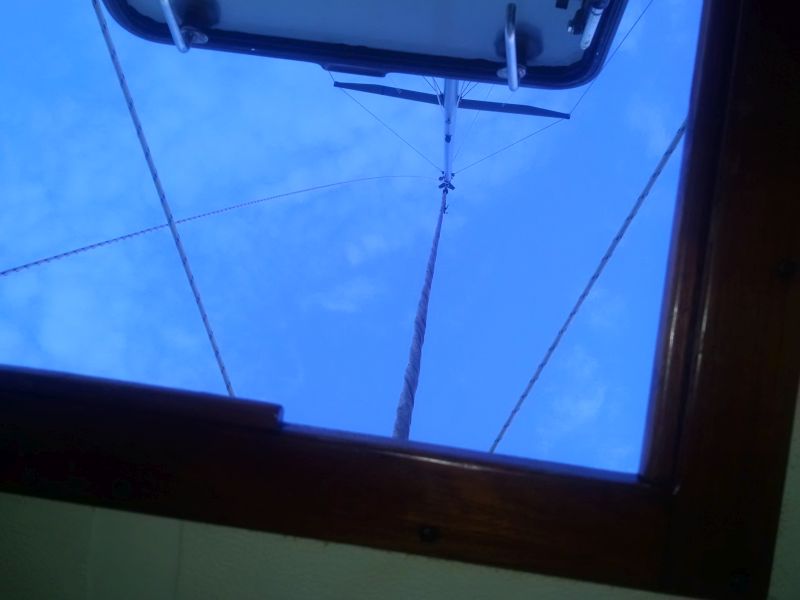 Next, I usually pop my head up through that hatch and check to see if there is a bomb diggity sun rise. This morning, bomb diggity was the case! Double sweet!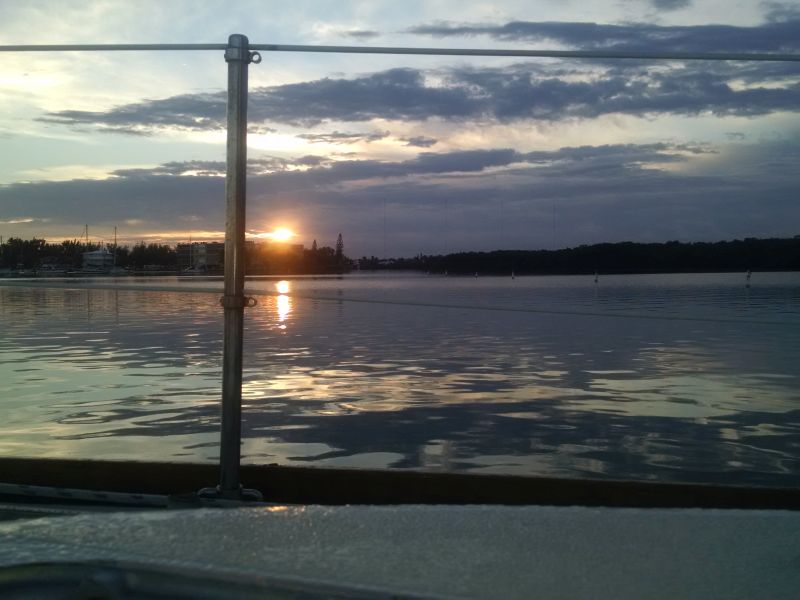 And you know I got to check on Lindy girl…is she still sleeping? Of course not. Reading…again….still. That girl loves to read!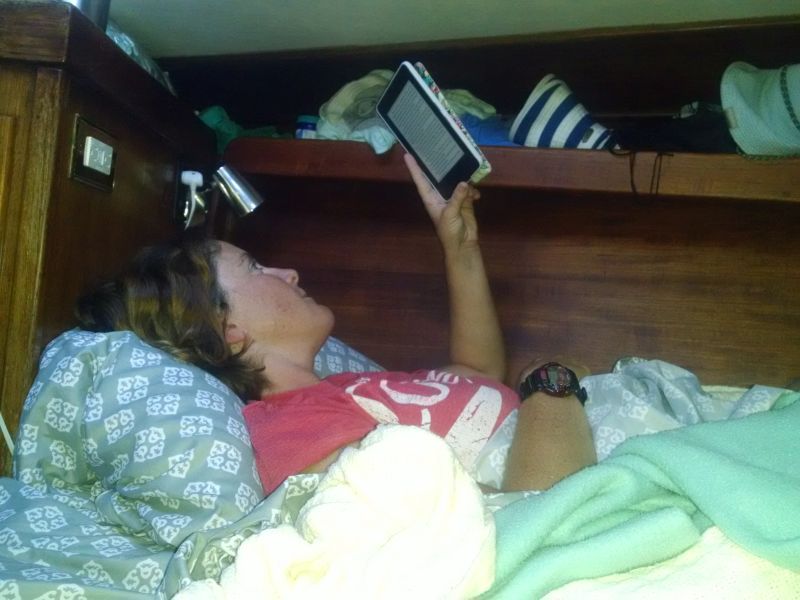 "Lindy! Time to get up! Today is going to be awesome! I'm just sure of it!"


Next, Lindy heads to the galley to make coffee in our Aero Press.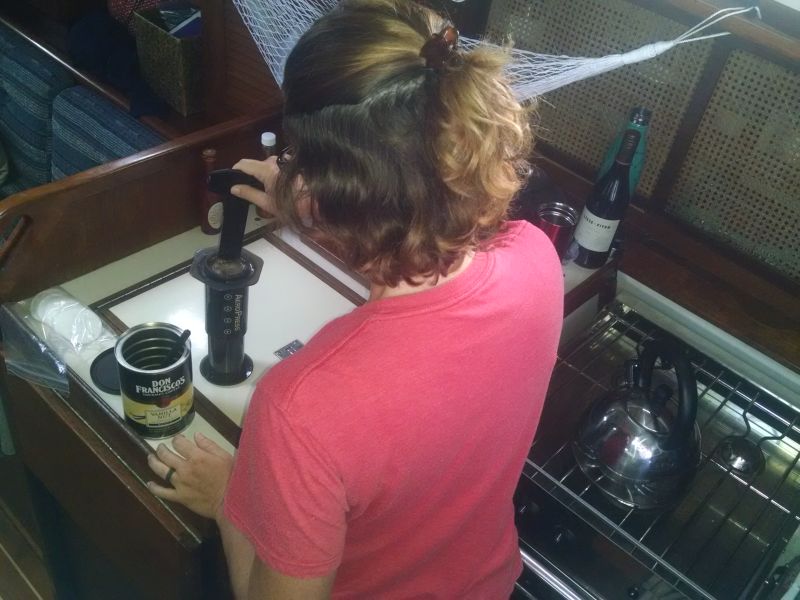 Instead of electricity, the "power of Lindy" powers her coffee machine!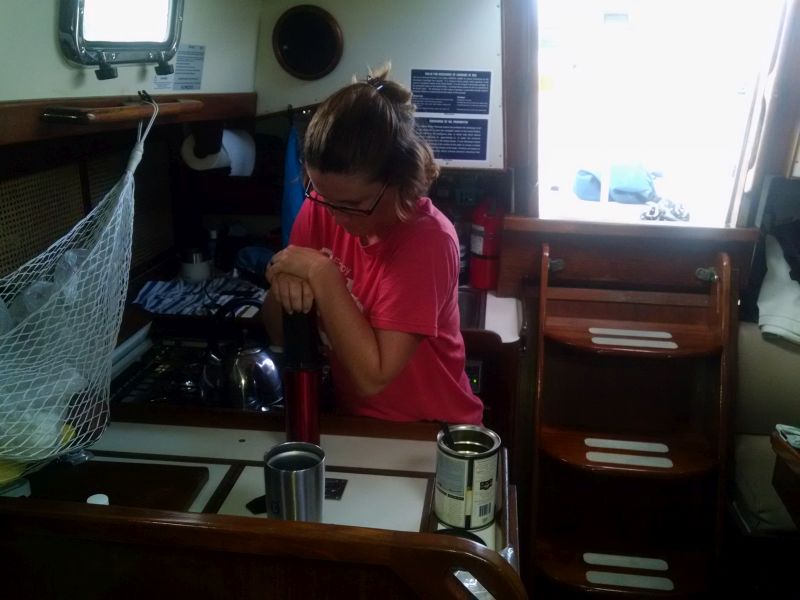 Pretty soon, 9 AM rolls around. In Boot Key Harbor, 9 AM means it's time for the Cruiser's Net. Every morning of the year on VHF channel 68 here, a rotating "Net Controller" leads the harbor through: 1. New arrivals introducing themselves, 2. Departing vessels saying good bye, 3. Announcements, 4. Comments, questions, people needing help, 5. Buy, sell, trade, give away, 6. Trivia (try to stump the harbor), and 7. Final comments. It's really a pretty amazing thing, and we listen almost every morning and occasionally chime in. On this day we re-heard the information on the lunch gathering we would go to later, among a bunch of other useful tidbits.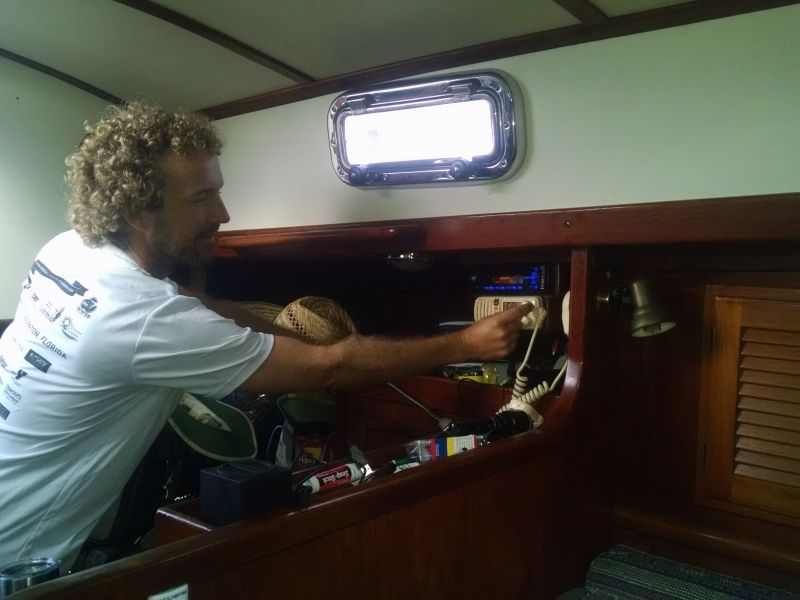 So, we sat back, ate a little breakfast in the cockpit, and learned about all things Boot Key Harbor over the VHF.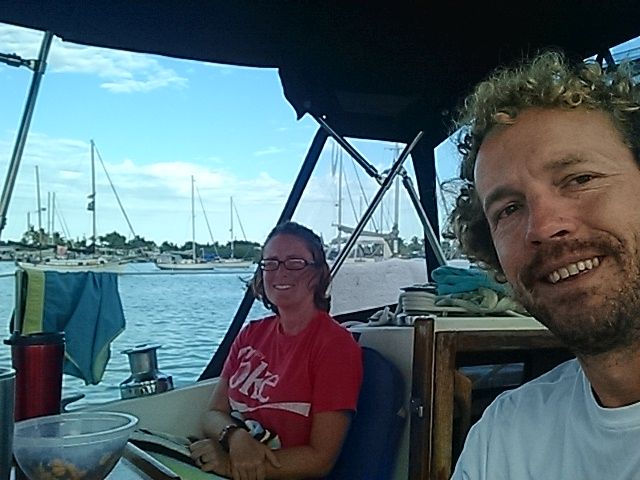 Also, during this time of day, boats start to move around, and we watch them as we hang out. Big sport fishing boats like this one as well as smaller motor boats, sailboats, and also dinghies from the 200-300 boats all moored and anchored around.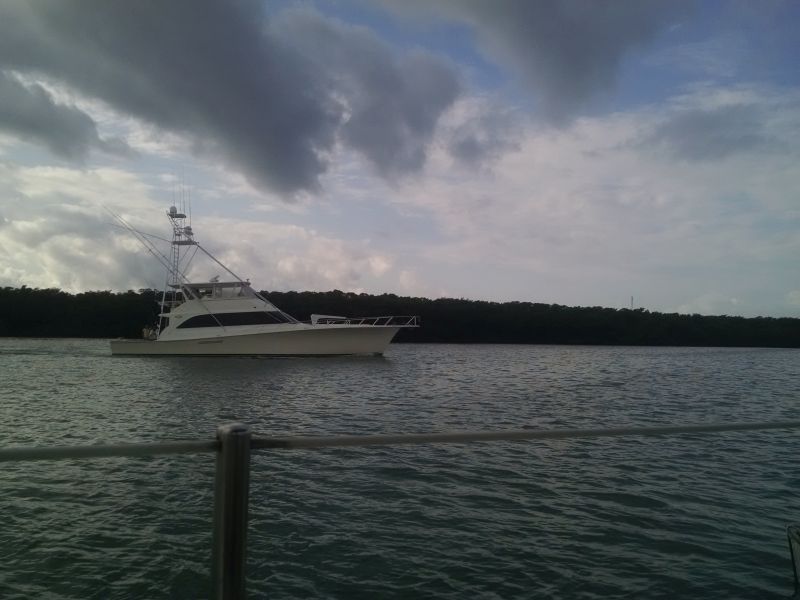 The pump out boat starts to move around the harbor as well. One free waste pump out a week comes with staying at the mooring field, and you don't have to be on the boat or anything. They just come by and pump out the waste tank for you. Very convenient. And, yes…that is a Christmas tree on top of a mast just behind the pump out boat (more on that later).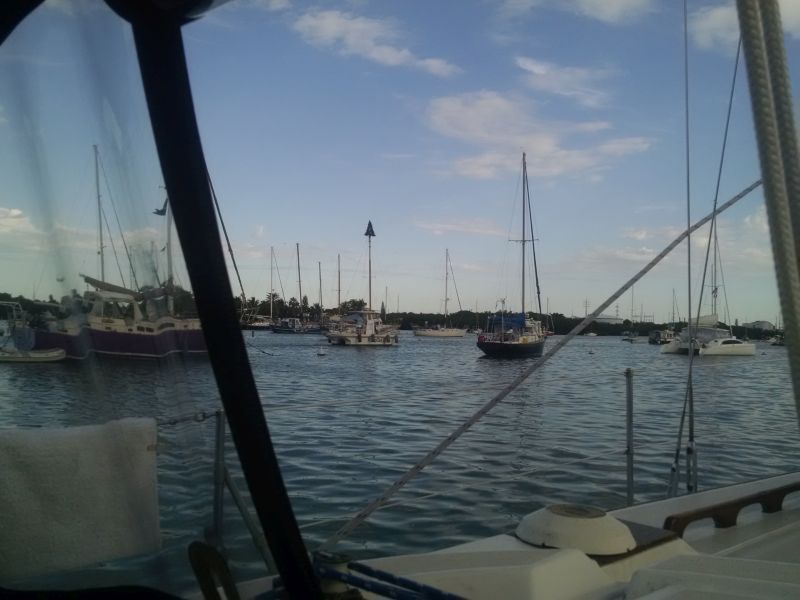 So, after breakfast and the Cruiser's Net, it was time to jump in the dinghy and head to shore for our excursions of the day. About a 5 minute ride.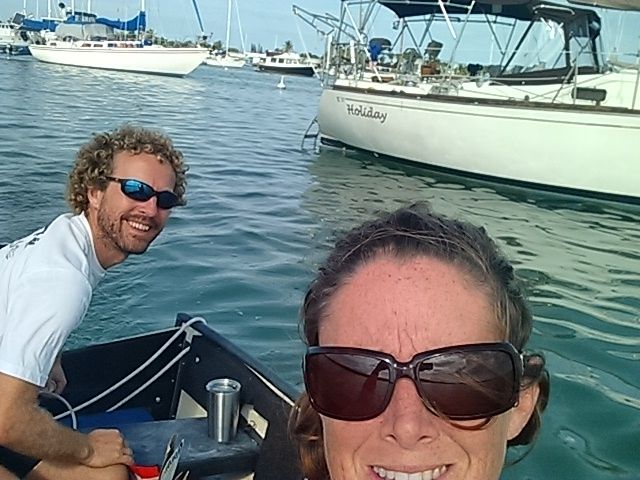 As we rode by the tiki hut, we saw the informational meeting we had heard about on the Net taking place. Some fellow cruisers in the harbor were giving a talk geared toward first time cruisers to the Bahamas with all the info they might need on where to go, what to take, clearing customs, etc. There are things like this going on here all the time. Free. People just sharing info with an attitude of we're all in this together so let's help each other out.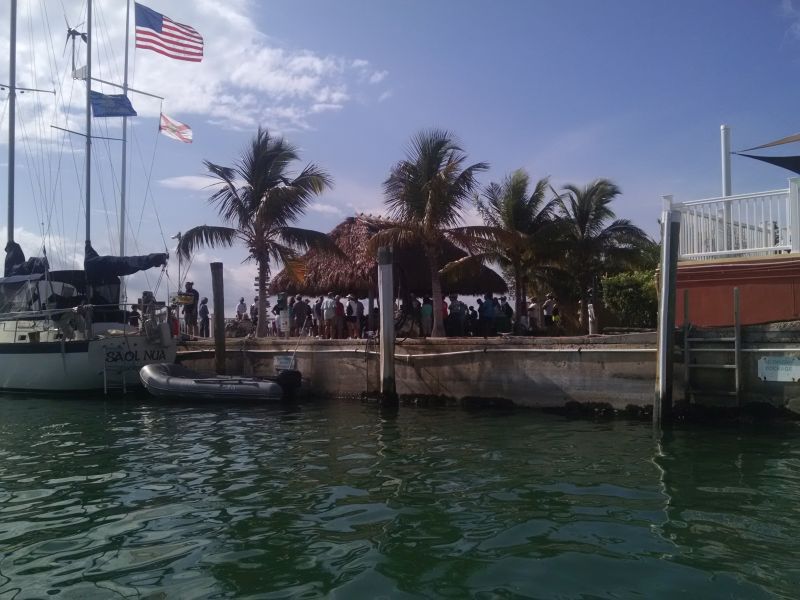 Just past the tiki is our dinghy dock, and Lindy got us tied up.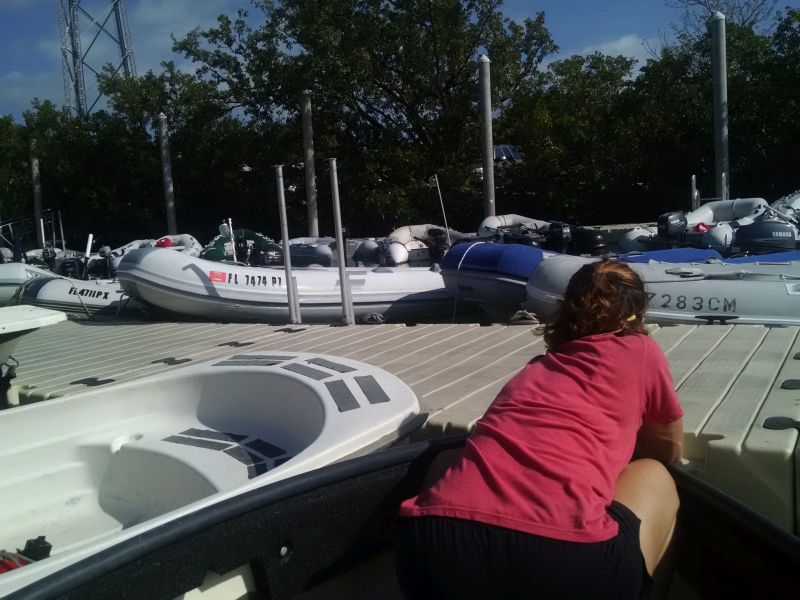 Before heading out into the world, it was definitely shower time. After 1-2 days….ok, you busted us…3-4 days, every dirty sailor needs to take a shower. As you can see from these before and after pictures, it's a night and day difference.
Before: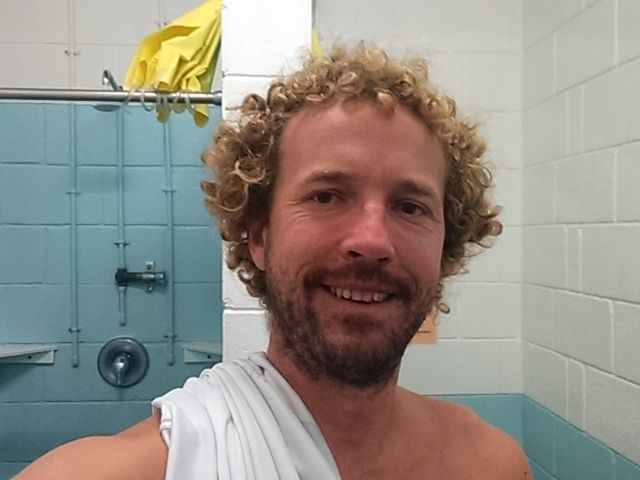 After: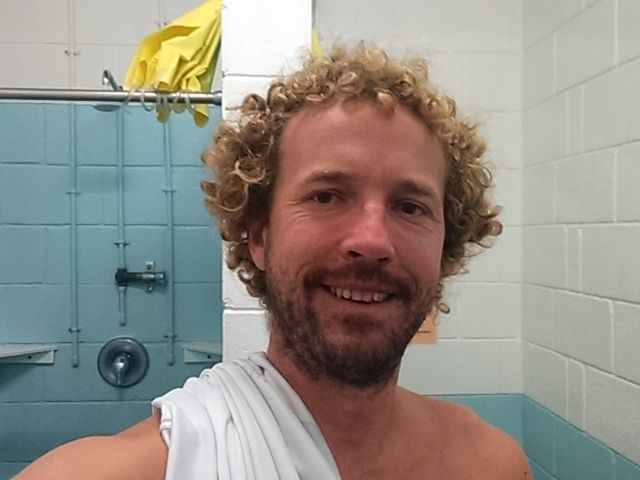 Tricked ya, didn't I? That was the same picture twice, and you didn't notice. Here is the real "After" picture. Boom! Fresh and clean!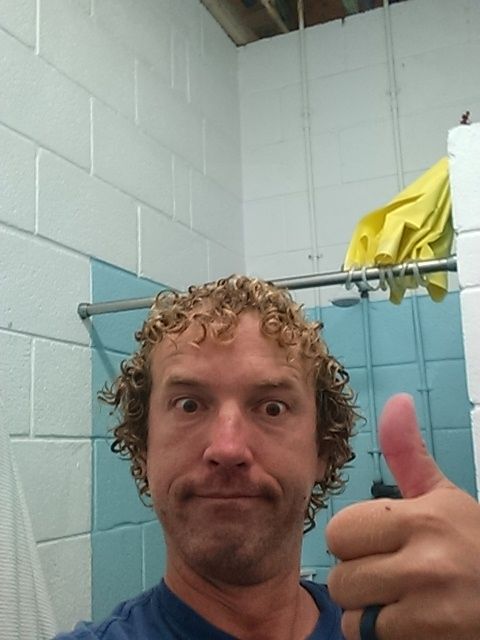 Lindy, now squeaky clean herself, was all backpacked up and ready to go.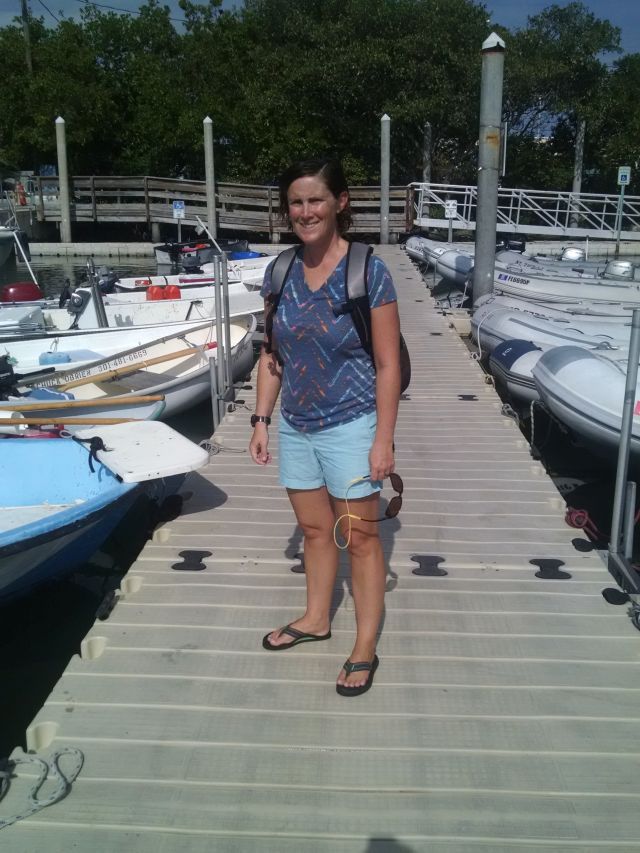 Leaving Boot Key Harbor by foot (or anywhere in the Keys for the most part) you have two choices. Head west/south on US 1 toward Key West…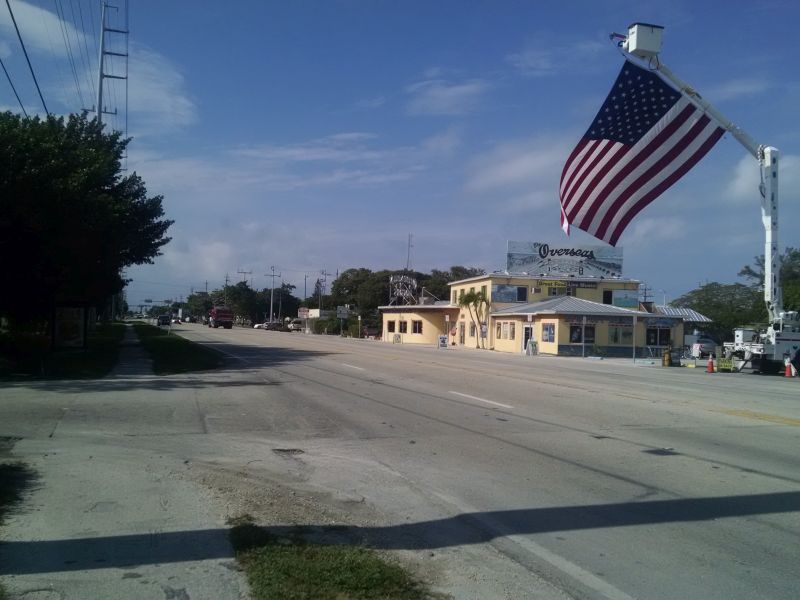 or head east/north on US 1 toward Miami. The Overseas Highway is this 113 mile portion of US 1 in the Keys including the famous 7 mile bridge just about a mile from where we stand.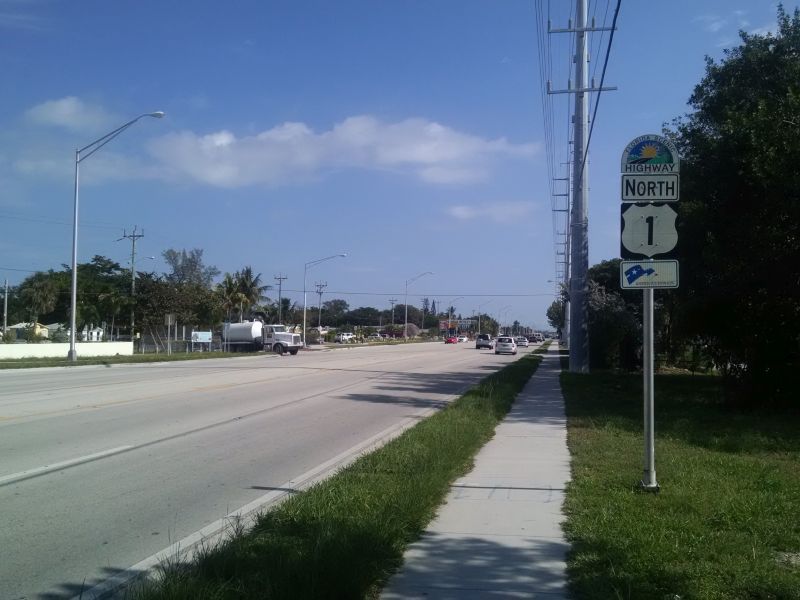 Today we were heading east and ready to play our game of "Human Frogger" since our destination was on the other side of the road and cross walks are few and far between. We passed by the park and saw people setting up for the Celtic Festival (another thing we had heard about on the Net) which would be the next day (today as I type), and we planned to attend.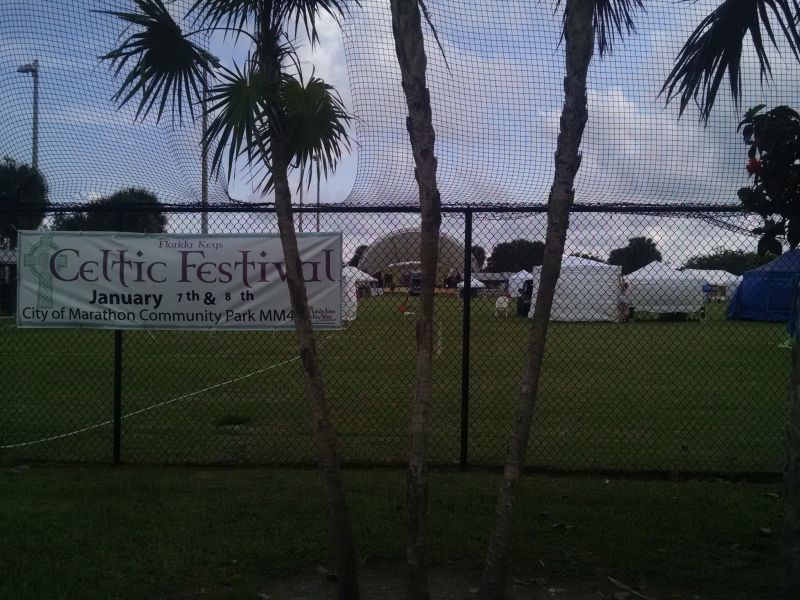 About three quarters of a mile down the road we luckily won at "Human Frogger" and made it to the Hurricane restaurant.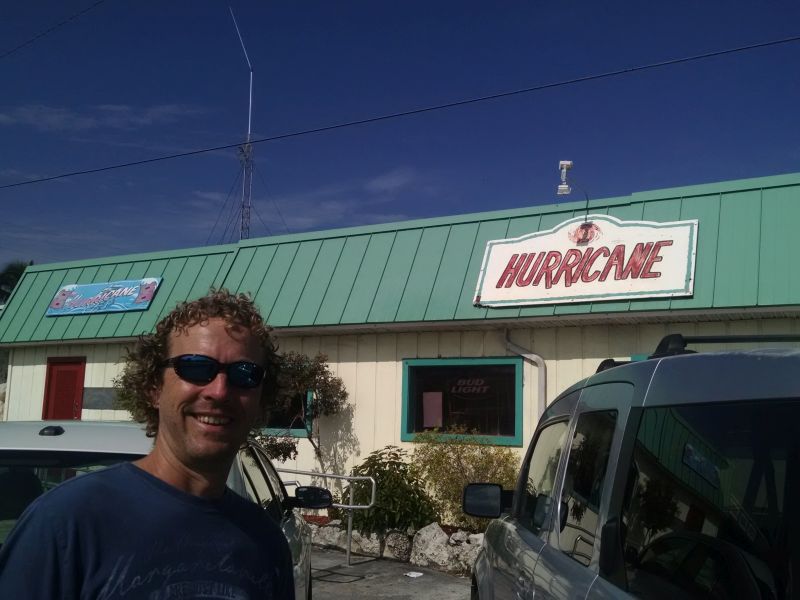 Today was a lunch meeting of the SSCA (Seven Seas Cruising Association) where we would network with other cruisers to try and find some that had been to Key West and the Dry Tortugas and get info on route planning, anchoring, and mooring. Lots of people were in attendance, we made some new friends, and got the info we were looking for to help us on our next leg.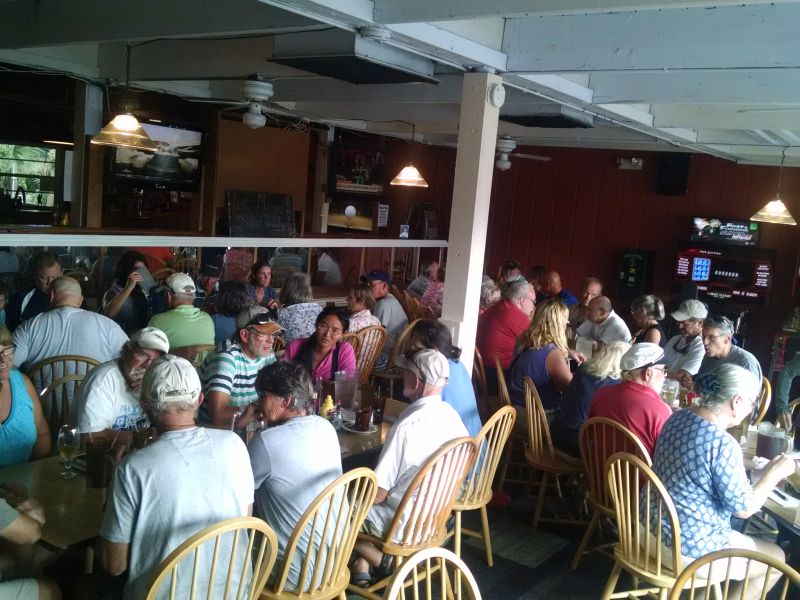 There was also a speaker who gave a very interesting talk on cruising to Cuba, a destination we are hoping to go in the coming years. That's him growing out of the top of Lindy's head.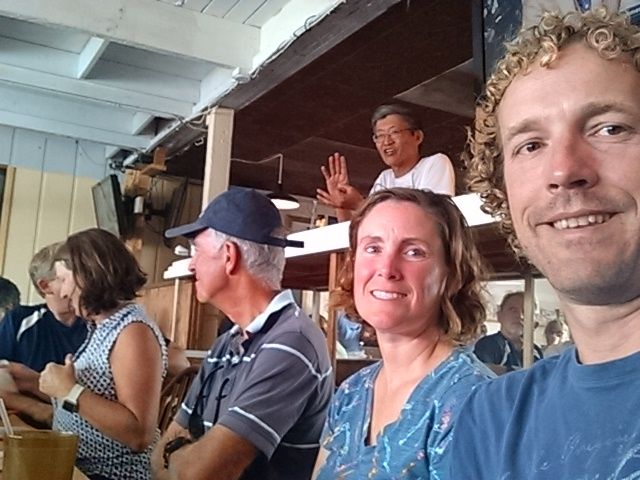 After our luncheon, we made a quick stop at Kmart, Publix, and Home Depot about another quarter mile down the road, before walking the mile back to the marina and heading back toward Holiday. We were planning to go out to dinner with friends and were going to rest a little before hand.
But…remember that Christmas tree on top of that mast? As we came up to Holiday, our friends on that boat swung by on their dinghy saying, "Christmas tree is about to come down! Christmas tree party on Crystal Rose!" Not wanting to miss out, we would forego our nap and head right over.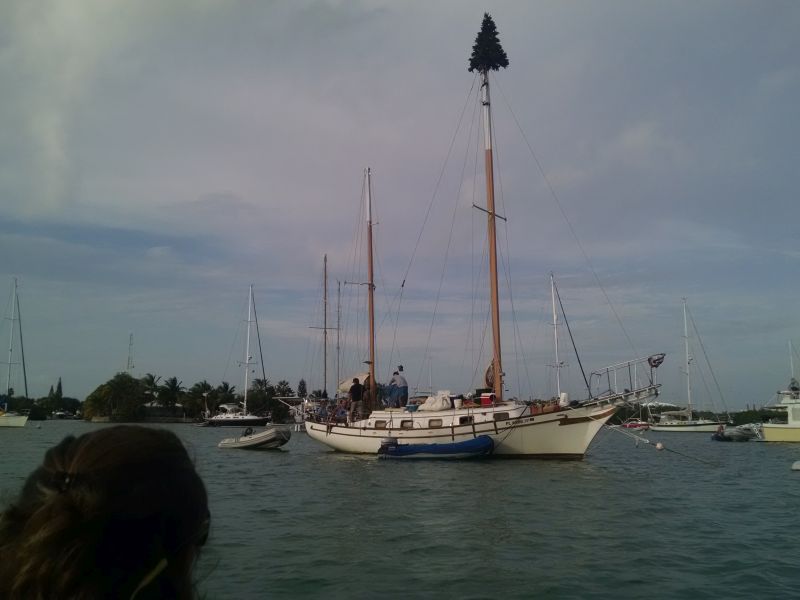 A good group of friends gathered, and the fun began.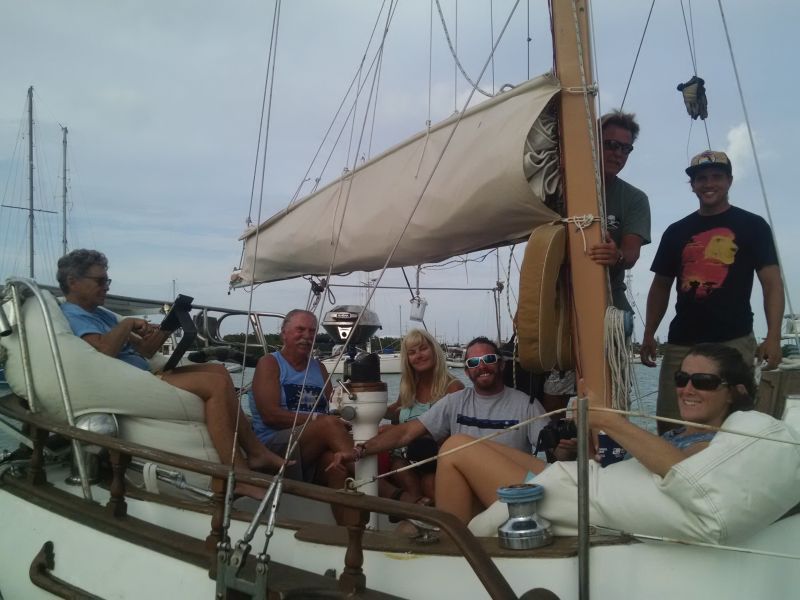 I hauled on the halyard, while Jonathon (the owner of the boat) cranked Mike (known throughout the harbor as "Mike Christmas Tree" for obvious reasons) up the mast to the tree.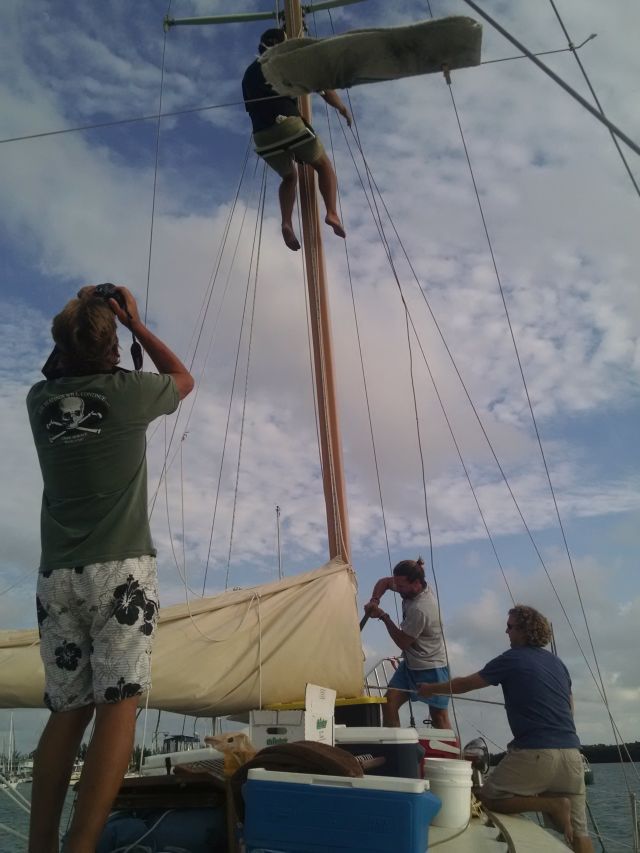 Of course, any good Christmas tree mast removal party needs drone footage.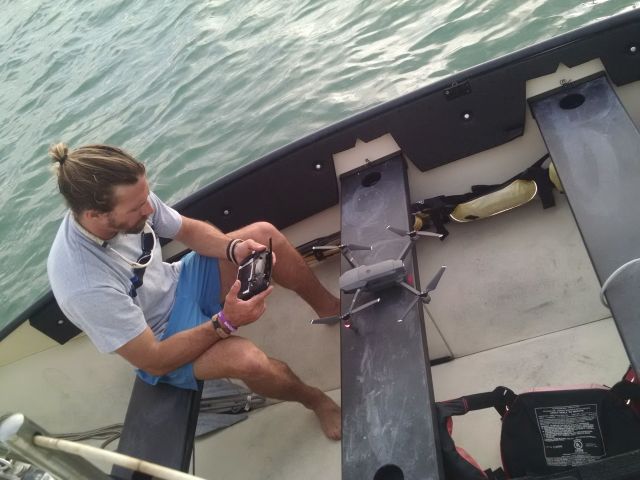 Soon, Mike was at the top clipping zip ties and untying lines.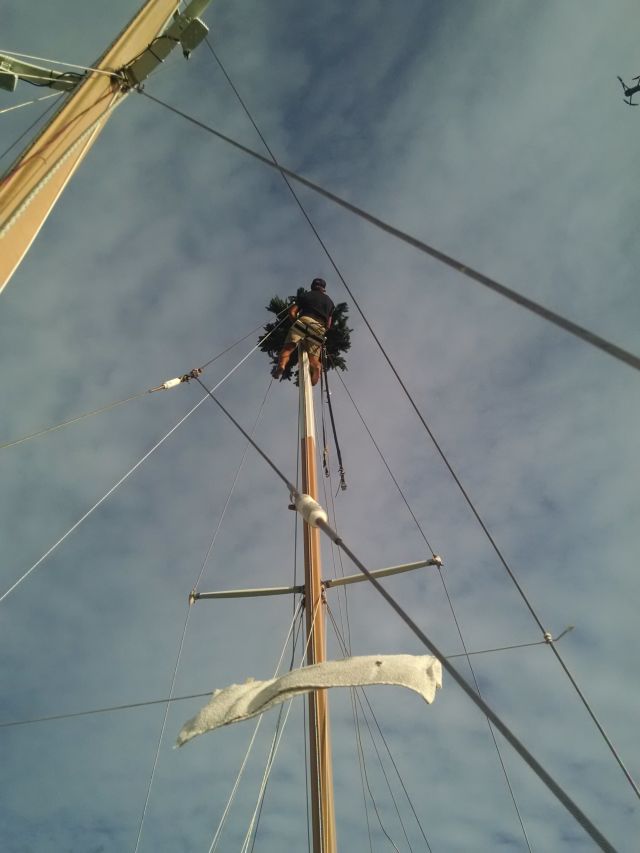 In no time, we were lowering the tree.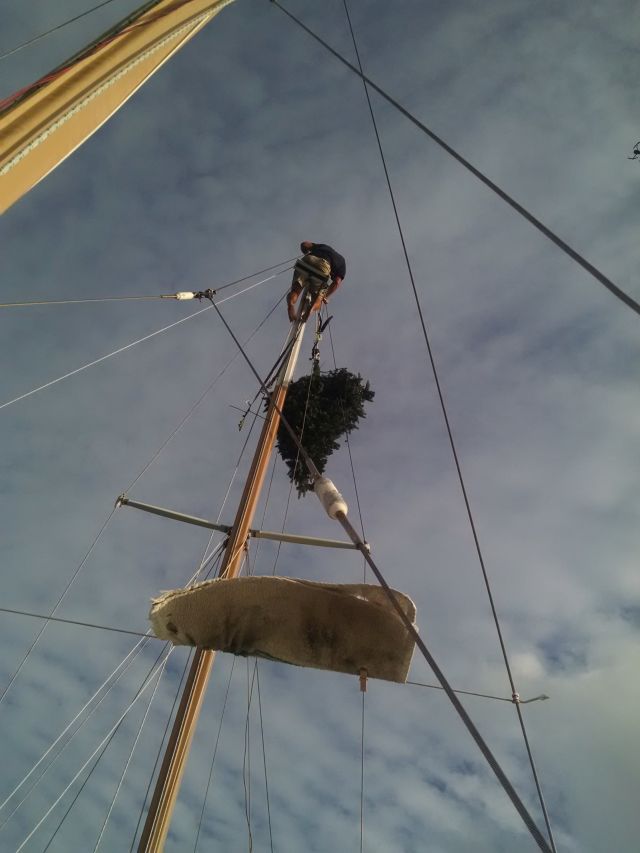 With the tree down, it was time to go meet up with our friends Dan and Jackie on their boat and head to dinner.


We jumped back in the dinghy and headed over to Pleasant Living, a beautiful Island Packet 40 that Dan and Jackie sailed down from Baltimore. They started cruising at about the same time we did.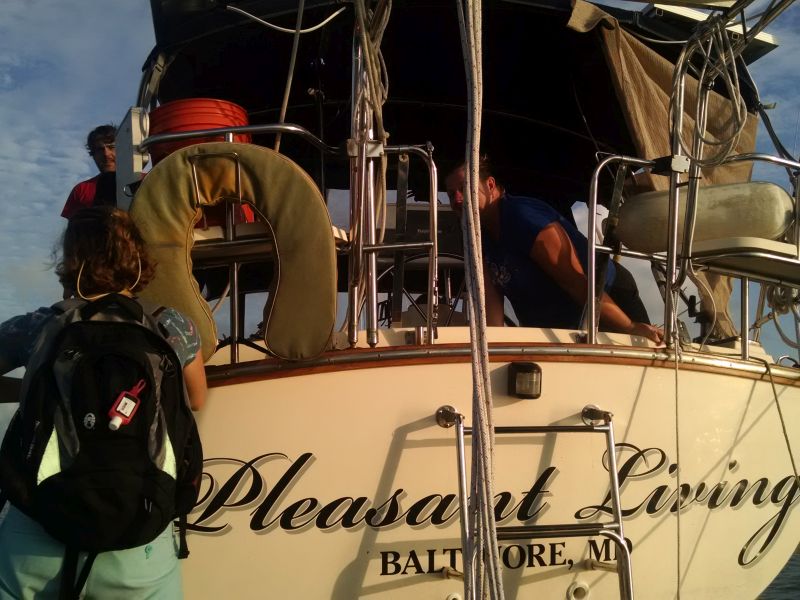 We picked Castaways for dinner which you reach by dinghy and were treated to a beautiful sunset as we made our way on about a 15 minute ride and tied up to the docks at the restaurant.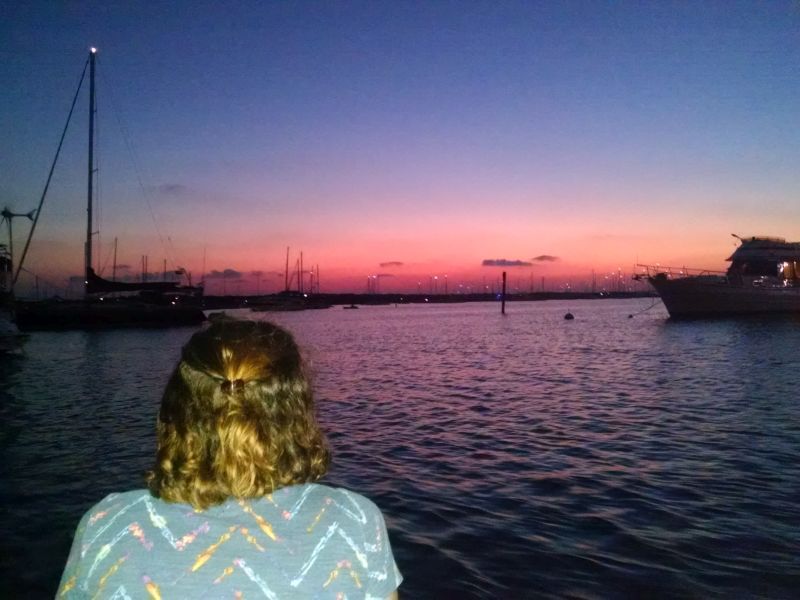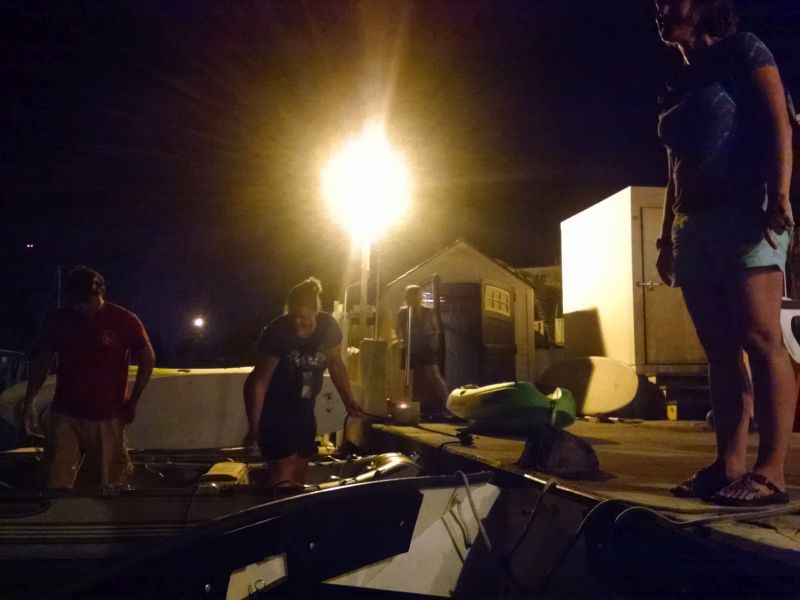 We had a great meal and an even better time hanging out with our friends and fellow cruisers. Afterward we did a flotilla style dingy ride back to Holiday with the boats connected. Fun times!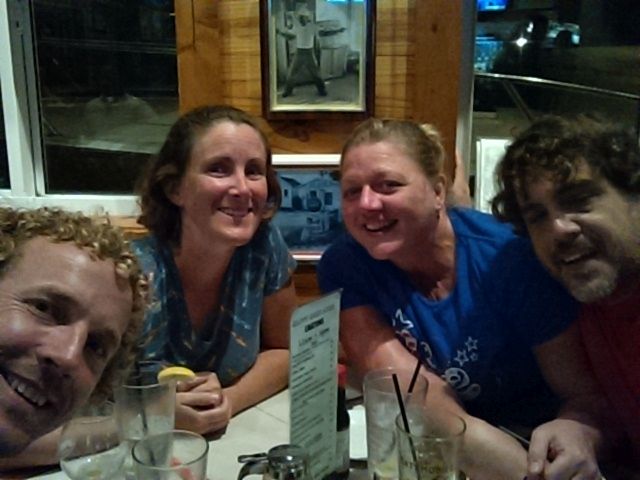 Not sure if I have the energy for every day to be as fun filled as this one, but back on Holiday and ready for bed, I sure was glad of all the experiences I just had. Hope you enjoyed your ride on a day in the life of Fun on Holiday!