With the peak of hurricane season approaching and our condo not rented at the time, we decided to head north for Cortez to hide from storms, make some trips to visit family and friends, and have Holiday hauled out for a routine bottom job. This made sense for a lot of reasons especially because while the boat is hauled, we would need a place to stay for a minimum of a few weeks, and not to mention that our condo dock is free and very well protected for the time when the boat isn't hauled.
We arrived to Cortez, visited with lots of friends, and decided to first make some trips to see our families before taking Holiday to the boat yard. It was strange to be "land based" again, but we milked every bit of air conditioning, unlimited water, and king sized bed non motion sleeping we could.
Of course, when we returned from these trips, a little storm you may have heard of called Irma was brewing in the Atlantic which delayed our haul out for a week or so as we tied Holiday with a ton of lines in the center of our canal, stripped off all the canvas/solar panels, and were mandatory evacuated to Lakeland (where the storm ended up going right over us at the Bracken "shelter"). But luckily, all crew as well as Holiday came through without a scratch.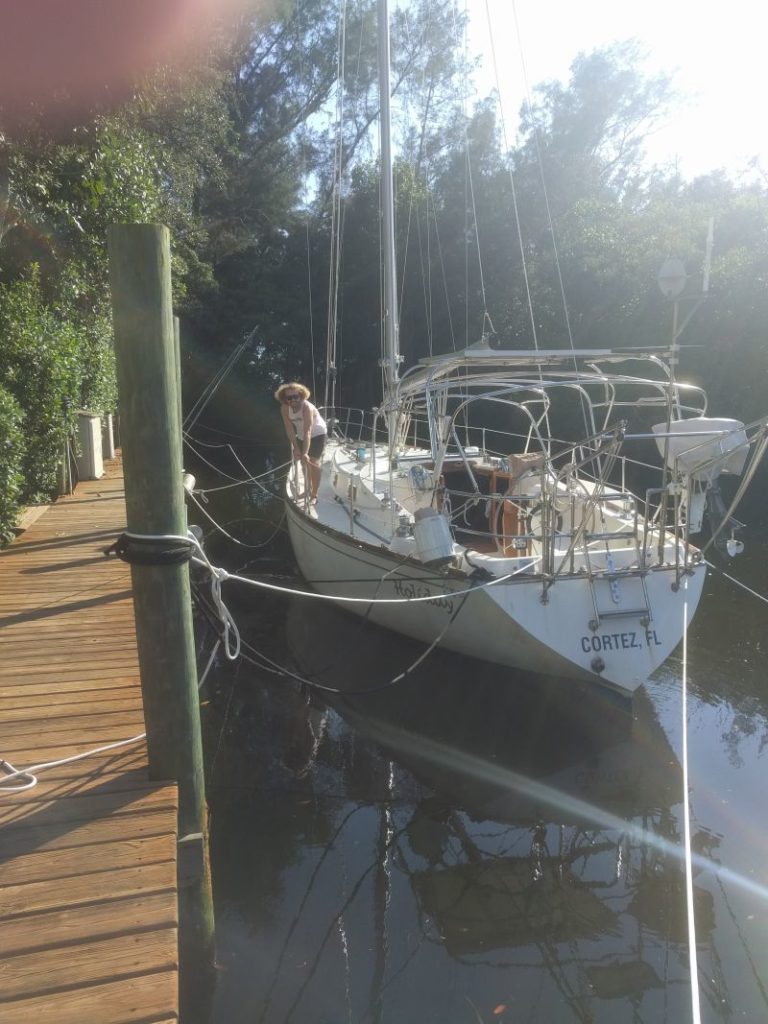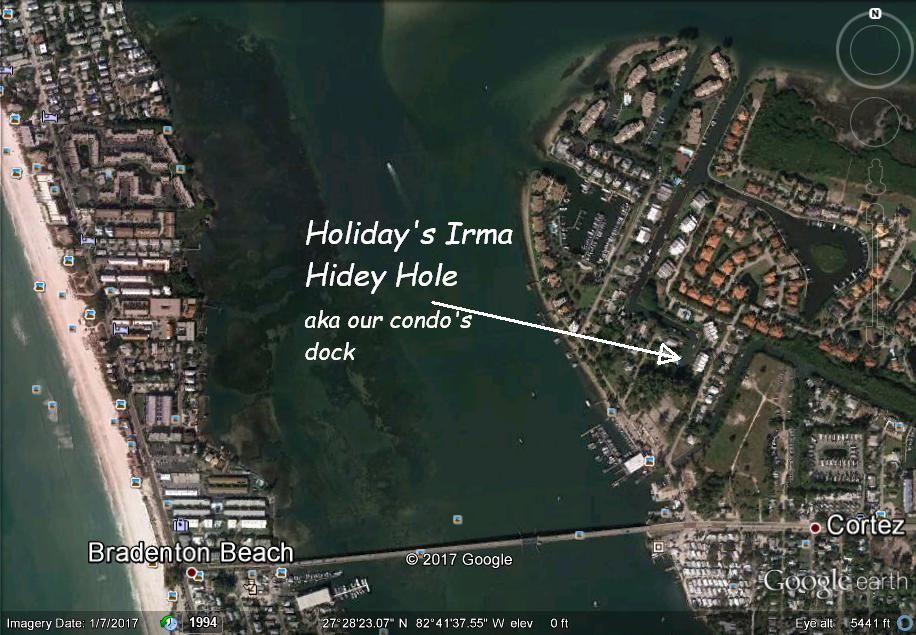 Finally, in mid September we motored over to the boat yard for a bottom job and a few other maintenance odds and ends that I wanted them to tackle. The original prognosis was that we would have the boat back by early October. Great! Right? The previous year we had begun our cruise south on October 15th. The schedule was lining up nicely. Heck, we might even lolly gag a little after getting Holiday back and leave some time in November. Our next renters weren't arriving until December 29th. Plenty of time…
Only, I had a secret. Well, not a secret. I had a suspicion. I had been monitoring some water in the bilge for months. Water in the bilge is normal. It can come in down the mast, through where the anchor chain goes through the deck, through the "gland" where the propeller shaft goes through the hull, leaks in our drinking water tanks or pipes, condensation, or basically anywhere anything on our nearly 40 year old boat isn't sealed perfectly at any deck fitting (winches, pulleys, etc). An automatic bilge pump, pumps this water out regularly on all boats.
But, that doesn't mean you ever ignore water. They say all boats are sinking, some just faster than others. I would like Holiday to be sinking as slowly as possible!
The water I had been monitoring had me suspicious because: A. it was salt water and B. I couldn't trace it to any of the normal culprits where salt water would come in. The saltiness ruled out rain water, condensation, and our drinking water system. Through a lot of time and drying, I thought I had found a couple of places where water seemed to ooze slowly up from the bilge floor. Just a tiny amount. It wasn't dangerous, but I still wanted to know how it was getting there.
Anyways, back to the boat yard. Since I wasn't 100% sure of anything, and I didn't want to give them license to do unnecessary work (it gets really expensive quick), I didn't mention anything about the water in the bilge. Our hope was that some "pin hole" or something would be fixed by the sanding and painting that a bottom job entails, and any leak would be fixed.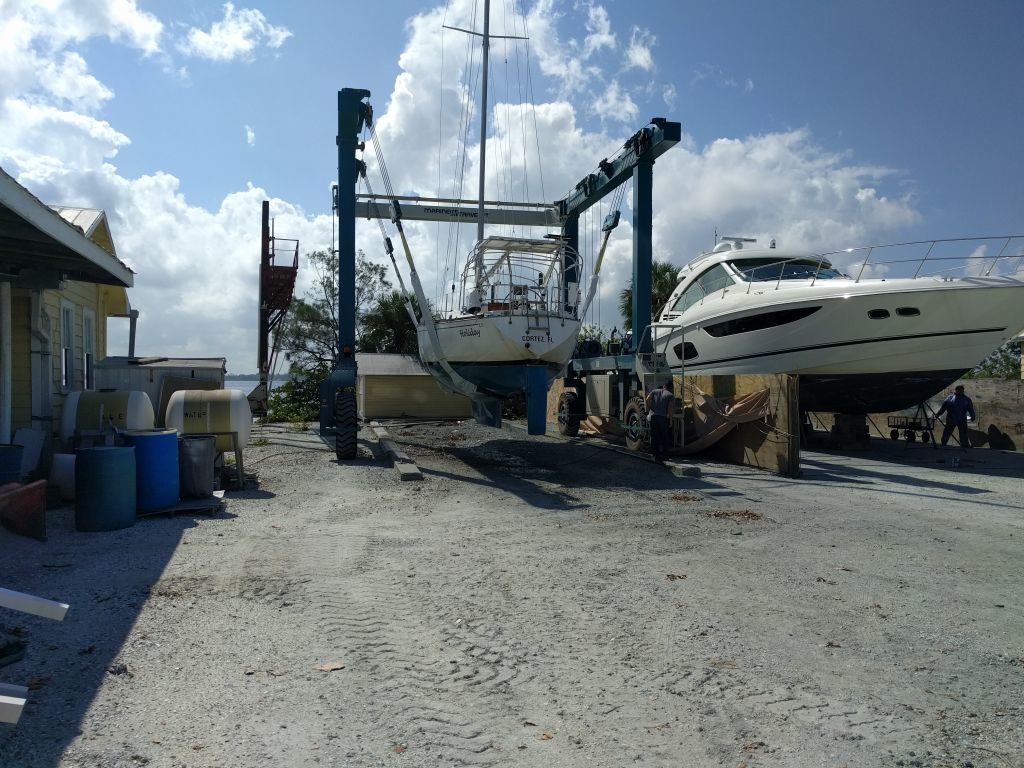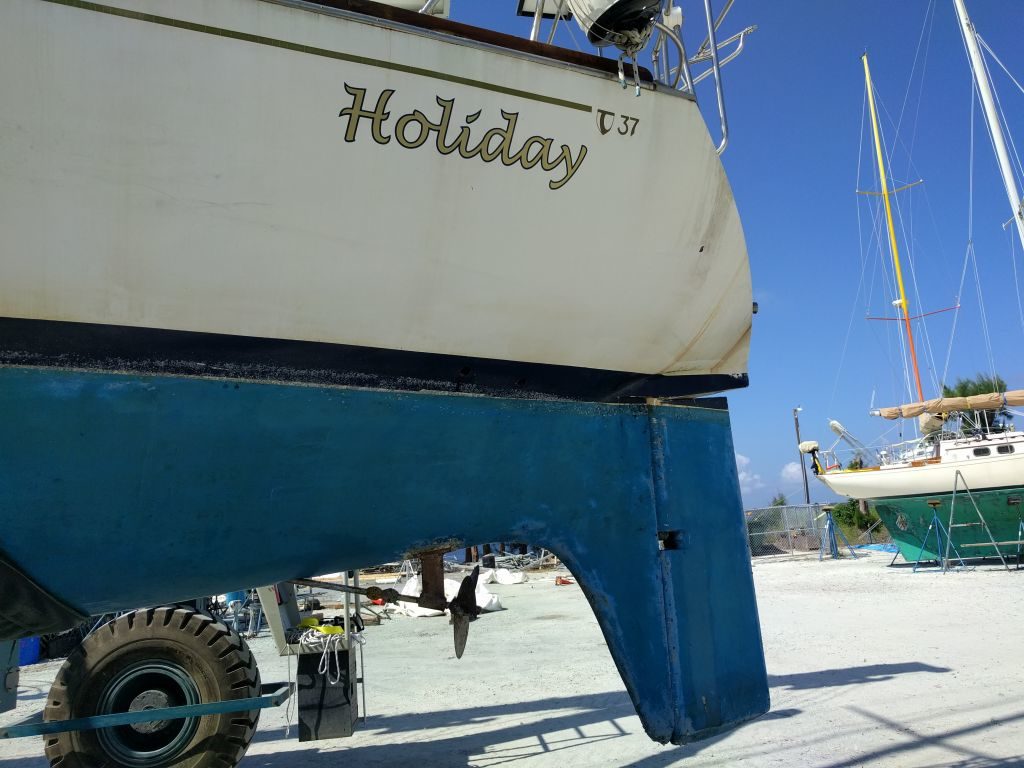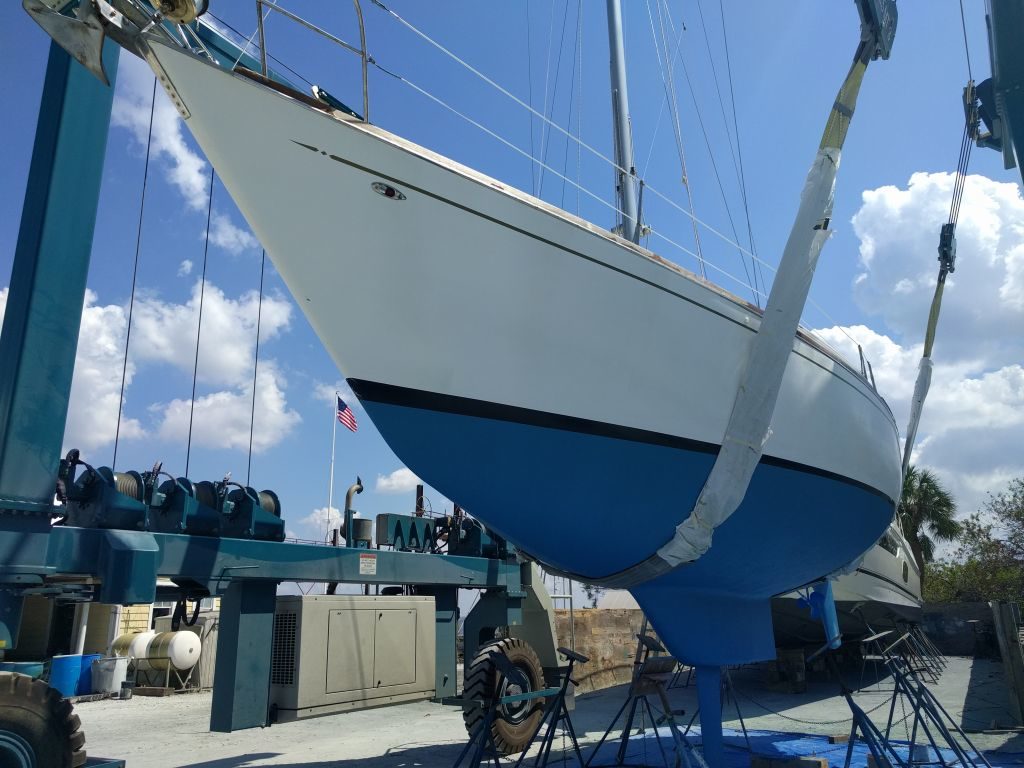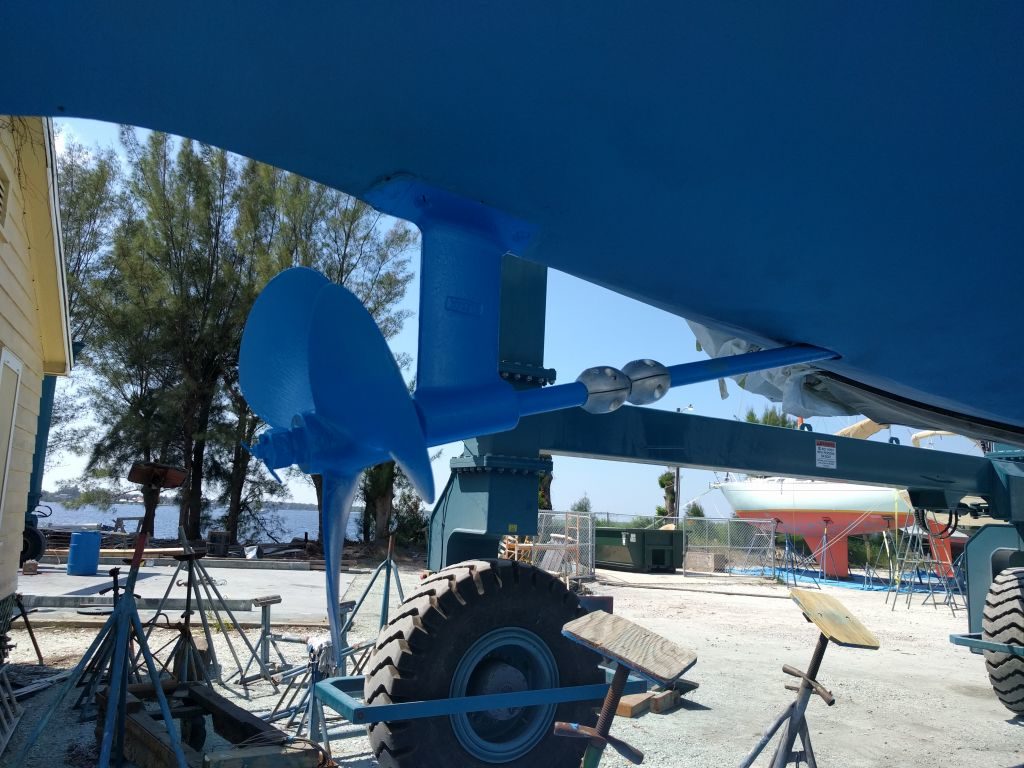 Well, after a few weeks, the work was done, and we went back to retrieve Holiday. Sick to my stomach as I checked the bilge, the "leaks" seemed to be even slightly worse than before. We had a decision to make. There certainly wasn't anything going on that created a dangerous situation. The bilge pump would come on a little more than before. I'm sure there are plenty of boats out there sailing the oceans with worse problems than what we were looking at. But, I also felt like I didn't just want to leave a problem that I was now 100% sure of.
Even though I knew the wallet was about to get lighter, I walked over to the yard manager, showed him what we saw, and watched as they prepared to lift Holiday back out of the water for more work.
The yard manager was sympathetic and proposed a "cheaper" fix since we couldn't find any evidence on the outside of the boat where water might be getting in. He felt like they could dry the inside of the boat out, patch the top of the leaks with fiberglass and epoxy, and we'd be on our way. No more water in the bilge. This would be like fixing a leak in your basement by patching the ceiling rather than going to the bathroom above and sealing the floor, tub, etc. I really wanted them to investigate and find the leaks on the outside to do a "total" repair but agreed to his idea, thinking of my wallet and going with the advice of a pro that it actually was the best plan.
So, to make a long story short (TOO LATE!), patching the inside didn't work, and after putting Holiday back in and taking her out 2 more times, I finally convinced them to just grind and rebuild the entire bottom of the keel, the back of the keel, and anywhere else we saw even the slightest evidence of water on the bottom. By this time we were pushing November!
So, after the next lengthy (and expensive) set of major repairs we were now doing, we finally got Holiday back exactly 7 days before our condo renters arrived. The WONDERFUL news was that the repair worked! No more salty water oozing up into the bilge, and Holiday is sitting at least an inch higher in the water with the keel completely dry now. The not so wonderful news was that we had to work day and night right through Christmas to get Holiday prepped for living aboard again. But we did it! We actually left the dock on New Years Eve, 2 days after the renters arrived.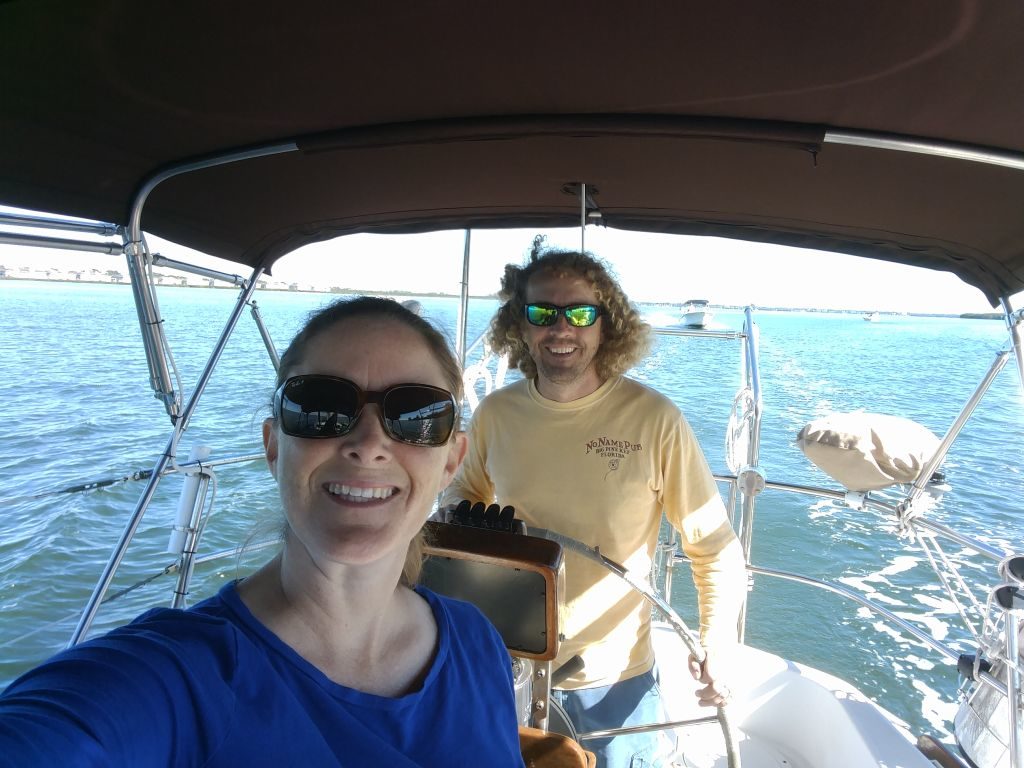 Now we are back aboard and ready to make our way to the Keys! Stay tuned for the next adventures. We've already started videoing, and I'm hoping to have our next Youtube video up ASAP. Get caught up here in the mean time!
Check out some pictures of the repairs to the keel: