So, you've thought about crossing the state of Florida through the Okeechobee Waterway (or maybe you just want to read about our experience doing so and see some cool pictures). You've done a little research and read about locks, short bridges, shallow depths in Lake Okeechobee, or rough conditions in Lake Okeechobee. You're wondering how narrow the canal is. Where do you stop? Is there room for anchoring? How many days should you allow for the crossing? Are there convenient, easy stops at regular intervals for the passage? Never seen a lock? Are they difficult? What about pirates? Ok, that last one was a cruiser joke…
At this point you're probably thinking that it is probably just easier to continue down through the Keys and brave the bridges of south Florida, weather, crab pots, and long crossing of Florida Bay to get to the other side, than to figure all these things out. The Keys are certainly an awesome place to go cruising. We have a few crossings of Florida Bay under our belt and enjoy that route too.
But, if you're like us, maybe you've already cruised down through the Keys before and know you're going to do it again. Maybe you want to try something different to see what it is like. Maybe you want to get to the other coast without having to barely think about the weather or tides. Maybe you love Florida and are interested in this historic waterway going through a historic frontier area that in many ways never got fully developed. A place where in the fight between nature and progress, nature is mostly winning out. Maybe you just want to see some gators.
Well, if this is you, you've come to the right place. I'm going to demystify the crossing of the Okeechobee Waterway along with a recommended schedule of where to stop and spend the night for a leisurely slow paced adventure. Spoiler alert: we never even anchored. All cheap/free docks or mooring balls.
First things first. Here is a list of things to do before you get started:
-Check the Lake Okeechobee water level here: http://w3.saj.usace.army.mil/h2o/currentLL.shtml Our stage in late June 2017 was 12.25 with Route One depth of 6.2. The shallowest we saw was 7.5′. Most of the lake was over 10′. If lake is too shallow, wait for more rain (this is Florida…you usually won't have to wait long).
-Call the Army Corp of Engineers in Clewiston (863) 983-8101 and ask about any lock closures or any specifics of depths or bridge heights that you may want to check.
-If you are a sailboat and think your mast height is somewhere between 50-55′ above the water, it's time to know for sure. We thought ours was close to 55′ but found that it was only 52'2″ to the highest solid structure. We could have removed a couple of things and gotten this down to 50′. If you are over 55′, the Okeechobee WW is a no go for you. 54′-55′ you'll need to time the first bridge on either coast for tides as they are around 54′ at the highest tides (Cape Coral on the west, SR 714 on the east just past Stuart).
-For mast heights 49′-55′ go ahead and make contact with Billy Owen at 561-262-5200 for getting "tipped" to go under the 49′ Port Mayaca Lift Bridge. He charged us $200. Also, you may have to call him a few times before you get him. He does the tipping as a side job and may be busy when you first try to reach him. We found communication to be good though. More on this process later.
-Boat prep: get your fenders out for the locks, have your secondary anchor handy in case you decide to anchor somewhere you want to put out a stern anchor to control swing (we never used ours), fuel and water is readily available all the way across but we went ahead and filled our tanks to make the crossing more leisurely.
-Call ahead to reserve slips/mooring balls.
-If you don't already use Active Captain, get it. On our Android devices we use Plan2Nav. On Apple devices I've heard Garmin Bluecharts is good. Active Captain has all the info you could want overlaid on a chart in terms of the latest on any hazards, shallow spots, bridge/lock issues, etc. We CONSTANTLY monitor Active Captain wherever we are.
A few stats:
130 nautical miles from one side to the other (149 statute miles)
5 locks
16 fixed bridges (2@65′, 11@55-56′, 2@54′, 1@49′)(someone should probably double check those numbers…)
5 draw bridges
1 GIANT lake
Lock phone #s:
St Lucie 772-287-2665
Port Mayaca 561-924-2858
Moore Haven 863-946-0414
Ortona 863-675-0616
Franklin 239-694-8770
Ok, now you're ready. So, where to start? We went east to west so we'll go that way. For west to east, I would simply reverse these directions except if you need to be "tipped" at Port Mayaca I might stop in Clewiston or at the Port Mayaca Lock instead of Moore Haven so that the "tipping" can be done earlier in the day.
If you're coming north up the Intracoastal, I recommend Peck Lake as an excellent anchorage just before starting the OWW. Good holding, beautiful, and access to a long deserted stretch of beach. Coming south you are probably leaving from Ft Pierce or Vero Beach. Either way, get to the St Lucie Inlet and follow your charts along the start of the OWW to Stuart.
Day 1: Stop 1, Stuart (Sunset Bay Marina 772-283-9225)(7 NM)
Stuart is an awesome little town and great place to do any last minute grocery shopping, boat prep, or staging. We stayed at the mooring field which was kind of expensive as mooring fields go at $30 a night, but the facilities were worth the price. There were multiple anchorages within a mile of the mooring field if you prefer. We stayed at Stuart a couple of nights. Lot's of local restaurants and cool shops very close by. Stuart is definitely a city I could go back to and stay for a season or longer.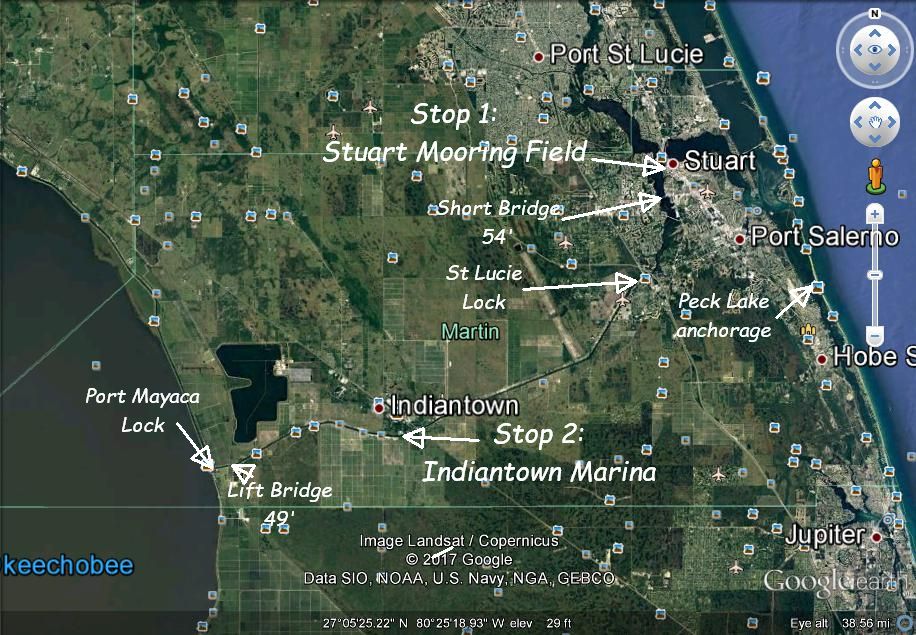 Day 2: Stuart to Indiantown Marina 772-597-2455 (19 NM, around 4 hours)
Once you are ready and leave Stuart the "real" OWW begins. About 2 minutes away from the mooring field you'll see your first 54′ bridge. We had certainly never been under any bridge nearly this short and weren't sure how much you can trust those "tide boards" that show the heights. But, from our research we had discovered that they are pretty accurate. So, under we went. Trust me: it will look scary, but once you are under…that's it. Every other bridge (aside from the 49′ one) will be taller. We never even slowed down for any of the others. Just continued on at around 6 knots.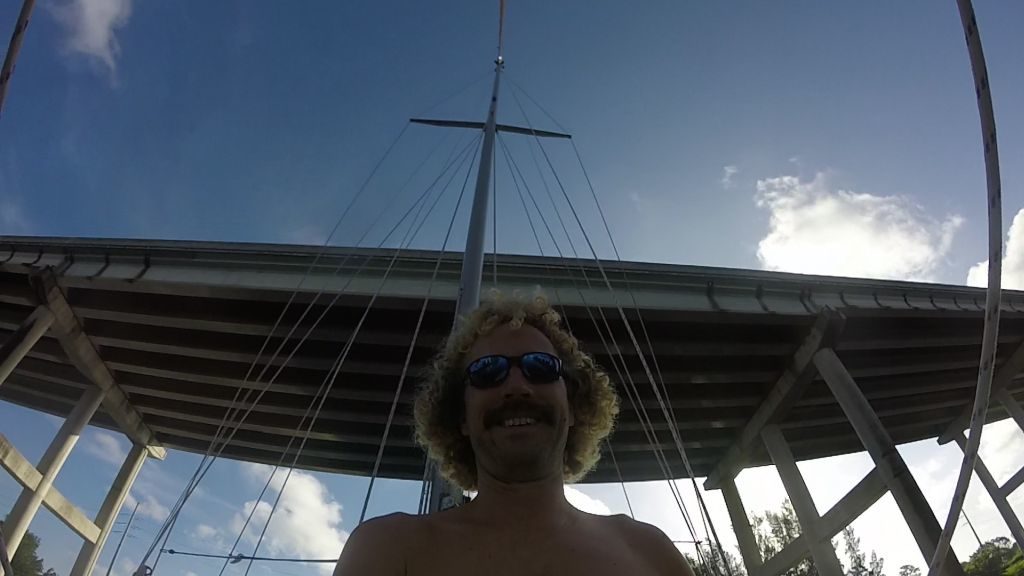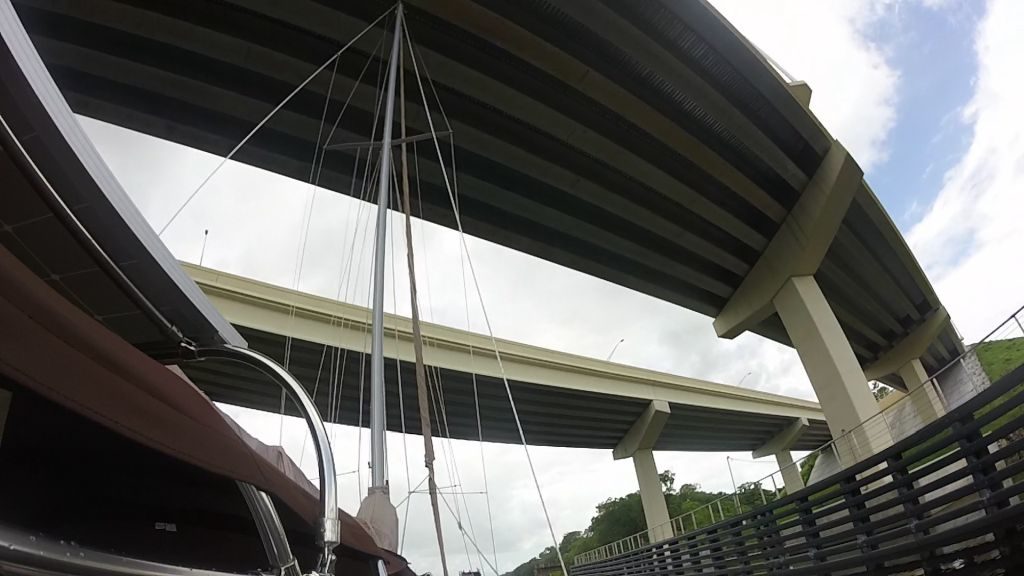 As you continue along the St Lucie River, the banks get closer (although there is plenty of room) and the surroundings more natural and beautiful.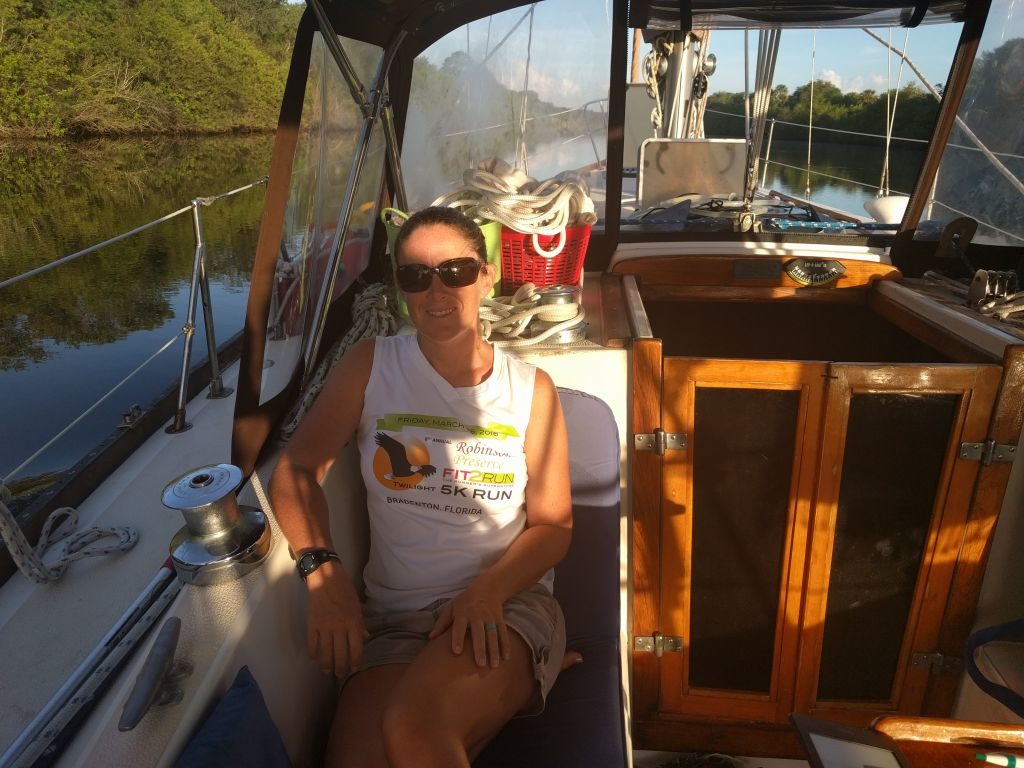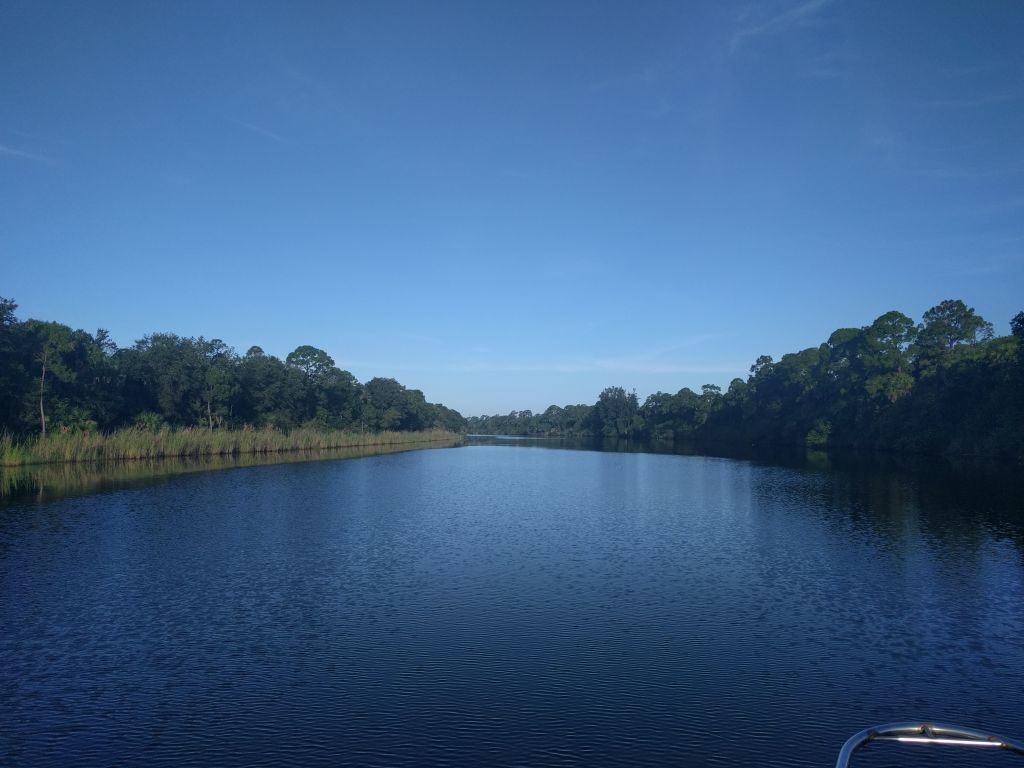 And, before you know it, you reach your first of the 5 locks: the St Lucie Lock. Don't panic! There is really nothing to it. Simply hail the lock tender on channel 13 and let them know you are wanting to pass through. They will tell you to wait for the green light before entering.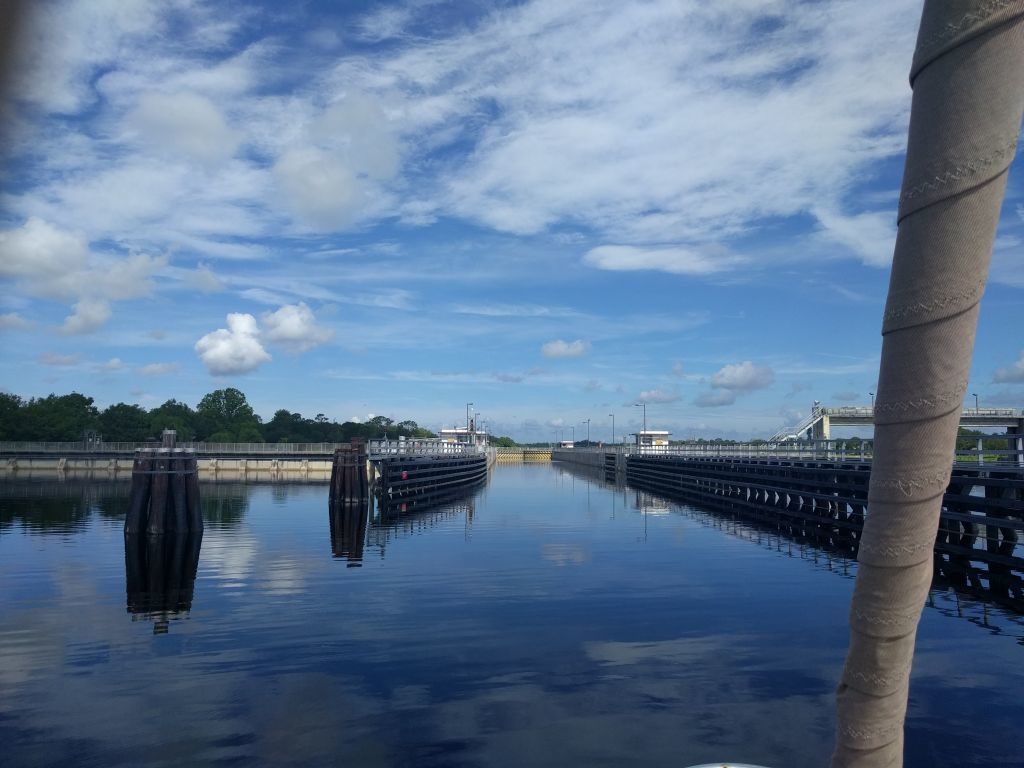 Things to know:
-If the gates are closed on your side, it may be 10-20 minutes before they finish whatever they are doing on the other side and start opening them. They open very slowly. If you are worried about maneuverability, you can hang way back. You'll have plenty of time to get in position once you see the gates start moving.
-The "lights" are about impossible to see during the day. It will be like a regular traffic light. If you stare forever, you'll finally see it and see the red light flashing. Eventually, the red will stop and the green will start flashing letting you know to enter the lock. The tender usually tells you on the radio as well or you can call and ask if you can't make out the light.
-The locks were all port side tie up or "your choice" when we went through but ask just to make sure.
-All the locks have lines hanging down about every 10 feet that you grab and hold during the locking. They were easy to grab.
-Once inside, the process takes about 10 minutes.
-The tender will tell you when to proceed when the process is finished and the gates are open in front of you.
-Locks are open on demand (call ahead to double check) from 7AM to 5PM (you have to be there by 4:30PM)
It really is easy! Relax!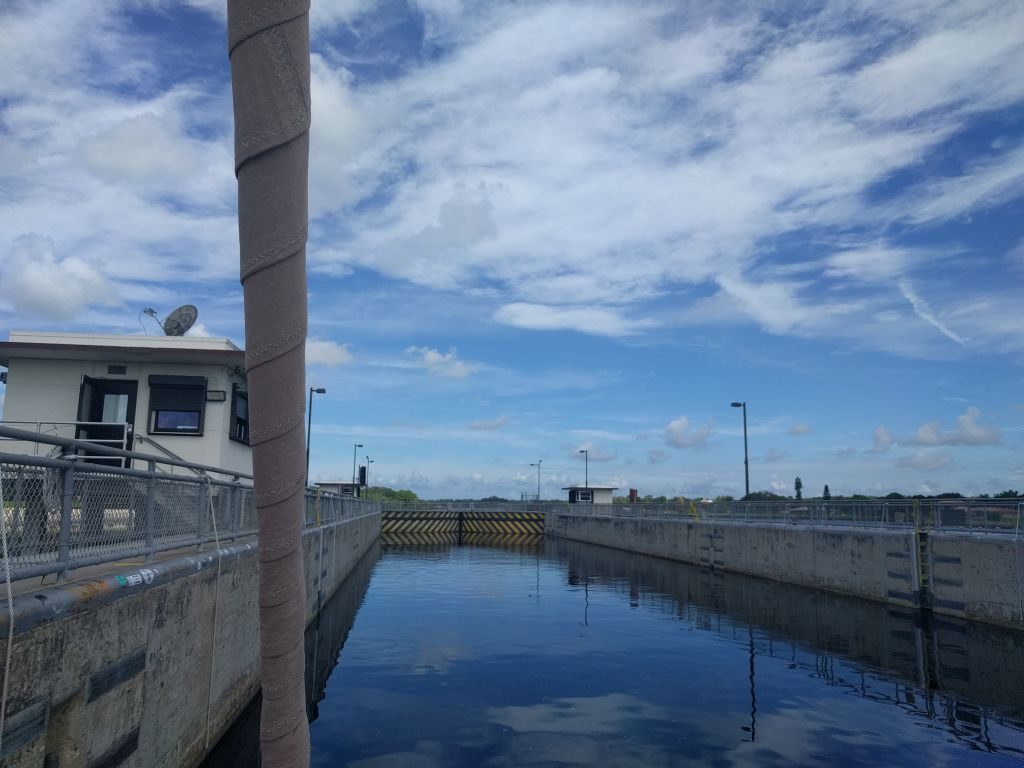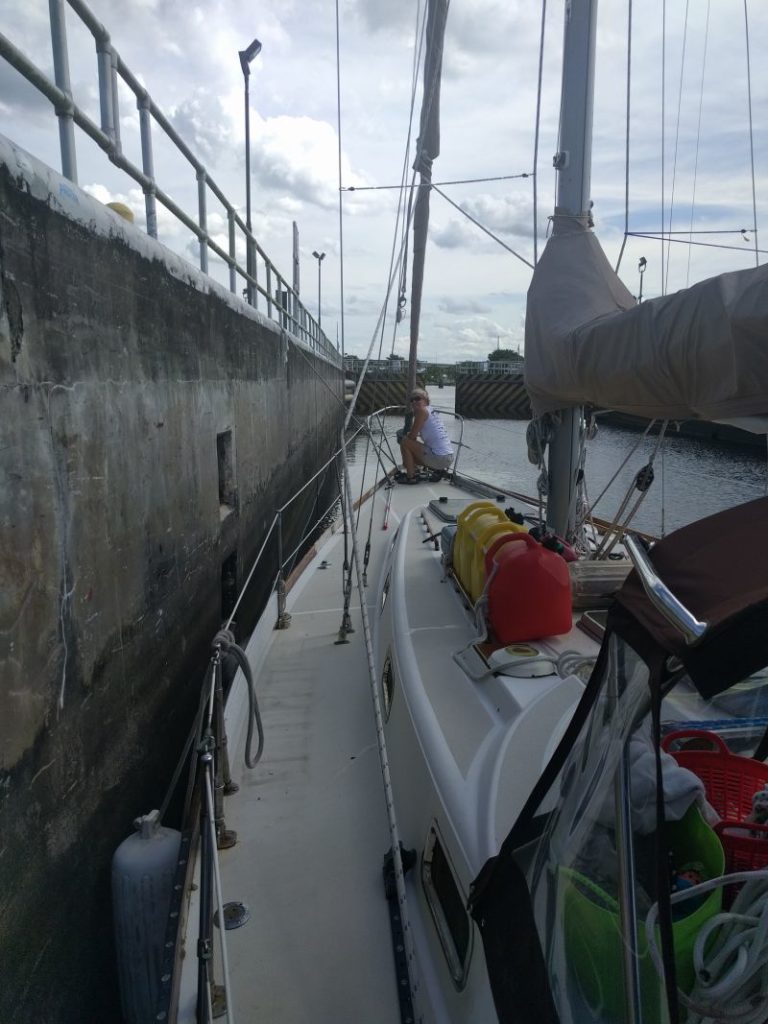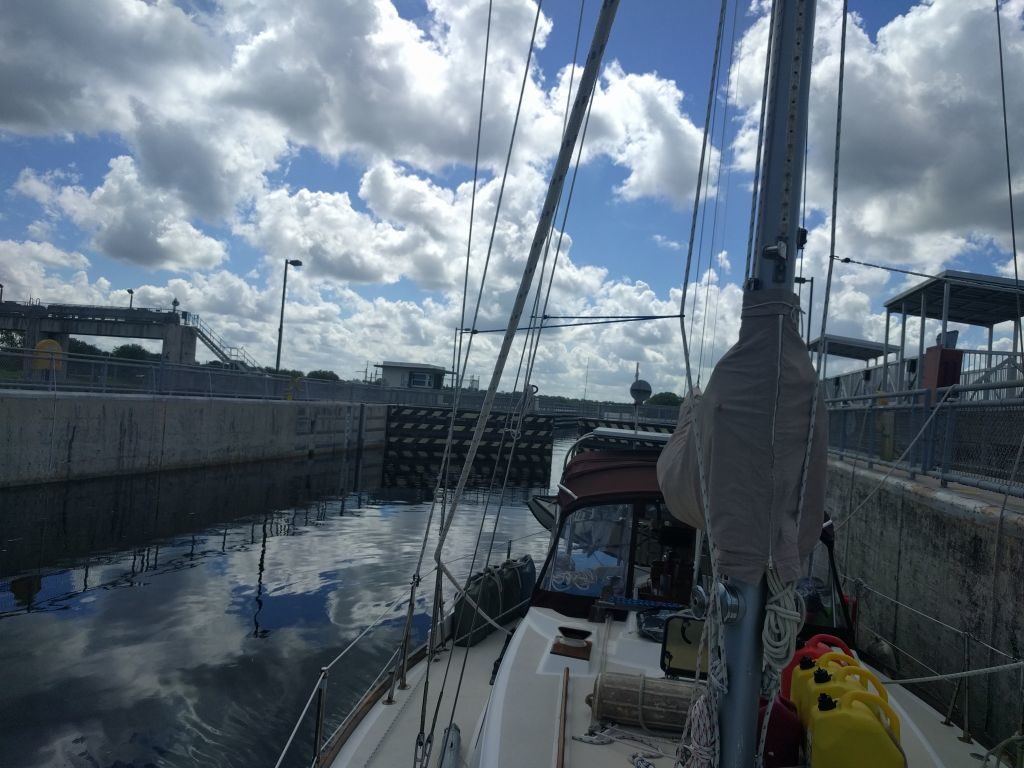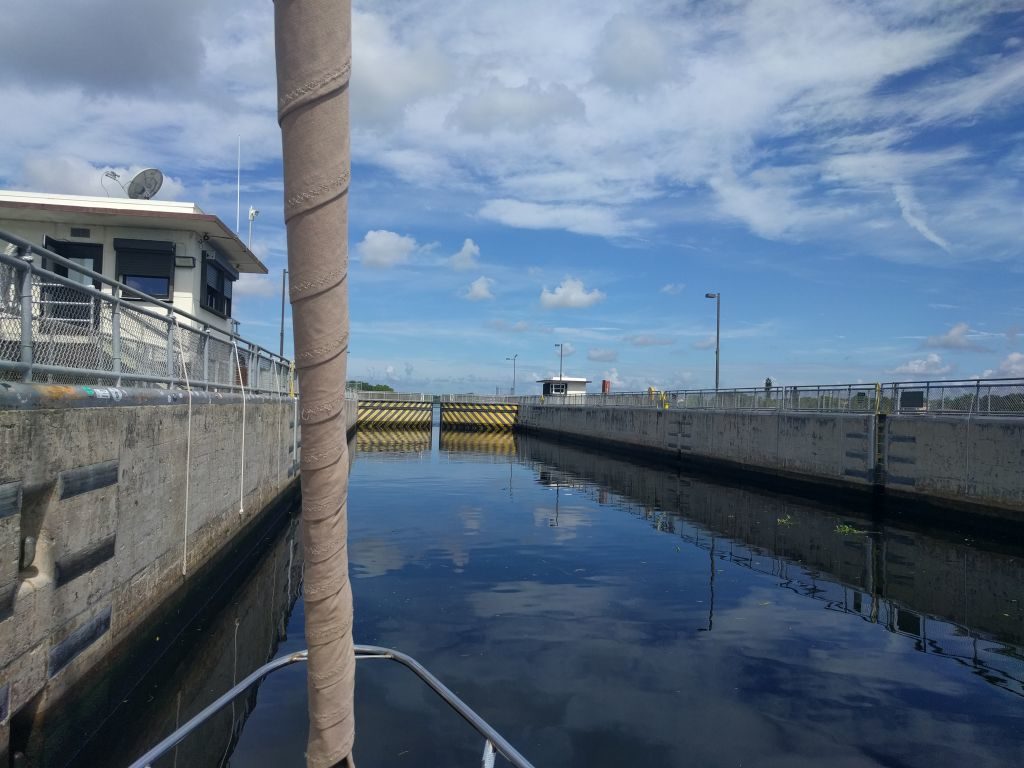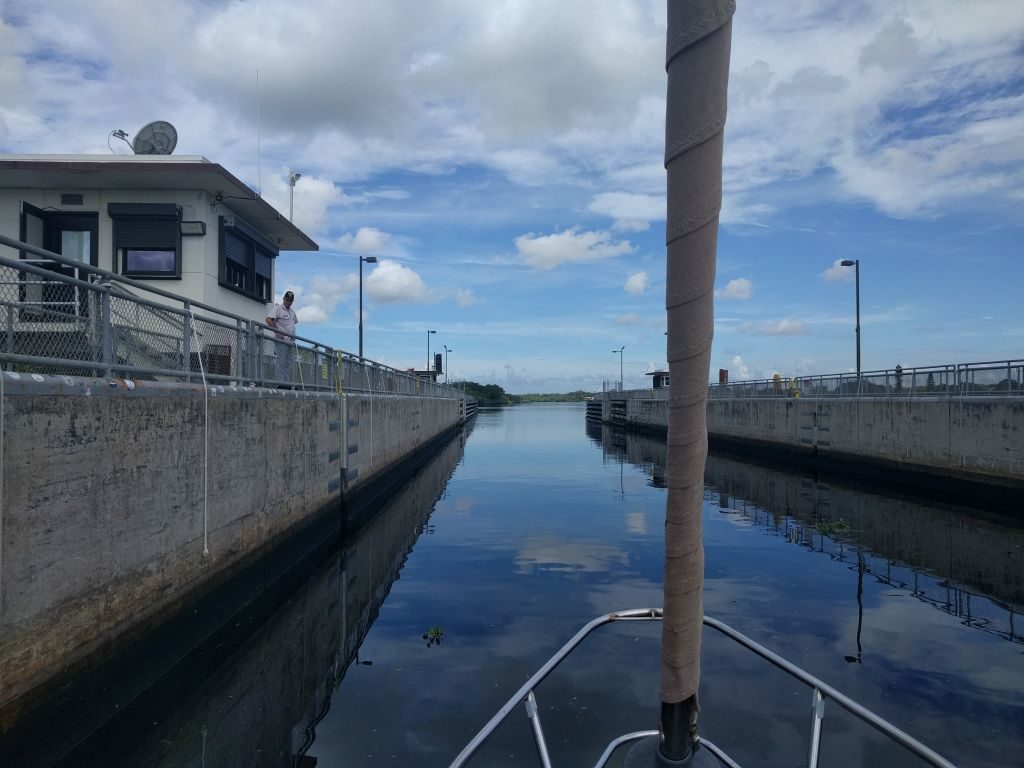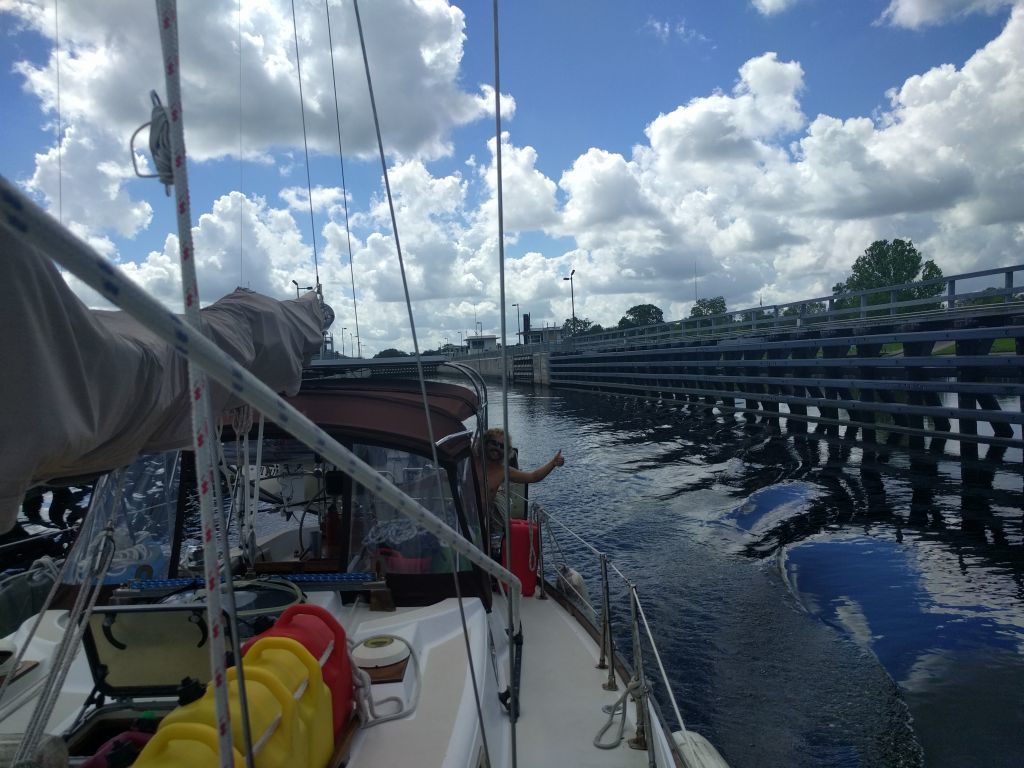 It should be noted: you will read about tying up to "dolphins" in the OWW, most of the time located on either side of the lock. When I read this, I imagined concrete dolphin statues on a sea wall along the canal that you could tie lines to. As strange as that sounded to me, I couldn't figure out what they might be describing. Well, it turns out "dolphins" are these giant wood piling structures with cleats on them. They looked kind of daunting to get up to and tie, and we never had the need, but I'm sure it wouldn't be that bad. And, as stated previously and later in this post, if you are transiting west to east (or if you get tired on the long crossing of the lake either direction), you may want to use these to time your lake crossing with good weather or to do your bridge "tipping" earlier in the day.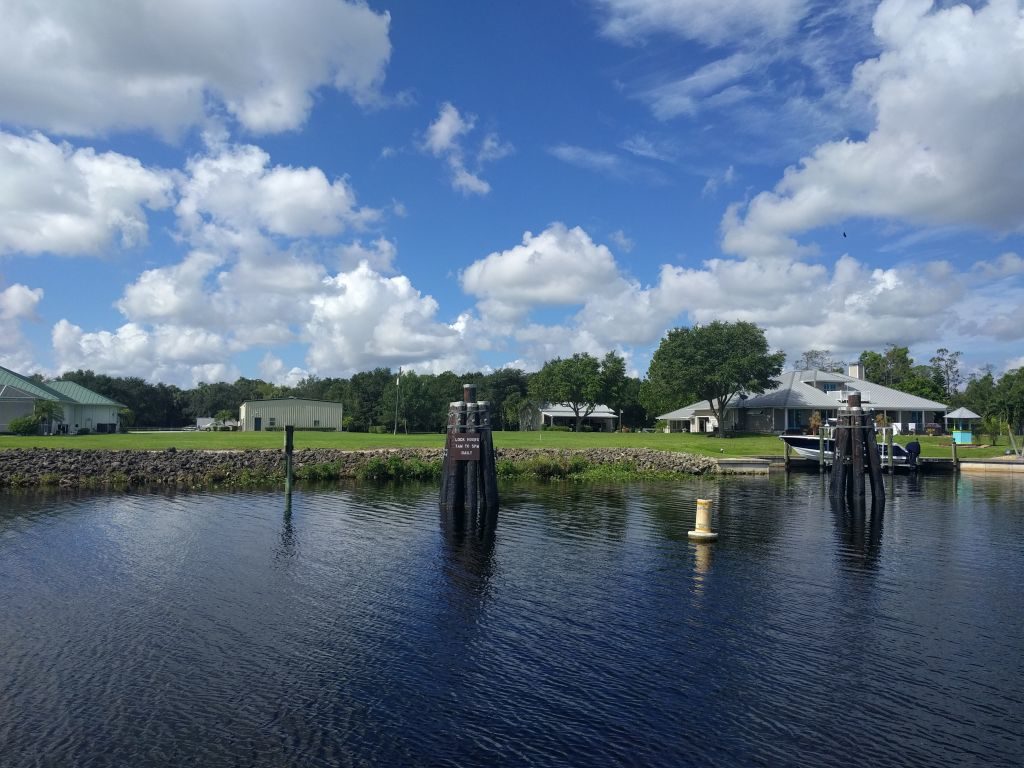 A couple more hours, and you will be at the first stop of your leisurely trip: Indiantown Marina.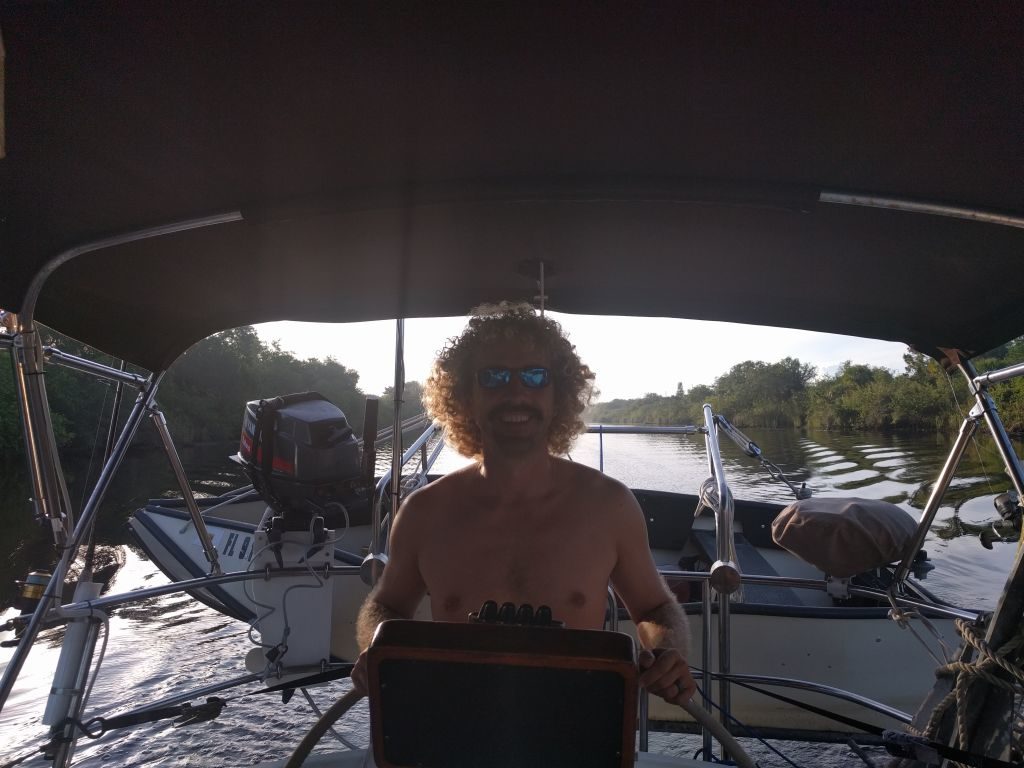 At 5.5-6 knots plus the lock, this leg only took us 4 hours. With plenty of time left in the day, you can relax, cook a yummy meal, meet some cruisers, and walk around to see the hundreds of other cruising boats stored here on the hard. Also, check the area around the docks for gators. You'll see some for sure!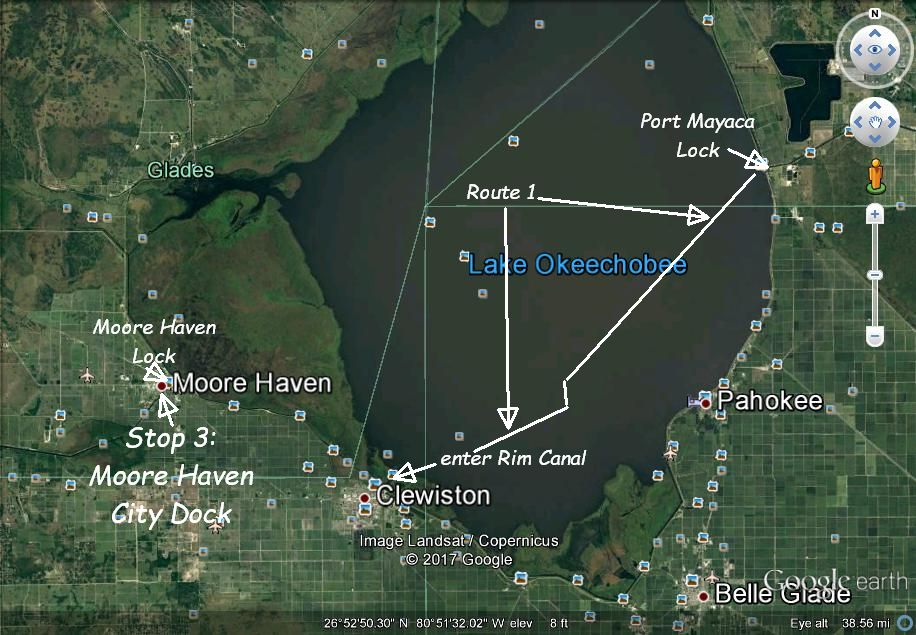 Day 3: Indiantown Marina to Moore Haven City Dock 863-946-0711 (43 NM, around 9.5 hours)
This is the Queen Stage. The big one. The most non leisurely day of your trip across, but it's also the most adventurous and a lot of fun. Leave the marina around 7 AM (adjust the times accordingly if you can pass under the bridge or have a faster boat) to arrive at the 49′ Mayaca Lift Bridge by 9 AM (we actually got there before 8:30, so had to wait a while). This is the part where if you have a mast height over 49′, you will have arranged for Billy Owen to meet you at the bridge to "tip" your boat. Watch for upcoming videos of this on our Youtube channel www.youtube.com/c/funonholiday.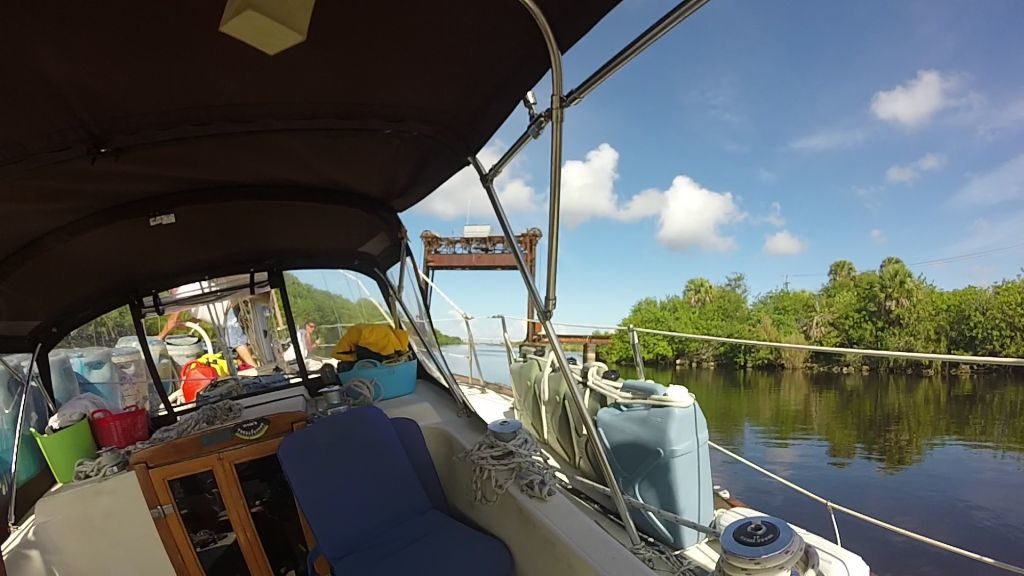 So, what does this tipping entail? Billy ties up to your boat, loads a bunch of plastic barrels onto one side, ties them in place, uses a big pump in his boat to fill them with water, and then stays tied to you as you drive under the bridge leaned way over. He also rigs up a plumb line from the top of your mast that hangs down into the water to tell him (and you) when your mast is leaned over below 49′. This plumb line also tells you where the edge of your mast is so that you can keep from running it into the side of the structure.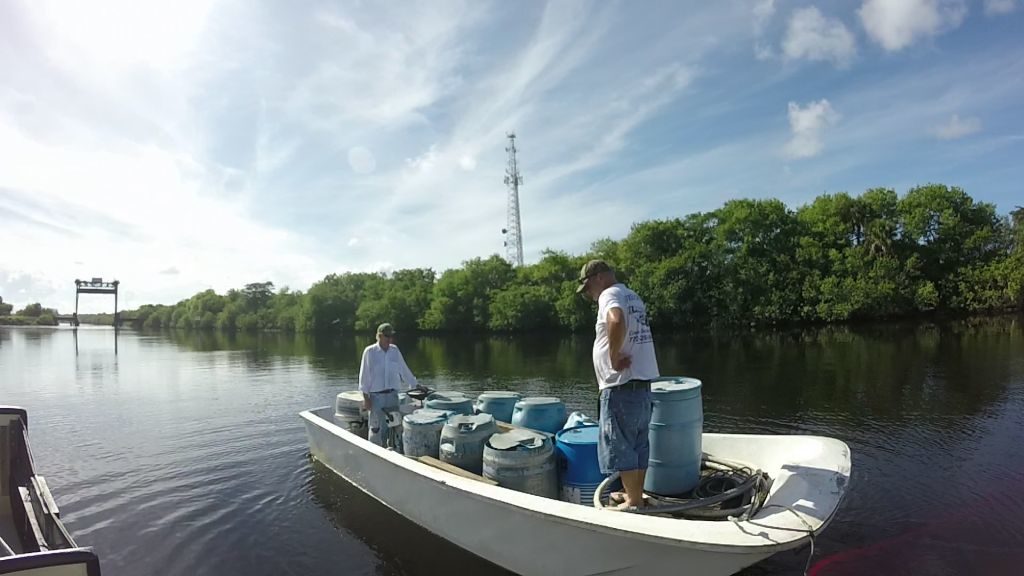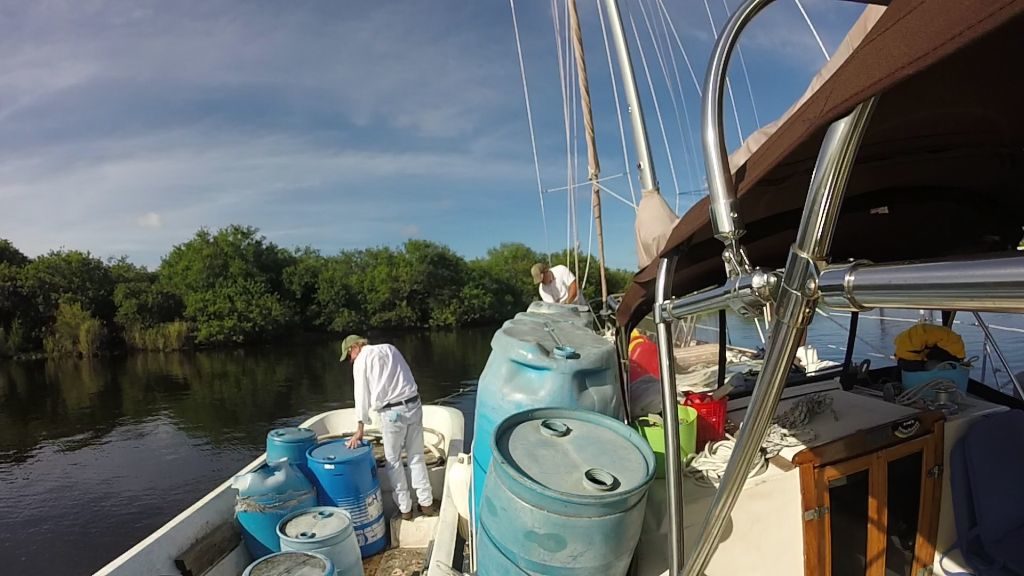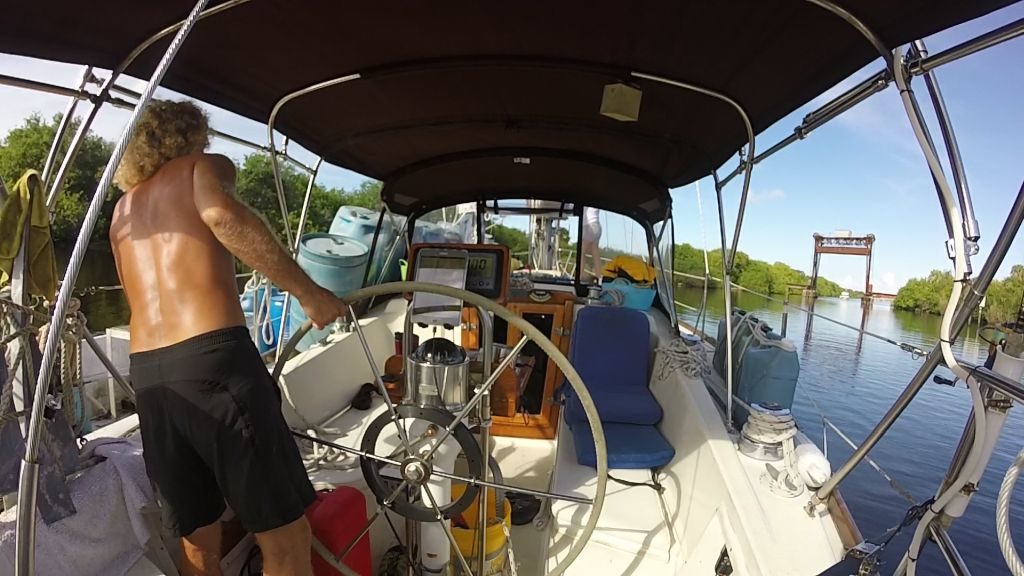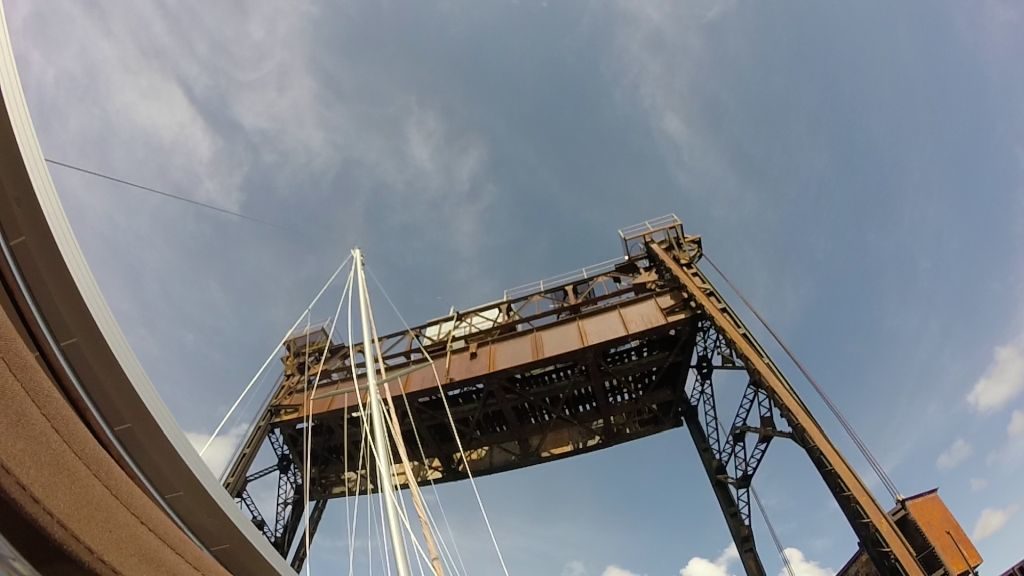 Sound crazy? Ha! Sure does. But, it was really a pretty easy, straight forward process. Billy has been doing it since 1995. He's done this over a thousand times, and he's a pretty cool guy. We had a lot of fun with it. It took about 30-45 minutes from when Billy arrived to when we continued on toward the Port Mayaca Lock which will be in sight just past the bridge. Just before the lock you will go under the Highway 98 fixed bridge. There is some varied info out there on the height of this bridge, and I think it can change due to the lake level. The tide board showed over 55 feet when we went under.
Go through the Port Mayaca Lock (you are a lock pro by now), and enter Lake Okeechobee, the 2nd largest fresh water lake entirely in the US. From the time we met Billy to the time we entered the lake was one hour and 10 minutes. One of the shallower areas of the lake crossing is just after the lock (7.5 feet for us). Ask the lock tender for any advice on this part of the channel (for us it was to favor the green side).
***We are only covering Route 1 (across the middle of the lake). Route 2 (around the rim of the lake) is currently too shallow for boats with any draft to take.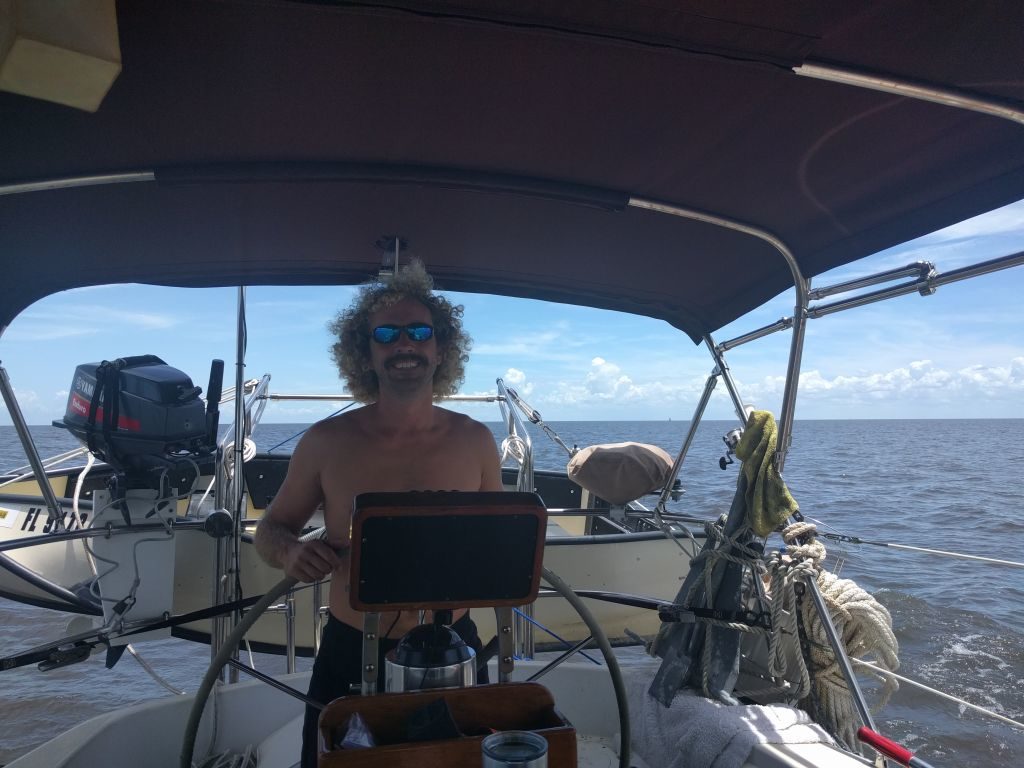 But, soon you will be chugging along through the lake in a few feet deeper water (for us around 10 feet). The markers are far apart and out of sight, so make route lines ahead of time on your chart plotter and make sure to stay on them. That's it. Just stay on the route line to stay exactly between the markers and forget about everyone telling you how they go aground in the middle of the lake because they can't see the markers. The other shallow portion where depths went to 7.5′ for us was from the zig zag past the middle of the lake to the rim canal.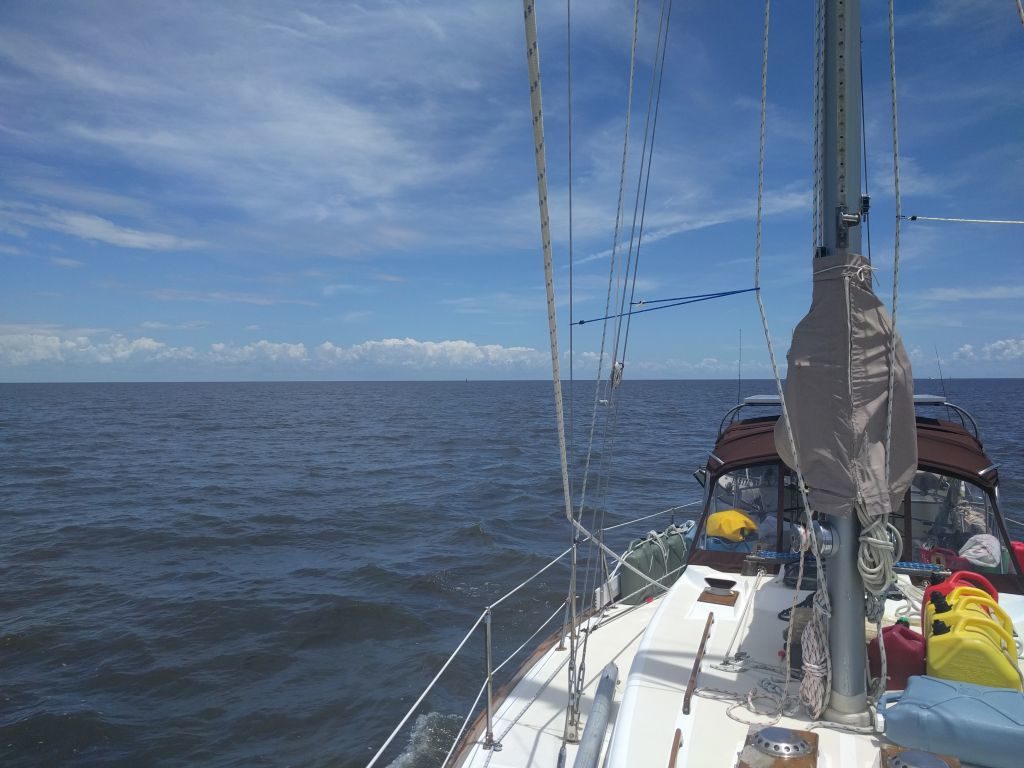 The lake crossing for us took 4 hours going between 5.5 and 6 knots. For me, it was one of the more boring parts of the trip, but I guess boring is better than a storm popping up and turning the lake ugly like we've heard can happen. On that note, check the weather and try to time this 4 hour section when it will be mild. As previously mentioned, if you are following this route backwards (west to east), this is where you may want to make an extra stop in Clewiston (you will have to go through an additional privately maintained lock, 863-983-8911, to get to a couple marinas there) or go ahead and cross and tie up to a "dolphin" or anchor on either side of the Port Mayaca Lock. Let the weather dictate your choice.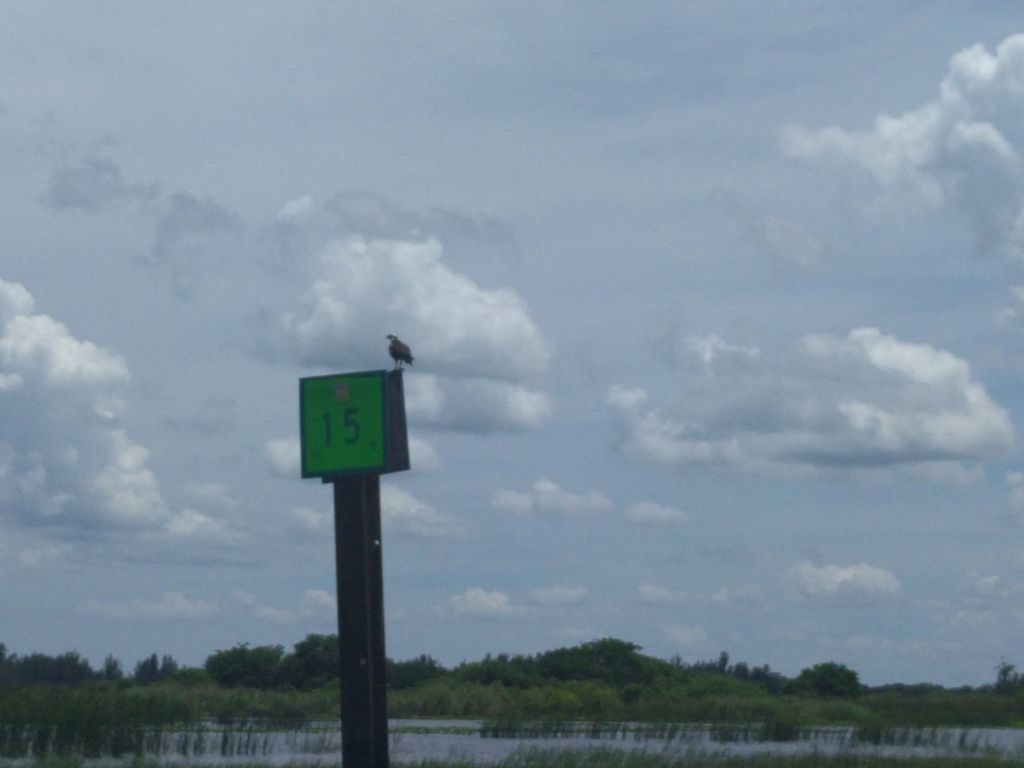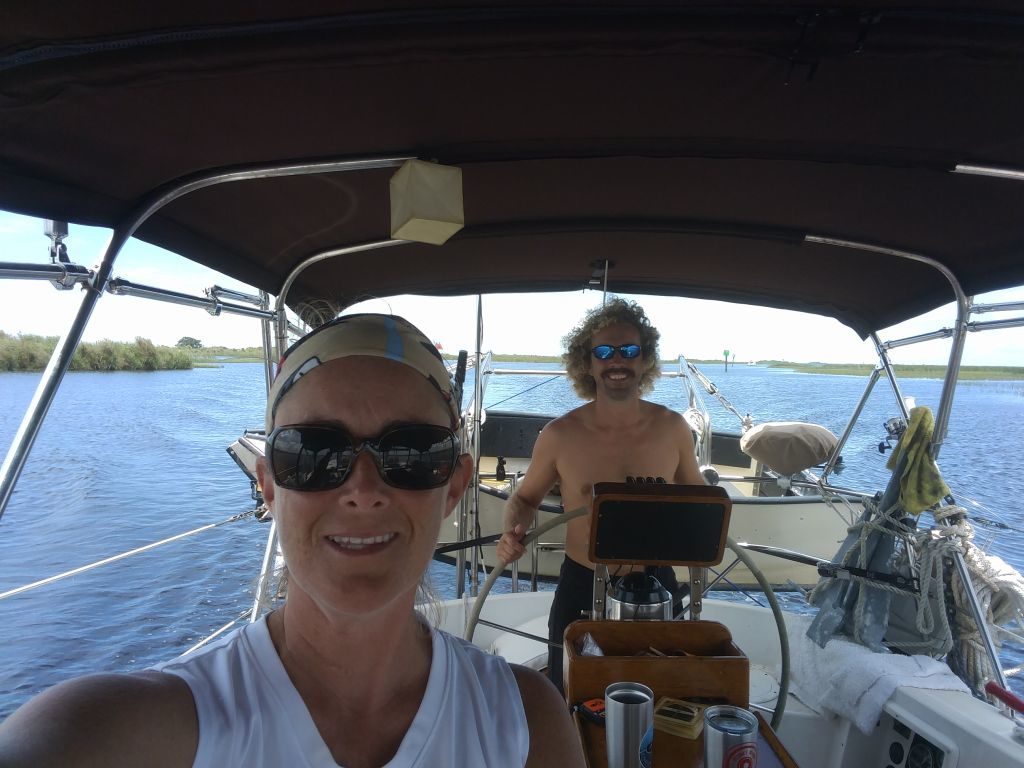 Going east to west, if nothing has delayed you to this point, you will enter the rim canal between 2 and 2:30 just before the privately operated lock into Clewiston (if you were delayed somehow or are just tired and ready to be leisurely, this would be a good place to tie up to a "dolphin" or go through the lock and get a slip). If no delays, and you still feel spunky (like we did), you will make it to the Moore Haven Lock just after 4PM, and be able to pass through like the lock pro that you are.
Just after the lock is the Moore Haven City Dock. $1 per foot. It's an easy side tie along with good fenders on the pilings. Tie up and chill out! You are probably a little tired from the long day. You can walk over to the City Hall about 50 yards away to pay or if it is after hours someone comes by to collect the money between 6-8PM (you also can get the shower code from this person). Speaking of the showers, they are over by the park. Not exactly pristine, but they get the job done after a long, hot day on the water.
We walked up and down the path the city has by the canal, and just took in the sights of this quaint little town. If you don't feel like cooking there were a couple restaurants just up the road. Then, get some rest, and get ready for the rest of your leisurely crossing of the state.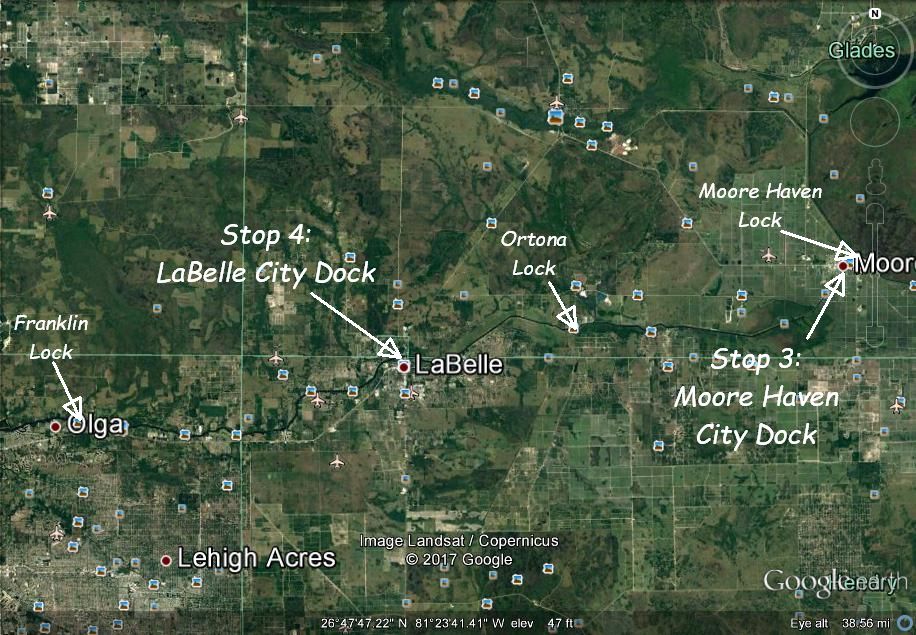 Day 4: Moore Haven City Dock to LaBelle City Dock (21 NM, around 4 hours)
Drop your lines whenever you feel like it and continue west through beautiful nature and farm country. Today you'll pass through your 4th lock, the Ortona Lock and also go under your first draw bridge, since before Stuart, at LaBelle (on demand Channel 9).
Just after the bridge (and I mean JUST after), hang a left (south), and tie up to the LaBelle City Docks. The closer to the bridge (east), the more water depth (we had 6.5 feet in the third from the bridge). These are bow or stern in tie ups with 2 pilings on either side mid ship to tie off to. If you go in bow first like we did, climbing over the bow pulpit onto the dock is a pretty acrobatic maneuver. But, remember, there are no tides here. So, you can literally have your anchor close to or even over the dock (if you are brave and tied tight). There are a couple of finger docks as well closest to the bridge. If you can fit in those, they would be better. These are free docks. 3 night max stay. No showers.
The city of LaBelle is just a short walk away. A little less than a mile you will come to grocery, shopping, and restaurants. A little more than a mile you can get to even more shopping, better grocery, an Ace Hardware, and more restaurants. We ate at a great BBQ restaurant called Log Cabin. Super yummy!
Since this was a short day of transiting, take advantage! Go see this little town on the outskirts of the Everglades. Then head back to the boat for another peaceful evening along the black water canal surrounded by shady big oaks with flowing Spanish moss.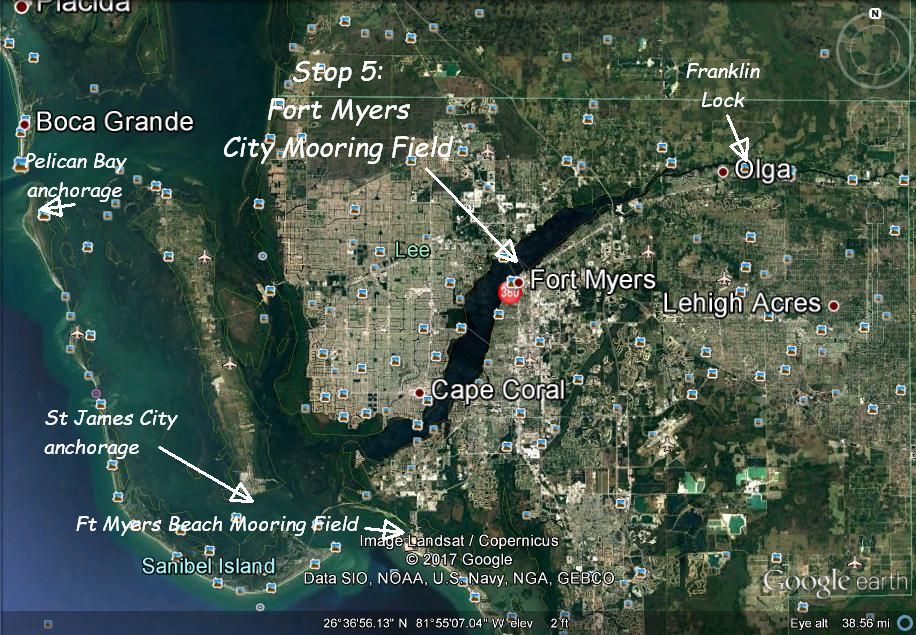 Day 5: LaBelle City Dock to Ft Myers City Mooring Field, 239-321-7080 (27 NM, around 5 hours)
I found this leg of the crossing to be the most beautiful section. The canal winds it's way through areas with less of the built up mounds on either side from the dredging of the canal and more tree lined banks. There are also lot's of beautiful farm houses right on the waterway and even some cows, horses, and other farm animals grazing.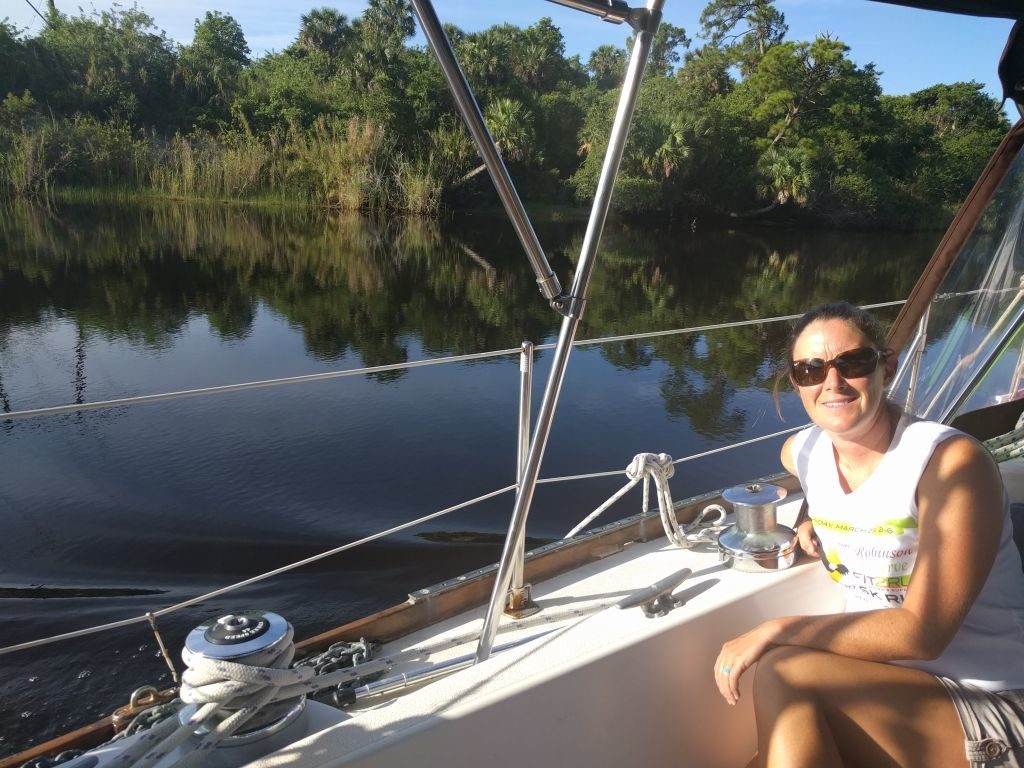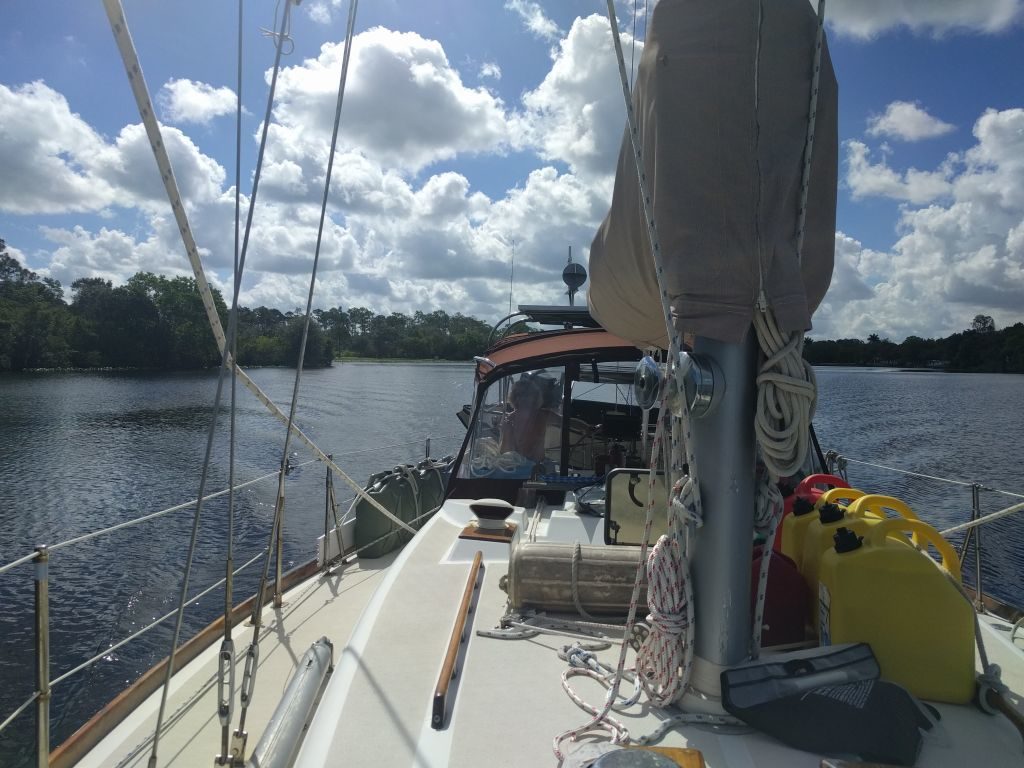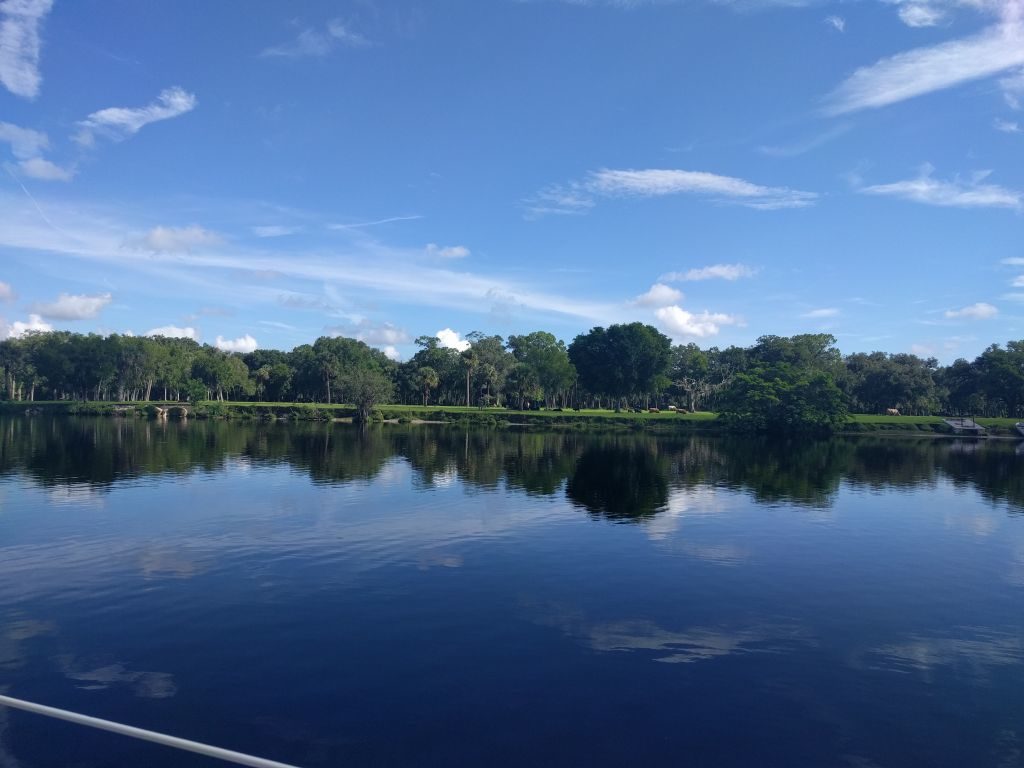 Today you will go through your 5th and final lock, the Franklin Lock. Welcome back to some tides and currents and continually more brackish water. Check your water line and notice that the fresh water killed off all your bottom growth! Congrats. You just got a free bottom cleaning. You will also pass through a few more on demand draw bridges, one a cool swing bridge.
As you get closer and closer to the Gulf, the river widens and the urban sprawl expands. Before long you will reach the large city of Ft Myers. You've called ahead for your mooring ball, and they have you stop at the fuel dock to check in and receive instructions. It's an easy approach to the fuel dock with a side tie along. While you are checking in, you can refill your diesel from all the motoring you've just done and get a free pump out.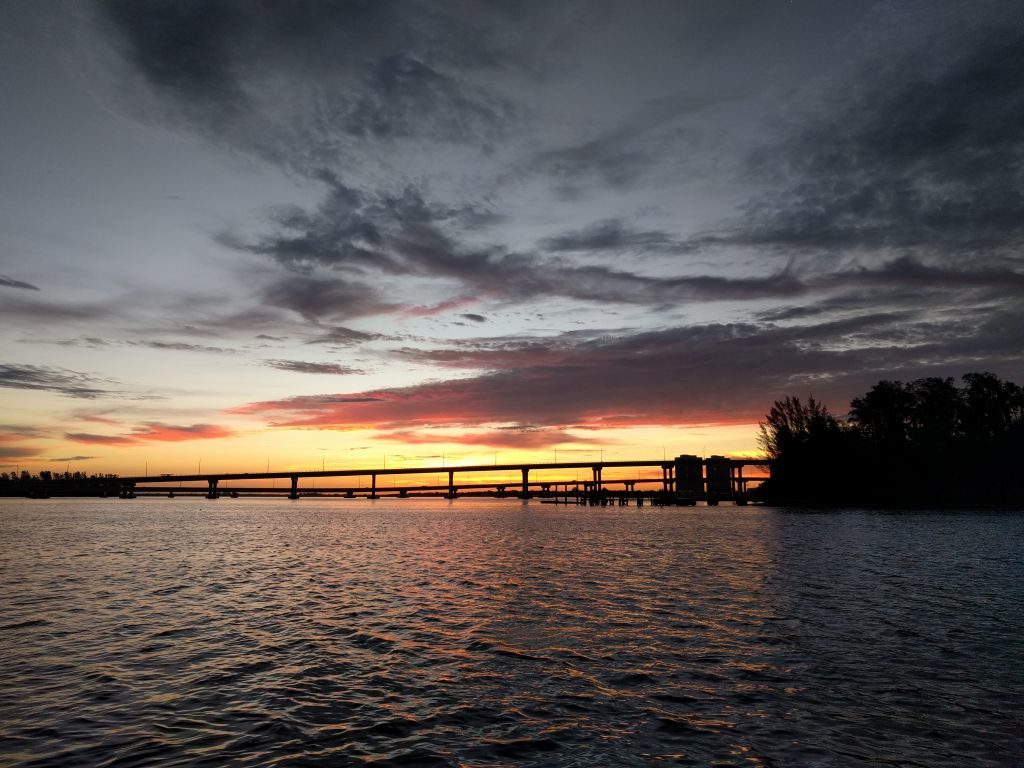 The marina has very nice showers, a well stocked ship's store, laundry, and wifi (with an extender we got it in the mooring field). Cost is $20 per night. It's also only a few blocks to a stretch of road with all sorts of good local restaurants, shops, and entertainment. You could definitely spend as long as you wanted living and hanging out in Ft Myers and not get bored.
We spent 2 nights here and loved it. One thing not to miss if you are spending some time here is the Edison and Ford Winter Estates. Less than a mile and a half walk (or a short Uber ride), see where these two history changing friends and inventors escaped during the winter and even worked on their inventions and projects. The grounds are beautiful with all kinds of exotic plants and trees cultivated during their research on making a better rubber for tires. Great displays on Edison's light bulb inventing, batteries (interesting to the cruising sailor), and even motion picture taking, as well as Ford's automobiles including an original Model T that he gave to Edison that is still in running condition. They all even took camping trips into the Everglades! Cool stuff!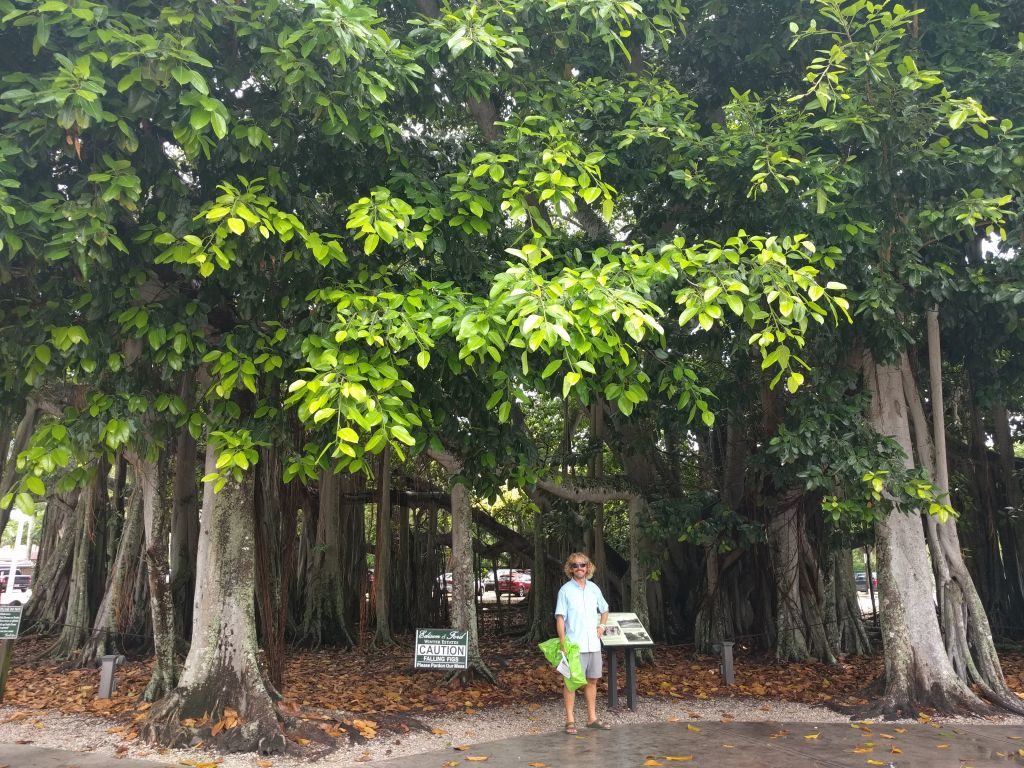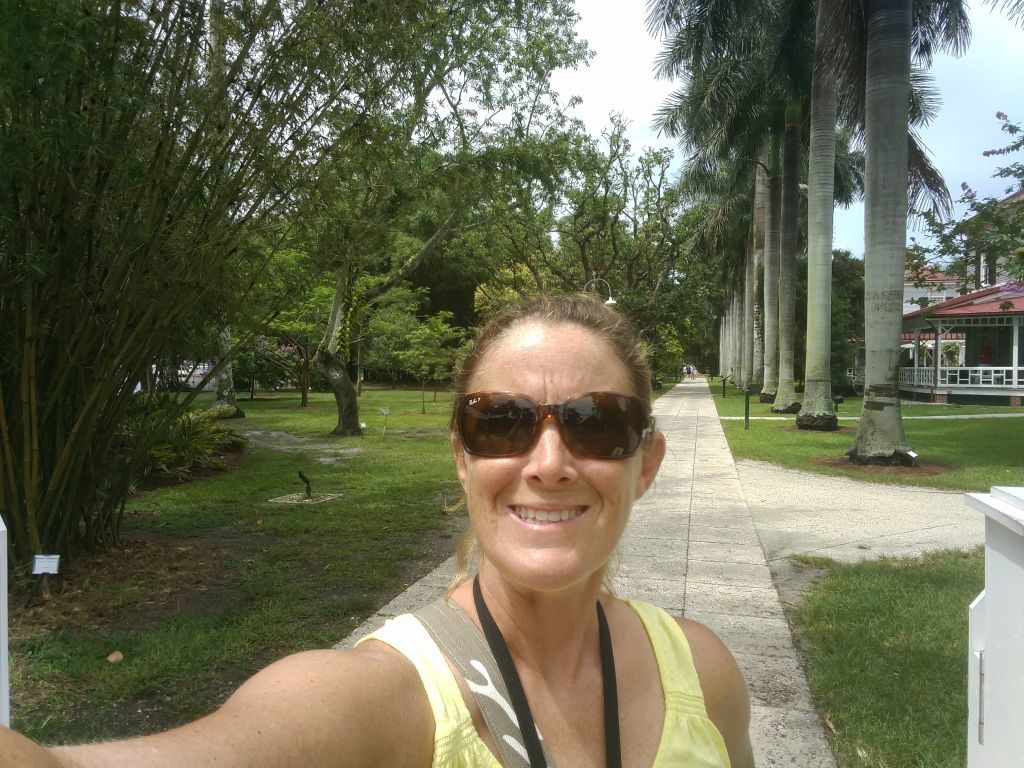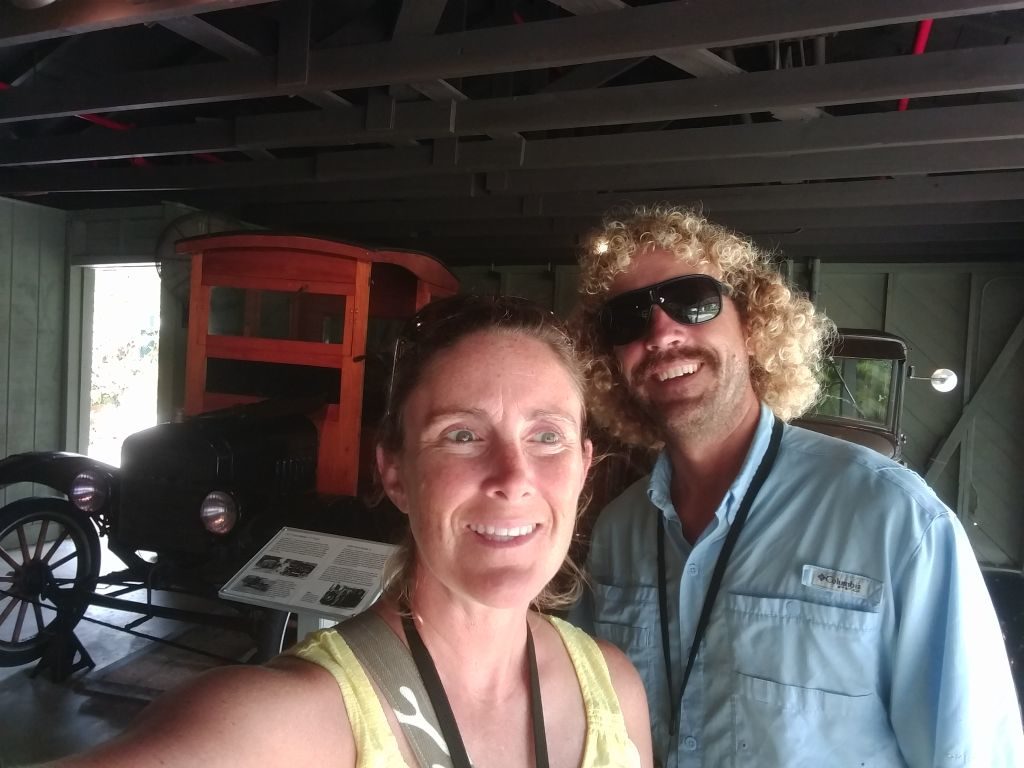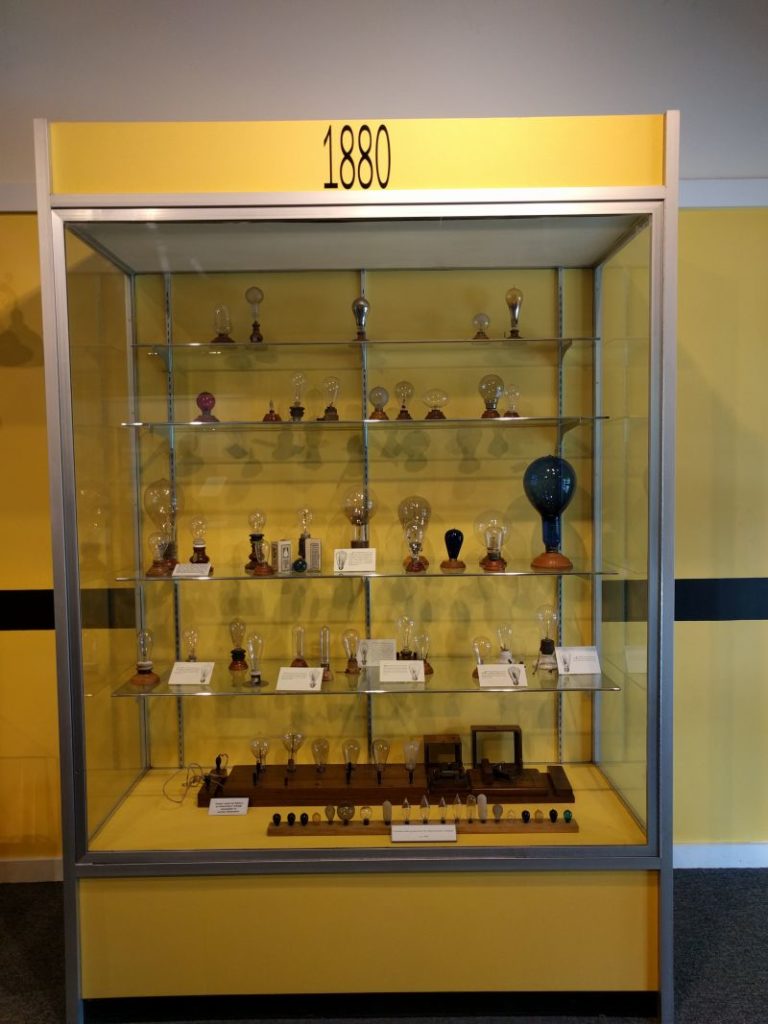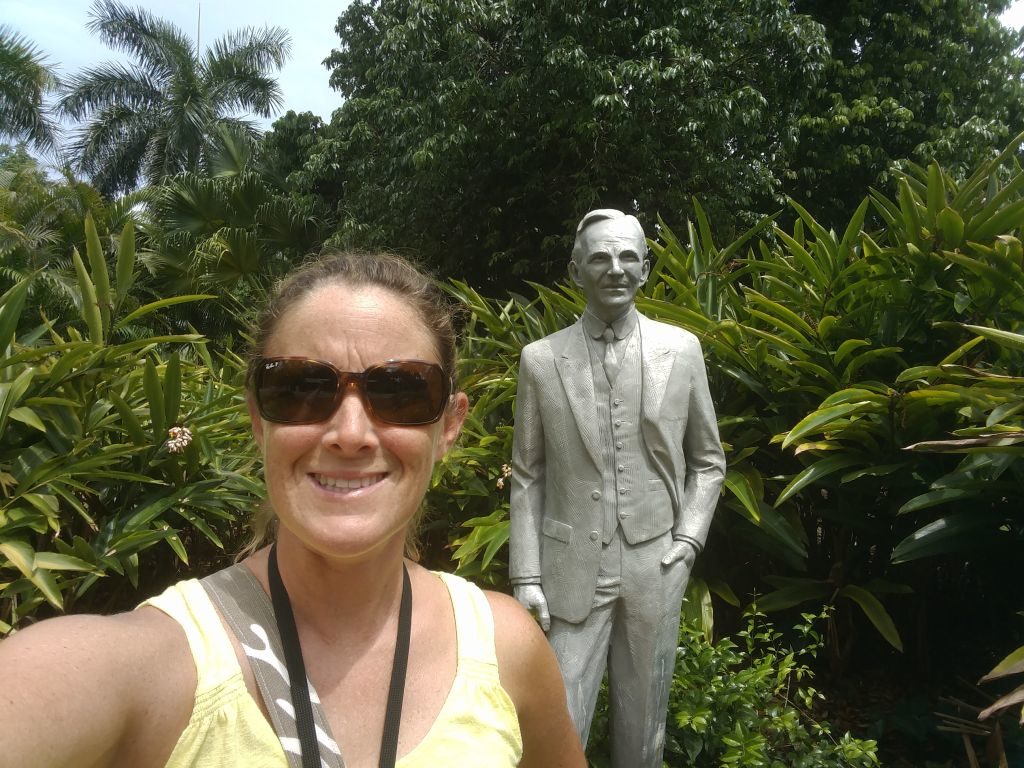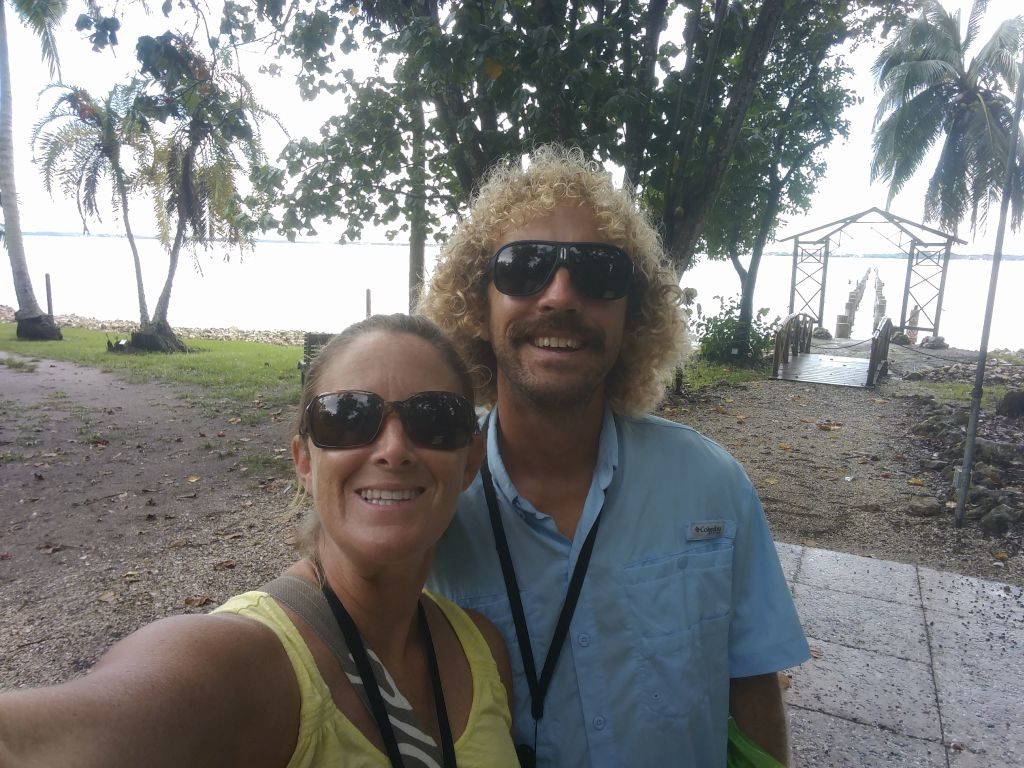 Day 6/7/8 (or how ever many days you chose to stay in Ft Myers) Ft Myers Mooring Field to Marker 101 (13 NM)
With just a few hours left of the OWW, leave the mooring field and head west one last time. The last fixed bridge will be the Cape Coral bridge that is around 54 feet. Like your first bridge leaving Stuart, if your mast height dictates, time this one with a lower tide to be sure.
The OWW gets pretty narrow right at the end, so watch for currents. This part near the last marker 101 can be especially tough with currents mixed with heavy boat traffic on a busy weekend. You may want to time it with a lower traffic time at slack tide. If going north from here, you will also be starting the "Miserable Mile" just after 101 as you reach Mile 0 of the Gulf Intracoastal Waterway. Slack tide and lower traffic definitely apply there as well.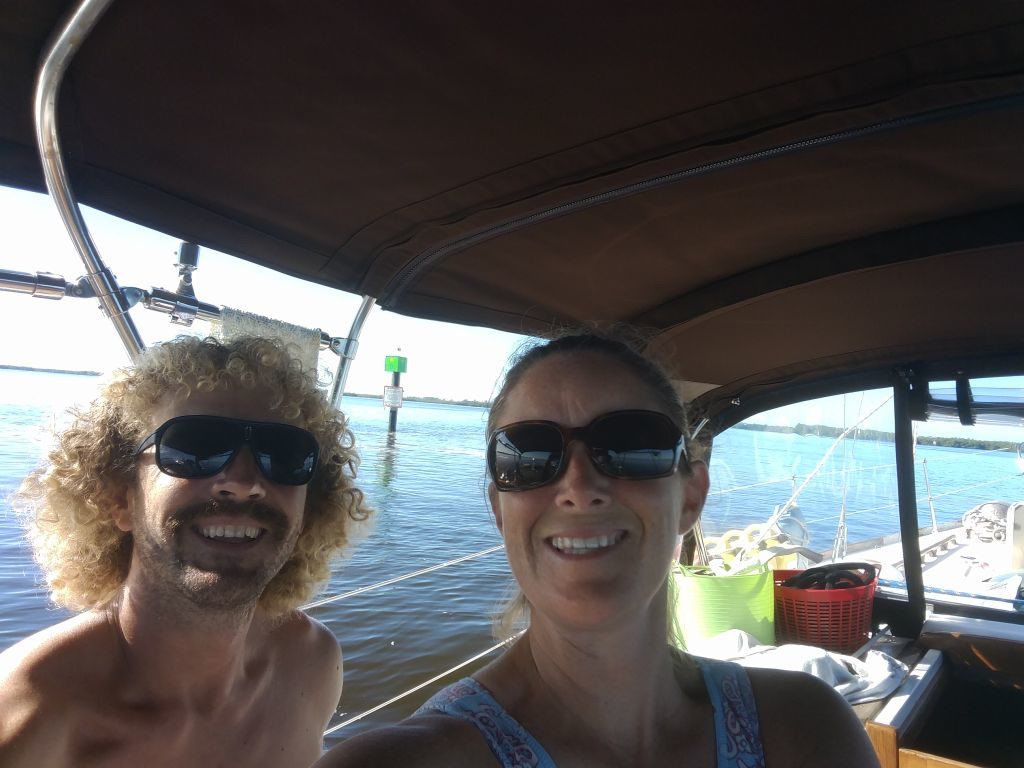 Going north your choices of anchorage would be just off the ICW at St James City at the end of the Miserable Mile (a cool place to go in if you have some time and don't mind a long dinghy ride), Captiva, or our favorite: Pelican Bay at Cayo Costa. The Ft Myers Mooring Field to Pelican Bay is about 37 NM (about 7-8 hours) so plan accordingly if wanting to go that far.
If heading south, our choice would be the Ft Myers Beach Mooring Field ($18 per day, 239-463-9258) just a couple more hours out San Carlos Bay.
Now, get out there and cross the state! It wasn't difficult at all and no more hazards to navigation, narrow spots, or shallow spots than any other boating area. It's filled with just the right amount of adventure, plenty of beautiful scenery, and, by gosh, it's just cool to say that we did it! Go out there and make some memories and stories to tell!