The day after fixing the diesel, we readied Holiday to start moving north again. After nearly two months in the Bahamas and hurricane season looming, we were ready to start making our way back toward the US. But first, we decided to head to a Cay in the Exumas we hadn't been to yet for a little R&R before getting into passage mode. The diesel ordeal had us pretty frazzled, and the way back would be a total of around 250 miles with some big water passages of the Tongue of the Ocean, the Great Bahama Banks, and of course, the Gulf Stream. Around 50 hours of sailing that we would break up as much as possible but would include at least one over night sail.
So, to get our mental and physical states right, we chose the Cambridge Cay mooring field as our spot for one last bit of enjoyment of the beauty of the Exumas. Cambridge Cay, just a short 2 hour sail north of Staniel through the Banks, was back in the pristine Exumas Land and Sea Park. We had heard of all kinds of great snorkeling and hiking there. We started the diesel, pulled up the anchor, and left Big Majors Spot.
One thing we noticed is that we were now super gun shy of other things breaking on the boat. Any little noise had me jumping down below and checking the diesel. As I looked around Holiday, I noticed the age of every piece and part of the deck and rigging. Even though Holiday had brought us safely through a couple thousand miles of adventures with relatively few problems, suddenly it seemed there could be more failures at any time. I knew we were just being too sensitive because of our recent experience and with time would trust the boat more again, but I was also ready to get somewhere that we could do a thorough self survey and address any needed preventative issues.
We made it to Cambridge Cay without issue and started chillin' out hard core. We spent 2 nights there. It was absolutely beautiful and rivaled Warderick Wells as our favorite place in the Bahamas.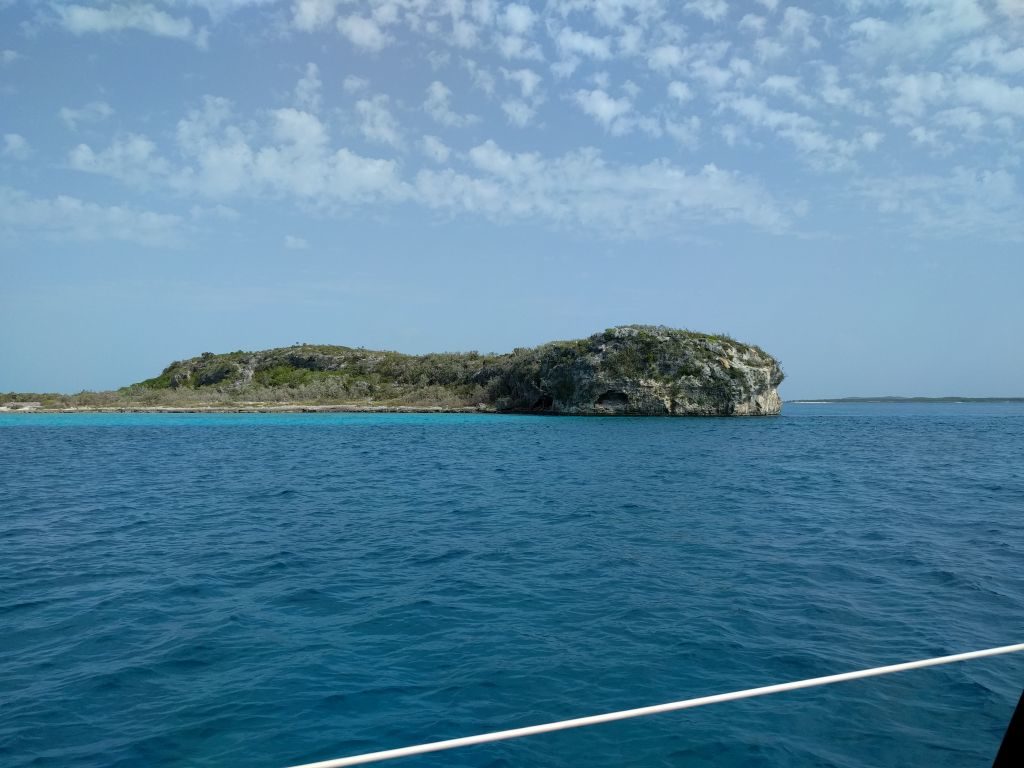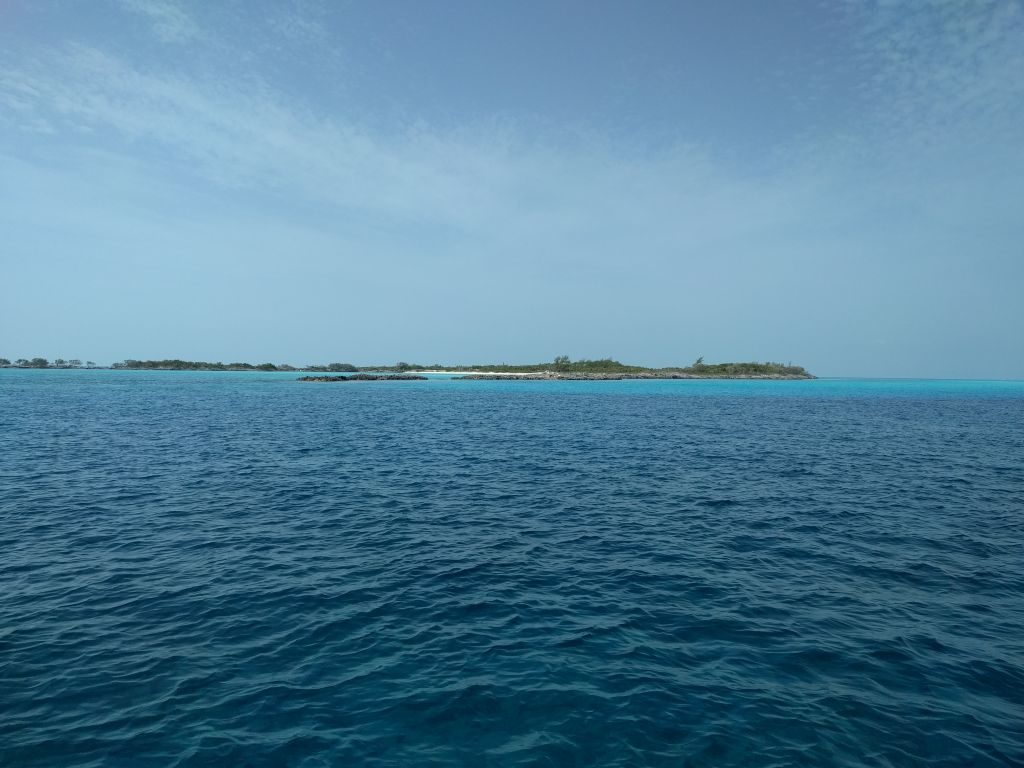 Highlights of the area around Cambridge Cay (look for a video of this area soon https://www.youtube.com/c/funonholiday):
-Rocky Dundas-giant rock mounds in the cut between Cambridge and Compass Cay with huge grottoes to snorkel into and even walk around in and sing songs from The Little Mermaid. Lots of fish to see around the outside of the grottoes too.
-Rachel's Bubble Bath-hike on the north point of Compass Cay to the Exuma Sound side and sit in a natural rock pool while swell enters and exits and the water swirls and bubbles around you.
-The Aquarium-snorkeling spot just north of Cambridge. As named…so many colorful fish you feel like you are swimming inside an aquarium
-O'Briens Cay-dinghy past The Aquarium into the shallow area and choose from any number of hidden beaches. If you find the beach we did, hike back down the stream to the beautiful salt flat lake. Unbelievable.
-Cambridge Cay itself-nice beach next to mooring field for hanging out in the afternoon after excursions away. Hike the short flat trail across to the Exuma Sound side. Beautiful view of Cambridge Rock. Trails to hike up rocky hills and get awesome views of the Sound.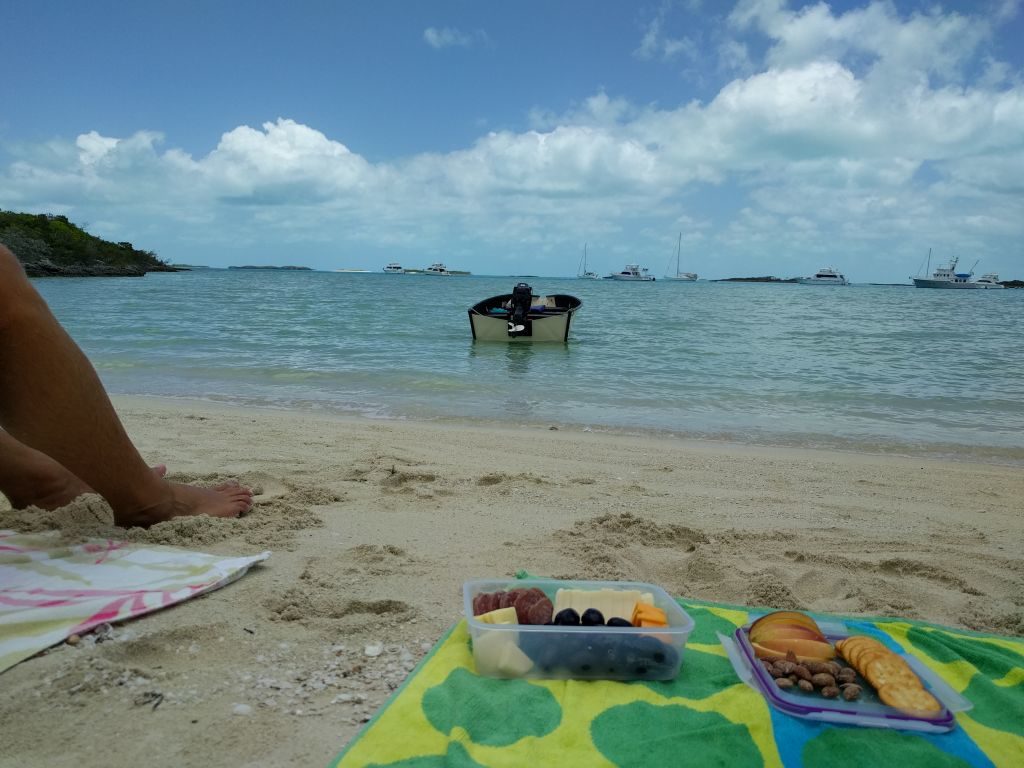 Even though we would have loved to stay at Cambridge for weeks, a short term and long term weather forecast had emerged that we couldn't pass up. If it held true, we would be able to make one passage after the other, possibly consecutively all the way back to Florida. Typical weather (if any weather can be typical) will have a day or two good for travelling in the direction you want to go followed by a few days to a week of waiting for the next good day or two. As always, we just take what the weather gives us, and if the weather changed, we would happily spend as long as it took to get back safely and comfortably. Without any stretch of the imagination, it could take as long as most of a month if the weather changed from the forecast and followed a different pattern.
As you may have gathered from previous posts, we don't really like big passages, and couldn't deny that we would like to knock it all out quickly if the opportunity presented. Just get it over with. We set up Holiday and ourselves for passage making and headed out from Cambridge to Shroud Cay. We had been to Shroud before and planned to use it as our jumping off point to cross the Bahama Banks back to West Bay on New Providence Island (where Nassau is).
It was an awesome 6 hour down wind sail to Shroud. We were now always sailing north and west instead of always sailing into and fighting the predominant eastern trades. Sailing was starting to be consistently good and enjoyable for both of us. Was it possible that the long passages just in front of us would be more fun than uncomfortable? I knocked on wood and chased those thoughts from my head not wanting to jinx anything.
We didn't even put the dinghy in the water at Shroud. The weather forecast was holding steady, and the next day looked right for making the first of our big jumps. From Shroud to West Bay would be over 50 miles and take at least 10 hours. We just hung out, did a little snorkeling, and relaxed on Holiday for the afternoon in the beautiful Shroud Anchorage.
Before sunrise the next morning, we pulled up the anchor and headed off across the Banks toward New Providence. With the wind behind us, it was a wonderful sail. I remembered back to over a month ago when we were in this same stretch of water bashing through the waves toward Highbourne Cay the other direction in some of the worst few hours of sailing/motoring we have had on the whole cruise. What a difference. Lesson: don't be trying to go east….uh, kind of impossible if you want to get back to the Bahamas. Maybe more waiting for weather is the answer when trying to get east.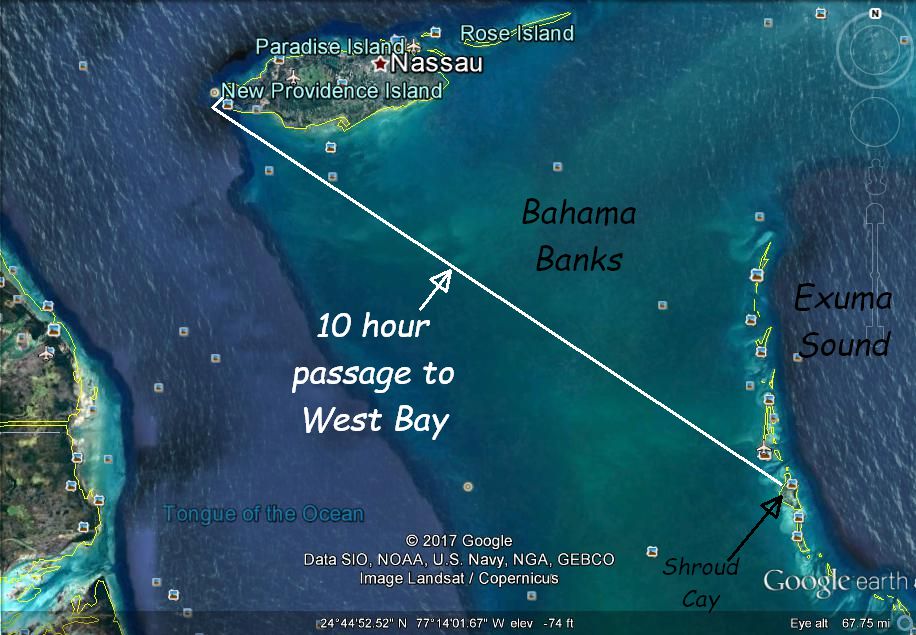 We arrived to West Bay well before sunset and checked the weather again. It still looked good. This next one was the big one. Around 125 miles and about 24 hours of sailing from West Bay to Bimini. At Bimini, we would be less than 50 miles to Florida. Again, we didn't put the dinghy in the water and went to bed early to be well rested for a serious passage through the Tongue of the Ocean then over night on the Great Bahama Banks.
We left West Bay around 9 AM. This would make sure we got through the Northwest Passage from the Tongue of the Ocean to the Banks during day light but also make sure we arrived to Bimini after the sun rose the next morning in case we had a faster than normal passage. Again, the sailing was perfect with sails up and motor off just out of the anchorage, winds behind us, Holiday smooth and upright, and making good time. The Tongue of the Ocean is the most beautiful deep bluish purple as the depth drops from less than 50 feet to thousands of feet in the span of less than a mile.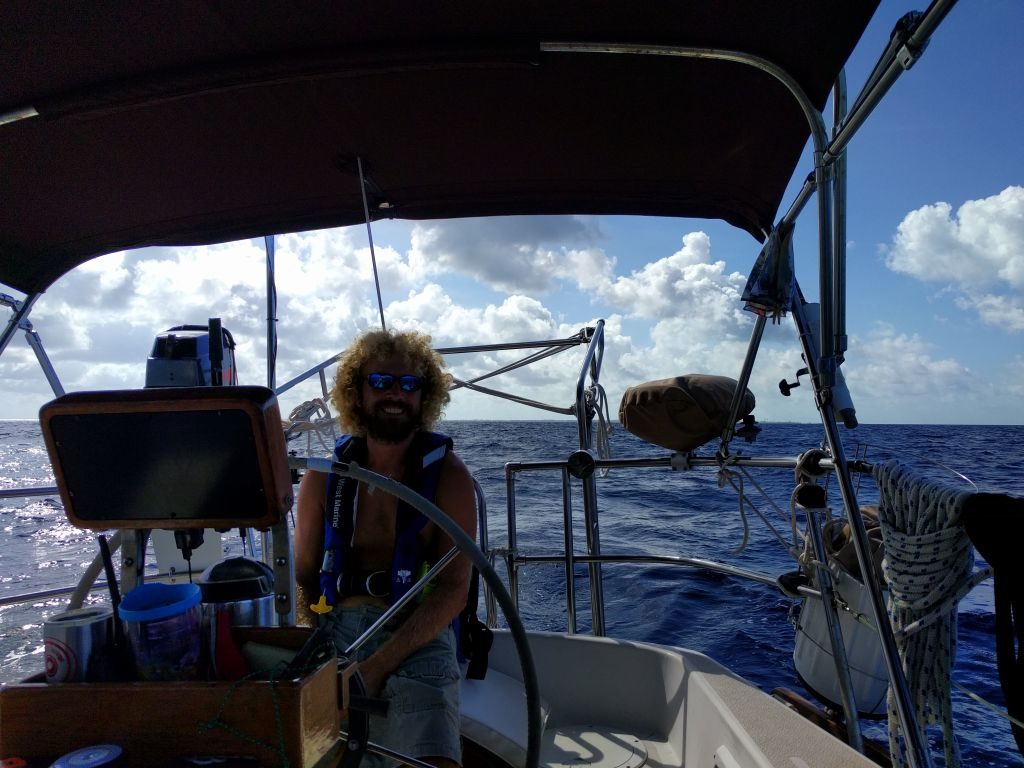 We sailed along on a beautiful day and saw Morgan's Bluff in the distance where we had made our first land fall in the Bahamas about 2 months earlier. As sunset approached, we made our way through the Northwest Passage. This small funnel where the deep waters of the Tongue and the shallow waters of the Banks flow swiftly in and out with the tides is also a thoroughfare for ship traffic both big and small to different areas of the Bahamas and over to the US or other parts of the world. We monitored all the tankers, yachts, sport fishing boats, and sail boats on the AIS as we made sure we took our turn getting through the pass. We did some wing on wing sailing as we entered the Banks: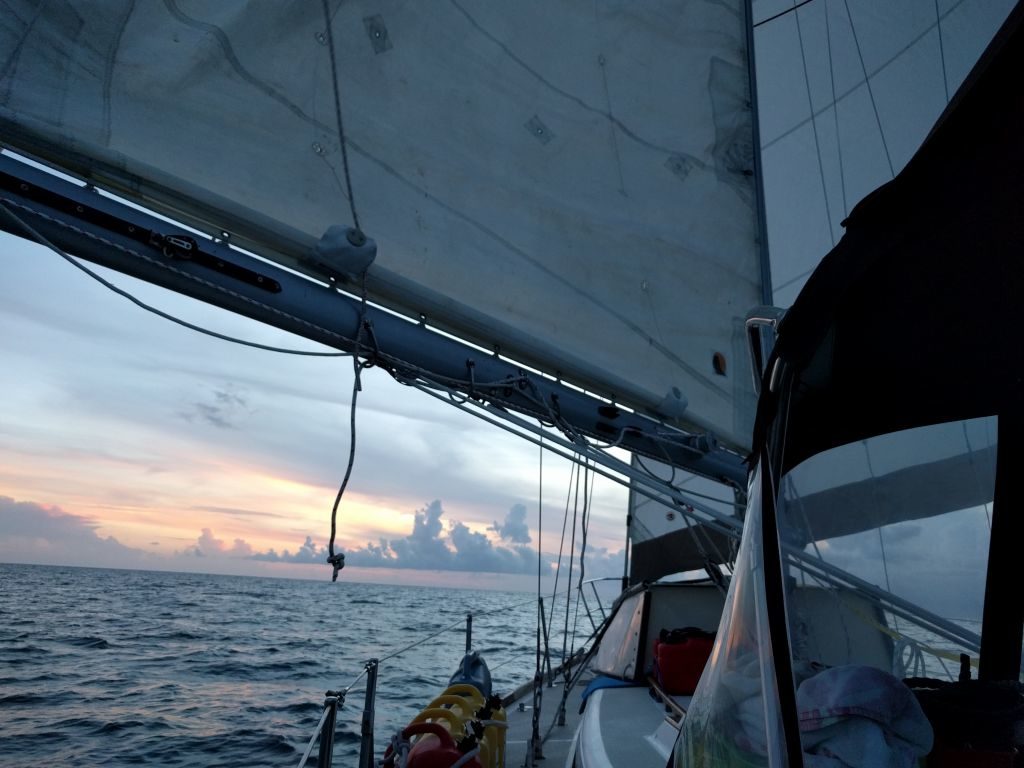 Once through the pass, we were on the shallow waters of the Great Bahama Banks. The sailing remained wonderful, and we watched the sun set as we prepared ourselves for night sailing and set up our watch schedule. We took turns sailing and sleeping as we had a thankfully uneventful night out on the Banks.
As the sun rose the next morning, we could see that we were getting close to Bimini. We had made good time, and it looked like an arrival about 24 hours after leaving West Bay.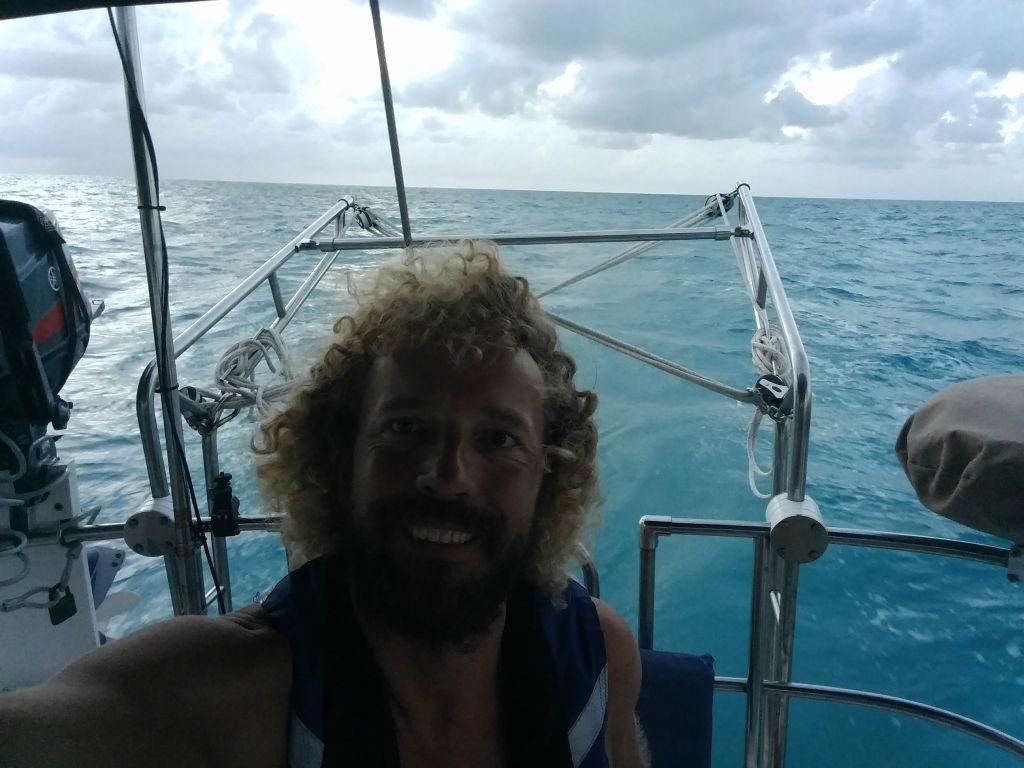 We rounded the point of North Bimini and headed for Bimini Sands Marina on South Bimini. It was time to check the weather again, and we saw that the following day, Friday, would be the right one for crossing to Florida. The weather window would start to close on Saturday afternoon with poor weather arriving Sunday that would last for a week or more.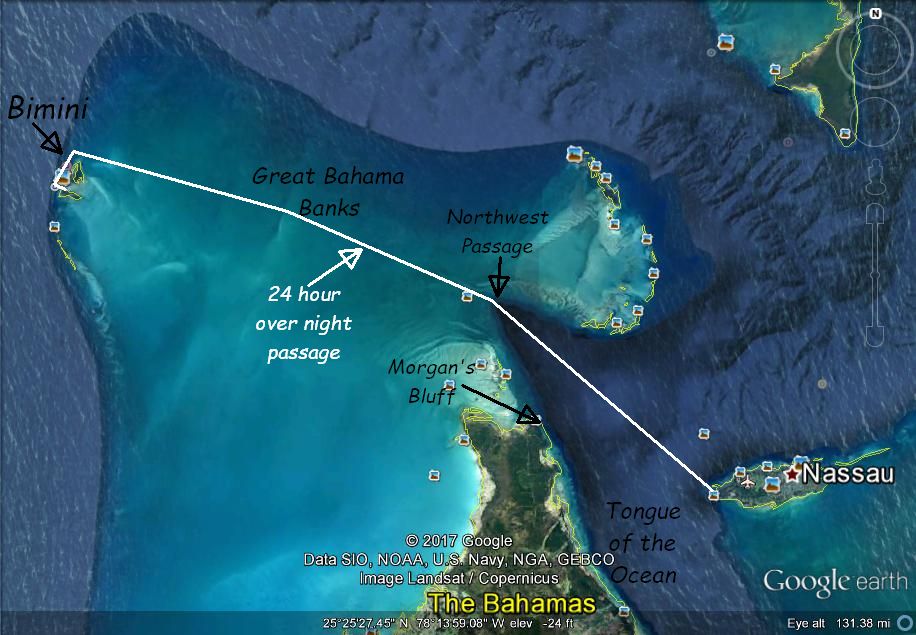 We tied up at the marina exactly 24 hours from when we had left West Bay. Our last long over night passage of our Bahamas trip was now behind us, and I allowed myself to admit that what I had thought previously was true: these passages were more fun than uncomfortable. Could Lindy and I get to where we didn't fear uncomfortable passage making so much? The possibility now exists.
We still had one more passage to go, and we were tired, but we hadn't been off the boat for 4 days, and we wanted to see Bimini. So, we sucked it up. And, disoriented that it was only 9 AM in the morning (it felt like it must be the early evening), we headed out to see the sights. There isn't much on South Bimini but this nice marina we were at, so we took the short water taxi over to North Bimini.
We had a nice day walking around, eating fried conch and conch chowder and watching all the giant sport fishing boats coming and going with their catches. We saw one guy lugging a GIANT tuna off his boat as the other fishermen on the docks gathered around and congratulated him. Bimini looked like a cool place and so close to the US. I feel like we will be back there to spend some more time eventually. That evening, we headed back to South Bimini and had our last meal in the Bahamas at the restaurant in the marina.
The next morning just before sunrise, we checked the weather one last time and untied from the dock. Signs of the weather window closing were already evident. Isolated squalls of 30 knot winds were possible, but other than that, the winds were to still be moderate and behind us. The passage is less than 50 miles, and we headed toward Port Everglades at Ft Lauderdale about 9 or 10 hours away.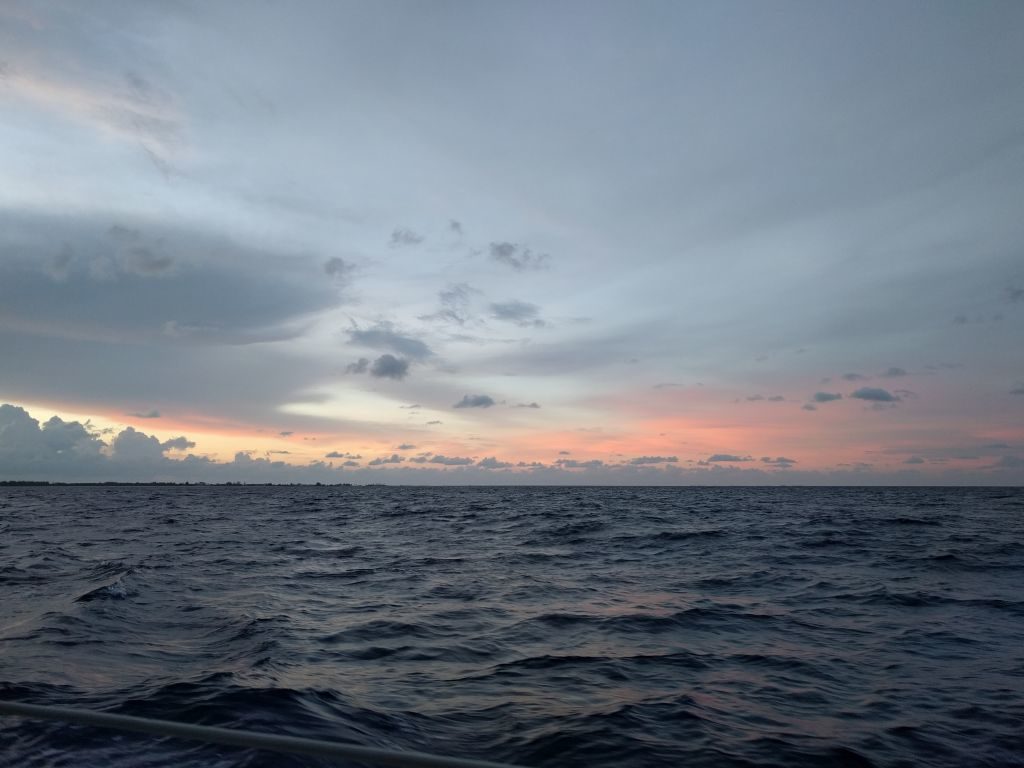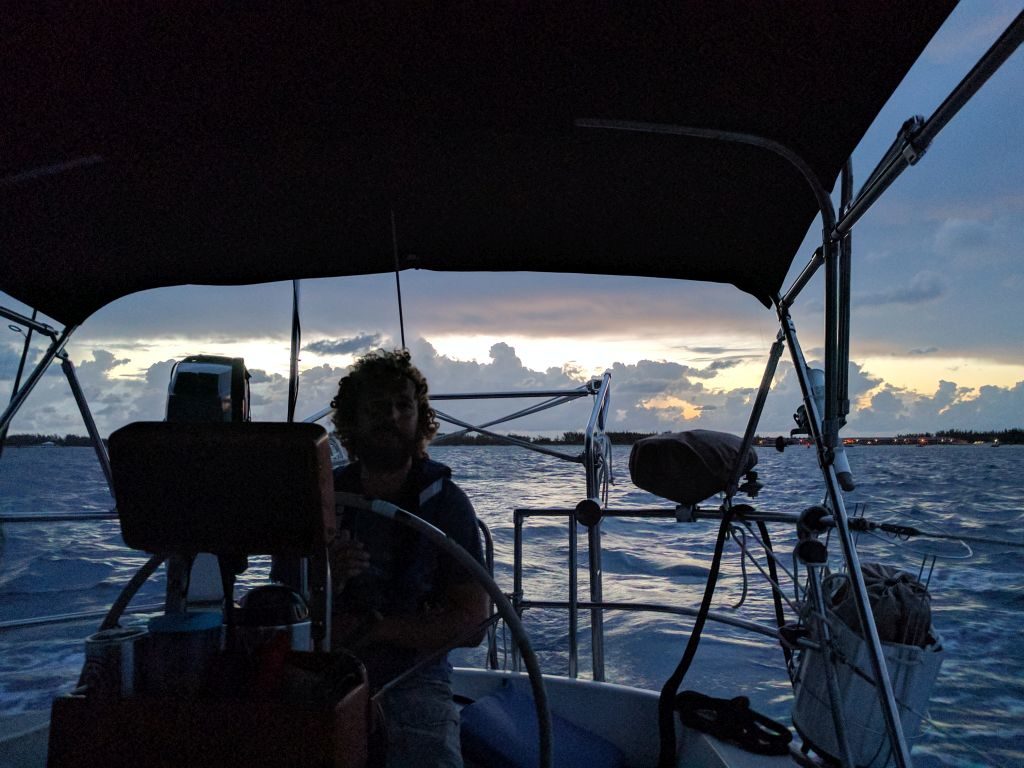 With every mile we sailed, Florida came closer. We had a few sprinkles on the crossing, but none of the squall winds thankfully. In no time we were half way across, and then out of nowhere I looked up and the sky line of south Florida was clearly visible in front of us.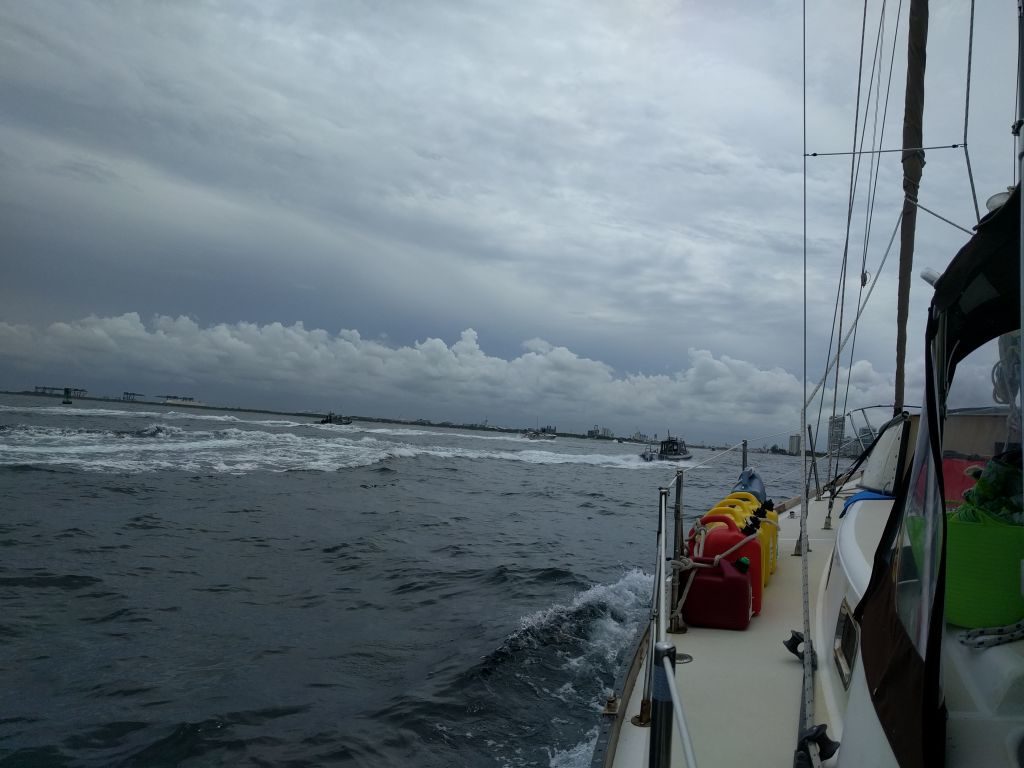 It was an awesome sight, and we were glad to see home on the horizon. I'm proud to be an American and proud of my country, and it only takes 2 months away to remind one of all kinds of things that you don't realize you should be thankful for every single day. We motored in through the cut at Port Everglades, under one bridge, and then tied up to a mooring ball at Las Olas.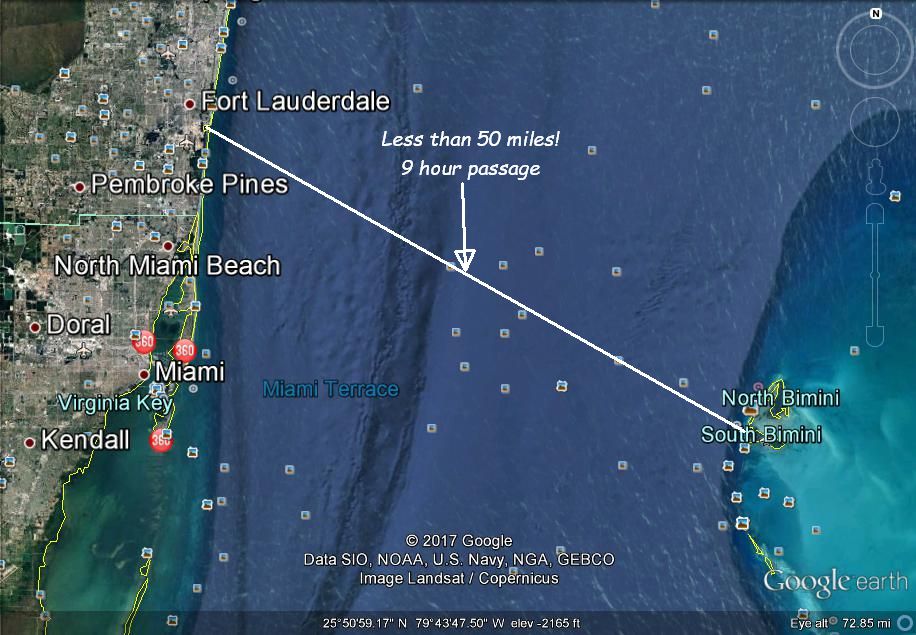 4 straight days of passage making, and we had made it from the remote Exumas back to Florida. It had all been relaxed, comfortable sailing in great weather, and nothing on Holiday had broken.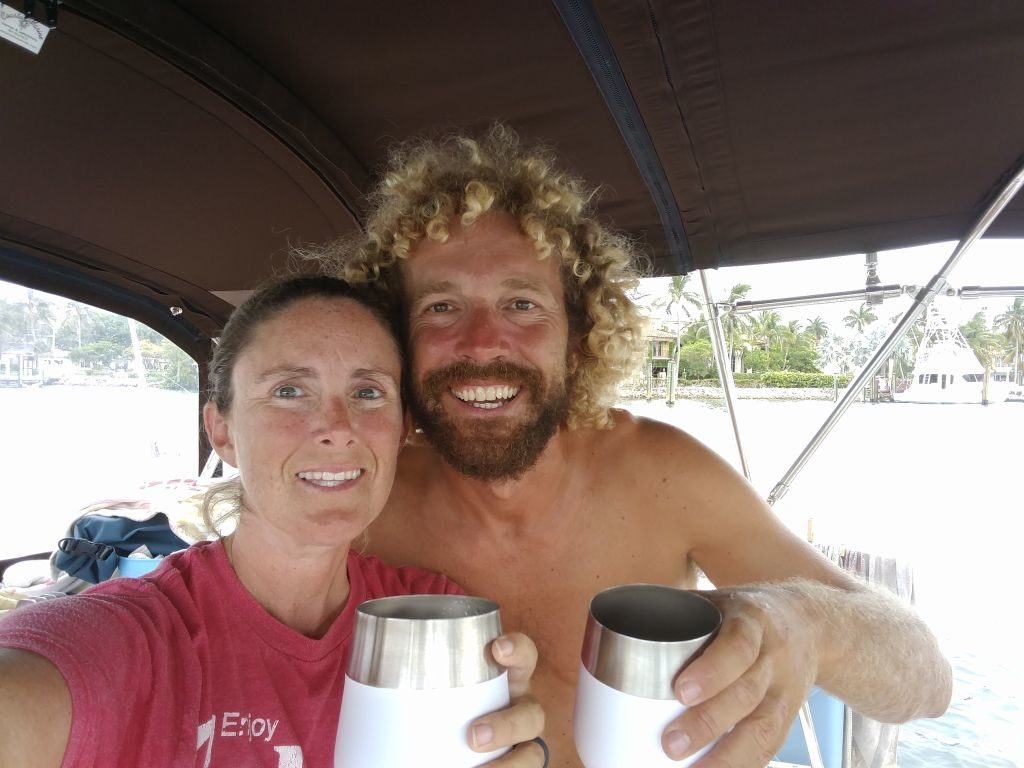 Now back in the US, we are hanging out happily in Ft Lauderdale. What will Holiday's next adventure be? We're working on that right now. Stay tuned!