Leaving Lee Stocking Island through Rat Cay Cut, we exited the Banks side back into the Exuma Sound. The area from Lee Stocking all the way back up to Black Point had looked beautiful, but we decided to spend more time there and make more stops on the way back up. The sailing weather windows were good so we pressed on. Rat Cay Cut was an easy wide open exit, and the sailing was nice as we made our way south on a 5-6 hour passage.
During our cruising so far, I haven't put out my trolling lines all too often. There has just been too much going on, but on this occasion, I had them out. Nearing Elizabeth Harbour, I hooked my first mahi mahi! I couldn't believe it! I pulled him to the side of the boat, but when I went to net him, he spit the hook out and swam away… Oh well, I'll nail this fishing thing down eventually. For now, we're just still concentrating on getting used to boat life and the million things that go along with keeping everyone (including the boat) happy and healthy.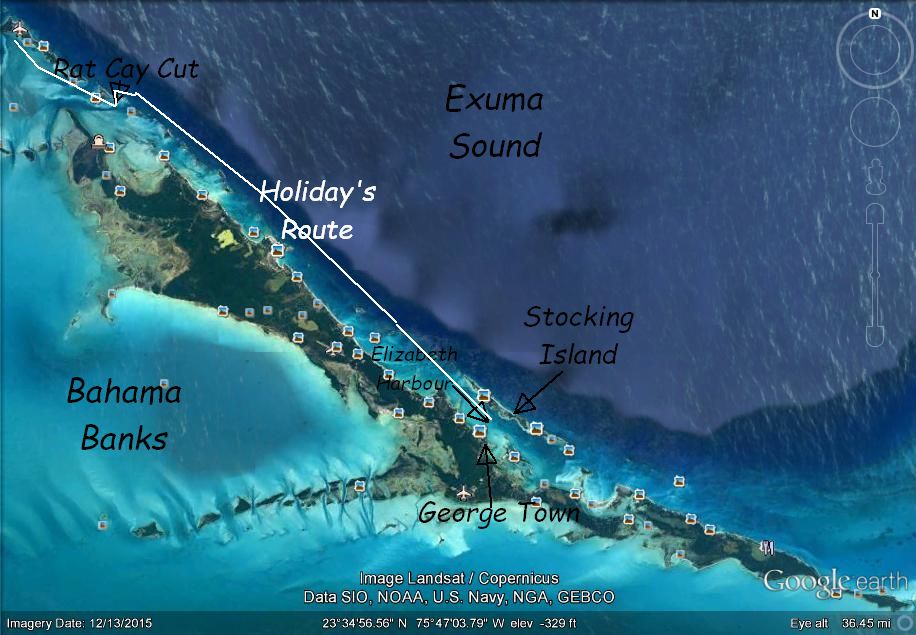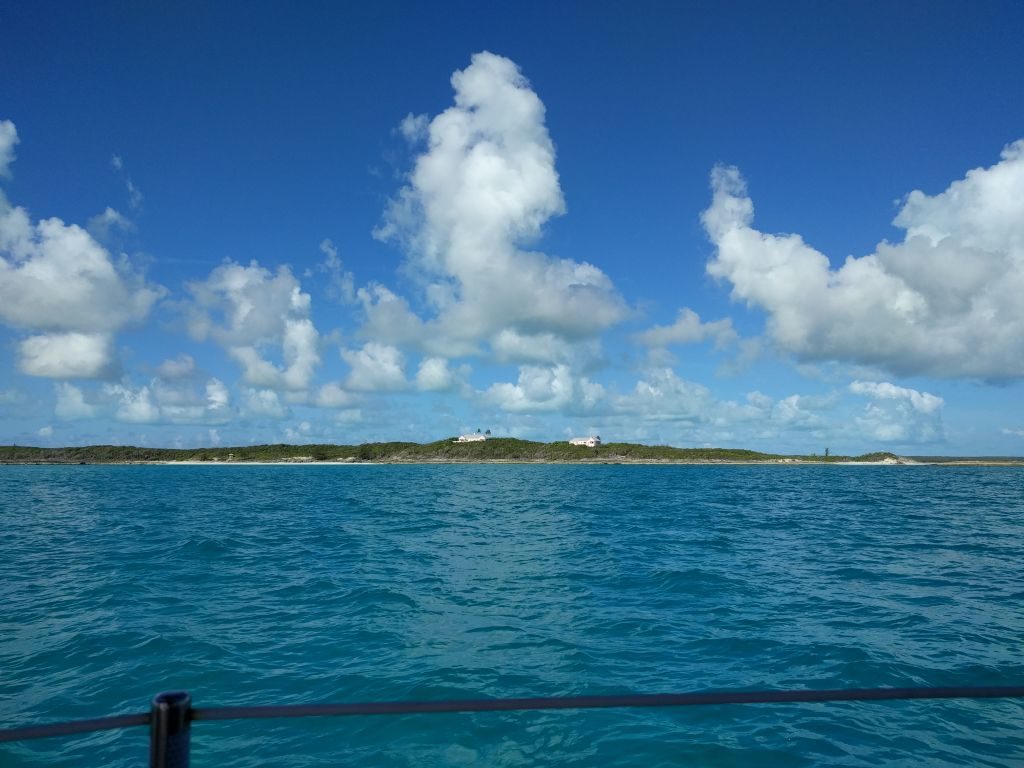 We entered Elizabeth Harbour in the early afternoon and had a good sailing direction to sail most of the way in toward our anchorage. For the first time in the Exumas, we saw quite a few more boats, people, and buildings. Probably more than the rest of the Exumas combined. We decided to make Monument Beach our first anchorage, dropped the hook, and got the dinghy in the water.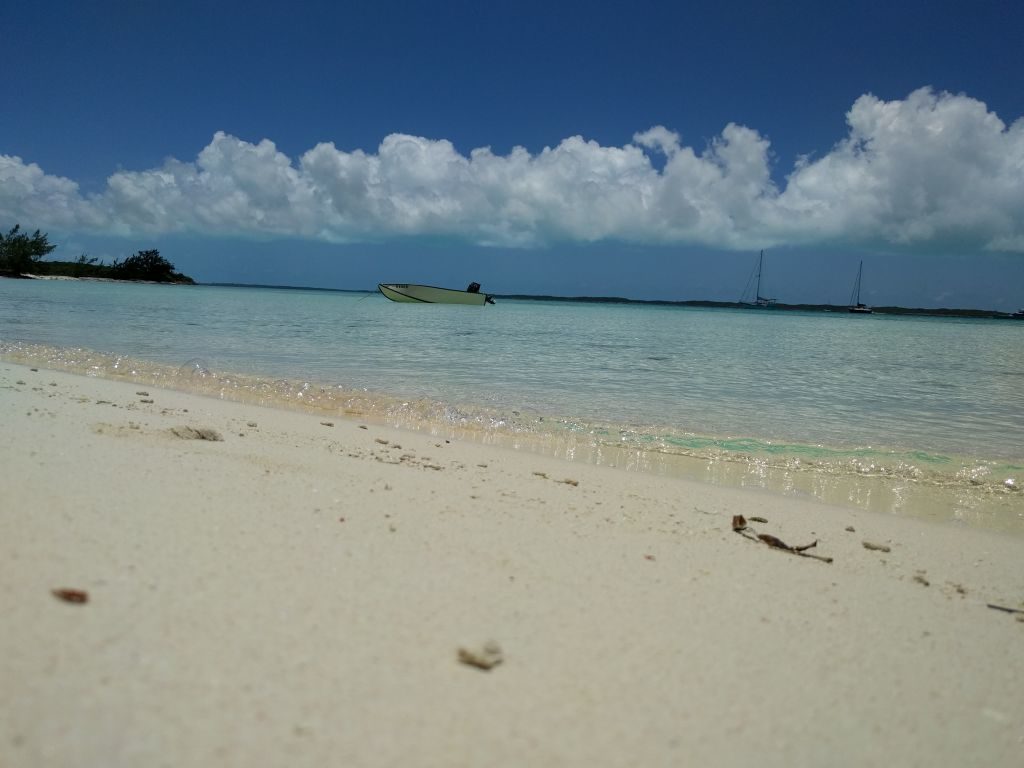 Elizabeth Harbour is a large, protected body of water perfect for a bunch of cruising boats to spend a little or a long time. On one side is a long portion of the northeastern shore of the very large island of Great Exuma. On the other side is the skinny but hilly Stocking Island (not to be confused with Lee Stocking Island), separating and protecting Elizabeth Harbour from the big waters of the Exuma Sound. Within Elizabeth Harbour, protection can be found from high winds from any direction with just a short move from one side to the other. There are also mooring fields and marinas to tie up. We stayed a total of 11 nights. Many (and I mean hundreds upon hundreds) of cruisers make this their winter time destination and spend any number of months here from November to April.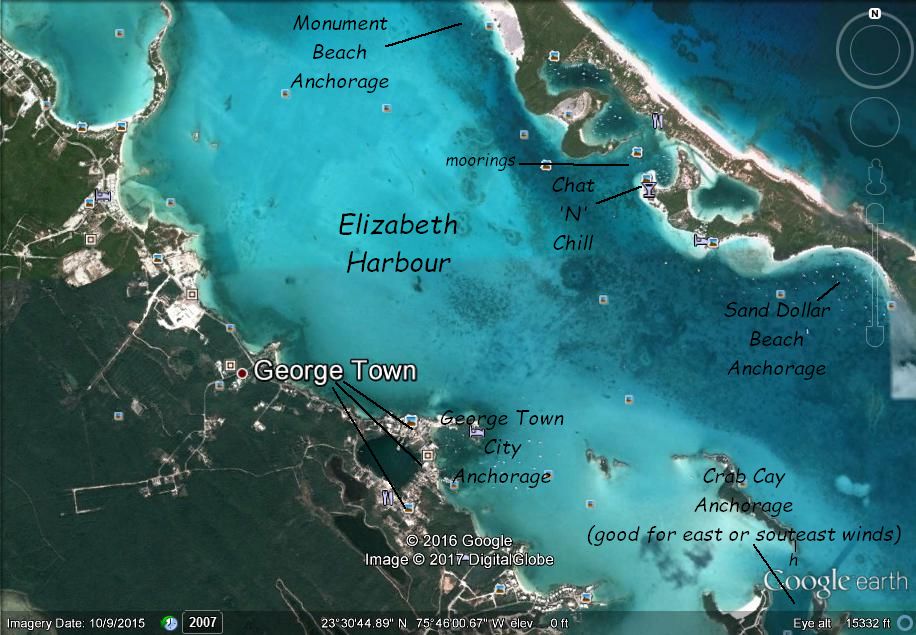 In the harbor on Great Exuma lies the city of George Town. It's no American sized metropolis, not even as big as a small city. More like a little town. But, after the relative unavailability of pretty much everything since Nassau, George Town might as well be New York City. 🙂 There are regular roads and lots of cars, which means regular gas and diesel stations. There is a regular, well stocked grocery store (with a dinghy dock!). There is also free water at the dinghy dock. I'm not sure what's better: the fact that it's free or the fact that I'm not lugging tank after tank of 6 gallons of water across town. There is a hardware store with marine stuff, multiple restaurants and bars, an airport, hotels and resorts, schools, churches, you name it. A regular town.
Now, the predominant trades make the anchorages on the other side of the harbor a more regular place to be. So, George Town is usually about a 10-15 minute dinghy ride away. Sometimes a wet one if there is chop. So, mostly, we were anchored by Stocking Island across the harbor. Stocking Island doesn't have a city or stores or anything like that, but Stocking Island has beautiful beaches both on the harbor side and across great hiking trails over hills with vistas on the Exuma Sound side as well. Stocking Island also has a few awesome water side restaurants. Our favorite (and pretty much the center of cruiser activity in the George Town area) is the Chat 'N' Chill. It's surrounded by a beach you can land your dinghy on, has traditional Bahamian bar food, great drinks, and a Sunday pig roast that is awesome. The bar area is open air or you can take your food and drinks out to the picnic tables on the beach (called Volleyball Beach). For a little less crowded beach area on Stocking Island, Monument Beach and Sand Dollar Beach are just a short dinghy ride away.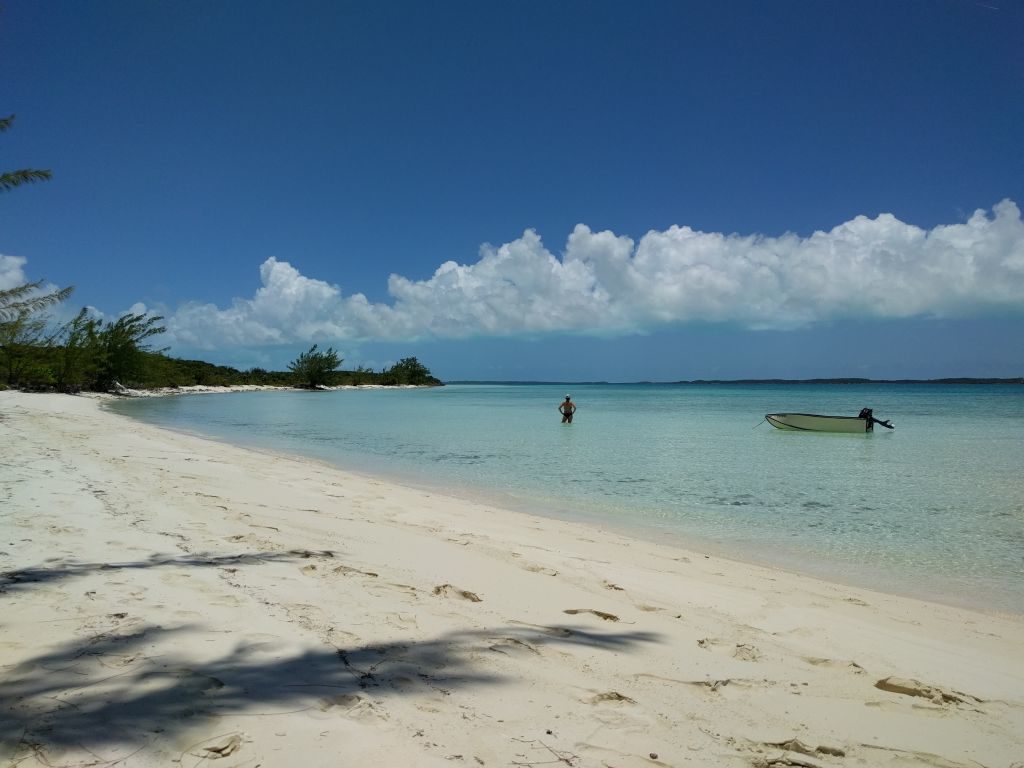 As far as restaurants in George Town, we didn't have anything to write home about, but they were all as good as the rest. Good prices for good food. One thing we really liked was going to a "Rake and Scrape" at any one of the restaurants in town. Rake and Scrape is basically traditional Bahamian music. I would describe it as up tempo island sound music for dancing with a band composed of guitar, bass, maybe keyboard, drums, and also a person playing a saw with a screwdriver (yeah, like tools). About half the nights of the week, there is a Rake and Scrape at one place or another.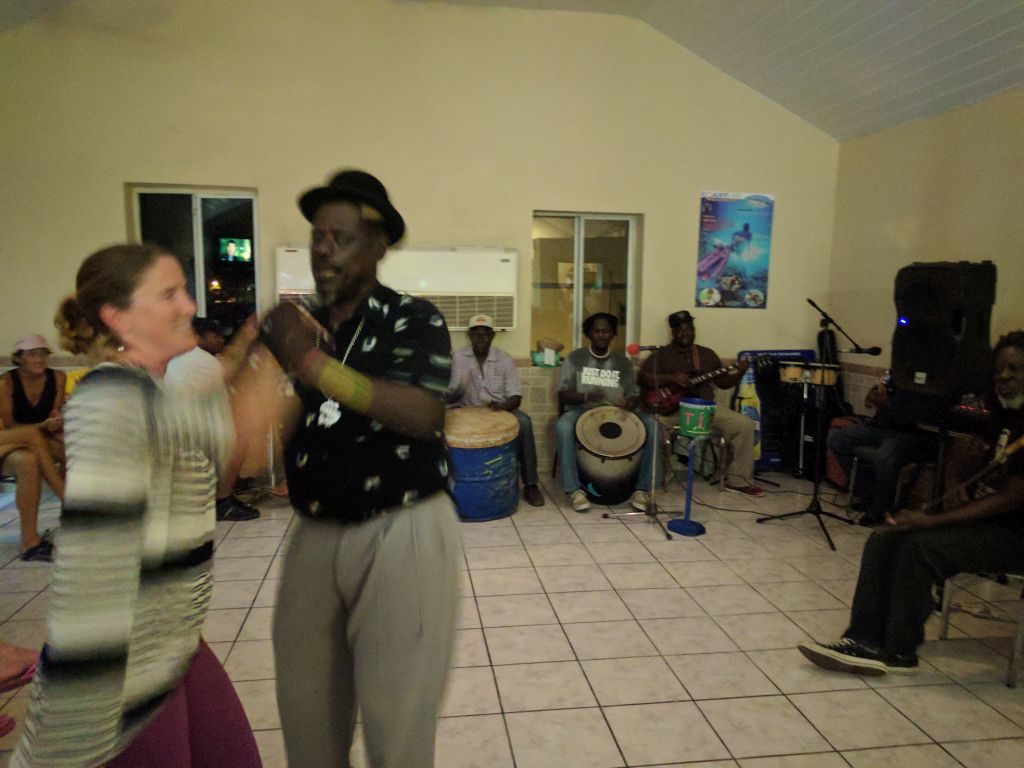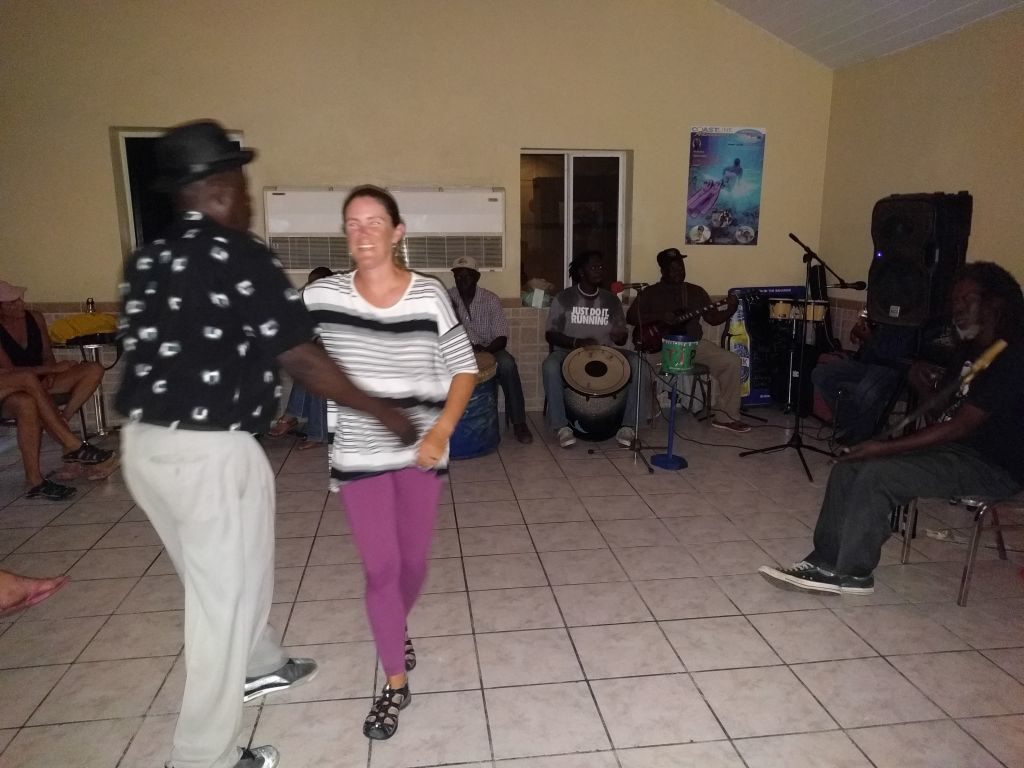 So, we set about living life in and around George Town restocking our groceries, filling our diesel, gas, and water tanks, doing some boat maintenance like changing the oil and filter, and moving around to the different anchorages in the harbor. We made some great friends on the boats around us, cooked some great meals, had plenty of nights out at restaurants, swam a lot, and hiked the trails on Stocking Island.
One sucky thing that happened was the gears stripped on the electric windlass one day when pulling up the anchor. It took me forever to determine that is what was actually going on, even putting on my mask and swimming 15 feet down to the anchor to see if it was stuck on the bottom. But, eventually I figured it out. Lindy motored around in circles for a while, while I tried to see if there was a quick fix (there wasn't). Later that day on a mooring, I removed the motor (no easy task), dismantled it hoping there was a clutch or something that just needed tightening, and then found the shaft with gears that had been worn down and shredded over time. No more windlass… Luckily, it has a manual function, so instead of the prospect of having an expensive part flown in and paying duties on it, I am just pulling the anchor up myself now. It's not hard at all. As I type this in Ft Lauderdale, the new motor is on the way though.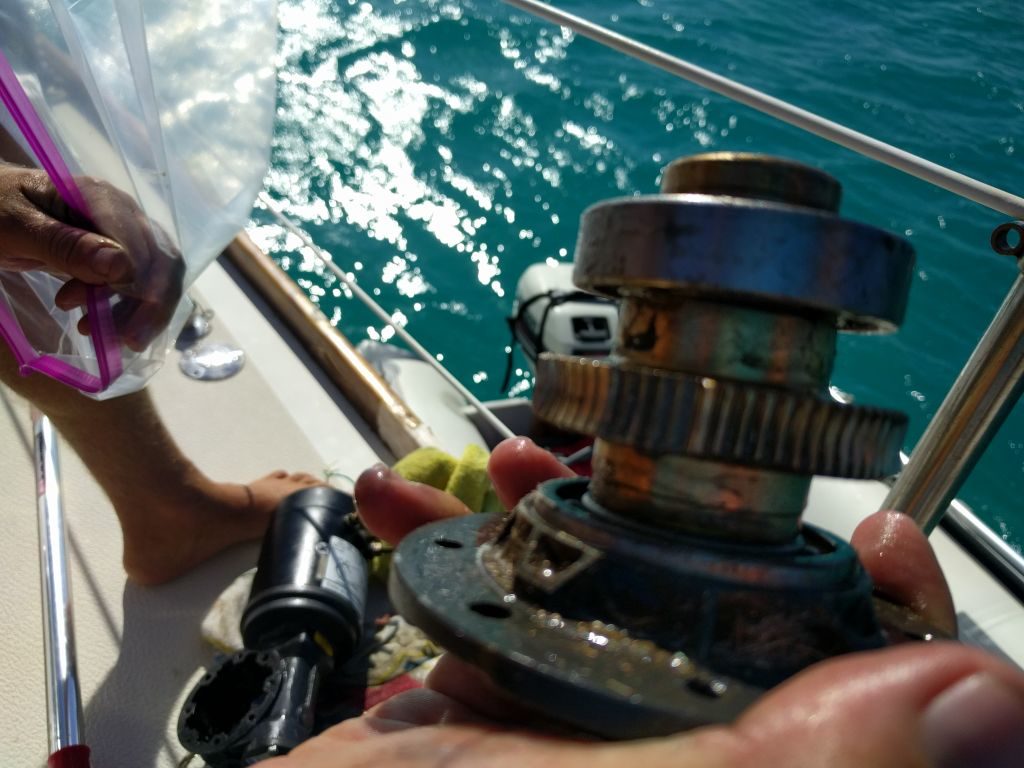 You'll notice the title of this post was George Town and Elizabeth Harbour "in May". This part is for those cruisers who come in the winter, and I'm guessing wonder what it is like here when there are 40 boats anchored instead of 400. Now, I've never been to George Town during "the season", but from my time here, I can do some deducing on what it must be like from what I saw and the descriptions I heard about the area from winter time visitors prior to my arrival. I had heard of hundreds of people on Volley Ball Beach and waiting forever to get served at Chat 'N' Chill or never getting service at all. I'd heard of all kinds of cruiser activities announced each morning on the VHF net, with a lot of attendance, and also all kinds of cruiser organizations. I had heard of long lines at shops and the grocery store in town. I had heard that, as big as Elizabeth Harbour is, there could be crowded areas that you might want to anchor causing you to go a little further out. In fact, everything I had heard about George Town made me think it was a much bigger town than it actually was when I finally arrived.
So, when we arrived to Elizabeth Harbour, and found a small, mostly empty George Town, we wondered what all the fuss about this place had been about. Sure, there was easy availability to a lot of things that had been difficult to get in other areas of the Exumas, but there had to be something more to this place that so many cruisers flock to like Mecca.
In May:
The net in the morning lasts about 5 minutes. If one other person talks other than the net controller, it's a surprise. No businesses made announcements, and there weren't any cruiser activities. Rarely was there any buy, sell, trade, and rarely was anyone asking for assistance during the boaters needing a hand section. Most anchorages only had 4 or 5 boats in them, with the Chat 'N' Chill probably having 10. At the Chat 'N' Chill, you might find 10 other people randomly throughout the day (other than the Sunday pig roast when a few boats come from other resorts around Great Exuma, there might be 30-40 people). Monument Beach or Sand Dollar, you might see one person. The dinghy dock at Exuma Market, 4 dinghys. In the grocery store, 8 other people or so. Walking down the street, a couple other cruisers mixed with a couple other people from hotels among the locals. A Rake and Scrape might have 10 people on the dance floor, 80% locals.
This is just to give you an idea of the setting that you'll find if you come to George Town when most of the last cruisers leave after the Family Island Regatta in the last week of April. We loved George Town and Elizabeth Harbour, but to me, it was more like the rest of the Exumas but with good protection at anchor and more convenience. The best of both worlds.
So, my conclusion as to what makes George Town the "George Town" I had heard everyone talking about: it's the cruisers themselves. Without 400 boats full of cruisers, there really isn't a lot going on here. Which is better? I imagine it's a little of "the grass is greener" syndrome. Come in May or June, you might wish for a little more activity. Come in February, you might wish everyone would go somewhere else while you are waiting behind 100 other people just to grab a beer at Chat 'N' Chill.
Anyhow, after 11 nights there, we found a great weather window to head back up the Exumas. The first half of our Bahamas trip was over, and each move now would be one closer to the US. Questions in our head were starting to form "What will be next after the Bahamas?" We still don't have all the answers yet.
Stay tuned for the next blog post where a major system on the boat breaks, and we have a really tough passage.