We waited and waited at Palm Cay Marina near Nassau while the wind howled (mostly 20-25 knots) from eastern directions for about 10 days looking for a good weather window to head east to Highbourne Cay, our first stop in the Exumas. Granted, the waiting was awesome as we were securely tied to a dock in an awesome location with showers, a beautiful beach, and yummy restaurants just a short walk down the dock away. But, we couldn't stay there forever (the marina fees were adding up), and we were excited to continue our journey to the beautiful islets of the Exumas we had heard so much about.
Finally, we had forecast winds of 10-15 knots, although the easterly direction meant we knew there would be some close hauled sailing (heeled over and bouncy), some tacking, and probably at least a little motoring into the wind and waves (one of my least favorite things). With only easterly forecasts in the foreseeable future, we decided to go ahead and go for it since it was the lightest wind day instead of waiting for the rare southerly or even rarer westerly forecast. The total passage would be around 30 nautical miles and take 5-7ish hours, all across the shallow Bahama Banks.
So, we set out with the plan of heading for the Yellow Bank where there are good places to cross a big strip of shallow coral heads about half way between Nassau and the Exumas. When we got out of the channel from Palm Cay Marina, we set our first tack in a south of east direction since the Yellow Bank was about due east straight into the wind, and I didn't want to start out the trip motoring (thinking if I needed to do some motoring or motor sailing would rather at the end). The sailing was pretty good and not too uncomfortable considering that we were close hauled.
After a couple of hours, I noticed on the charts that we were headed for an area of the strip of shallow coral heads called the White Bank. It appeared there were much fewer dangerous coral heads here than the Yellow Bank and that I wouldn't even need to tack, just continue sailing in the same direction. While we weren't sailing directly toward Highbourne, the new plan was to tack at some point past the White Bank and sail or motor sail towards Highbourne to finish out the passage. The chart was correct, and passing over the White Bank we only had to dodge a few of the dark spots that denoted the coral heads that have the ability to poke a hole in the bottom of Holiday.
After about an hour however, it was time to tack and head more toward Highbourne. As often unluckily happens, the wind began to pick up right around the time we were going to tack. When we set our new course, I knew immediately I had made a mistake crossing at the White Bank, and we were about to be in for a rough ride. Highbourne Cay now lay directly into the wind which was piping up well above 15 with building seas. Surrounded by shallow areas and lines of corral heads we had a few choices:
Pound directly into the wind and waves motoring for about 3 or so hours and complete the passage in 6-7 hours.
Turn around and go back through the White Bank, make a sailing tack toward the Yellow Bank, cross there then make a more comfortable motor sail tack to Highbourne. Probably arrive before sunset but maybe a 10 or so total hour passage.
Continue the tack direction from the White Bank crossing, further away from Highbourne, until forced to make another tack by shallow water a few hours away. Then motor sail on a more comfortable tack back towards Highbourne (a long way away at that point) or even motor to Shroud Cay, skipping Highbourne, which would be closer than Highbourne by that time. Again, 10 or so total hour passage.
Well, we decided on number 1. Let me tell you: it was highly uncomfortable. And, I was just aggravated that what I thought was going to be a half decent passage had once again turned into one of the awful passages that I seem to becoming famous for. We buried the bow completely under water time after time making progress slow and extremely bumpy. Lindy was a champ though and took it much better than I did.
In retrospect, I should have just motored directly for the Yellow Bank to start (taking the worst part of the crossing in the beginning in lighter winds. although, no way to know of the later wind increase to start), crossed there, and then either sailed or motor sailed to Highbourne. Or, not have crossed that day at all and waited for either a day with under 10 knots out of the east or wind from a better direction.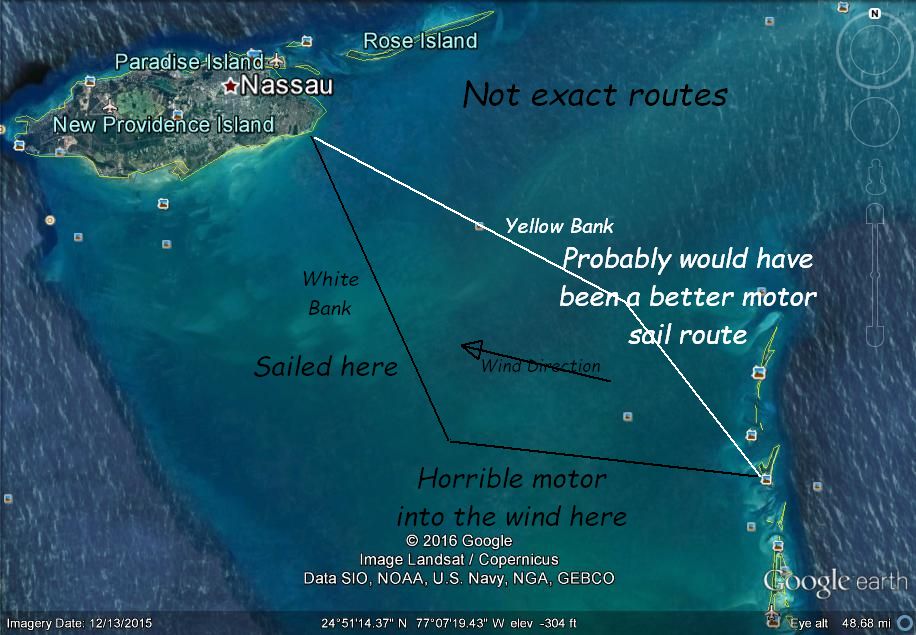 In the end though, we dropped anchor at Highbourne having finally made it to the Exumas. Sailing to anywhere in the Bahamas in a small boat is definitely going to a far away and remote place, but getting to the Exumas from the areas in the Bahamas that cruise ships and large commercial airlines go to regularly is like taking another giant double or triple step away. We were now in a place that is simply difficult to get to by most any means. To arrive here, you either have made quite a few large passages in your own vessel or, for the most part, taken a few different expensive flights/charter boat trips. What does that mean? It means more natural beauty undisturbed by masses of people and less development marring that beauty. It means less trash, less pollution, clearer water, and cleaner shore lines. More fish, corral, and birds. It means nature seen as nature intends and settings that are almost the same now as they were many hundreds of years ago.
So, what about the Exumas? Here are the places we went in the first half, some of our cruising experiences there, and what we learned that others venturing to the Exumas might find interesting or informative:
Highbourne Cay: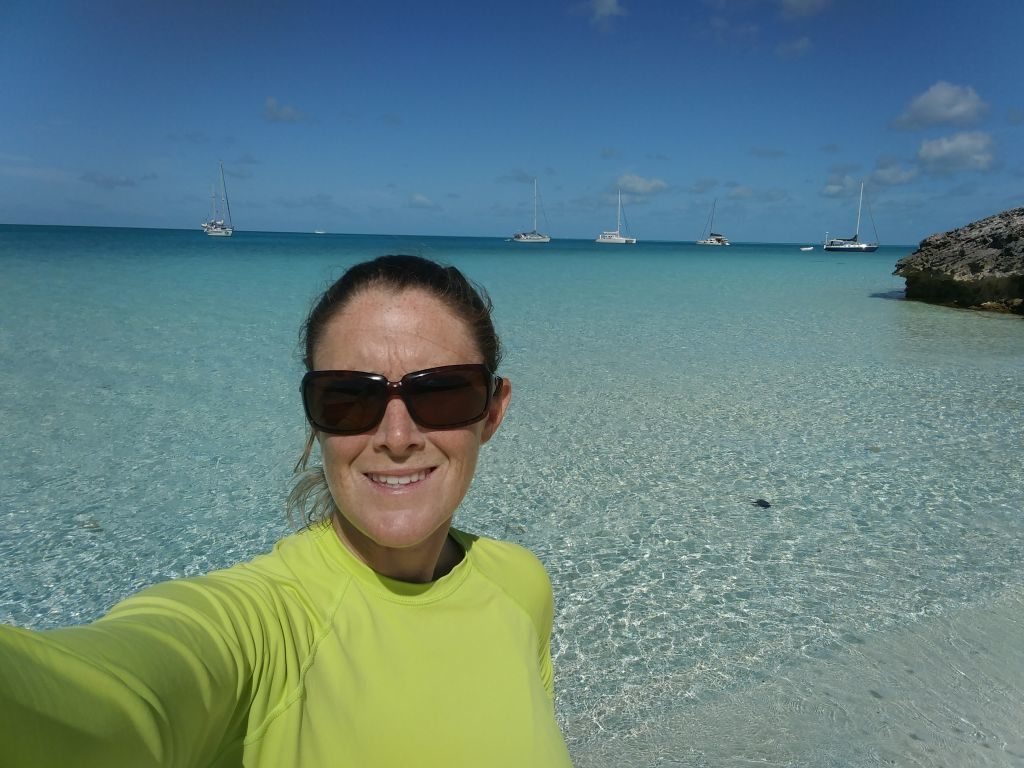 We stayed at Highbourne in the main anchorage for 4 nights. It's a very easy anchorage to enter and exit, and the holding is great pretty much all over. You don't have to search for a sandy spot. It's pretty much all sand. The beaches are beautiful and just a few hundred yards away from where you will be anchored as well as some corral for snorkeling. If you skipped Allen's Cay (just to the north) and came right to Highbourne, you can easily dinghy across to Allen's to see the iguanas. Our dinghy outboard went kaput at Highbourne so we didn't get to go over there, and we also didn't get to go check out the marina or restaurant. Check out Highbourne at our video here: https://www.youtube.com/watch?v=Rac8TwAFexI&t=24s.
Highbourne is where you will first learn about swell wrapping around to your anchorage from Exuma Sound and also wind driven swell reaching your anchorage from the banks even from directions you think you are protected from. Basically, any mostly wide open anchorage in the Exumas will only have the best protection from east or north of east. If the wind gets even a little south of east, the anchorage will start to roll a little uncomfortably as waves wrap around what seems like impossible corners. The higher the wind, the more the roll. Watch the forecasts and plan accordingly with your tolerance for motion at anchor.
We didn't find our first total protection until we got to Warderick Wells. South in the Exumas from Warderick Wells, there seems to be more choices for picking good weather protected anchorages.
So, coupled with our experience in the crossing above and the protection of the anchorage, certain wind forecasts might have me recommending to go on to Warderick Wells more quickly depending on your time constraints. Of course, if you can…..visit every single Cay!
Shroud Cay: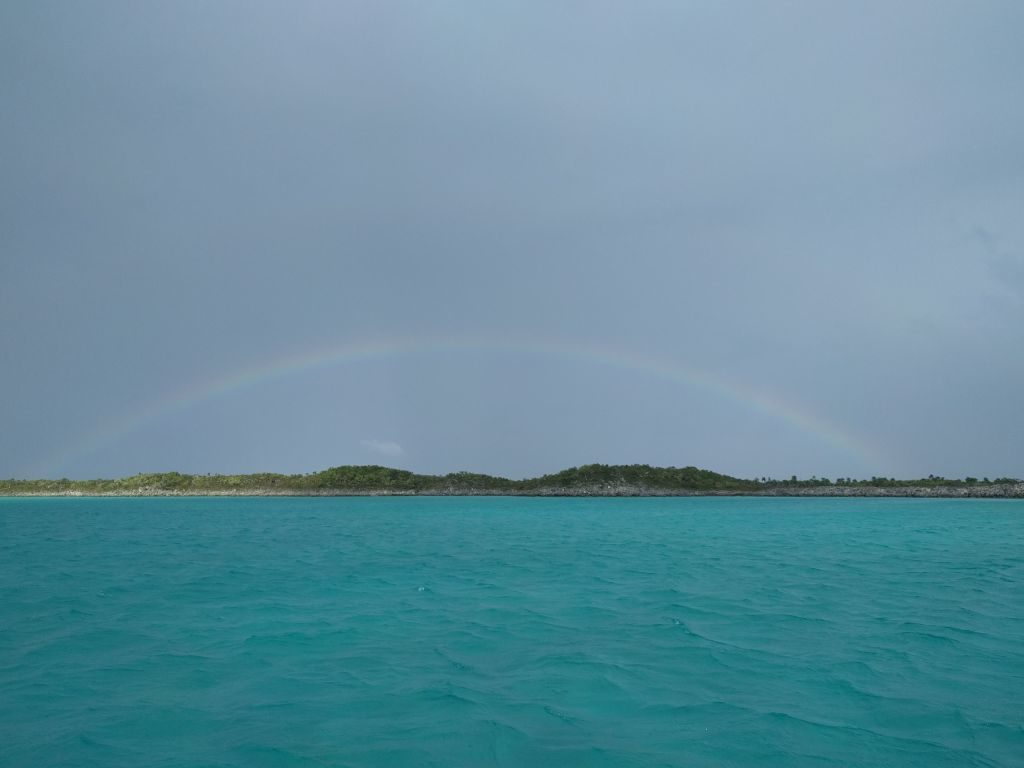 Next we sailed along the Banks side to Shroud. At Shroud you will be entering the Exumas Land and Sea Park for the first time. Moving down the Exumas, you will find much better wind direction for sailing more often than all those long passages where you are having to go mostly east into the trade winds from Florida and through New Providence. Each jump is also short. We sailed a lot in light winds without motoring, not caring how long it took. You also have the option of going in and out of cuts to the Exuma Sound if the wind and weather dictate.
We chose the anchorage on the north end of Shroud. Our draft is only 4'2″ so the charted depths rarely scare us. It is a very nice anchorage, and depths were mostly 7-9′. If you have deep draft, the deeper anchorage and mooring field is just to the south. Here, again you have a nice wide open anchorage, but as soon as the wind clocks south of east, you will get swell even though it looks like protection should go all the way to southwest at least.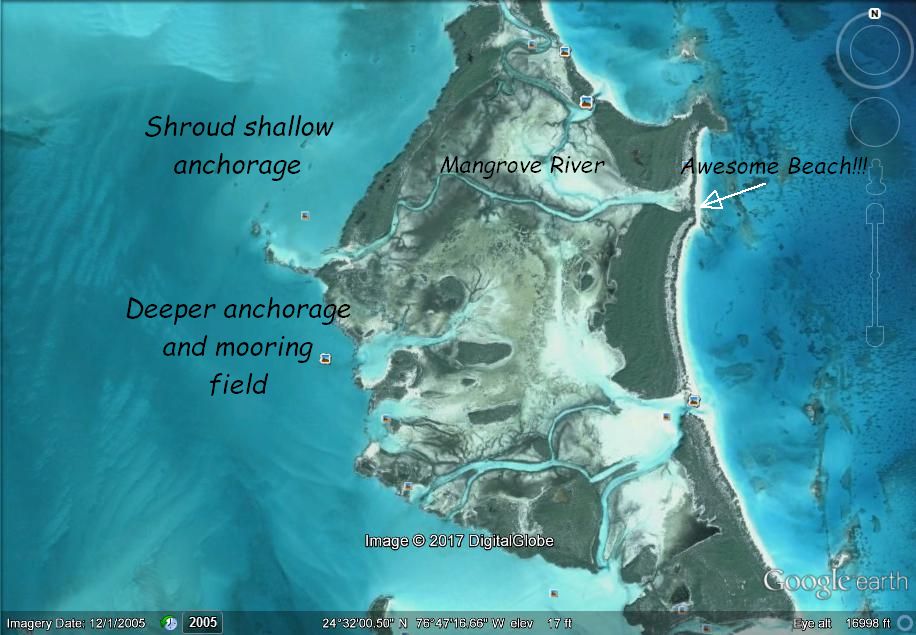 Do not skip the dinghy or kayak ride across the mangrove river on the north end of Shroud. The river is awesome, and then you end up on the most beautiful beach I've ever been to. Shroud is in the last half of the video: https://www.youtube.com/watch?v=Rac8TwAFexI&t=24s. We stayed 3 nights here.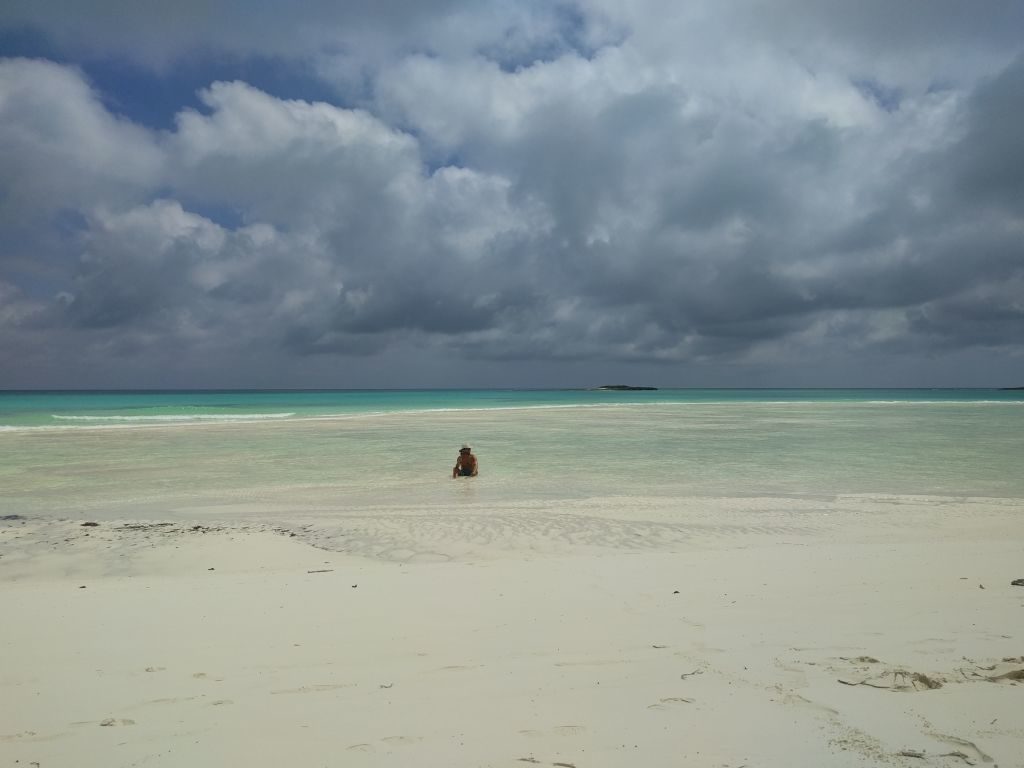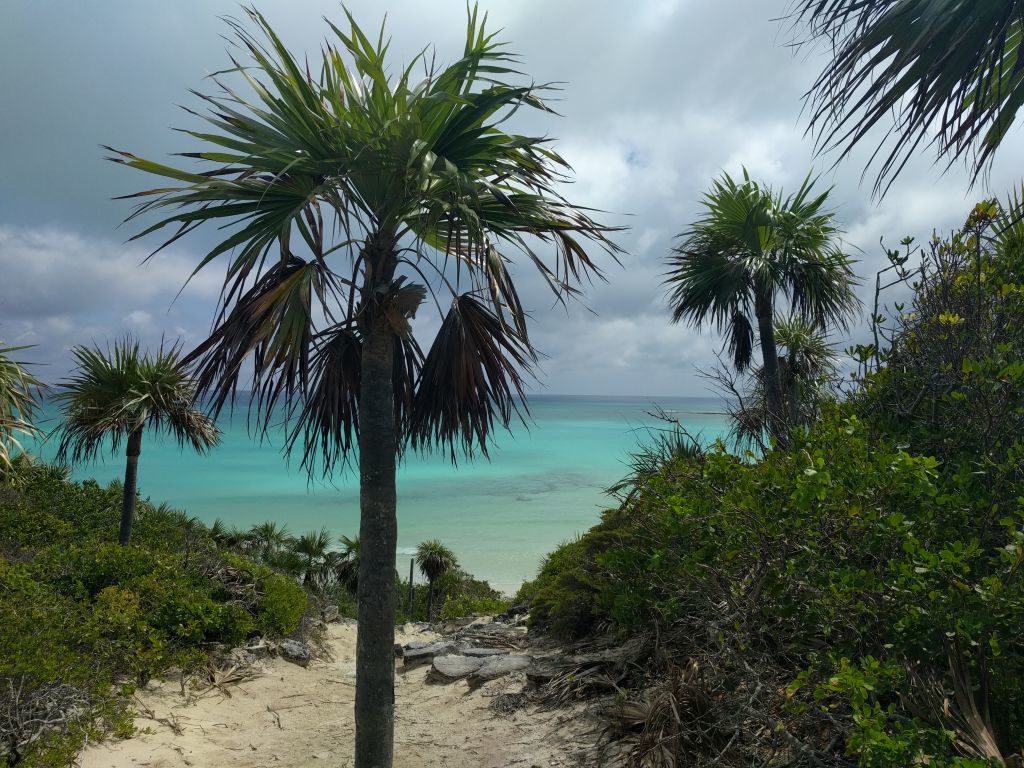 Warderick Wells: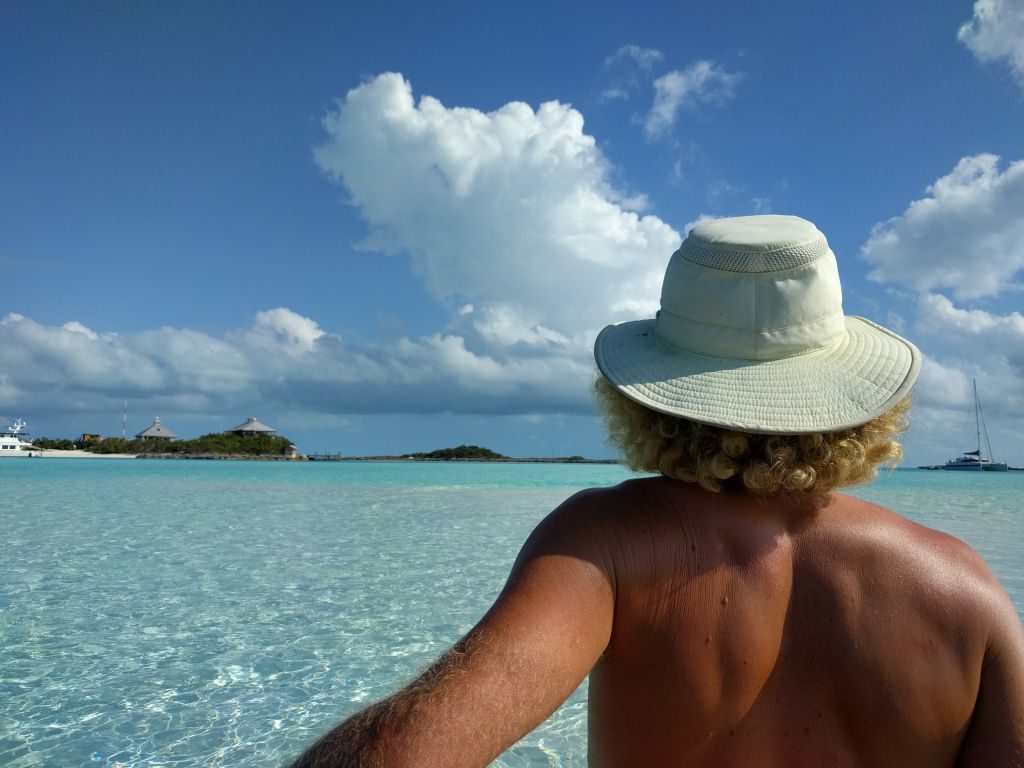 Shroud to Warderick Wells was a beautiful, short sail down the Banks. Warderick Wells is the headquarters of the Land and Sea Park, and there is an office there with park rangers. If there is any weather coming, the north mooring field is a great place to ride it out. We had very high winds there and felt perfectly secure. At worst, the current had us sideways to the wind, and the boat would heel with the gusts. North of Staniel, this is where I would head again for any kind of blow. There is also a mooring field and anchorage around the west side with similar protection to Highbourne or Shroud. Great for light winds or north of east.
We stayed at the north mooring field for 7 nights. We love to hike, and there are miles and miles of good hiking trails here. Most are challenging so wear good shoes and pack water and food. The trails also go to secluded beach after secluded beach. If you keep hiking you will eventually get to a beach all to yourself. At the time of year we went, we had almost every beach to ourselves once we got away from the headquarters area.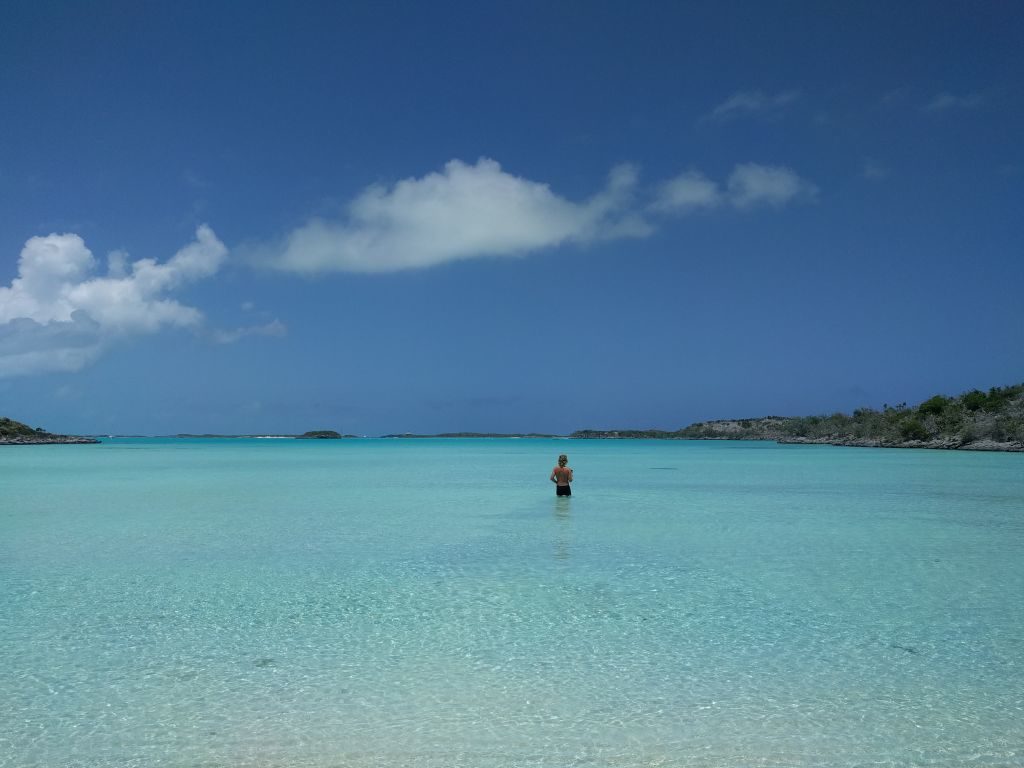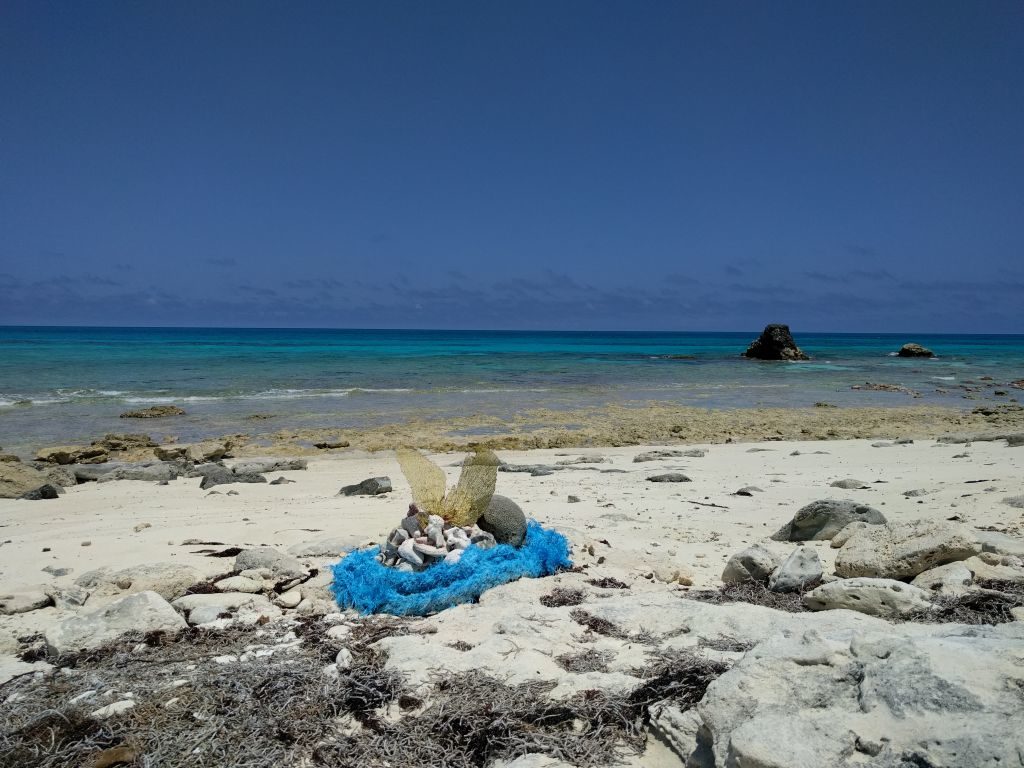 The mooring field is also surrounded by beautiful sand bars. We spent most afternoons sitting in ankle deep water drinking cold beverages. Very nice! There is a wreck to snorkel in the mooring field as well as corral gardens just a couple hundred yards away. Warderick Wells was one of our favorite spots. I'l have a video up on our time there soon. Check here for the videos: http://www.youtube.com/c/funonholiday.
Staniel Cay: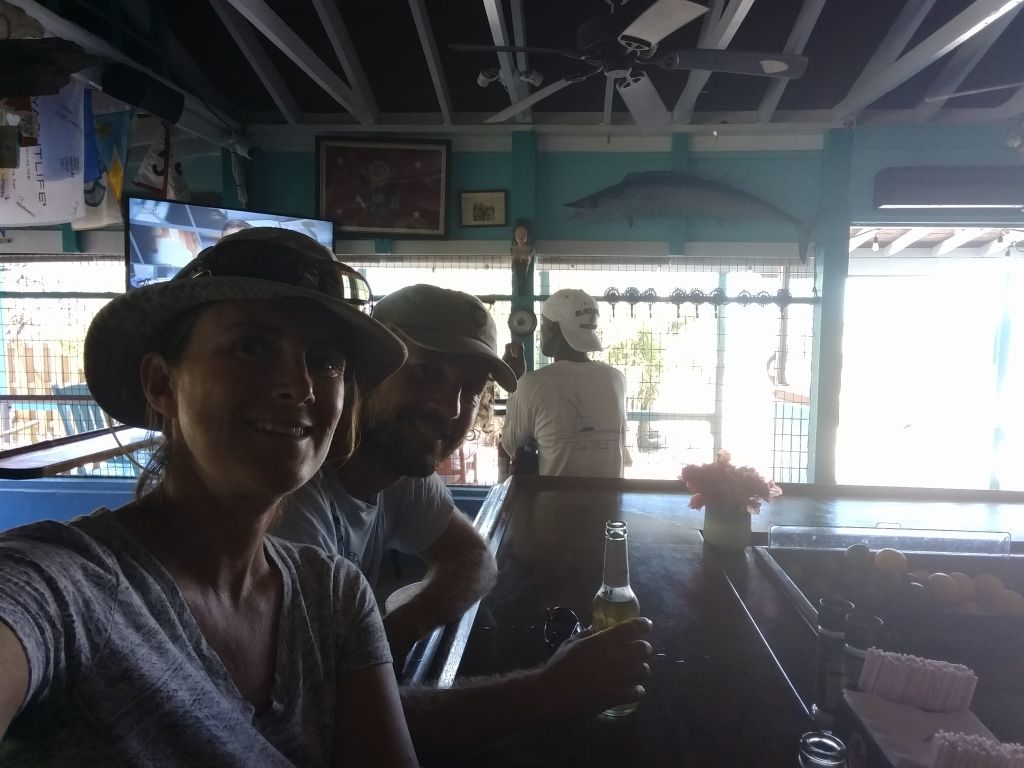 Warderick Wells to Staniel is another very short sail. We took the Banks side and anchored at Big Majors Spot (now outside the Land and Sea Park). Big Majors is a large wide open anchorage with great holding in sand. You have pretty good protection from the land wrapping around to the south, but like the others, if there is a blow, anything south of east will wrap some swell in there. Around Staniel, though, there are anchorages within a mile or so for any wind direction (a change from a lot of the Cays further north). I was a little nervous about the large fish I would see swimming regularly under the boat here. They all turned out to be nurse sharks though.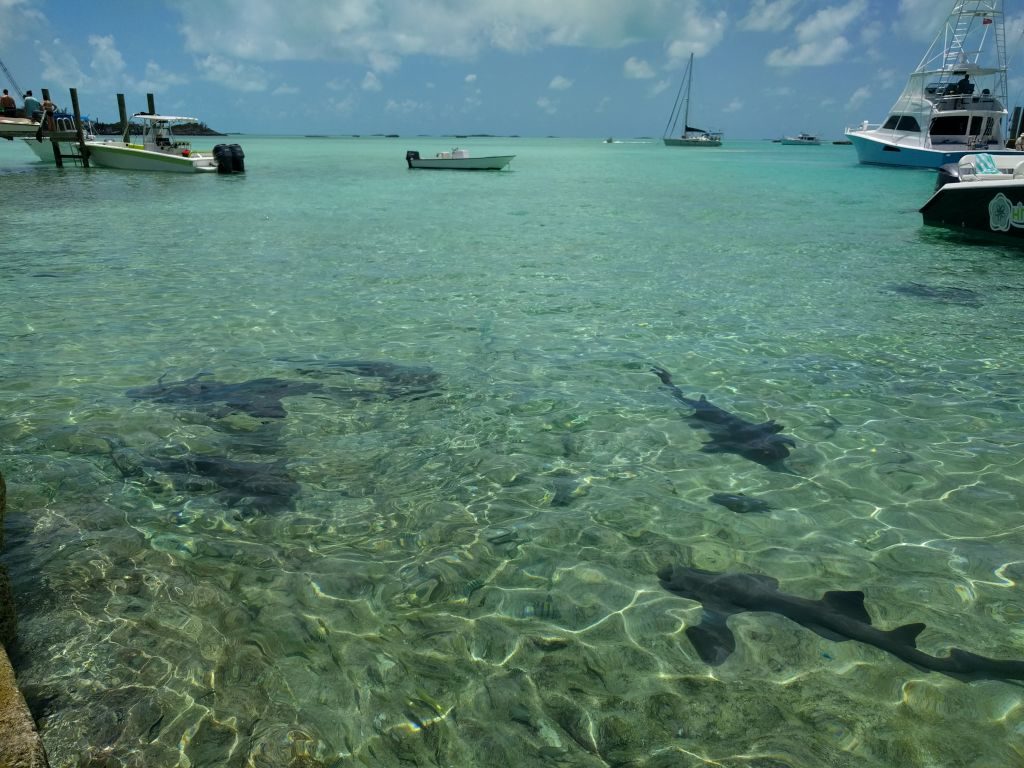 Big Majors is where the famous Pig Beach is. It's pretty crazy to see those big pigs swimming around begging for food. Take your dinghy up there with some carrots. The "Pirate Beach" a few hundred yards down is where we would hang out with the other cruisers each evening to relax and swap sailing stories.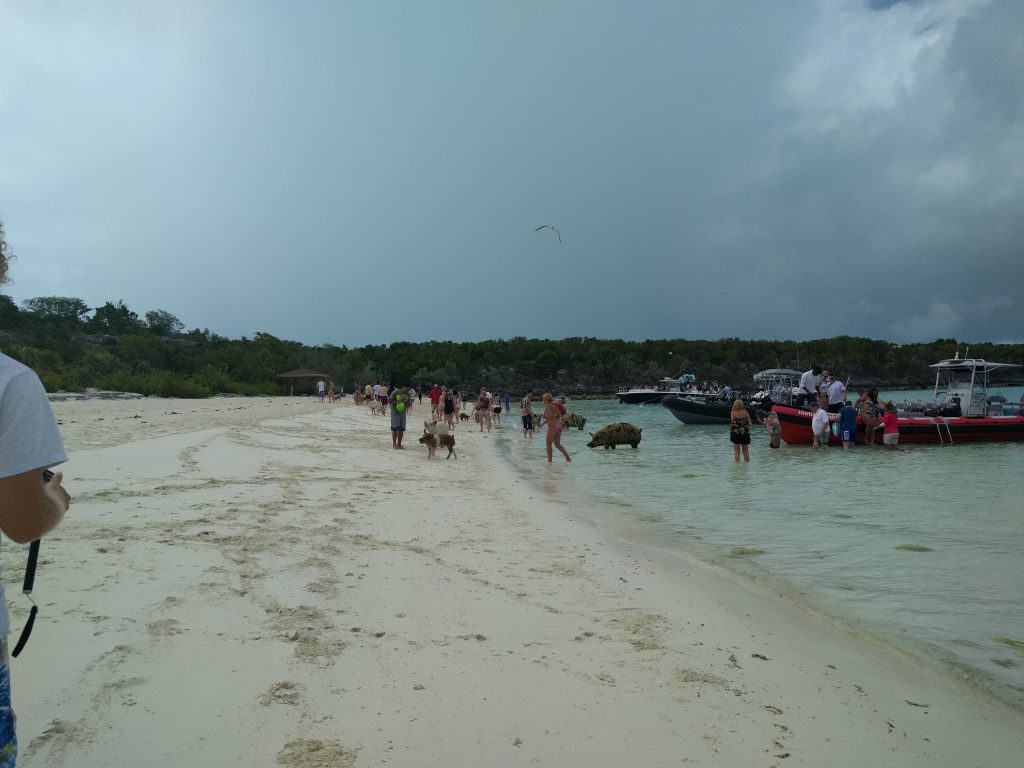 Staniel Cay Yacht Club is a 10 minute dinghy ride from Big Majors. Great restaurant and bar, diesel, gas, water, and trash disposal (all for a price of course). Staniel has good grocery shopping, laundry, some hardware, mechanics, and you can also get pretty much anything here rather quickly on the mail boat from Nassau or by plane (Watermakers Air) from Ft Lauderdale (again, all for a hefty price). We experienced both of these. We bought a new dinghy outboard that we received the next day on the mail boat from Nassau and also a raw water pump for our diesel that got there in a day or two on Watermakers.
Also, don't miss the famous Thunderball Grotto. Great snorkeling into a cavern with fish all around. At low tide you don't have to go under water to get inside. We stayed at Staniel a total of 9 nights (2 different stays).
Black Point Settlement: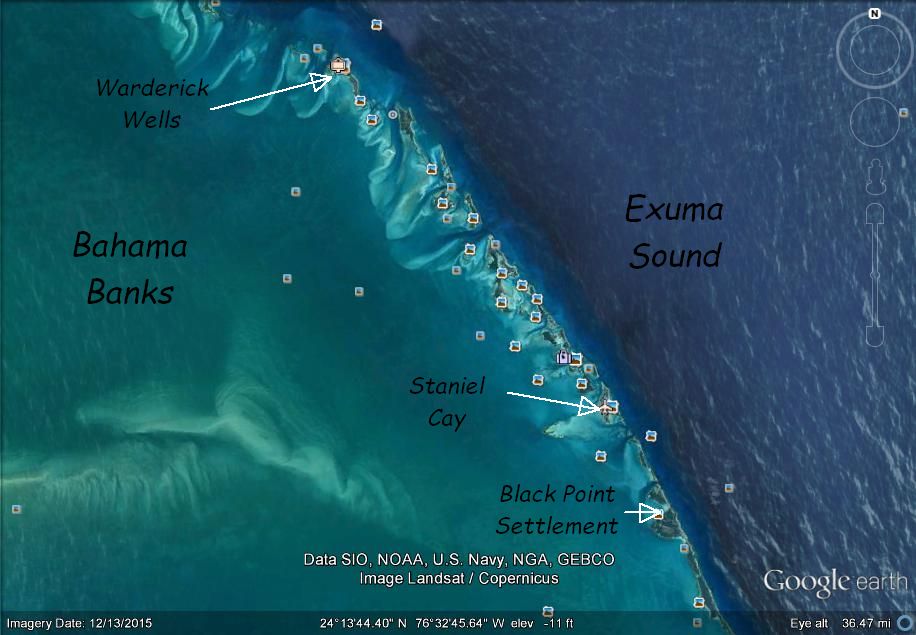 Literally just around the corner from Staniel. Great wide open anchorage with great holding in sand (aforementioned swell from south of east winds applies here as well). Black Point is a "real" Bahamian town. Not as much availability on everything as Staniel, but prices are better, and there is no "touristy" feel here. A few great restaurants, grocery, laundry, etc. Go to Lorraine's and then find some great homemade bread from her mom at the house behind the restaurant. We stayed at Black Point for 3 nights.
We saw some great sunsets from the anchorage here. If you missed the iguanas at Allen's, you can find them a short dinghy ride away at Bitter Guana Cay without the crowds from Nassau. Also, beautiful views of the Exuma Sound without another soul around.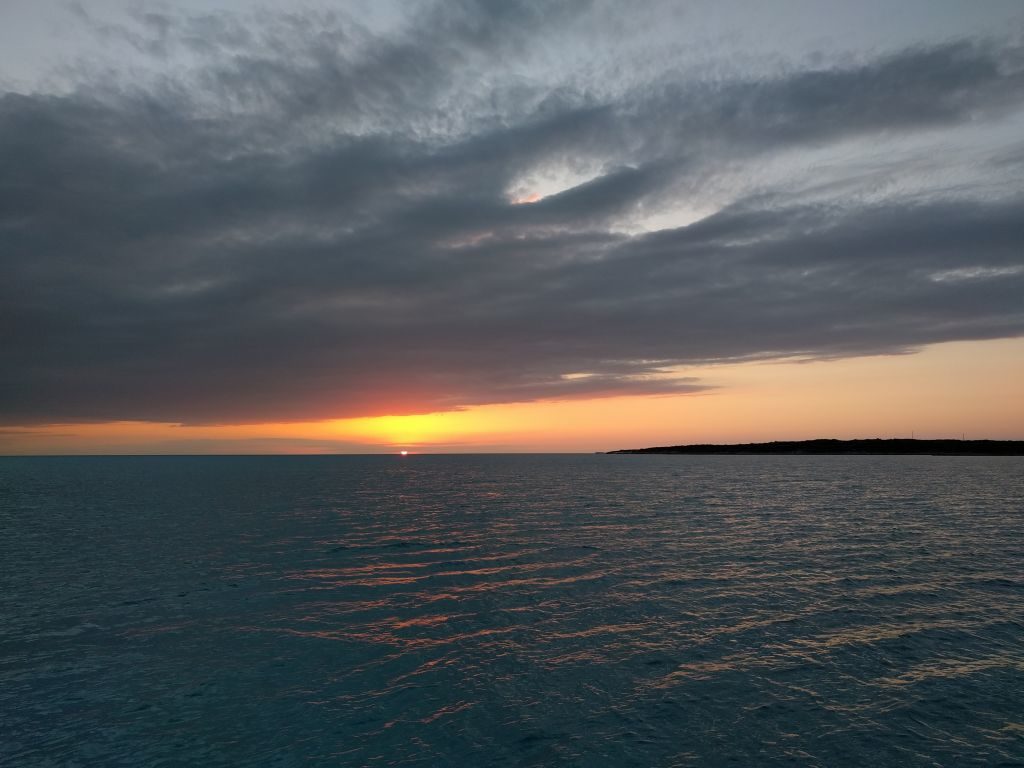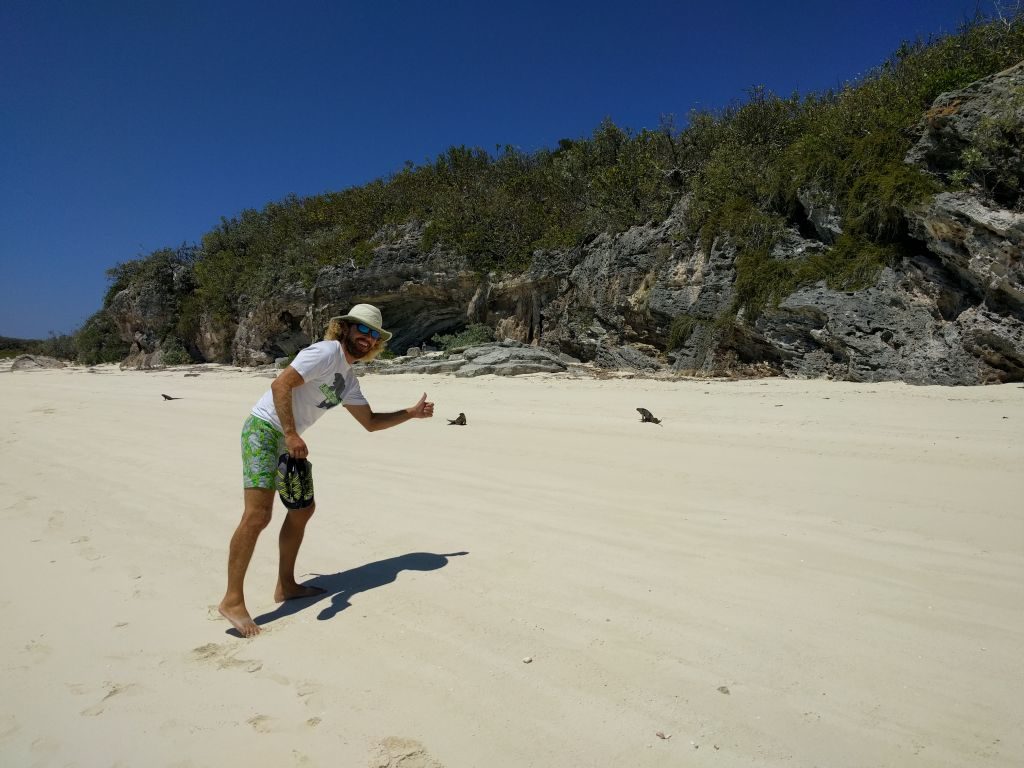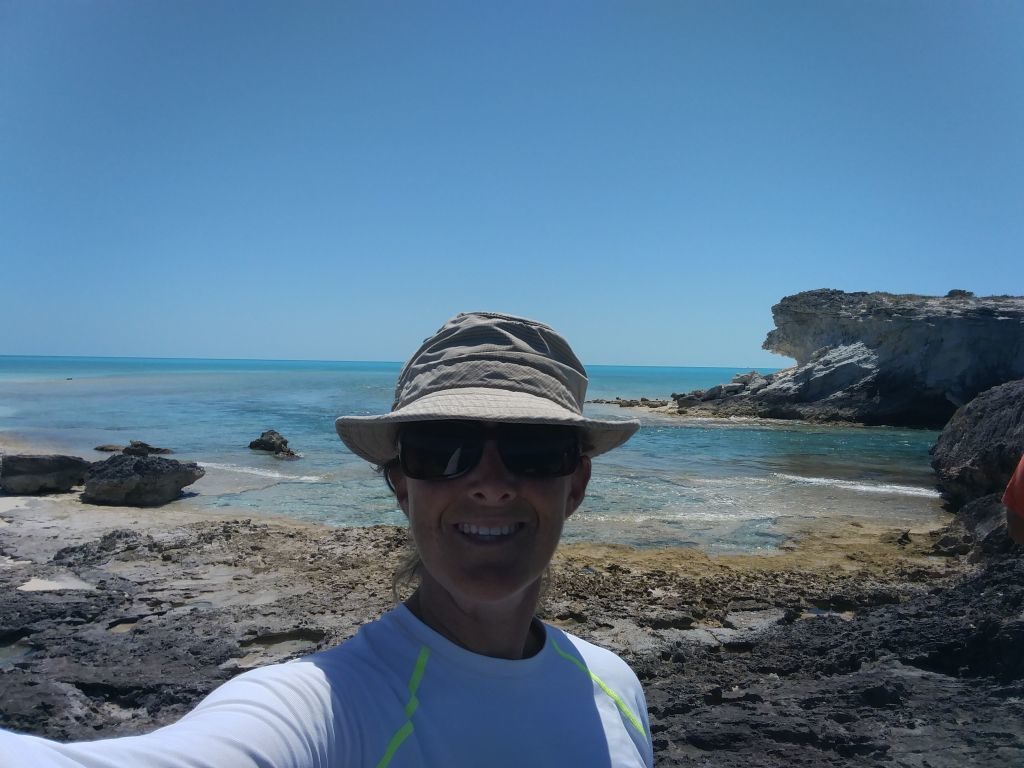 Lee Stocking Island:
We only stayed here for one night because we were taking advantage of great travel winds to get to George Town. We also skipped quite a few good places between Black Point and Lee Stocking because we were having such a great sailing day. It was a beautiful 7 hour sail down the banks where we went out Cave Cay Cut for our first experience in the Exuma Sound. If you do this like we did, the motion of "big water" sailing will take a little getting used to after all the flatish Banks side sailing. But, on a good weather day, it's not bad.
Lee Stocking Island looked like a great place to anchor for a few days. We saw a beautiful full moon rise there. Very quiet and secluded, very beautiful, and there are supposed to be some great hiking trails around. There were also quite a few choices close by for protection from different wind directions.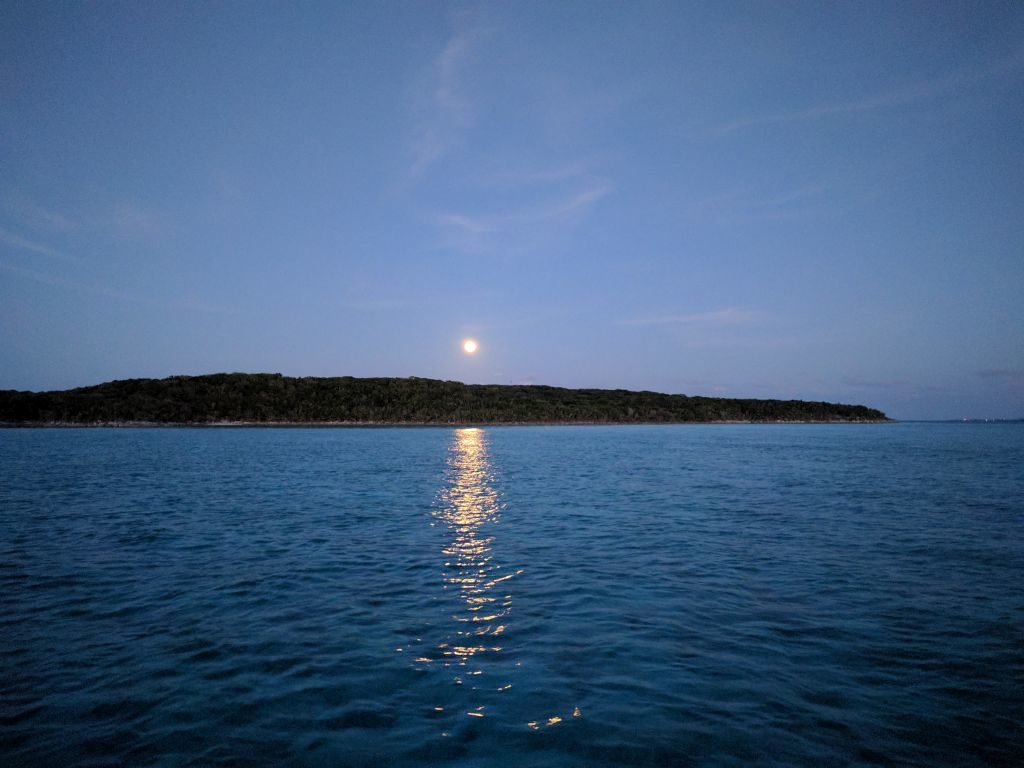 When we left, we took the shallow route south behind Lee Stocking and exited back into the Sound through Rat Cay Cut. At high tide, only the deepest draft sailboats would need to worry about any groundings. Plenty of water.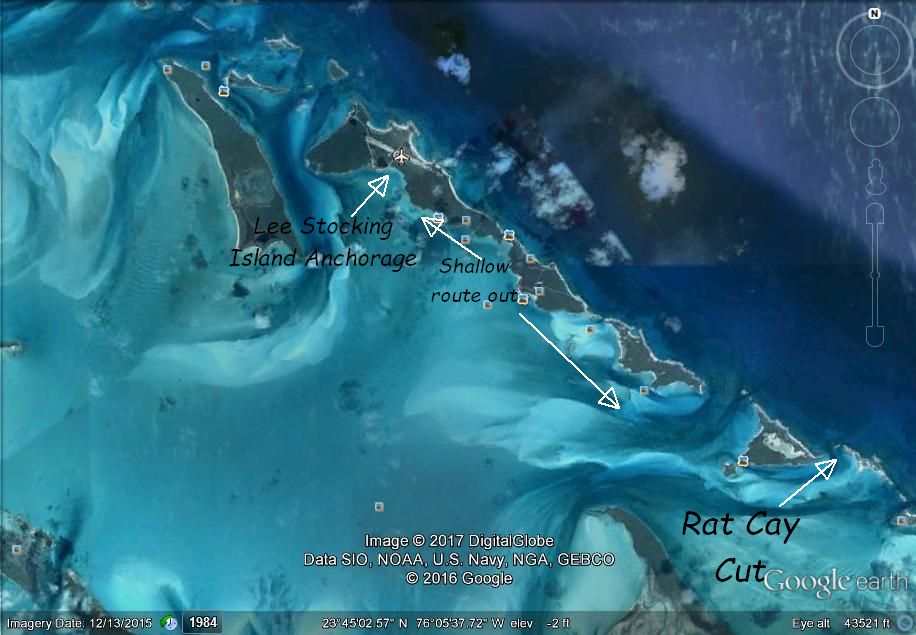 From here we headed to George Town. I'll cover George Town and our trip back up through the Exumas in the next post.