So, before I get started, let's rewind a few weeks. We were back in Marathon chilling out and thinking about what to do next. The plan had been to go ahead and head up the east coast slowly over the next few months going at least as high as the Chesapeake and probably further north later in the summer. Well, as we're talking about it one day, Lindy looks at me and says, "I think I'm ready to go on to the Bahamas." Of course, I was pumped to hear her say that, but I was also a little surprised. Lindy for the most part leans toward the easier, relaxing parts of cruising and sailing. Heading to the Bahamas would take a lot of work, planning, and oh yeah…an 80-100 mile crossing that would include the Gulf Stream. But then she explained why, and I completely understood. While we have no doubt been having a blast and living the dream, some of her preconceived ideas of the best parts of cruising hadn't been happening regularly.
Since it's been the winter in the Keys, I can count on my hands (and maybe some toes), the amount of times we've been swimming. The water has been pretty cold and the windy cold fronts keep us in harbors where the water isn't the best. Lindy wants to jump off the boat and go swimming most every day. Me too! There aren't a lot of beaches in the Keys. Lindy wants to go to the beach most every day. Me too! Also, the Keys have beautiful, clear water, and we are wanting to continue that trend.
The Intracoastal Waterway wasn't going to have these things, and we both wanted to go somewhere that did.
As we talked about it more, we agreed, the Bahamas have what we are looking for in the cruising life. No more waiting around. Let's do this!
So, we set about making a "to do" list. We bought the Explorer Charts cruising guides and Bruce Van Sant's Passages South, and we started studying. We also started asking around to some of our more experienced cruising friends, and they sat down with us and went over charts and some route planning. We've spent countless hours on all sorts of prep work to get Holiday and her crew ready for this next adventure. Check out our "wall of Post It notes" where we kept track of things to work on and also the mess that was Holiday as we tore into projects.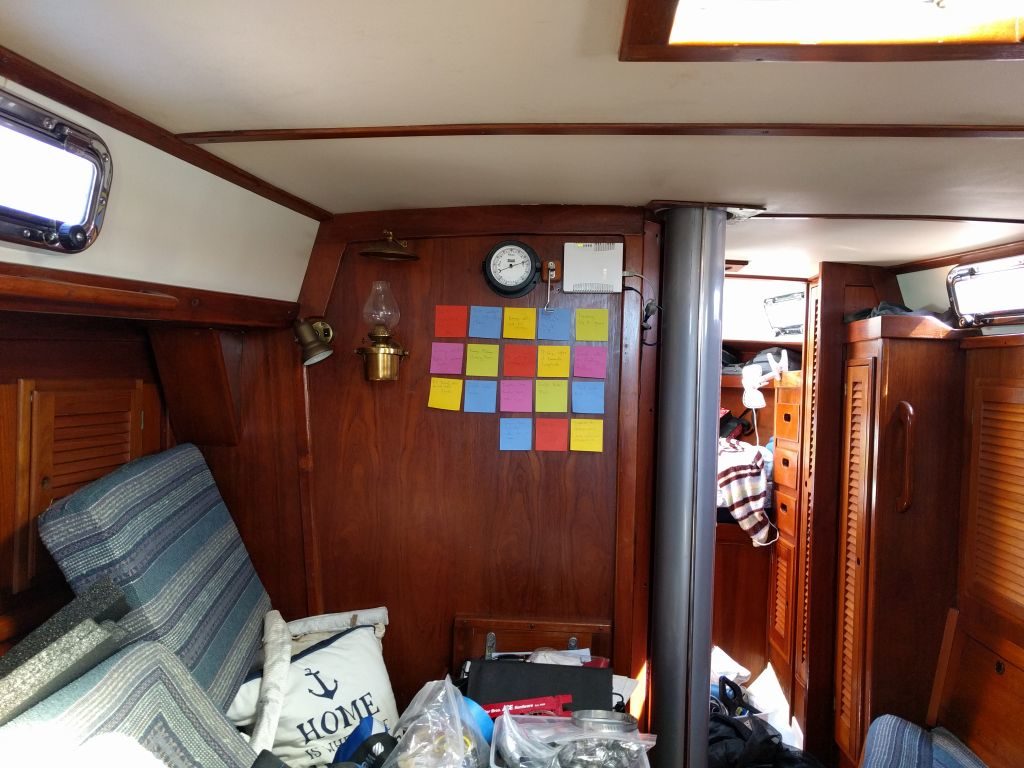 One of the first things we did was ordered an autopilot to help steer during long passages. We still will constantly be on watch, but now we don't always have to have our hands on the wheel. We went with the CPT wheel pilot. It's a KISS (keep it simple stupid) sort of model that has good reviews. "How does it work?" you ask. Uh, not sure. I'll be sea trialing it as we leave for the Bahamas. Stay tuned on our Youtube channel for a video review.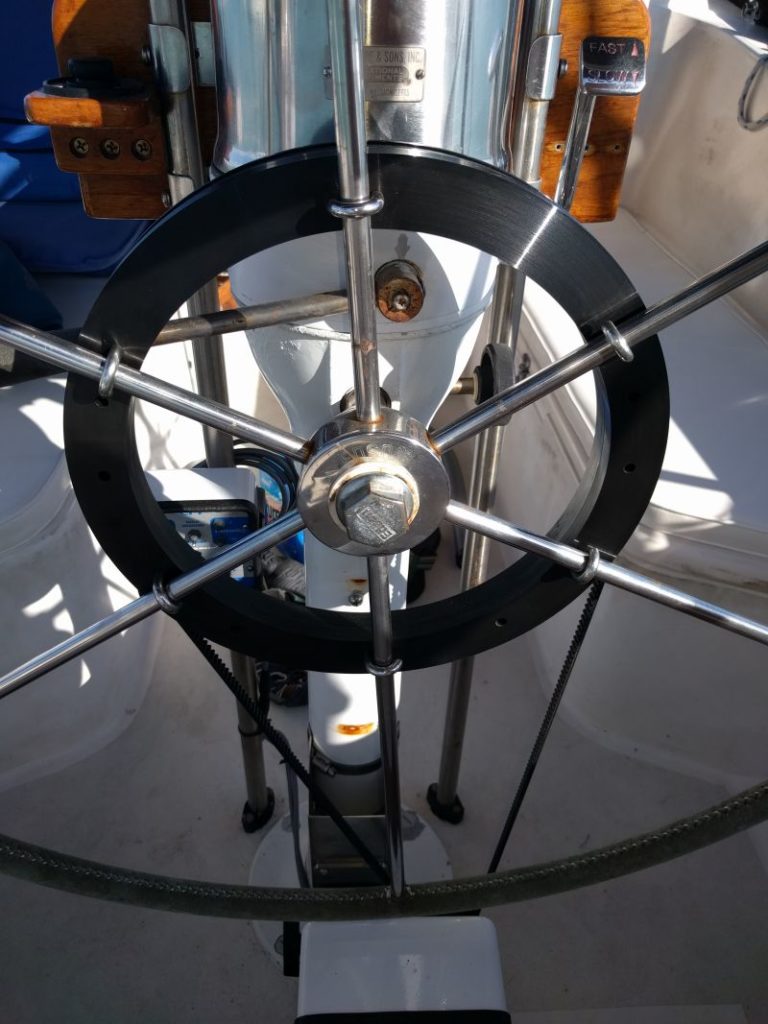 Next, we went about expanding our tankage on Holiday. Tartan 37s come with tanks for 50 gallons of diesel and 90 gallons of water. We wanted a little more so that we can stay away from civilization longer and also due to less convenient fuel and water fill locations when you leave the US. I contemplated a water maker but decided against it for the time being.
So, we bought extra jerry cans for both water and diesel and some PVC trim boards. I cut the boards to fit and U bolted them to the stanchions.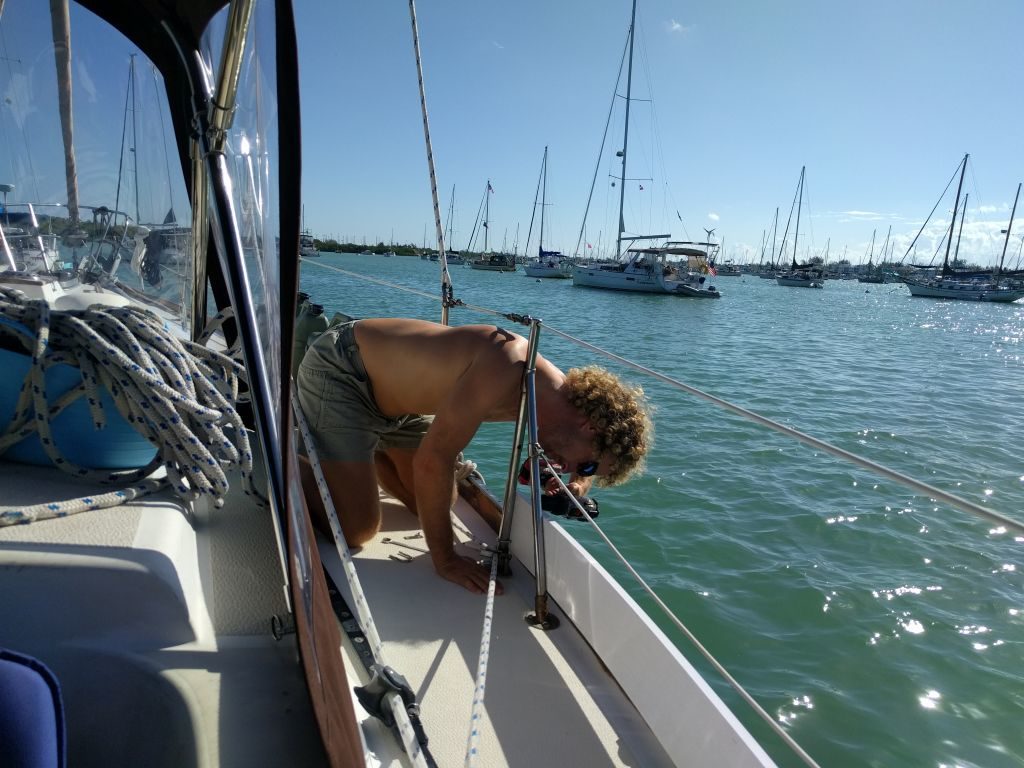 I think it turned out pretty good. I've got one port side midships and one to starboard further aft.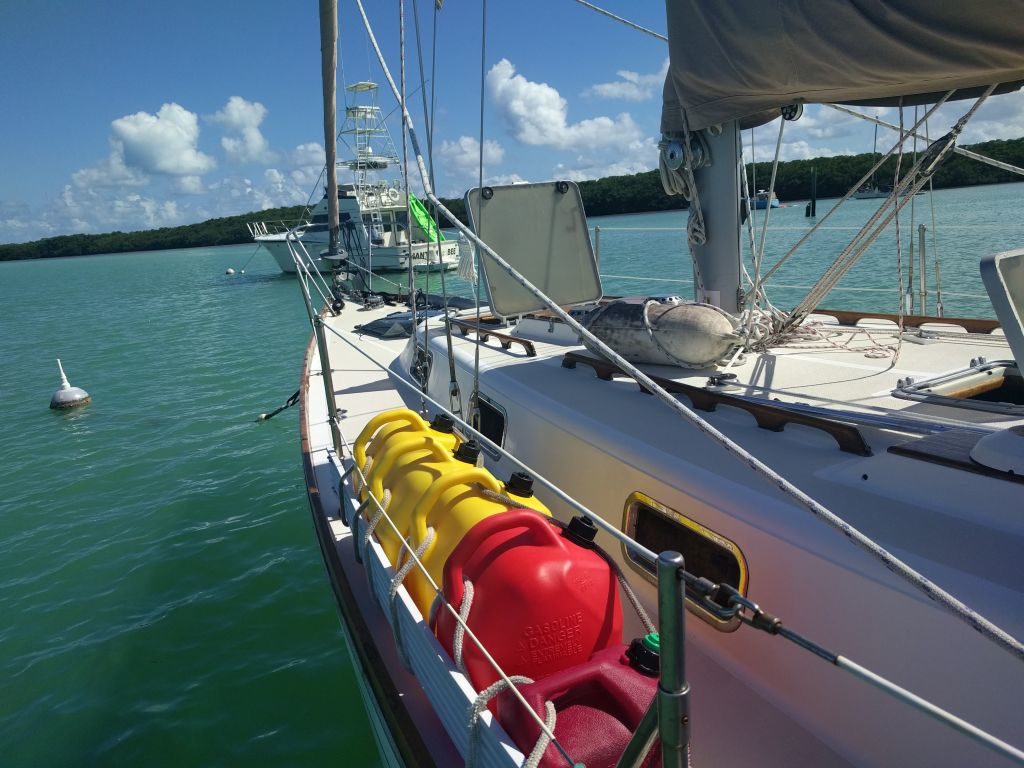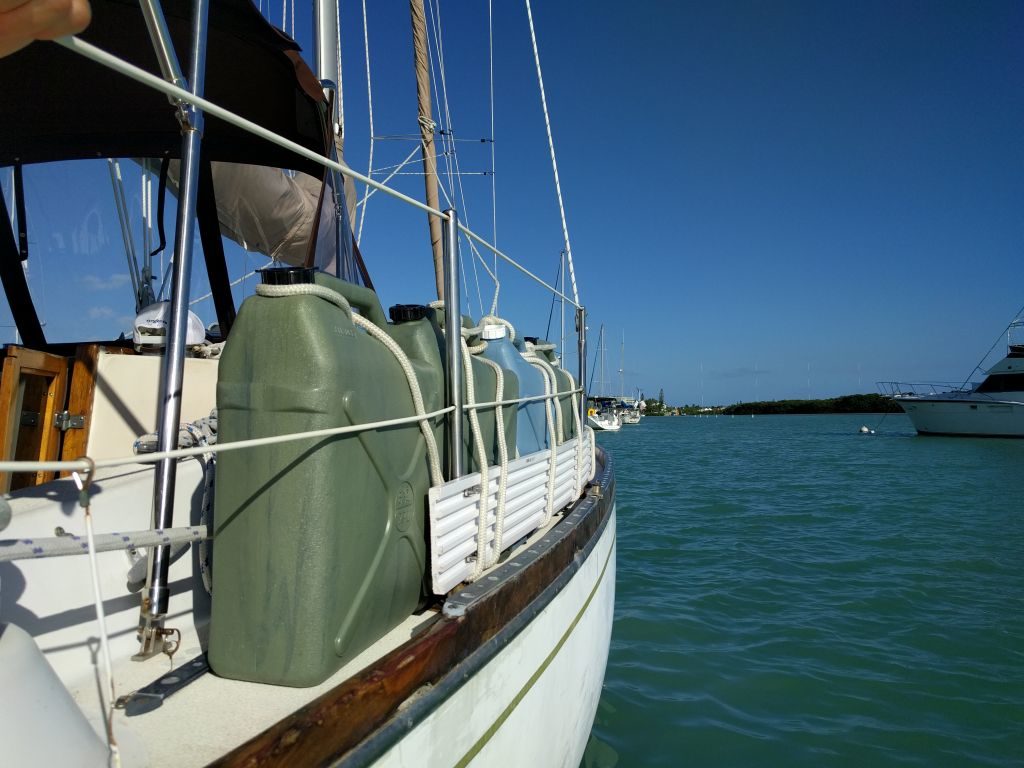 We also got a Spot Messenger so everyone can follow along with us when we are on the move. You'll see updates on Facebook, and you can also go to this link to see updates once we start tracking.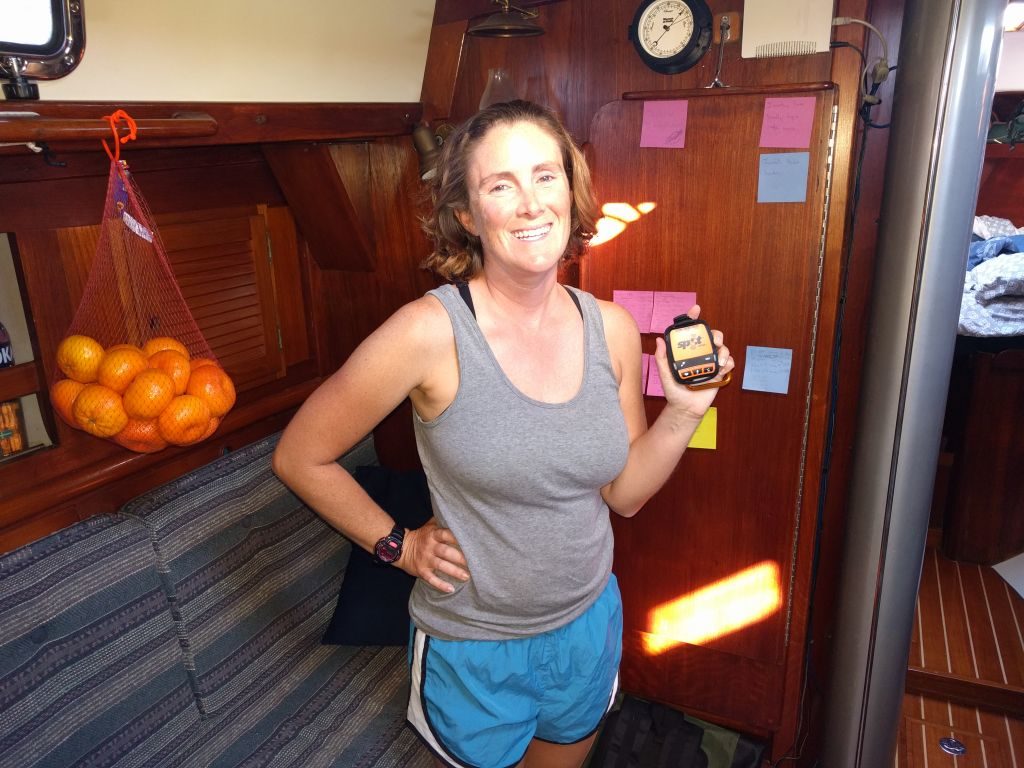 Of course, we've made multiple trips back and forth to Publix filling Holiday to bursting with food and provisions. Here we are taking the opportunity to get one last Pub Sub before we make the jump. Yummy!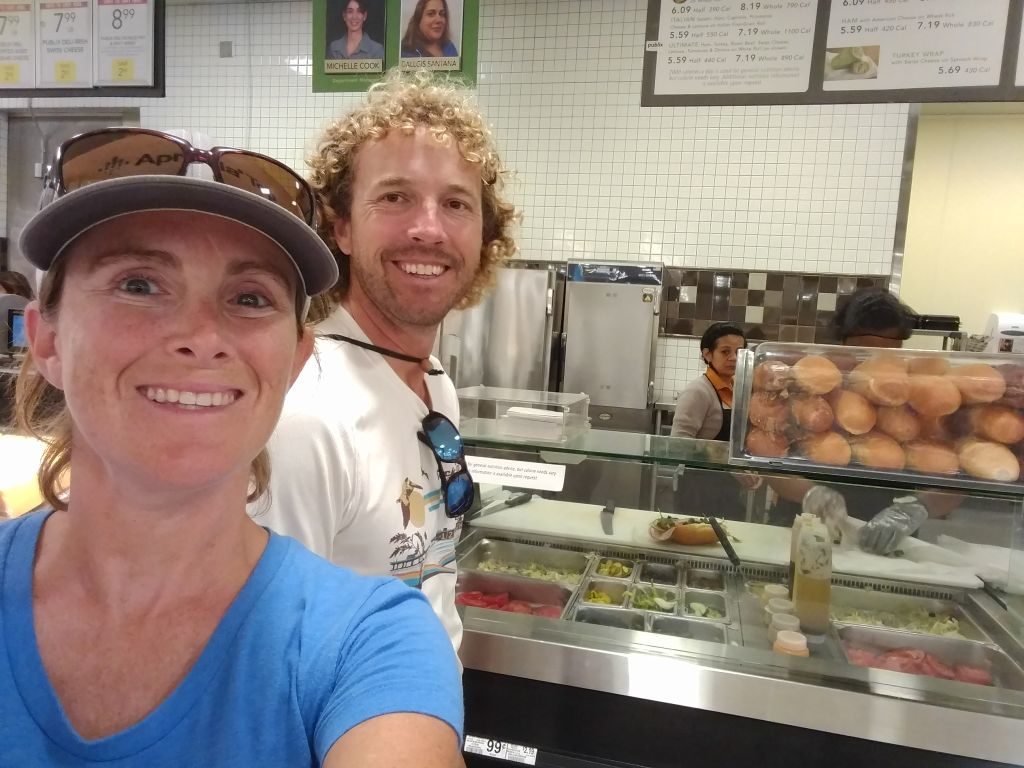 So, we've got food absolutely everywhere, and all the tanks are full. I'm sure this list isn't complete, but just to give you an idea what all is on Holiday:
65 gallons of diesel (50 in tank, 15 in jerry cans)
140 gallons of water (90 in tanks, 37 in jerry cans, 13 in solar showers)
4 steaks
3 chicken breast
1.5 lb ground beef
4 pork chops
3 packages sausage
1 package bacon
2 dozen eggs
10 cans of canned meat
4 pounds cheese
2 gallons coconut milk
more pasta (sauce to go with) and rice than can be counted
6 lbs oranges
2 lbs apples
4 lbs tomatoes
1 bunch bananas
5 lbs potatoes and sweet potatoes
2 lbs zucchini
2 lbs avocado
1.5 lbs sweet peppers
3 lbs onions
cucumber
2 lbs mushrooms
1 lb carrots
1 lb celery
grapes
1 head cabbage
2 lbs dried sausage
8 bags chips
lots of roasted nuts
about 20 cans of vegetables
dried fruit
popcorn
10 lbs flour for making bread
2 packages wraps
5 boxes granola bars
grits
box of powdered milk as back up and for yogurt
2 gallons olive oil
8 pack pineapple juice
12 pack Coke
36 pack La Croix
5 cases beer (it's $45 a case in the Bahamas!)
3 boxes wine (3 red, one white)
3 1.75 litres rum
2 1.75 liters vodka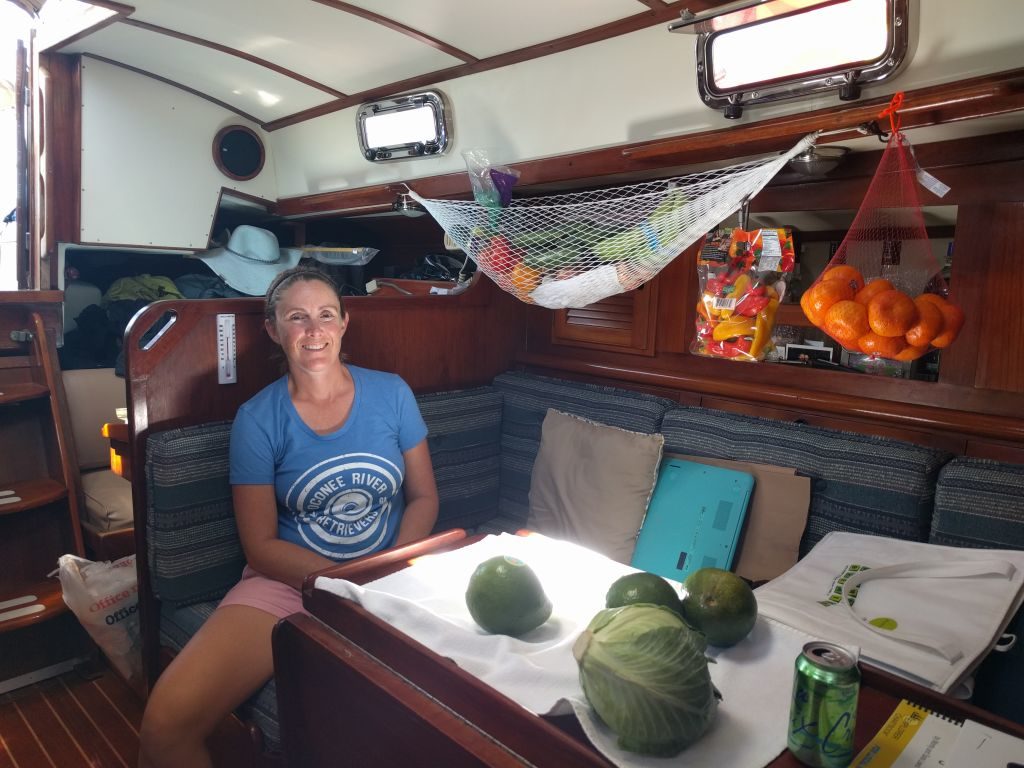 …..and I'm sure I left a bunch of stuff out. It's crazy how much storage space there is on Holiday! That may seem like a lot of food, but it isn't as easy to get everything in the Bahamas, and it's certainly more expensive. And, we're planning to stay away from the big cities. We are hoping to be weeks at a time out away from it all.
So, our departure is growing closer. Our "to do" wall is mostly things that we will do right before leaving, and a good portion of the notes are starting to become coordinates and routes for the passage.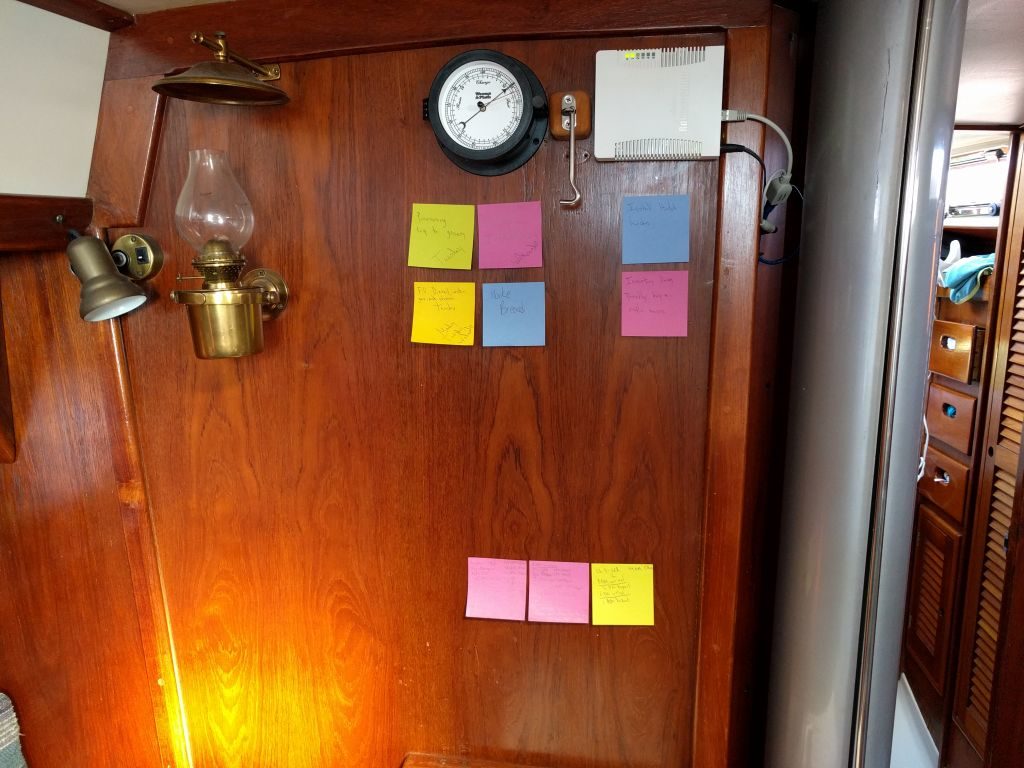 Where are we going to go? I've spent a lot of time on the charts plotting courses and figuring it all out. We've put together a plan, and we're ready!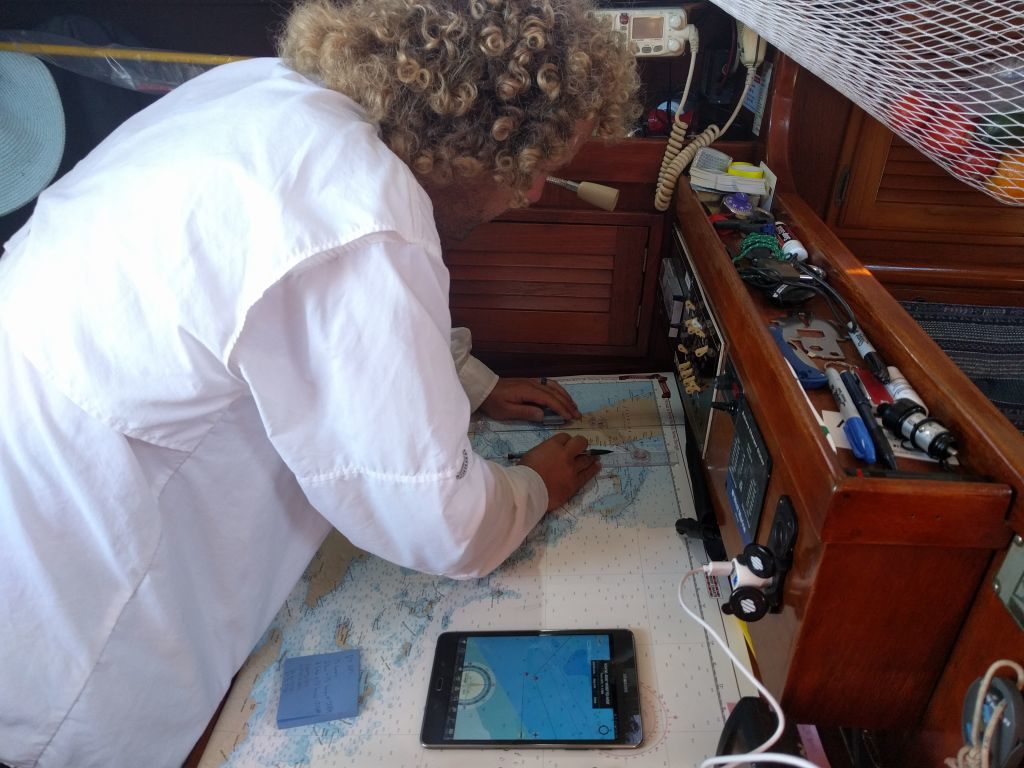 The basic route will be leaving Marathon and heading first for South Riding Rock. This is the 100 plus nautical mile portion of the passage that will cross the Gulf Stream. There isn't anything at South Riding Rock. It's just exposed land south of Bimini with a channel where we can cross onto the Great Bahama Banks. At the Banks, we will go from 2500 foot deep water of the Stream to 15 feet water in a short distance. From South Riding Rock, we'll sail across the banks to the Northwest Channel Light, 50 more N miles. After that, we turn south and head about 20 N miles to the first land with people we'll see at Morgans Bluff on Andros. The passage will be 180 N miles or so and take 30-40 hours. We may do it all non stop, or if conditions allow, we may stop and rest somewhere along the route. Our eventual destination is the Exumas. Once we get there, we are going to slow it down and island hop, swim, fish, go to the beach….all the things we've been looking forward to!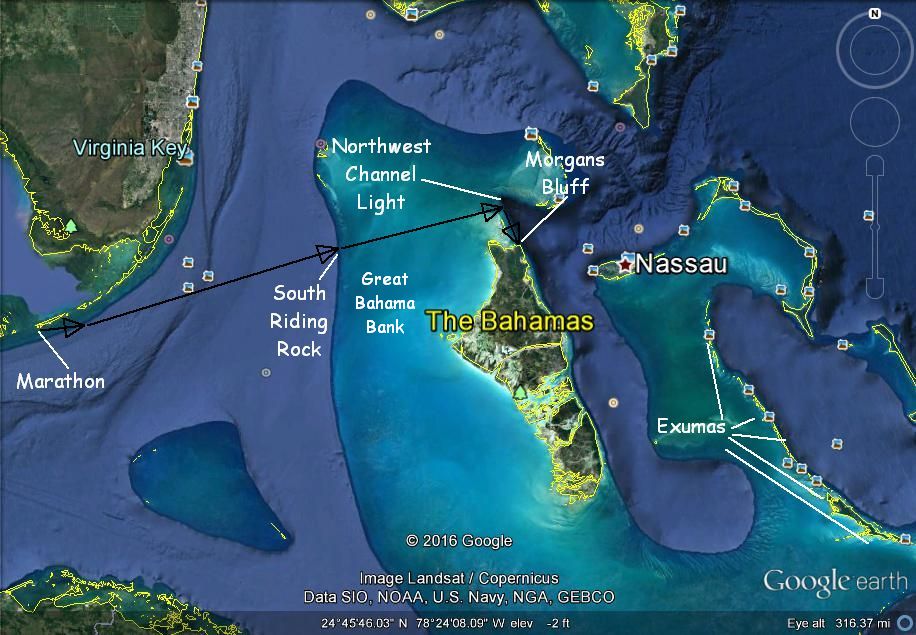 We are super pumped! One more weather check tomorrow morning (Friday) before we leave, and we'll slip the lines. If we go non stop, we'll be at Morgan's Bluff by Saturday evening! Get ready for some great video and pictures shortly!