So, our initial plan was to leave Marathon a few days ago when our time was up on our mooring ball rental, but this cold front that has been making it frigid across the entire country blasted down through the Keys, and the wind has been howling. Since the weather is the controller of all plans while cruising, we extended for an extra week here on our mooring ball. Is Holiday capable of handling the 25 knot plus winds? Certainly. It probably wouldn't even be too uncomfortable with the sails reefed in, and we can always do some motoring. But, without a schedule to follow, why leave? Tough to call Marathon a bad place to hang out, so here we sit.
The bus around the lower Keys is 8 bucks a person for a 24 hour pass so we decided to spend a day in Key West by bus to preview the sights and scope out our potential anchorages by land. We hopped on the second bus through around 10 AM and headed across the 7 mile bridge.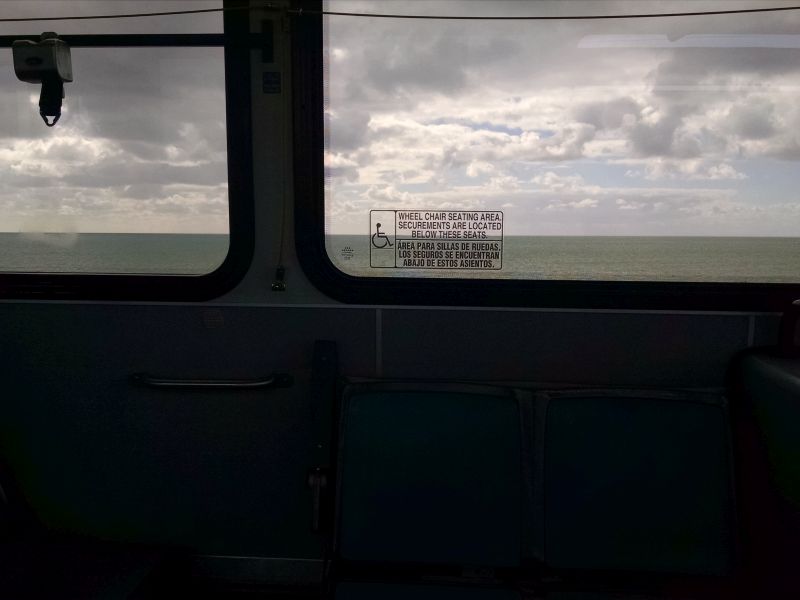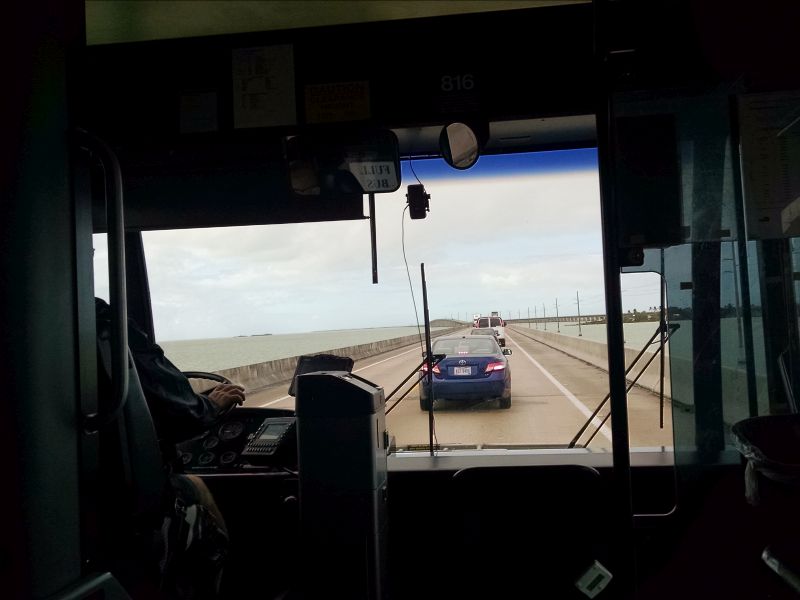 The bus ride was very scenic and not too long at about one and a half hours. Also, on the bus ride was mention number 1 of my ever growing hair (in case you haven't noticed). A 100% local Keys lady (maybe 40s or 50s, or maybe 25 and living a hard life) boards the bus, kisses the bus driver…on the mouth, and sits down across from me and Lindy:
Lady: When I was young, I had a perm…loved it.
Me: Mine is "Au Naturale."
Lady: Well, I like your hair.
Me: Well, thank you!
Lady: You are foxy!
Me: Well, thank you!
Lady: (to Lindy) Sorry mama.
Lindy: No problem!
Lol! One thing is certain, you meet all kinds here in the Keys. She got off a few stops later, but not before kissing the bus driver on the mouth again, and we continued on to Key West.
We got off the bus near the Schooner Warf area and checked out where the mooring field is where we might stay. The big ships at dock here are really cool.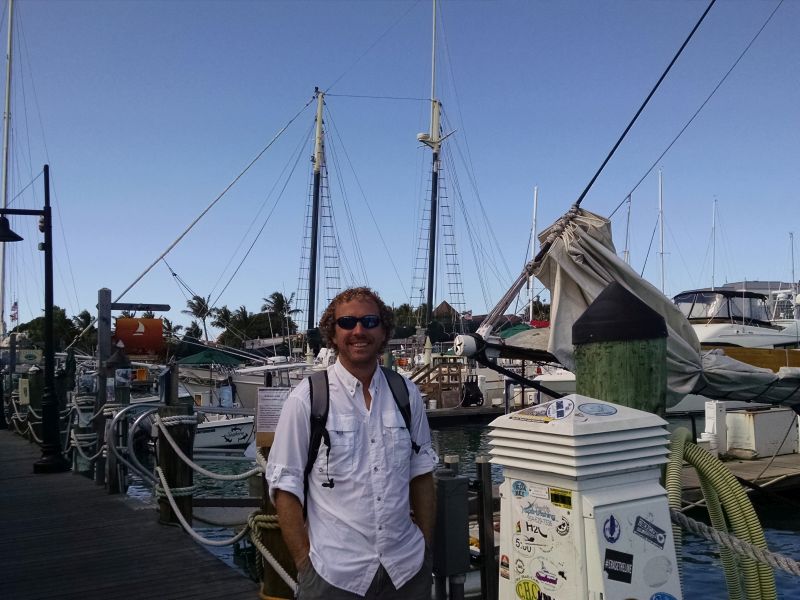 We popped into the Schooner Warf Bar and listened to some great live music, then decided to do a walking tour of the Duval Street establishments.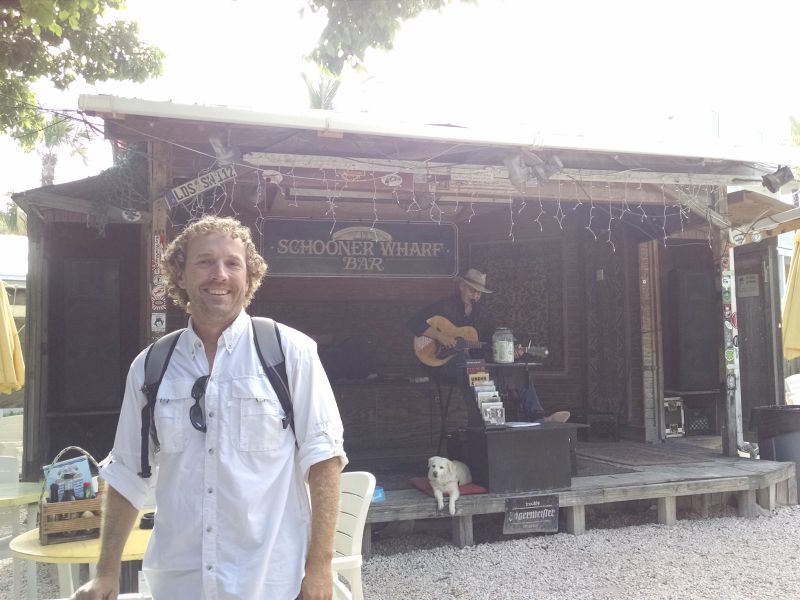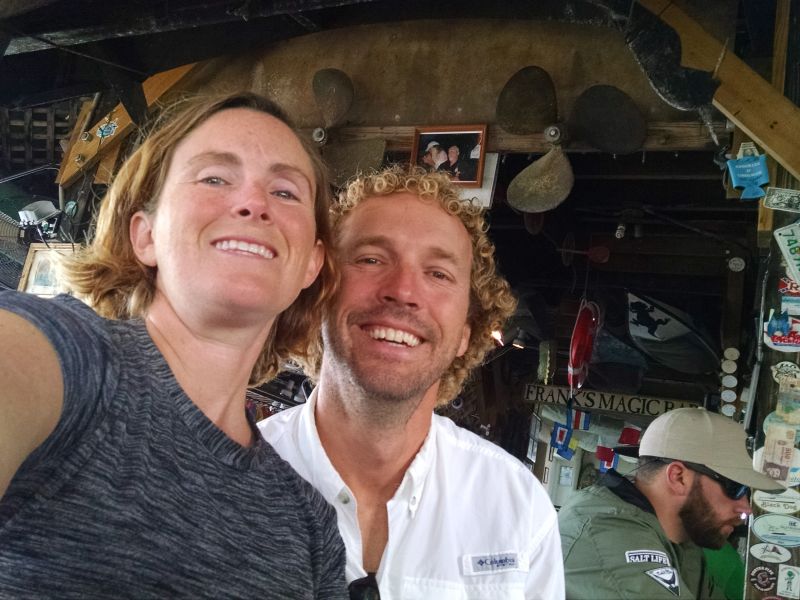 We checked out Hog's Breath, Sloppy Joe's, and trekked to Louie's Backyard to see the ocean side of Key West. The architecture and "oldness" of all the buildings here that house the restaurants, bars, and shops is so cool. It's the enduring remnants of a real pirate town!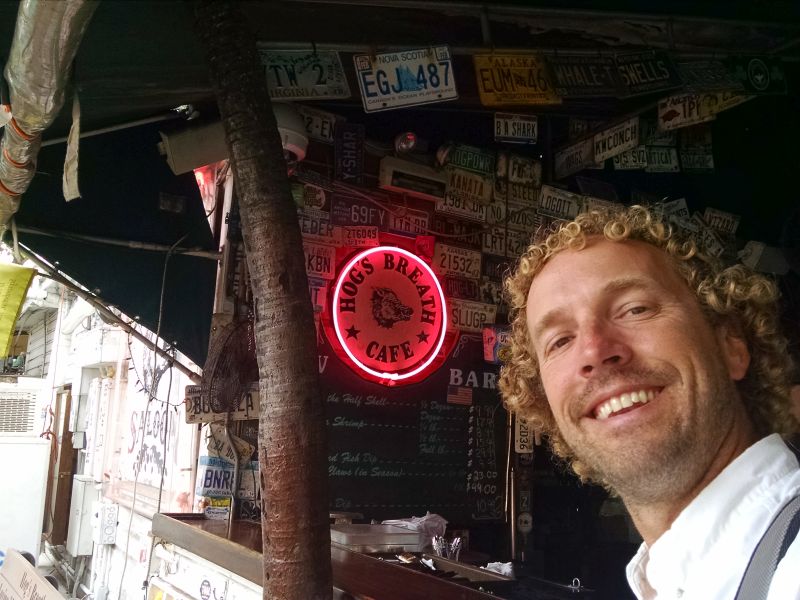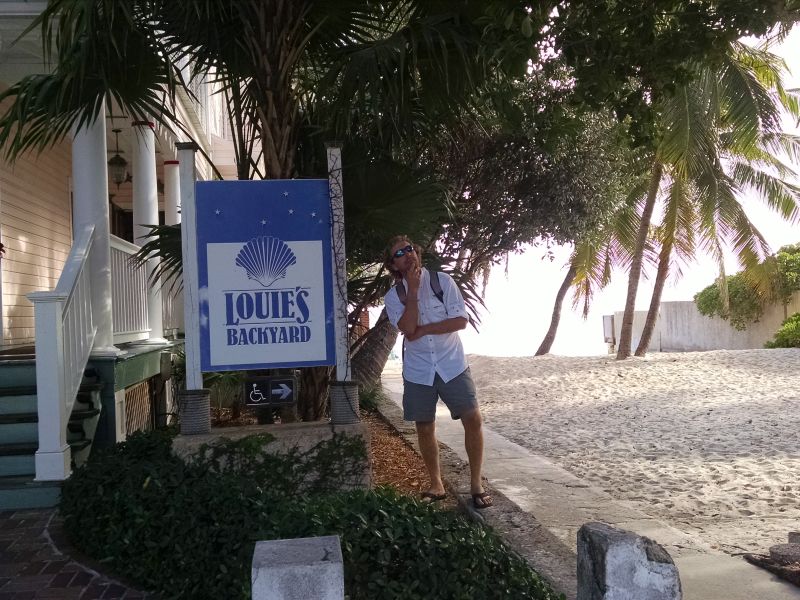 We hear this Pegasus place has the best roof top bar on the island.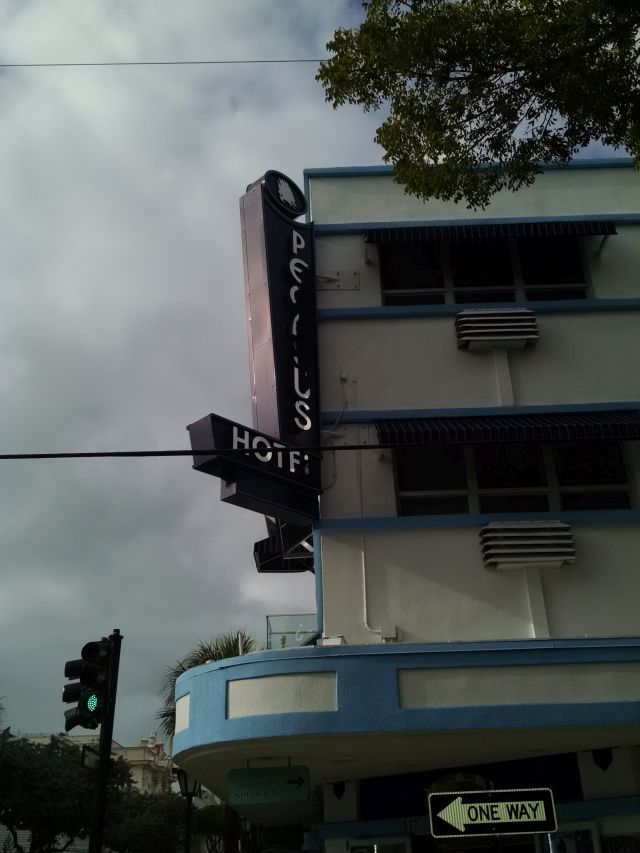 We came back across the Duval district and went down to Captain Tony's to get out of the heat. The walls here are covered with dollar bills and bras. The atmosphere must really change later at night, I guess, because while we were there it was a nice relaxed place with a good live duo playing acoustic. I didn't see any signs of anyone even thinking about turning their under garments into wall decor.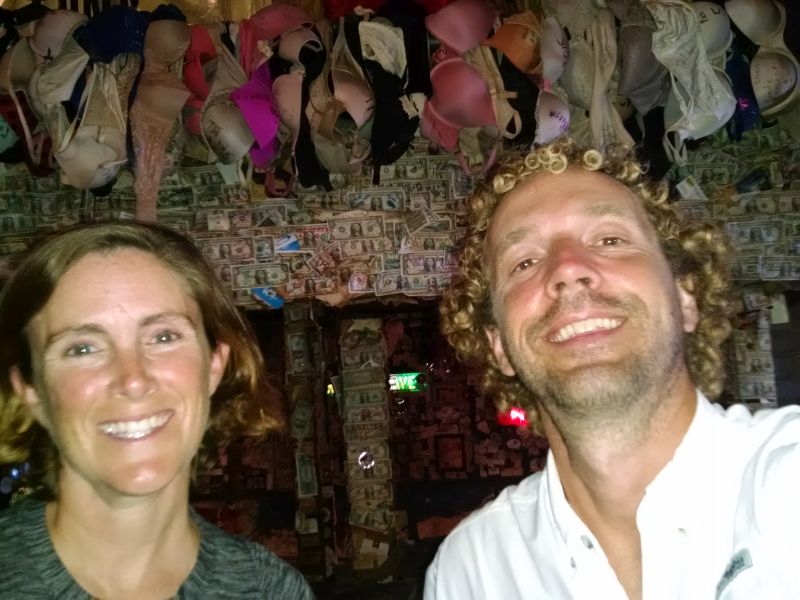 Captain Tony's also brought mention # 2 of my hair. Not sure what about it brings random comments, but I'll take the interesting attention.
Woman down the bar: You look like a young Sammy Hagar.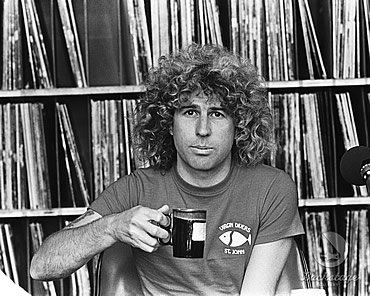 Me: Thanks! (Hmmmm. I guess?)
Lindy also took the opportunity to test out the integrity of the empty dance floor. Strictly a routine inspection.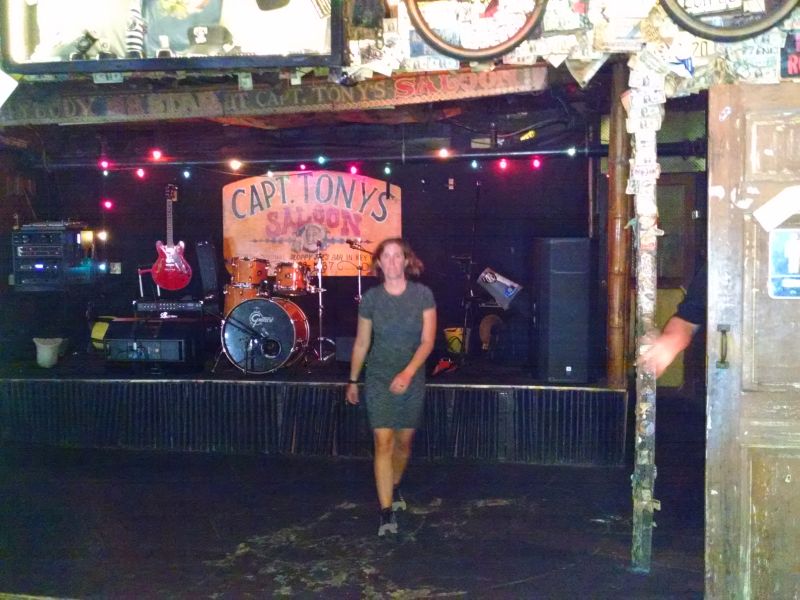 After our Tour de Duval, we decided it was time for some cultural wanderings. We hit the Little White House where Harry Truman would conduct the business of the nation from time to time in beach attire. I like this guy already!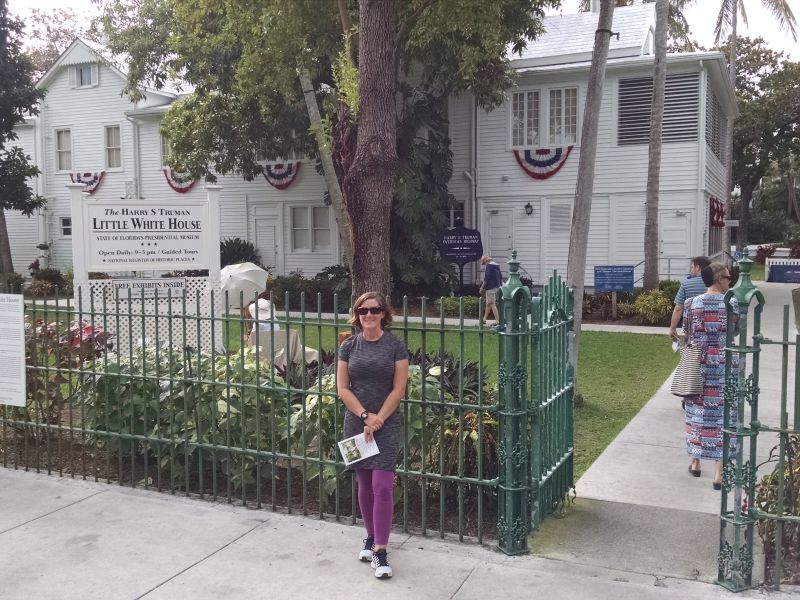 We also saw Hemingway's residence and checked out all the cats and roosters wandering the area. I'm currently reading Hemingway's short stories. A few have been ok. Maybe once we get to Key West they will start making more since. The jury is still out.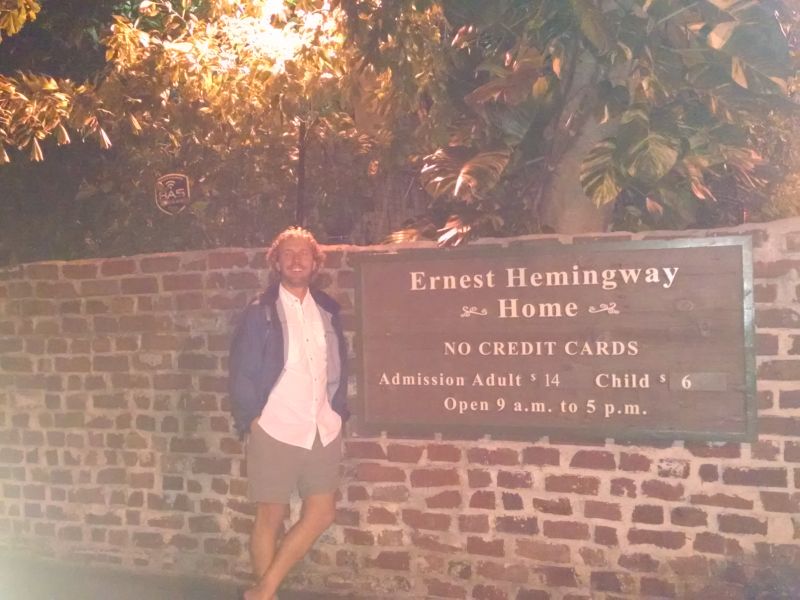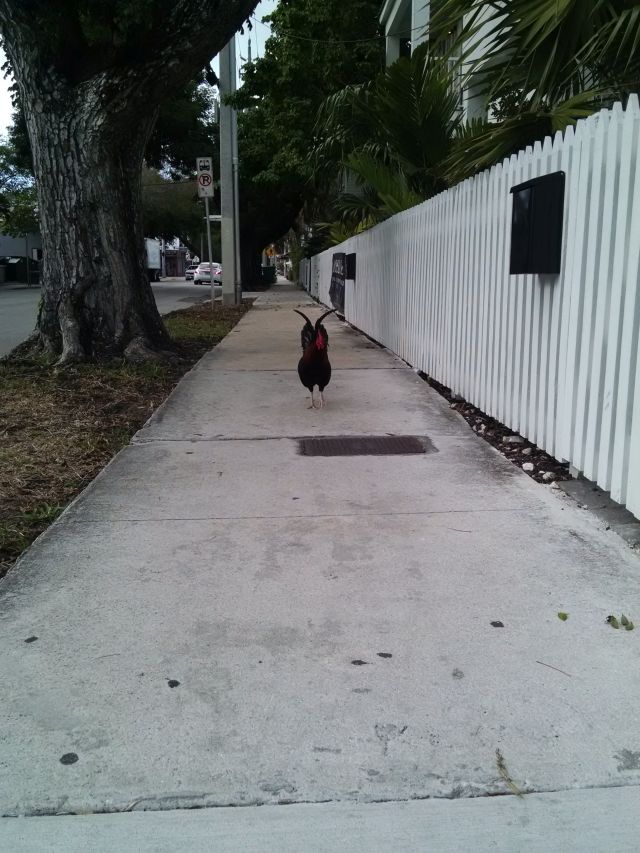 Fully cultured, it was nearing sunset, so we headed to Mallory Square. There were a bunch of cool street performers. This guy on the 20 foot unicycle flipped his top hat off his head, removed one foot from a pedal and caught the hat on his toe. He continued uni-cycling with one foot for a minute or so before flipping the hat with his foot and catching it perfectly straight on top of his head and then went on to the next trick. Amazing! Can't imagine how many times he must have fallen learning. I can't even imagine what would happen if you fell one time from way up there?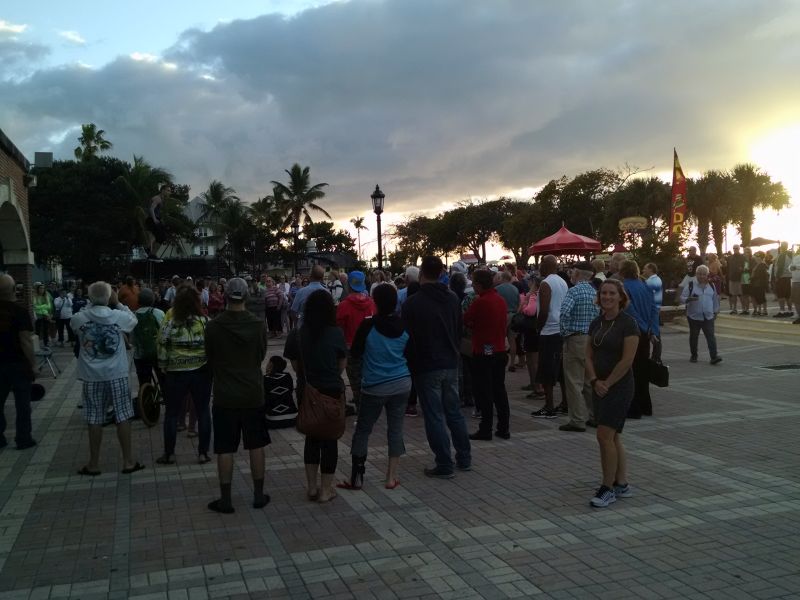 And, the sunset was beautiful: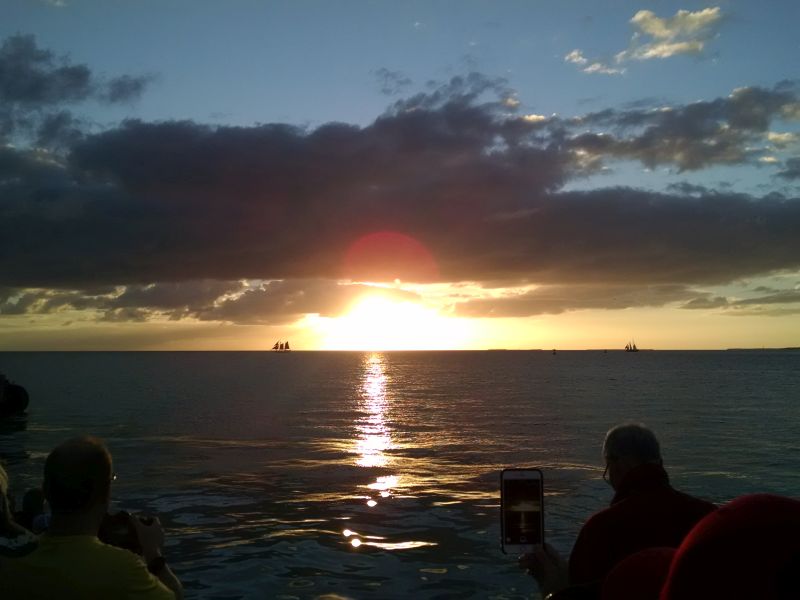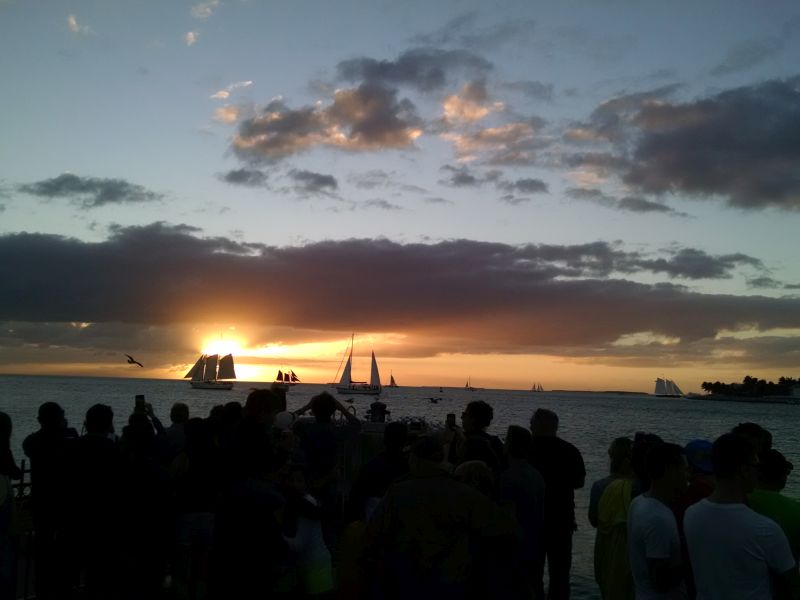 From our vantage at the sunset viewing, we also checked out the two anchorage areas we might stay when we come by Holiday. One at Wisteria and then a little further north at Fleming Key. Both looked straight forward. We'll just have to see how the notorious holding is to decide when we get there.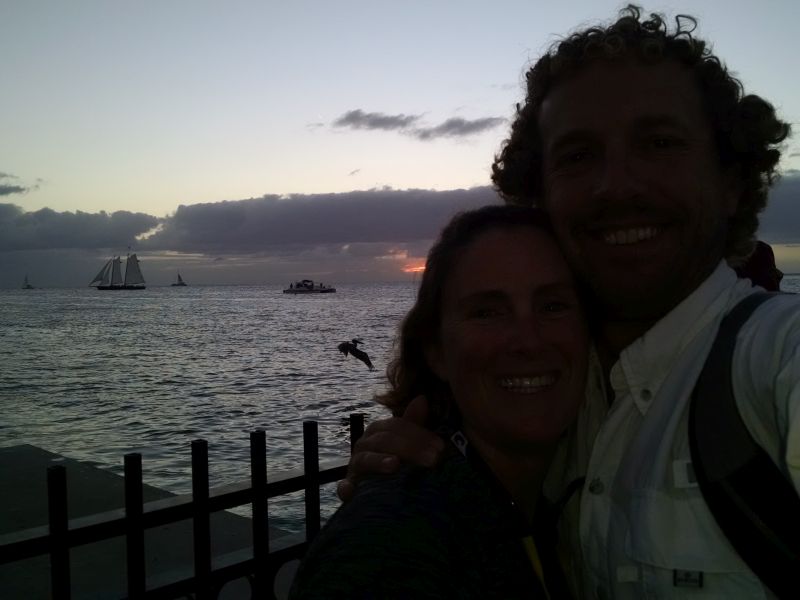 We had just enough time to squeeze in dinner before the last bus of the evening left to head back to Marathon. We went to this beautiful porched house on a dim side street to form our dinner plan.


A waiter told us that all the places on Petronia Street were great, so we headed that way. From the look of things, he was right, and we chose a place called Blue Heaven.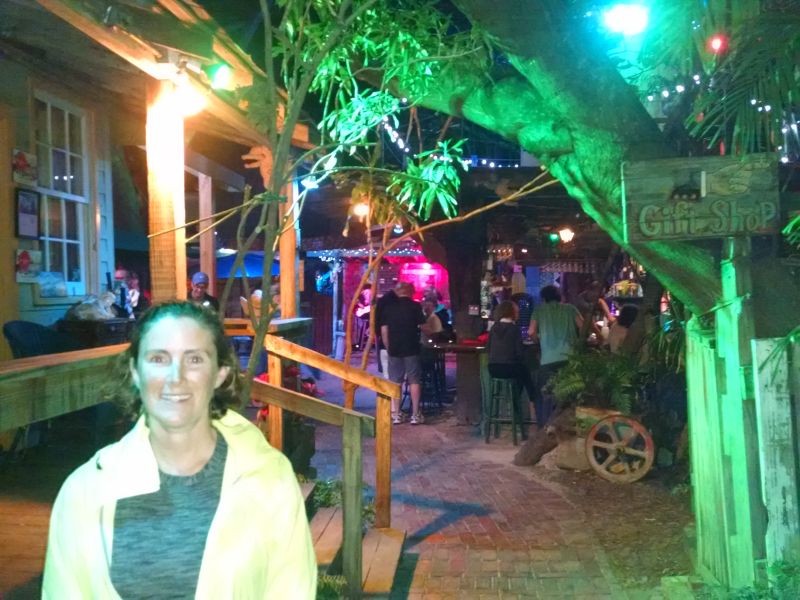 We highly recommend Blue Heaven. I got the Jerked Portobello in Curry Sauce, and Lindy got the Fresh Grouper special. Yummy!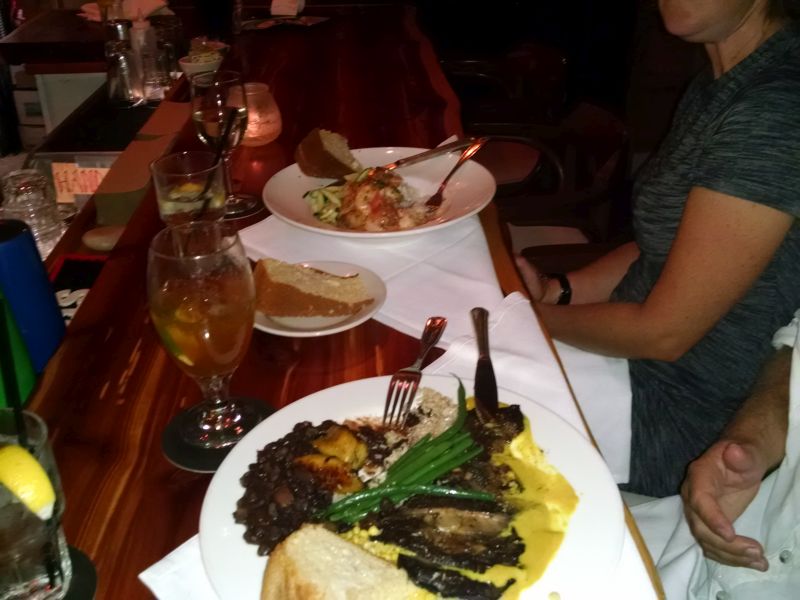 After dinner, it was time to head for a bus stop, and we were getting super tired. Lindy saw this crazy looking car on the way.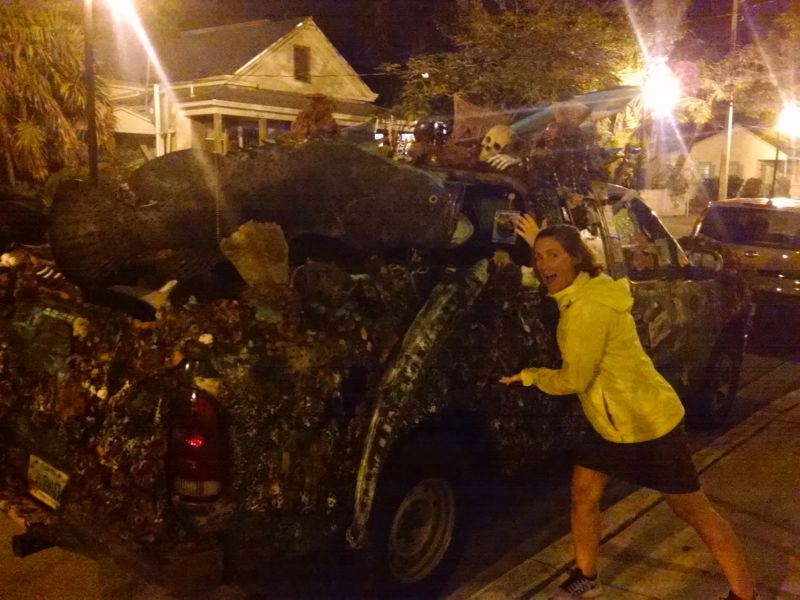 The bus was a little late, and our day trip adventure wasn't quite over. Across from the bus stop I thought I could hear ukulele music at the Green Parrot. We walked over, and lo and behold, it was ukulele night. There were 5 or 6 guys jamming on stage, and they would put cards with the chords up for the people in the audience to see and play along. Probably about 30 or so people all playing along together. I found out it is a weekly event so definitely planning to go there with the uke once we are in town.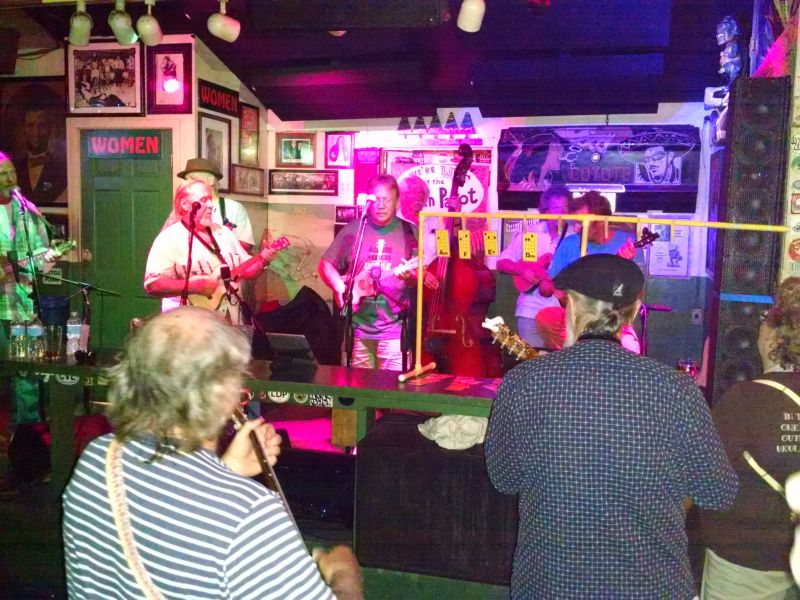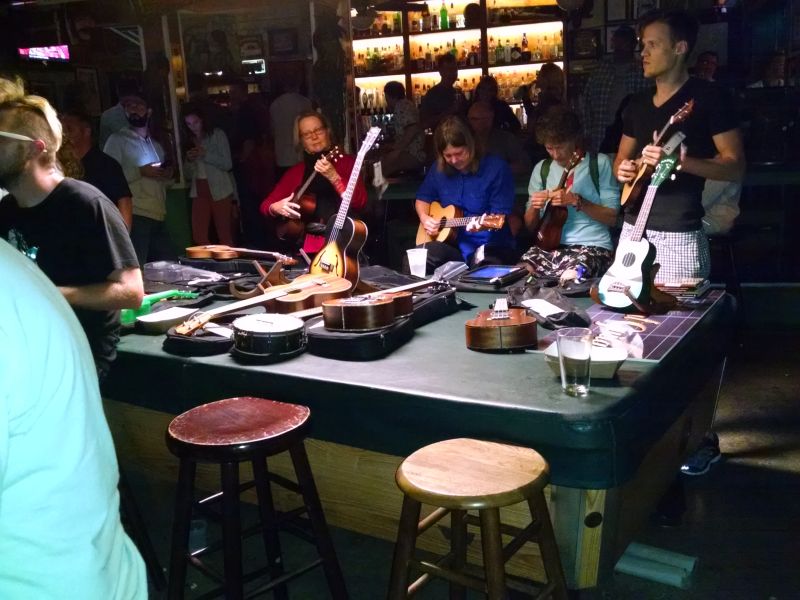 Finally the bus came along (it was now after 10 PM), and we jumped on.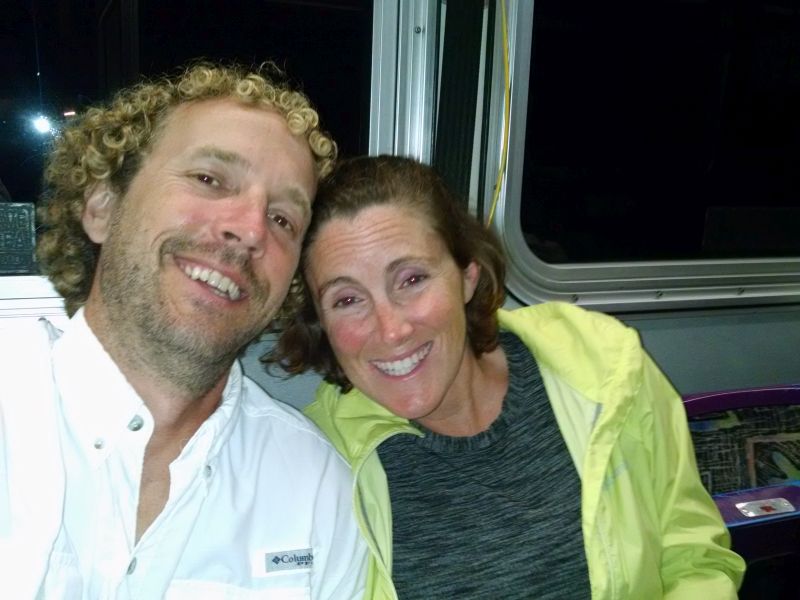 We were dead tired, but there was still time for one last comment on my hair on the ride back.
Lady: You look like Peter Frampton with that hair. Well, when he was young.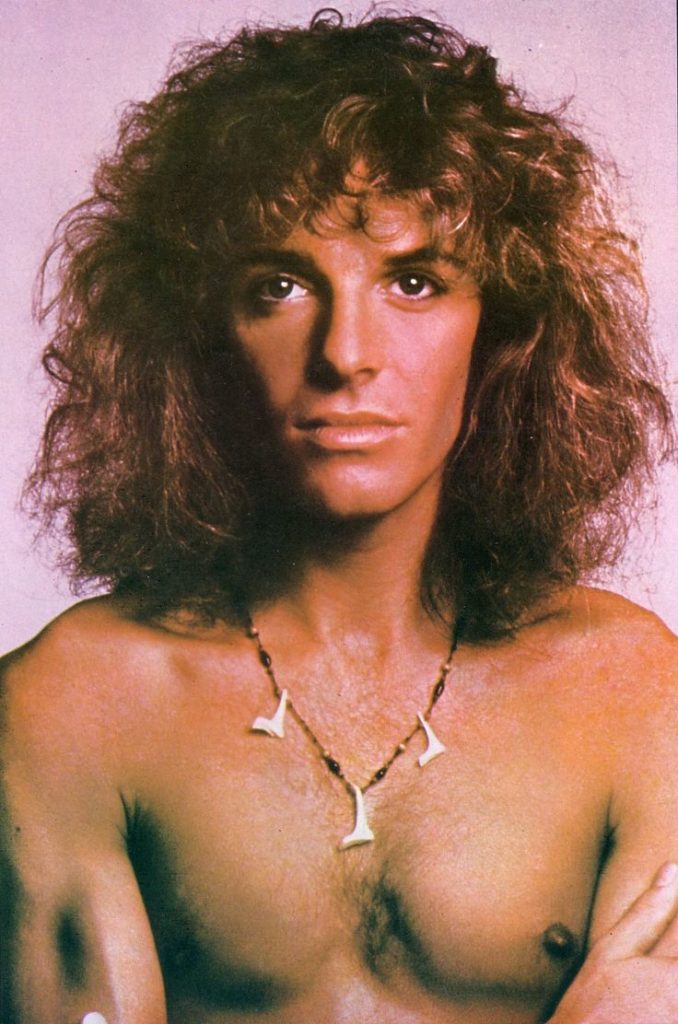 Me: Thanks! (Hmmmm…at least they keep going with rock stars…)
Anyways, the ride back seemed very long, and when we finally got back to Holiday, it was after midnight. Before we immediately conked out in the V berth, we were treated to a brilliant full moon over the harbor.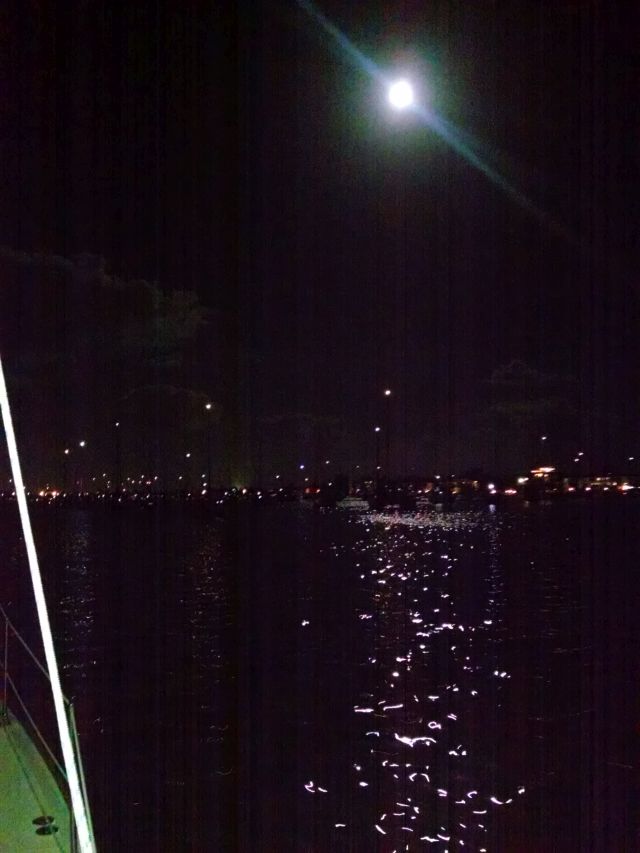 Our trip to Key West was fun, and our time here in Marathon is getting short. Looks like we'll have a weather window in a few days for a relaxing sail over. Been a while since we've went somewhere new and looking forward to it!