We arrived in Marathon after our mostly motor over Florida Bay from Cape Sable and headed for Boot Key Harbor. The mooring field there is huge (over 200 spots), and we have read it's really neat, but we also read that it is so popular there can be a waiting list. Sure enough when we got in the harbor and called the office, it was full. We decided to try and anchor in the crowded anchorage inside the harbor (to get on the waiting list you have to physically go inside and sign up). Well, we tried to squeeze in where we thought there was a spot, but ended up floating too close to the mangrove shore and almost went aground. We were pretty shook up by this point, feeling like we were in over our heads, and a little nervous about anchoring so close to so many boats with our inexperience. So, instead of trying one of the other tiny little spots, we tucked our tails and headed outside the harbor like the rookies that we are.
Outside the harbor wasn't bad, but it made for a longer dinghy ride into the offices and amenities. We were protected from the north to east winds that we were experiencing at the time, but the last night we were there the wind switched around to the south east. Unprotected from the Atlantic Ocean swell, we had a bumpy night, and let's just say it's a good thing we got the call that our mooring was ready the next day or this might have been a blog about one person on a boat (ya know, husband gets tossed overboard by aggravated wife who then cruises without him…). Here's a pic of us heading into the channel with Holiday, the Florida Straits, and the Atlantic Ocean behind us.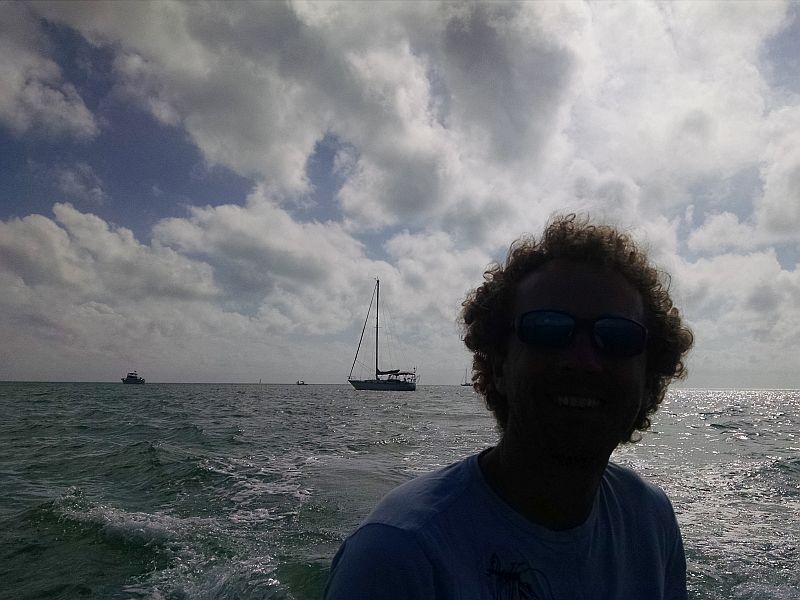 After those few days outside we headed in for our mooring. As you get closer to "the bridge to nowhere," a ton of masts start to appear before you. As you get closer to the mooring field, more and more appear. It's huge! Row, after row, after row.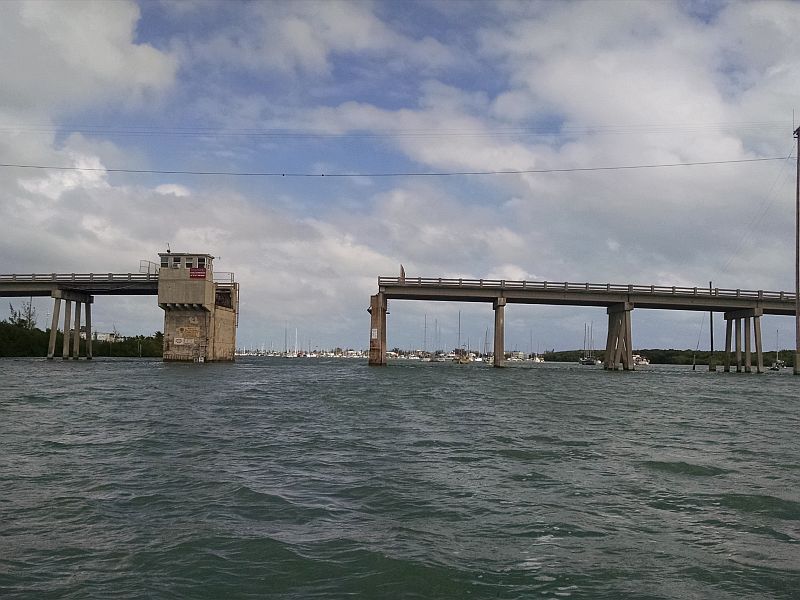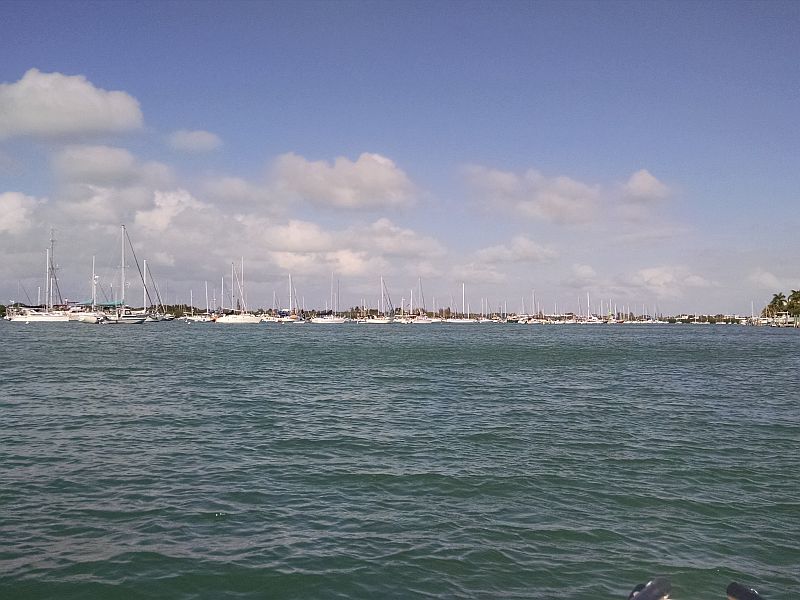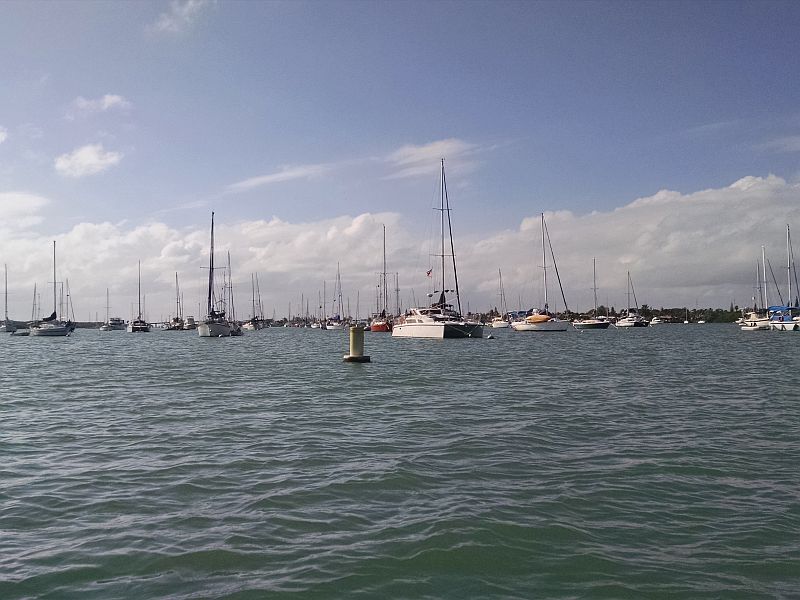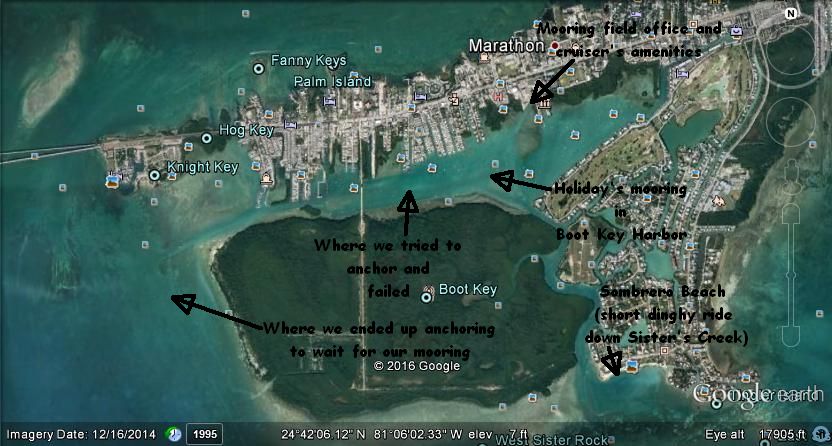 Boot Key Harbor and the mooring field are like nothing you can imagine. The harbor is filled with people passing through like us, people who stay for half the year, retirees who live there permanently, others who live there permanently and go to work every day, people of all ages, families with lots of kids, lots of people with pets, and basically anyone/anything you can imagine. It's like a floating subdivision. There is also a strong sense of community. Each morning starts with the "Cruisers Net" where we all tune into channel 68 on the VHF radio and a rotating moderator from the community goes through announcements, anyone needing help or questions, buy/sell/trade, even daily trivia! There are lots of gatherings, organized sports, yoga, etc, daily that you find out about during the announcements. The center of activity is here around the office: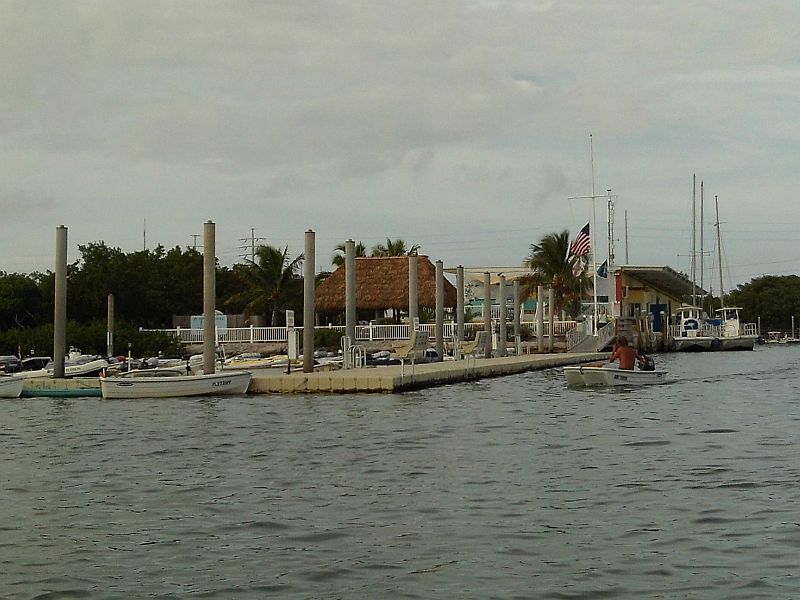 The dinghy docks are massive. This is one of 2 this size, and there are people constantly coming and going.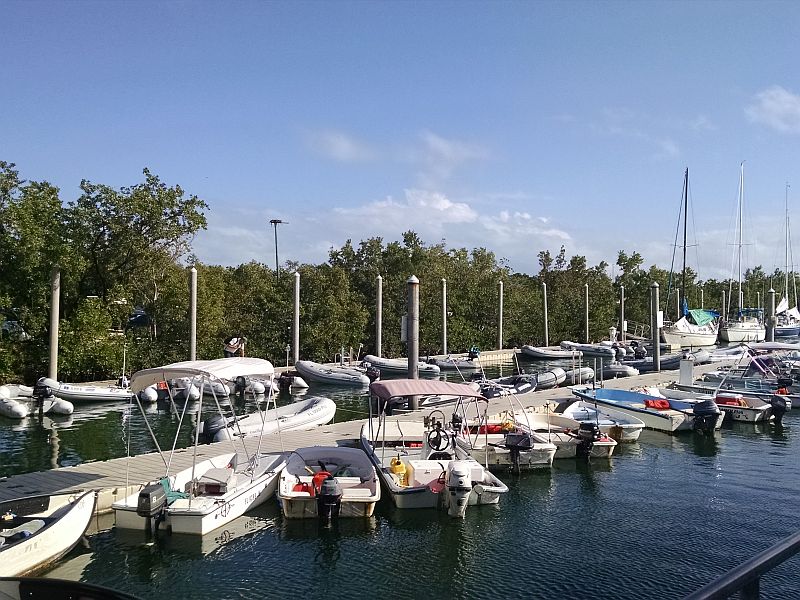 There is a big lounge in the office with plug ins and wifi. It's decorated for Christmas! There are always families and kids playing in here all day.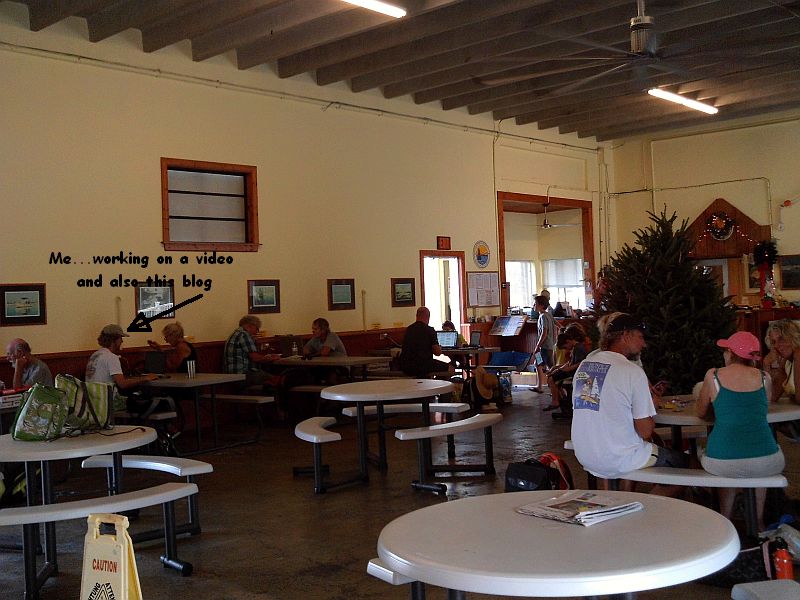 Also in the lounge is a library and these are a bunch of bikes that the people of the harbor are donating to needy children in the area. The money comes from auctions that happen on the Cruisers Net each morning.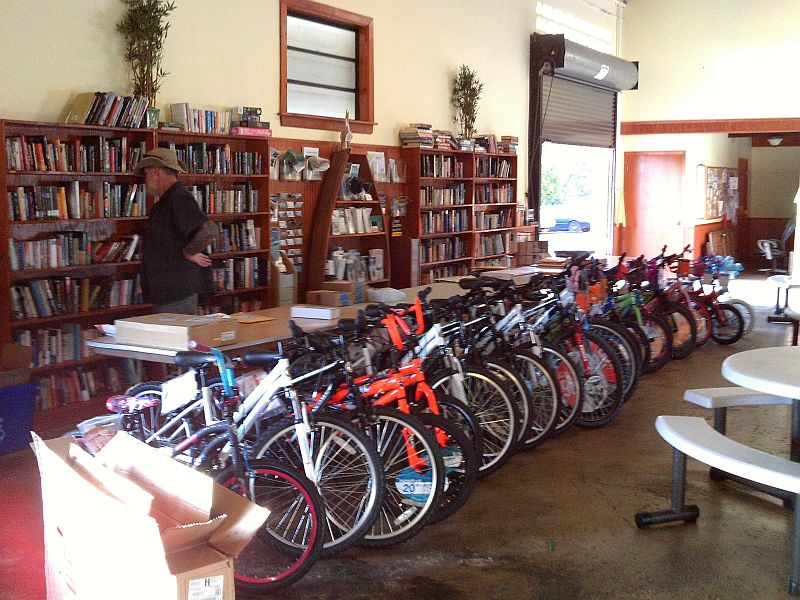 Outside the lounge there is a cruiser's garden that anyone can get herbs and veggies from. A few of the mooring field residents planted it and maintain it. There is also a workshop here with tools and a sewing machine for boat work that anyone can use as well as the laundry facility and the showers (unlimited hot water! yay!)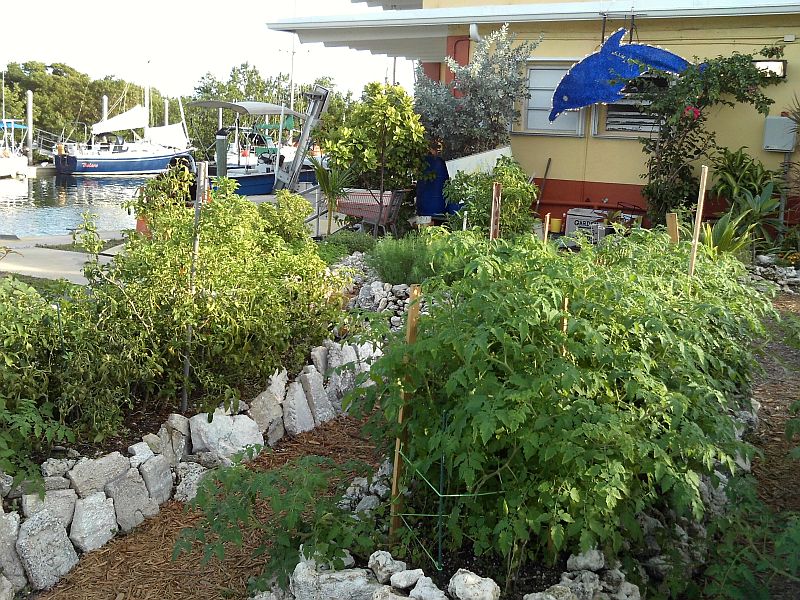 I can definitely see how the rumors are true that this is a place many a cruiser with big dreams for traveling arrives to and then never leaves. Heck, we extended our stay by a month instead of heading to Key West for the holidays because it is so awesome and convenient. We've also seen quite a bit of wild life around here. There are wild iguanas everywhere and the hawk below grabbed a lizard out of the palm tree I was hammocking on and ate it closer to us than I've ever been to a big hawk in the wild.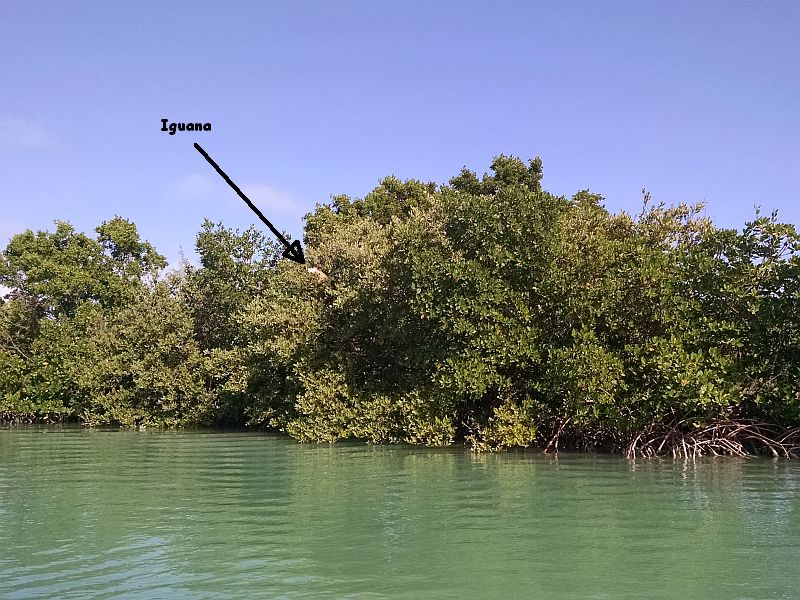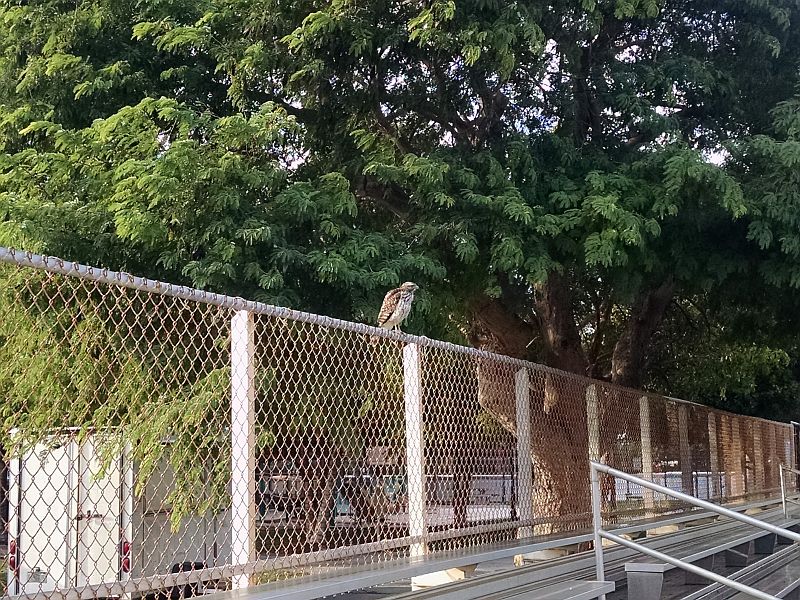 Here is me working on a pose I invented at a yoga class me and Lindy went to taught by a fellow mooring field resident 3 times a week.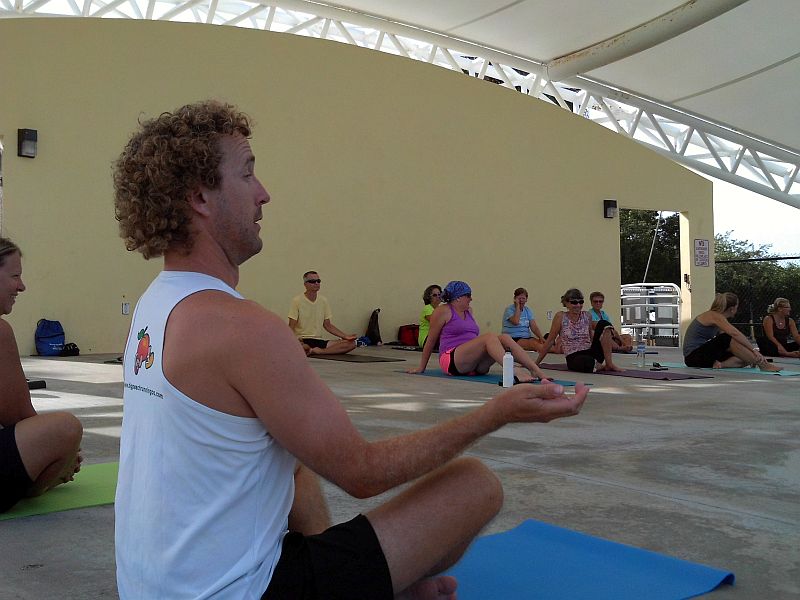 Of course, we've watched some awesome sunsets (that's the tight anchorage that we "rookied out" on in the first pic):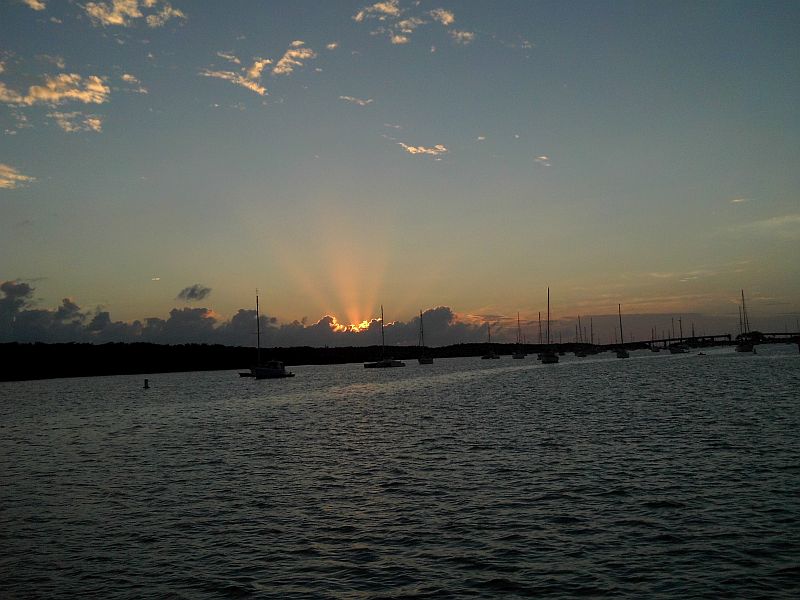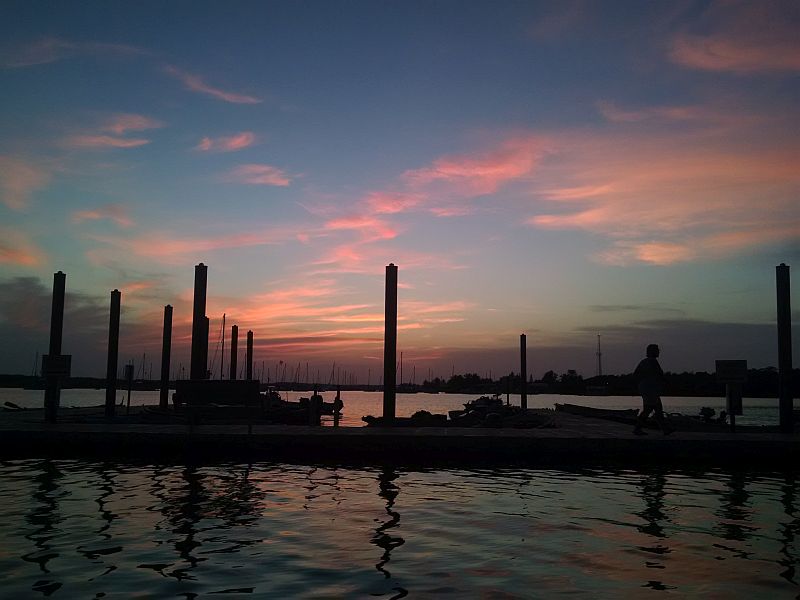 And moon rises: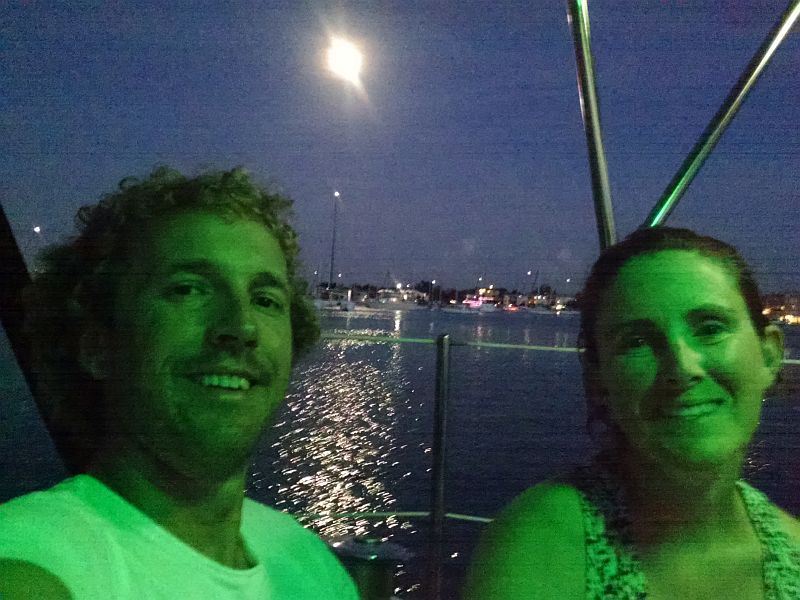 We've even walked around and looked at Christmas lights in the area. Definitely not even a chance of having a cold Christmas down here with every day having a high of about 85 and a low of about 75.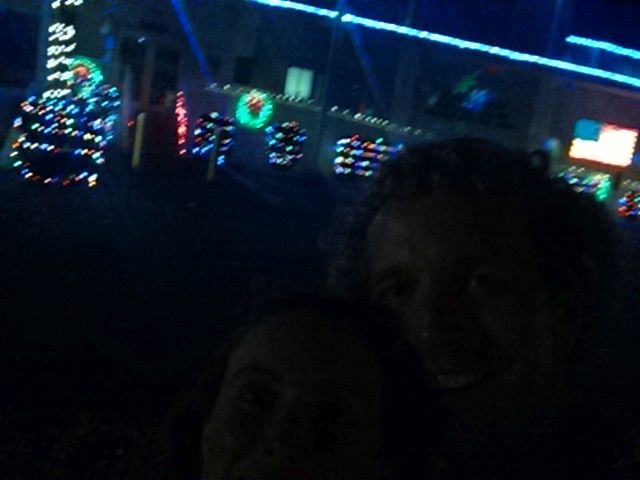 We won't be one of those that never leaves Boot Key Harbor, but we are enjoying our time here while we stay. In fact, in my head, I hadn't envisioned staying in a mooring field this long by now on our cruise. The cool thing is getting to invent this life as we go! We have a Christmas themed dinghy flotilla tonight that we bring an appetizer to, yoga and bocce ball tomorrow, and we are going to sail out to the reef for snorkeling on the next fair weather day (the wind blows hard a lot down here!). Plenty of activity for some cool pics to follow. Stay tuned!