Our next 30 mile jump down through the Everglades after Indian Key Pass was to Little Shark River. We left early in the morning and had our best day of sailing on the trip so far. We raised the sails and shut off the diesel just after exiting Indian Key Pass and only dropped the sails and turned the diesel back on about a quarter mile from the entrance to the Little Shark River. We made great time on a broad reach (down wind) and had steady winds all day. Little Shark River is about as far away from everything as you can get in this part of the country. The mangrove trees here are an astounding 60 feet plus tall. It's a beautiful place, but there is also an eerie quality to the surroundings. It's like no place I've ever been. Here we are coming into the entrance of the river.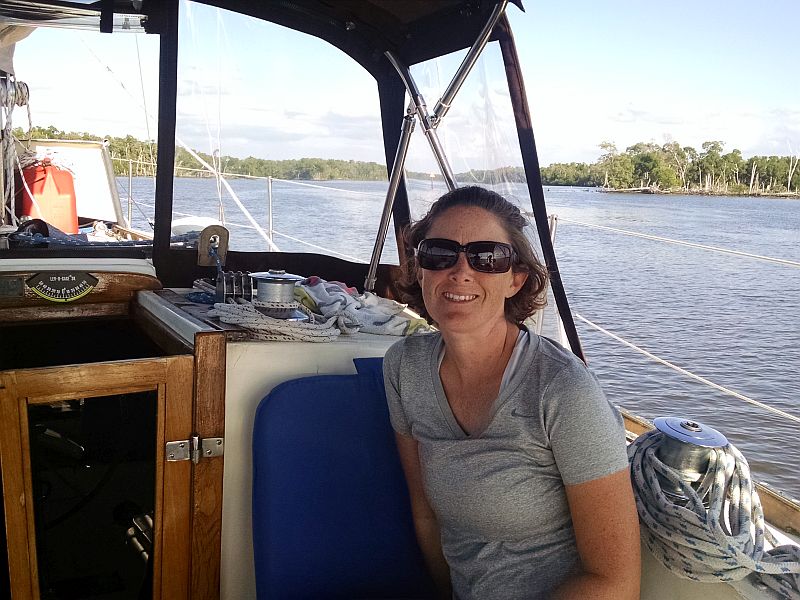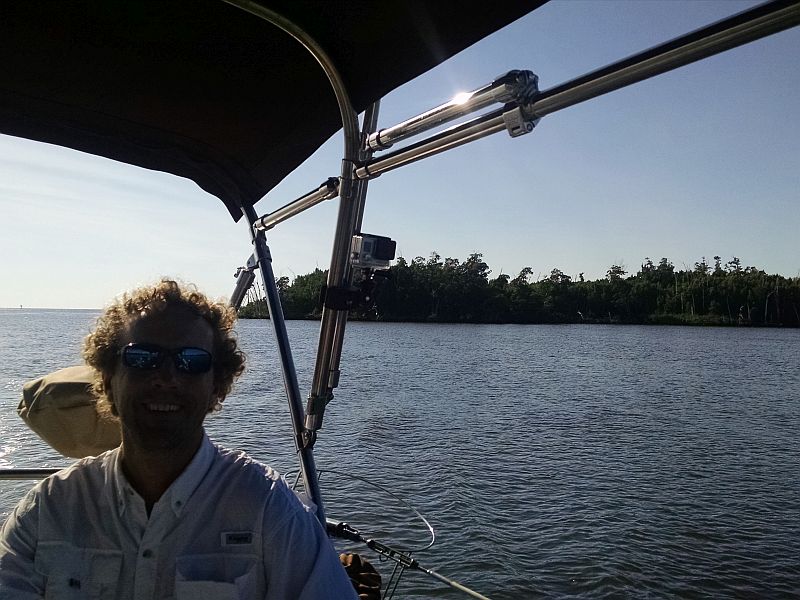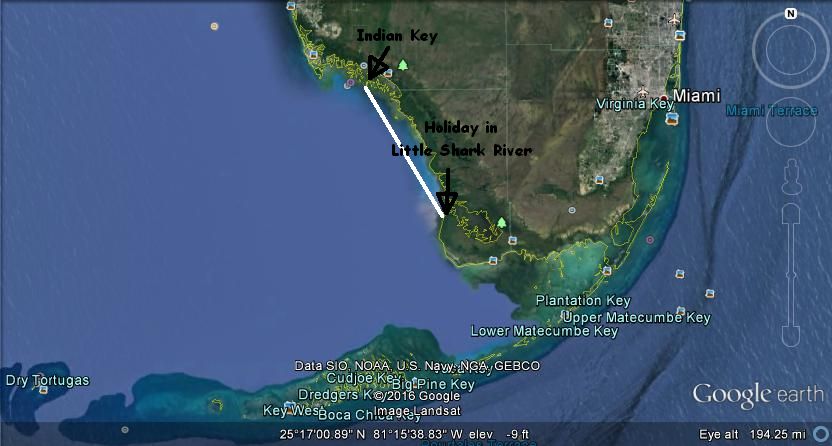 We saw wading birds everywhere of all types as we motored deeper into the Everglades. The Little Shark River is 10 feet plus deep and really wide for miles into the jungle making it possible for boats Holiday's size to anchor far up river. This is a rarity for the shallow swamps of the Everglades. We went about a mile or so up river and dropped the hook.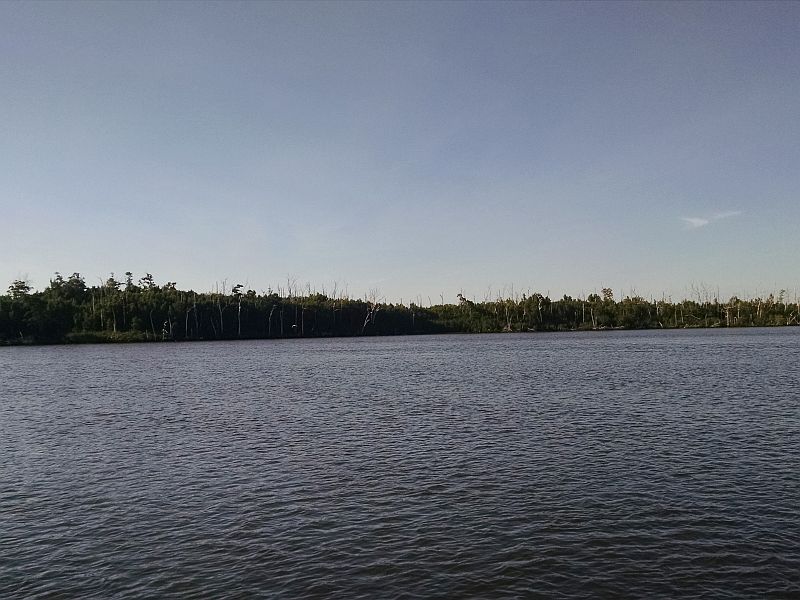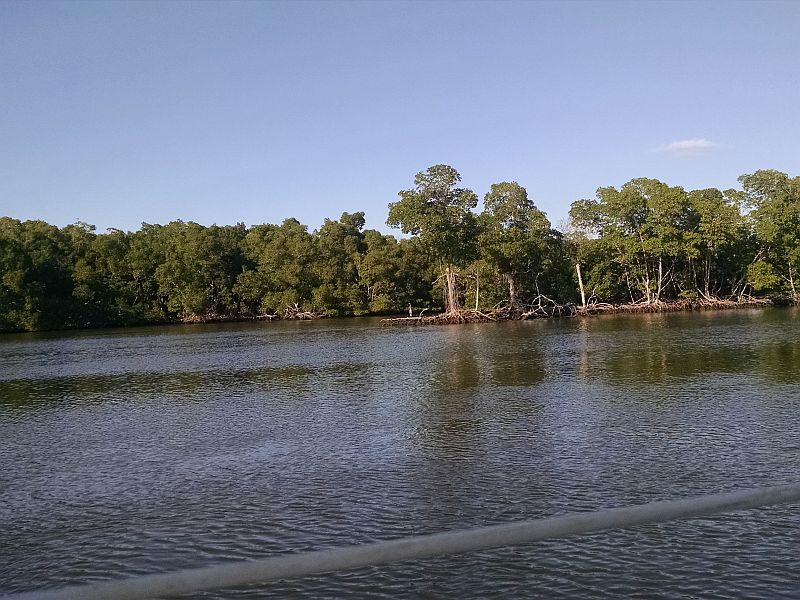 As soon as we got the anchor set, Lindy deployed our new mosquito net covering for the cockpit straight away. We already had screens for all the hatch openings, but with this new cockpit covering, we won't be chased down below each day at about 5 o'clock when the sun starts to drop and the blood suckers come out. It turned out great for our 4 nights here. Only a couple mosquitoes found their way in, and we could see hundreds upon hundreds of their buddies sitting on the net just a few feet from us each night, wishing they could make a meal of poor Lindy.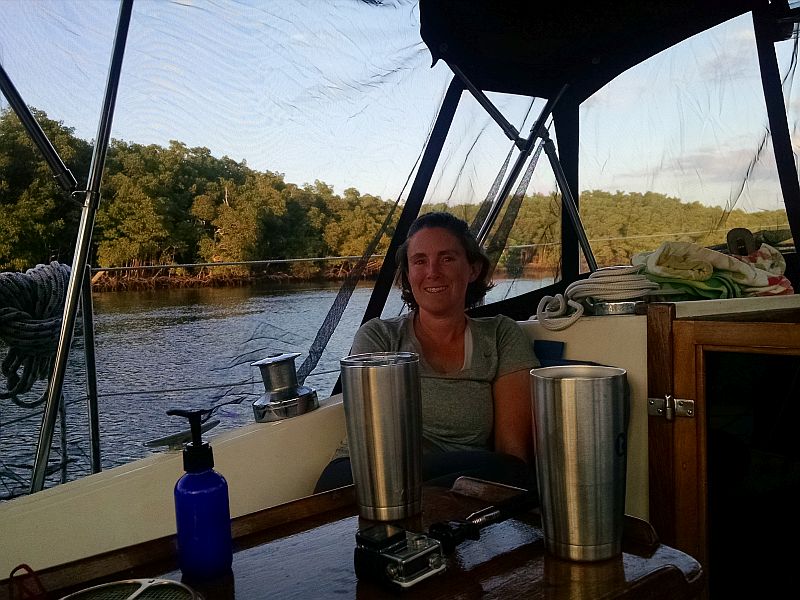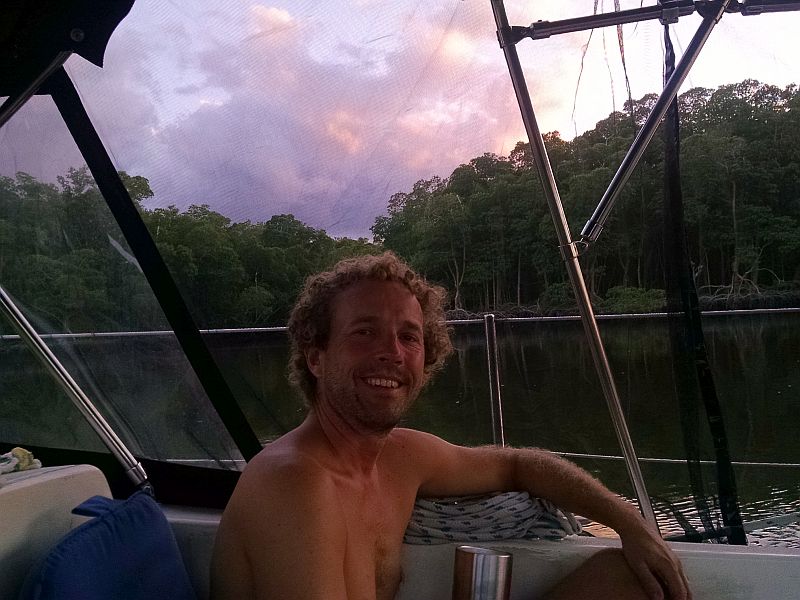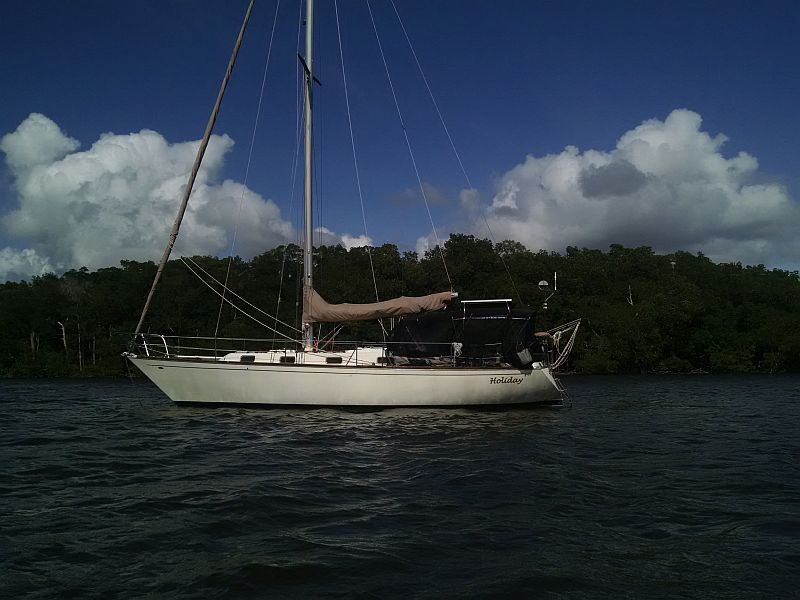 The Little Shark River is teeming with life. There is a strong tidal flow, and we would watch bunches of sea turtles float in and out with the tide. Manatees would swim by often as well as dolphins working the shore line for fish to eat. There was a group of tarpon that would roll along the shore in the same place each day at low tide. Another neat thing is what happens at sunrise and sunset. Each morning flocks of birds, ibis, cormorants, snowy egret, little blue herons, great blue herons, great egrets, and pelicans, fly out of the Everglades right by Holiday on their way to hunt in the Gulf. Then in the evening at sunset, they all come flying back in. It's so quiet, the cormorants especially, you can hear the beating of the birds wings. Amazing!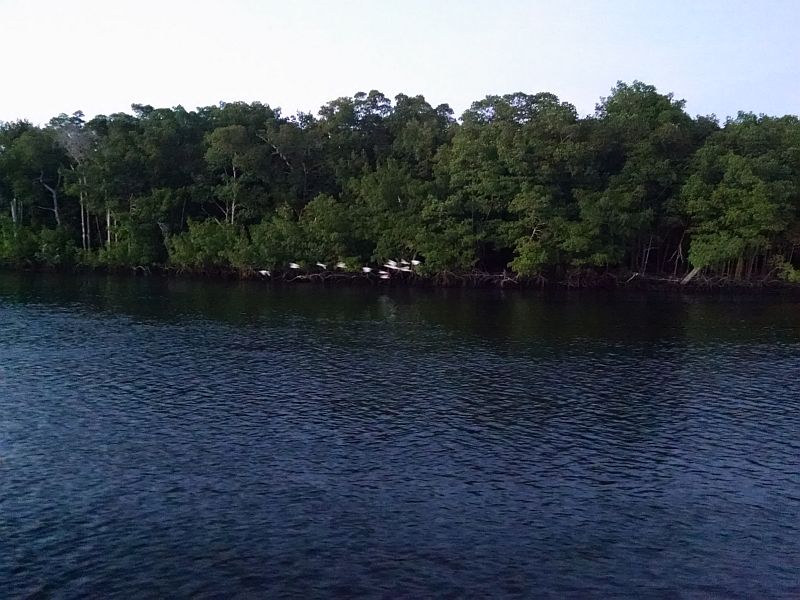 Besides relaxing and watching cool wild life float or fly by, we spent our time taking dinghy rides back into the Everglades. Honestly, it was just more of the same as what was right around Holiday. Still fun and way cool, but I was hoping to get into areas that weren't so wide open. I'm thinking the "river of grass" and kayak trail type areas were a little further than I was brave enough to venture away from Holiday in the little dinghy. We didn't even see any gators! 🙁 But, the further we would venture away from Holiday into the wilderness, the more I would think, "Hmmmm….maybe we should turn around." It's spooky back up in there!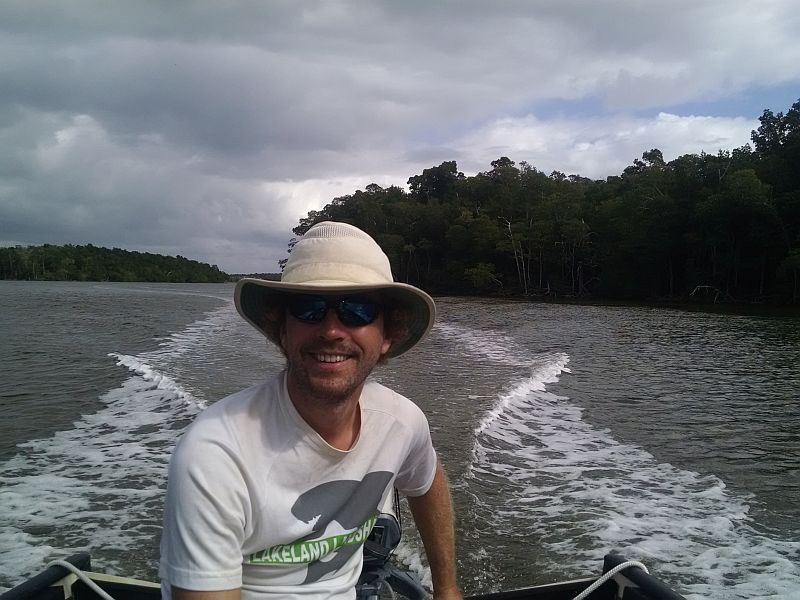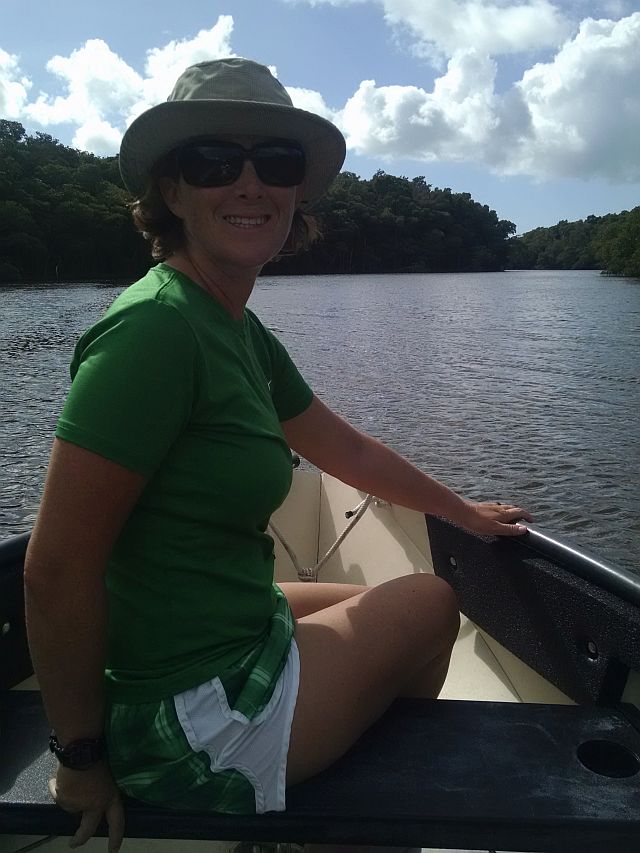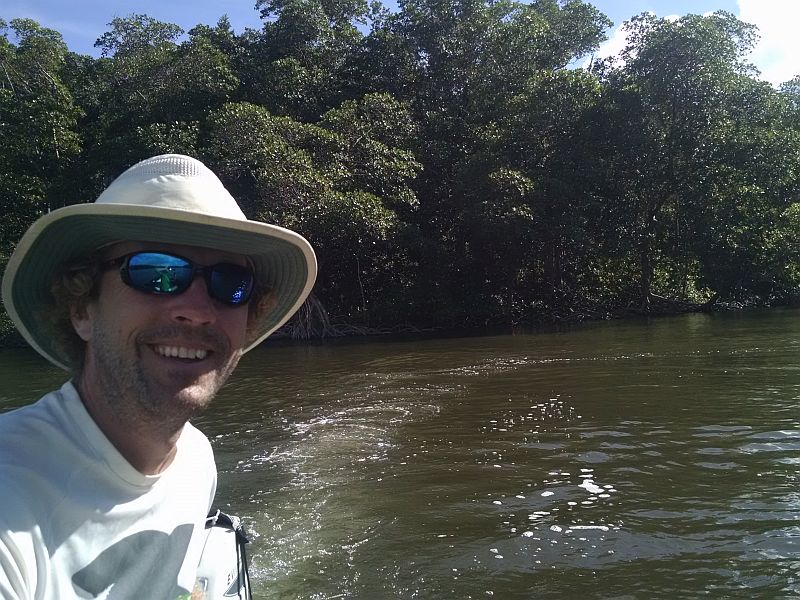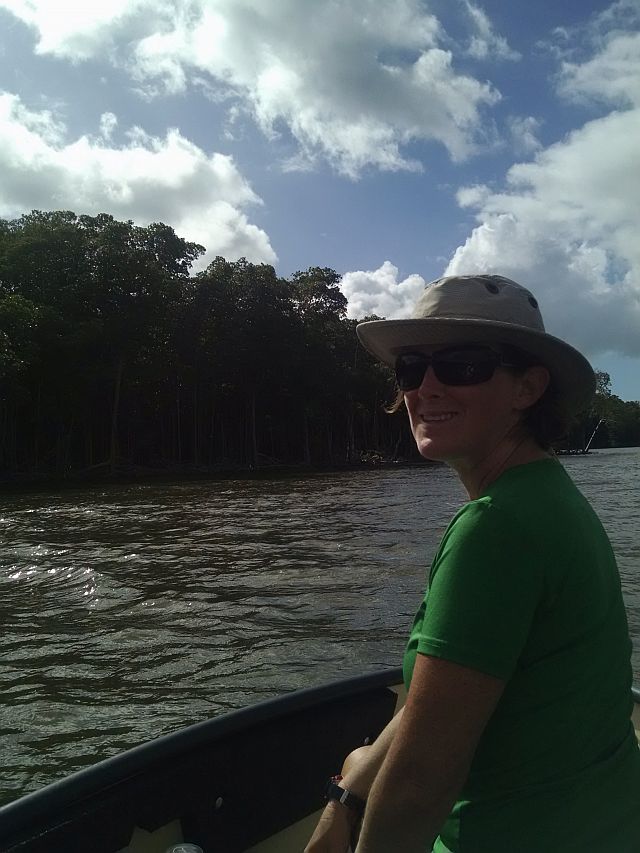 After 4 amazing days, the weather window was right to move on. Early in the morning, with the mosquitoes still out, Lindy dawned her mosquito warrior gear and headed up front to work the anchor windlass and direct me as I worked the helm and got us under way.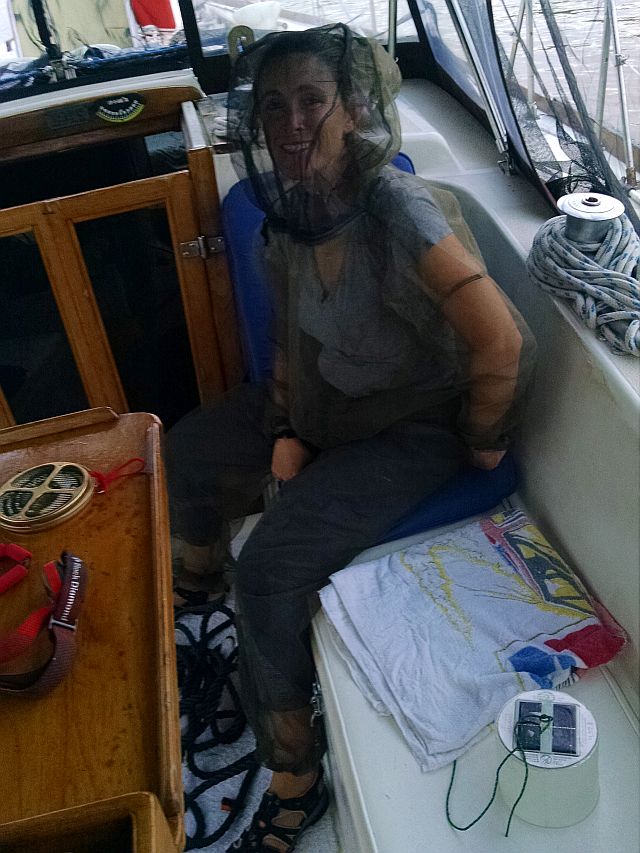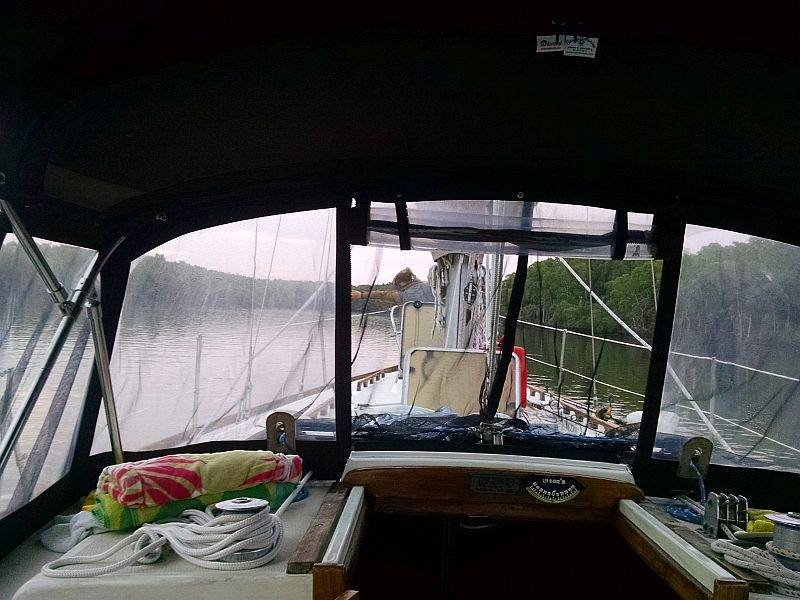 Oh…and one more thing…I finally caught a fish to eat!!! Working a DOA Shrimp lure off the side of Holiday, I caught a 15″ trout (Spotted Seatrout). Even though we had burger meat thawed and ready for dinner, we filleted him up right away, and Lindy sauteed him. Talk about fresh and delicious! And, we still ate burgers later!