After a surplus of being off the grid at Pelican Bay, we were ready to see a few more people, restaurants, stores, etc. Not to mention our vast fresh food offerings that we started with had dwindled to one potato, one tomato, an onion, and a lime. We decided to anchor just off St James City for a couple of days on our way to a longer stay at Ft Myers Beach where we planned to totally re provision. We had a wonderful sail down Pine Island Sound with steady winds of 10-15 mph passing a lot of beautiful places to our west (North Captiva, Captiva, and Sanibel) and Pine Island to our east. Definitely a sparsely developed area as far as the coast of Florida goes. The sail was about 4 hours and soon we had dropped and set our anchor just out of the ICW off Pine Island's most southern spot, St James City. Low on water, we loaded up the dinghy for a ride up the canal and into the area of town we had heard had marinas and restaurants. The canal in had a bunch of funky houses with lots of neat boats, and we also saw cars driving down roads for the first time in over 2 weeks, which was weird.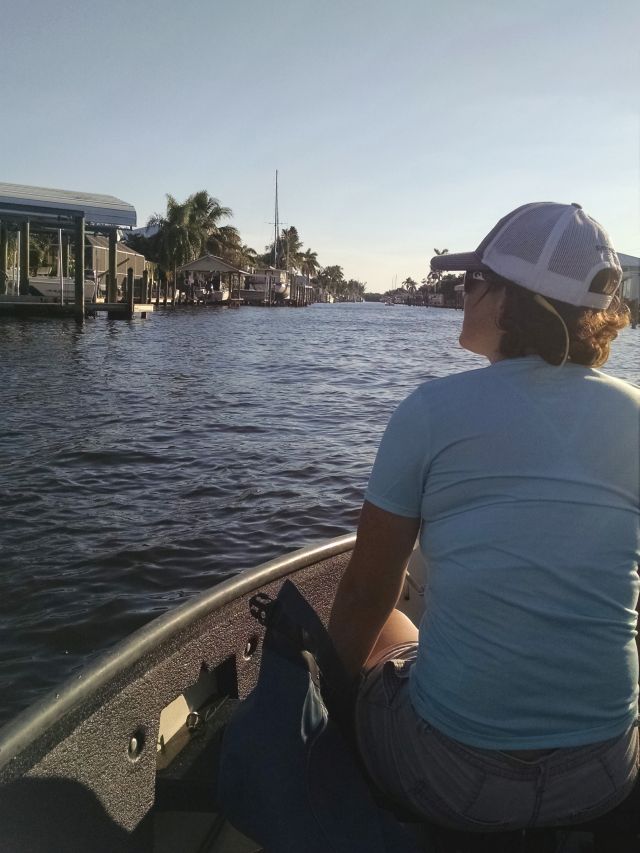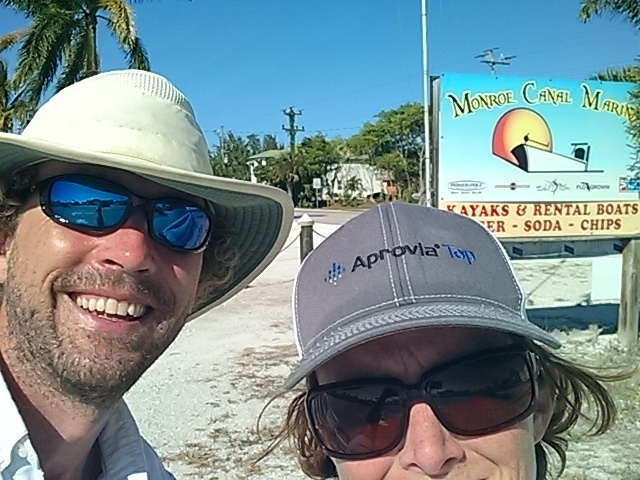 We pulled into the fuel dock at Monroe Canal Marina and filled up all our gas and water tanks that we had brought. They also told us there was a small general store about a quarter mile up the road so we took a walk and bought as much essentials as we felt like carrying a quarter mile back to the dinghy.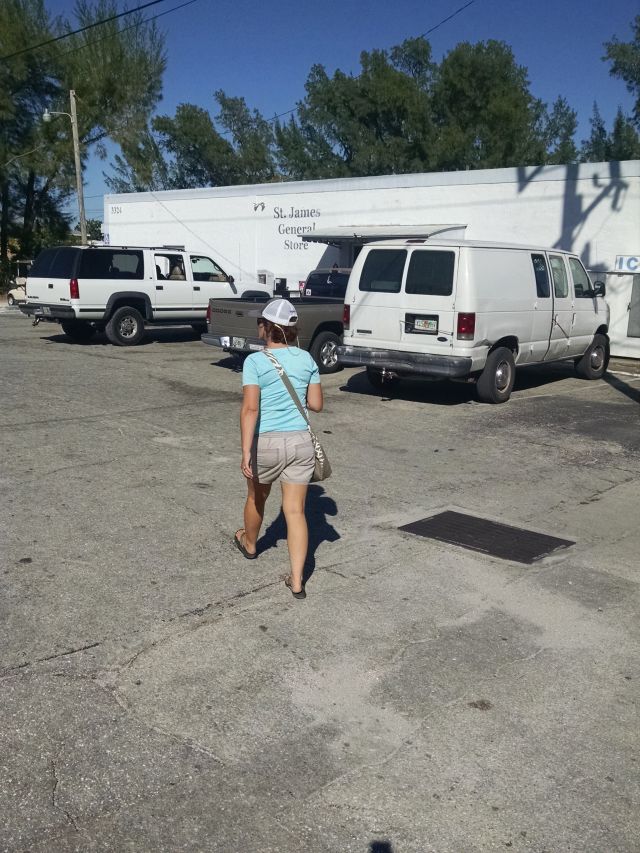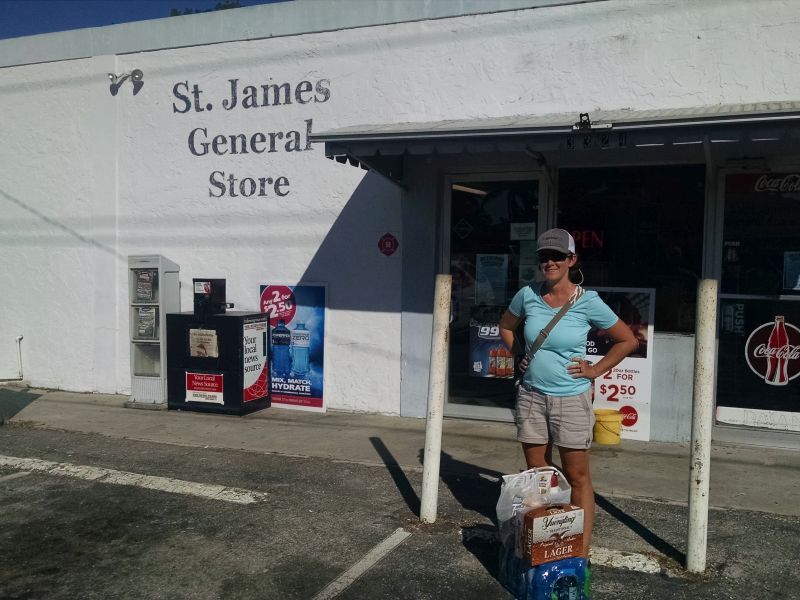 With a little extra time before it got dark, we spent our Halloween afternoon hanging out at the restaurant next to the marina.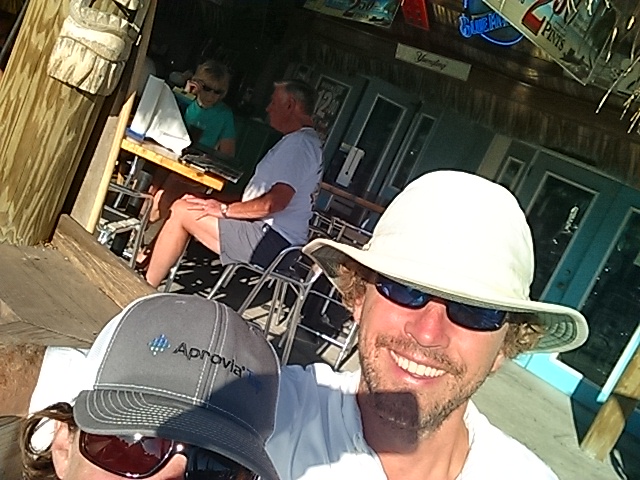 We chatted with a few locals that were super nice, and as has already happened often on our short trip, they were offering a couple of complete strangers use of their car, shower, whatever, during our stay. We didn't take them up on it, but there is something about living close to the water that seems to make people happy and nice. Fun times! We headed back to Holiday feeling good about our foray back into civilization with the dinghy loaded down low in the water.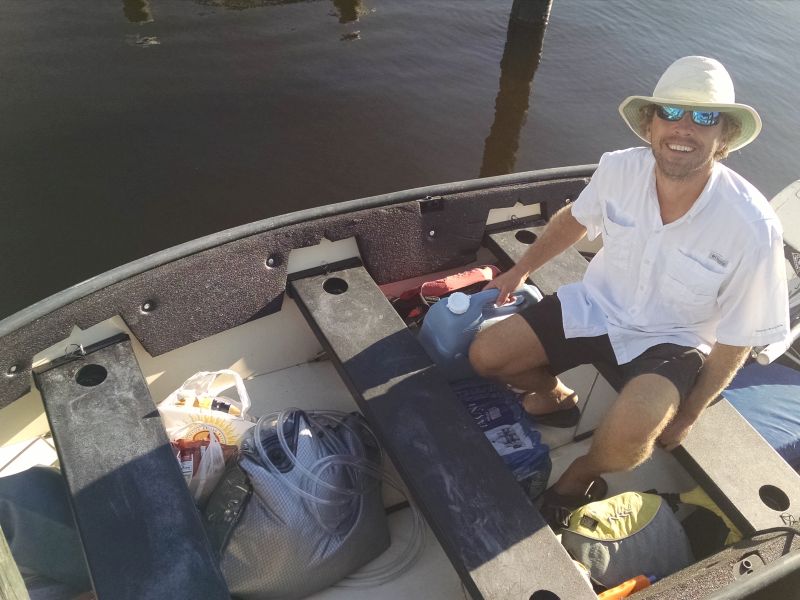 One new thing we tried was our 10 gallon solar shower. I bought it a while back but had never even unfolded it. This thing is huge! When I was unfolding it at the marina it kept growing and growing. No way I could put the whole 10 gallons in it and carry it around. So, filled it up as much as I dared and sort of shoved it into the dinghy. Check this thing out! It has two separate shower heads for goodness sake. Cruiser luxury right thur!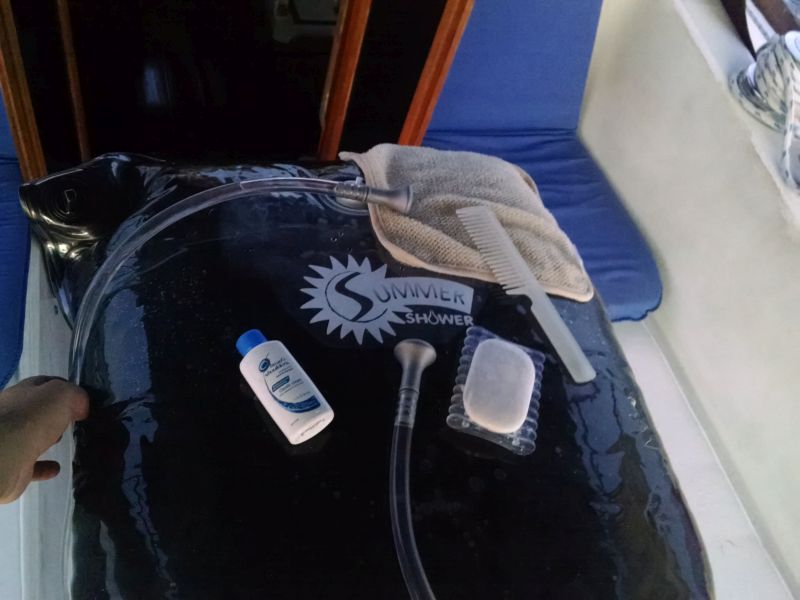 That evening we took nice showers in the cockpit. This solar shower is definitely going to be something we figure out how to fill up, store, and use in the future. Of course, we watched yet another beautiful sunset to complete our eventful Halloween day.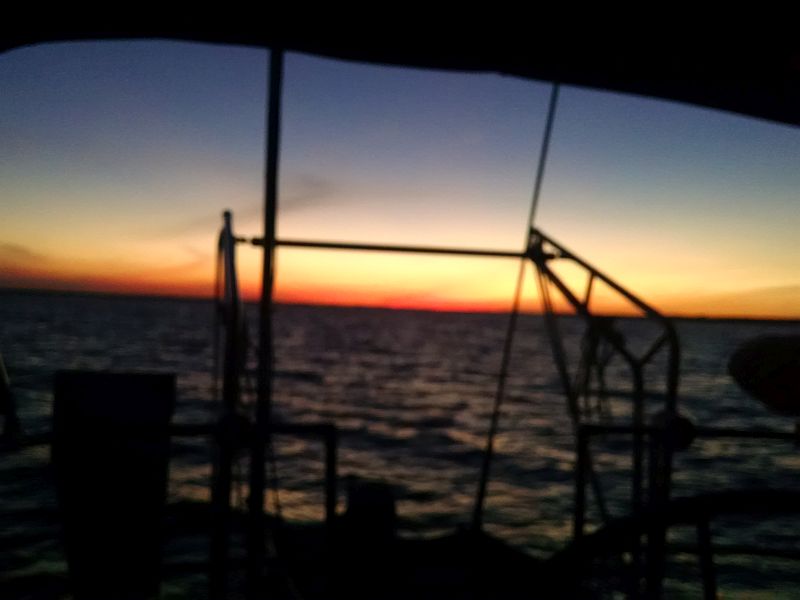 We decided to stay at the anchorage one more day and hit the island of Sanibel. Sanibel is a very natural place famed for it's bird watching and sea shell finding. It is also the setting of my favorite mystery novels about Doc Ford by Randy Wayne White. Well, it just so happens, that our closest point of entry into Sanibel was through Tarpon Bay which is the "real" equivalent of the fictional "Dinkin's Bay" that the characters in the Doc Ford novels live. How cool is that?!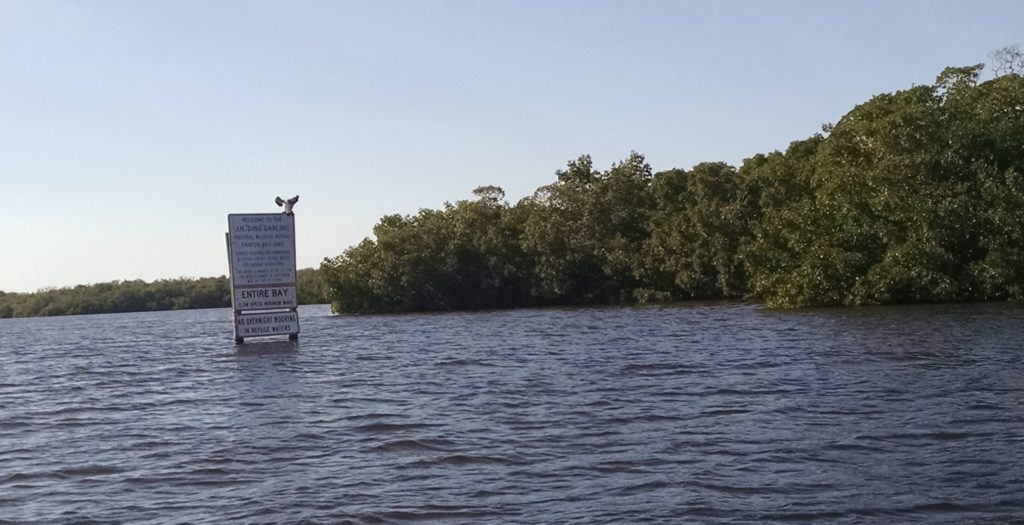 It's also a beautiful bay, part of the JN Ding Darling National Wildlife Refuge. There were birds everywhere, especially ospreys. There must have been 50 or so of them hunting and diving over and over, picking up fish after fish. We pulled the dinghy up at a little place that rents kayaks and bikes, and rented a couple of bikes to tour the island.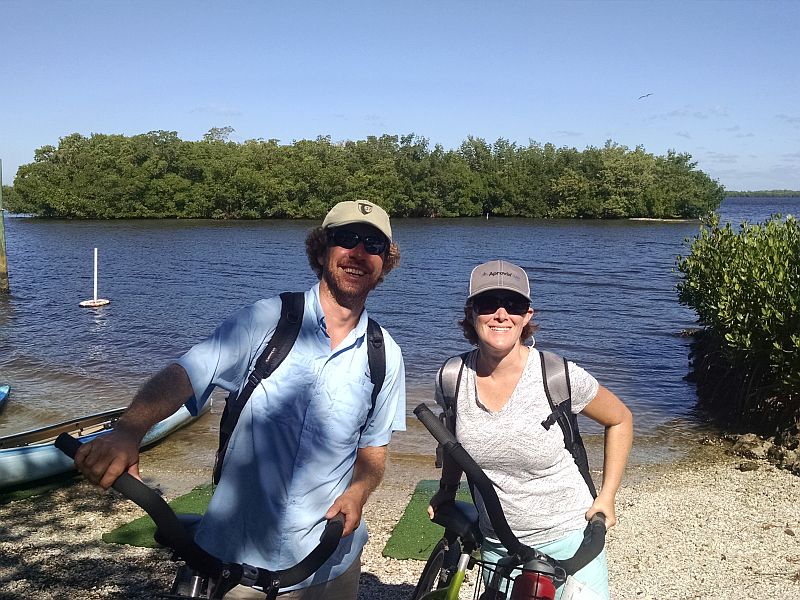 There are nice paved paths around all of Sanibel. We rode over 10 miles that day including the 4 mile path through Ding Darling.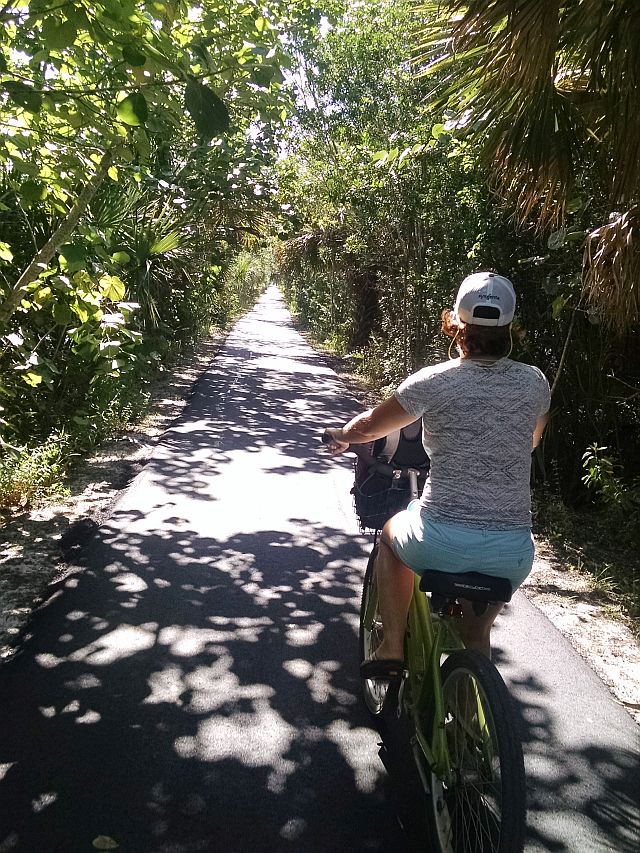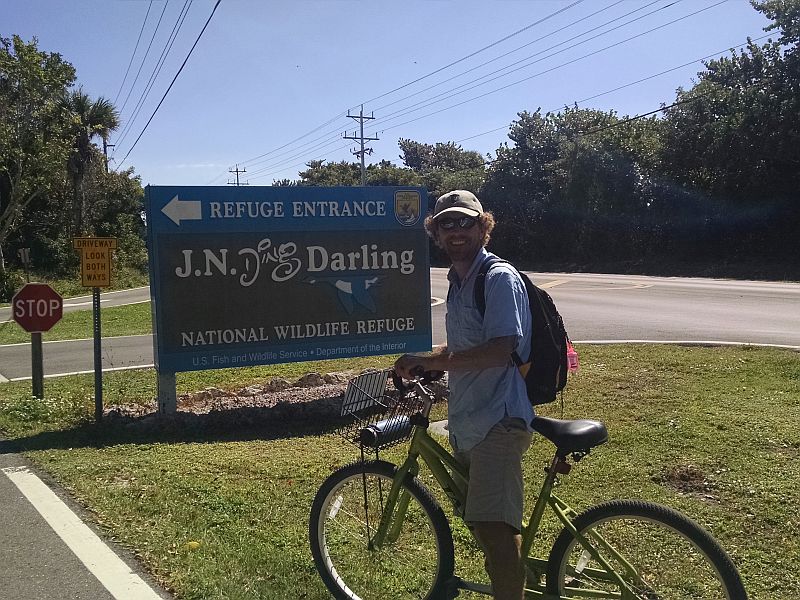 It's a large, beautiful refuge that a guy (Darling) saved from development way back in the early 1900s. He could already see what would happen way back then if something wasn't done. Makes you wish more people would have had the same idea. Before we turned in the bikes, we stopped at a restaurant and a few shops in town. Another great day, but it was time to get to a larger town with better access to groceries, stores, etc. So, that evening we prepared the boat for next move. Next stop, Ft Myers Beach!