If I had to sum up life here in Pelican Bay in one word it would be secludedbeauty :).



With the only boat dock closer than a 30 minute dinghy ride away being the boat dock at the state park of Cayo Costa (just a couple hundred yards away), there really isn't anything around here but the natural ecosystem of uninhabited mangrove barrier islands of the Gulf coast. And the boat docks that are 30 minutes or so away aren't exactly metropolises (google Boca Grande, Cabbage Key, Useppa, Pine Island). At Cayo Costa is the ranger station, a little store, bathrooms, and a tram to take the campers and their gear across the island to the tent and cabin spots. Campers (and Rangers) get here by boat ferry and have to bring everything with them for their stay. For us to tie up and check out the state park is $2 per person. It's worth 10 times that just to use their showers with unlimited water! I would highly recommend Cayo Costa as a family camping vacation. The sites and cabins are primitive, but it is on a beautiful mostly uninhabited island with one of the nicest beaches I've ever been to. As far as other people here in Pelican Bay, there are anywhere from around 3 to 13 boats here at any one time with plenty of room between boats for privacy. Most boats stay 1 or 2 nights and only a couple have stayed longer than 4 (as I type, we've been here 10!). Day trippers come out in power boats to the couple of bay side beaches/sand bars to hang out with the weekends obviously being a little busier, but I'm only talking 5-10 boats or so. Rarely are they blasting music or anything…not that I mind. You'll usually find me headed that way in the dinghy if they are for a change of pace if the music is good :). So, what do Lindy and I do every day here in Pelican Bay? A lot of relaxing with a high percentage of the time spent in the cockpit. In the mornings, you'll find us here reading our books and watching the comings and goings of boats or people in their dinghys from the anchored boats.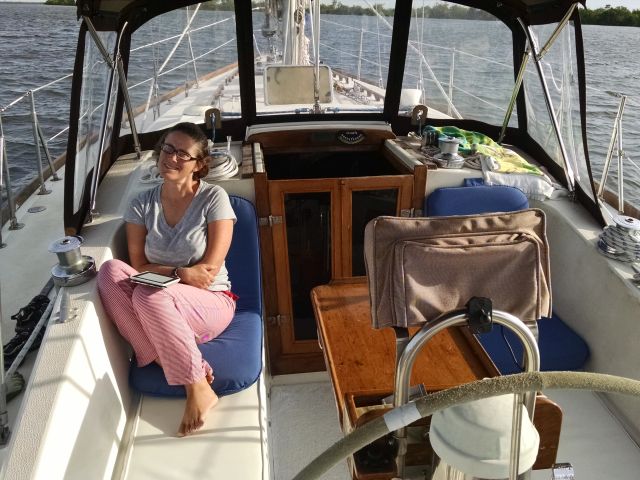 Every other day, we end up with a whole new set of "neighbors" to wave to. The sailboat cockpit is like the front porch of our house and the anchorage is like a small neighborhood. One of the first days we were here, a large group of small sailboats (mostly 22ish feet and less) came in and spent the night in the shallow lagoon over in the corner of the bay. The next morning they all left en masse, mostly single handers, and raised their sails before even leaving the bay. It was cool to see them heading out. The winds were strong, the boats were tiny (some canoes with small junk rigs), and I didn't see many reefs in sails. Real sailors for sure!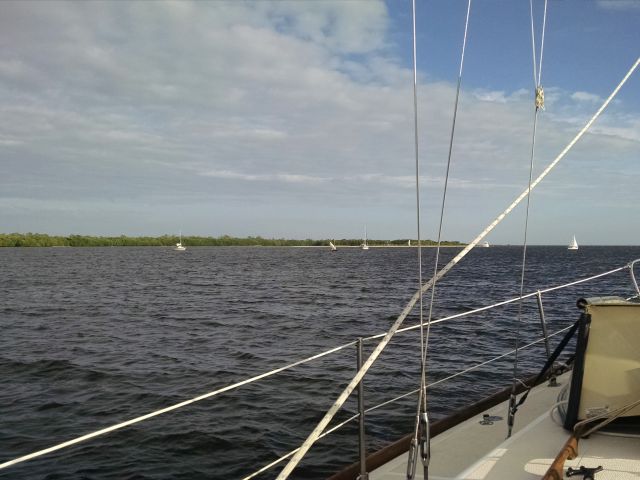 At some point we'll get hungry and whip something up in the galley.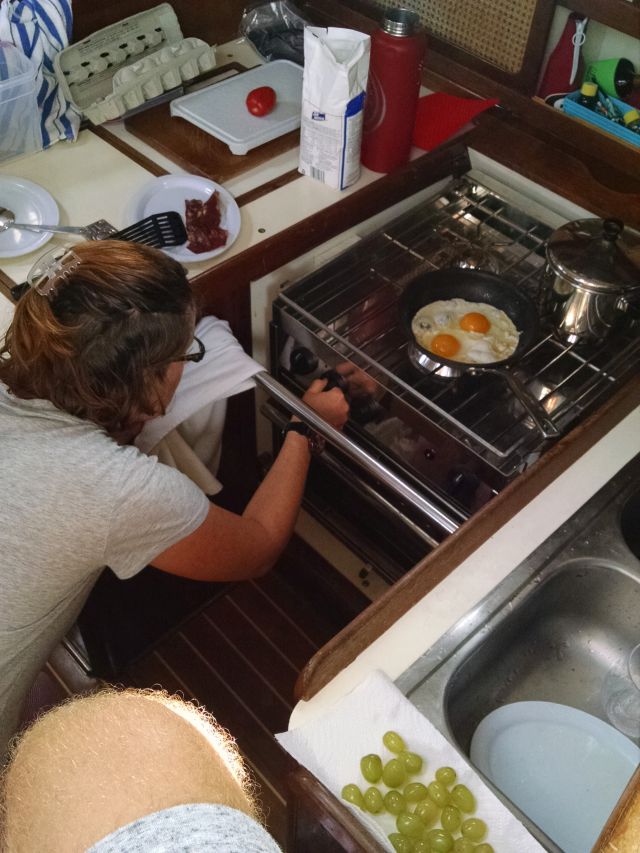 The weather is beautiful, so again we are back in the cockpit to eat it. We haven't eaten a meal inside one time so far. After we eat and clean the dishes (the kitchen is small, so you pretty much totally clean up after each meal), we'll usually sit around in the cockpit a while longer before we decide on some excursion for the day (a couple of days we haven't even left the boat!) To leave the boat means choosing either the dinghy or the kayak to take us somewhere.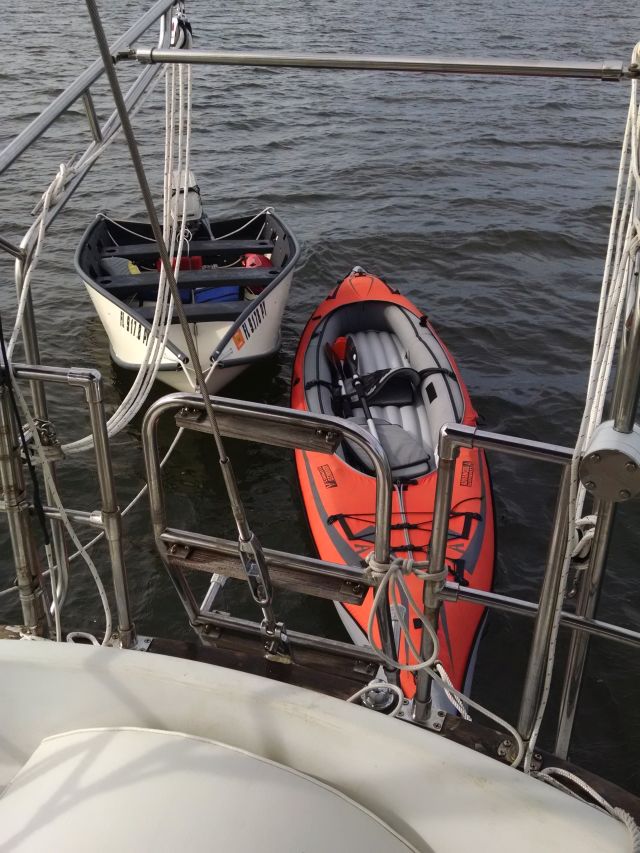 We've done a little of both. Kayak gets you a little wet as you paddle but is fun and exercise and cool. Dinghy uses fuel but is drier and gets you where you want to go quicker. A couple of times we've went exploring on Cayo Costa and over to the Gulf beach, a couple of times we went over to the beaches/sandbars that are only a few hundred yards away here in Pelican Bay, a couple of times we've just kayaked around and fished a little, and one day we took a long dinghy ride to Pineland to drop off trash, refill our gas tanks for the dinghy, and filled a jerry can with water to transfer to our boat tanks for drinking, washing, etc. We hit Cabbage Key on the way back from Pineland, but I'll save all that for another post.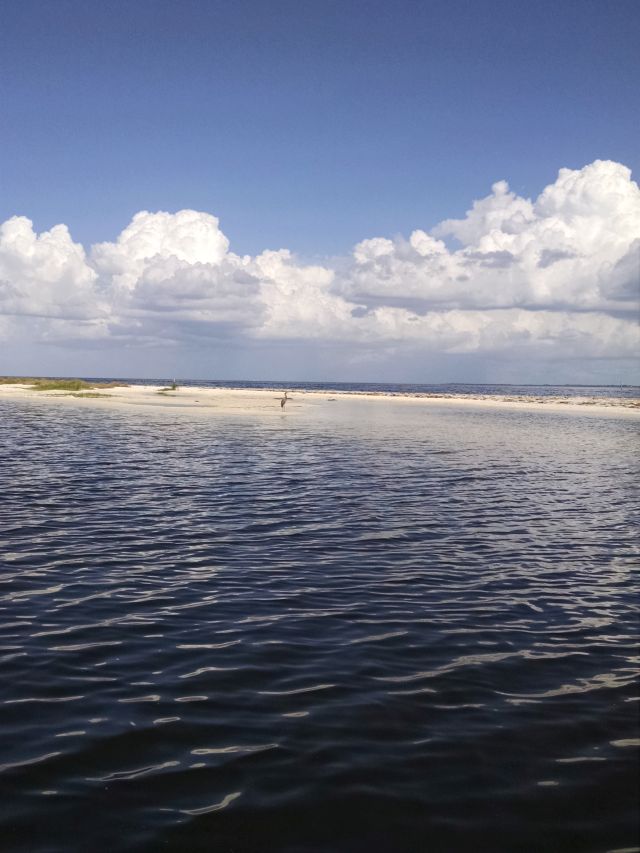 On one of our dinghy trips over to the beach here in Pelican Bay, we met some cruisers on one of the other boats in the anchorage. We hung out on the beach that afternoon, and Dan invited us to his boat that evening for dinner. Our first cruiser get together! The food was awesome, and the company even better. Dan's boat Oceanghost is a Cabo Rico 38. If you've seen the inside of Holiday and think all the wood and furnishings are beautiful, you'd lose your mind over Oceanghost. Truly a beautiful boat and a sturdy blue water cruiser for sure. Check Dan out here.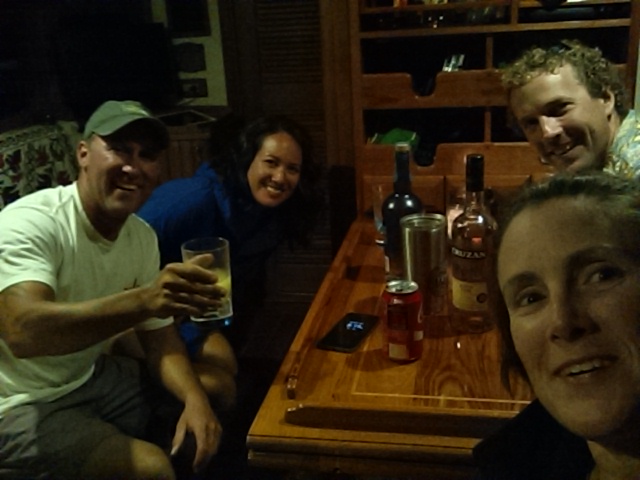 So, on a typical day after any of our small trips, we end up back at Holiday, clean up, cook some dinner, and then the best part: watch the sunset every night from our floating home before relaxing some more and heading to bed.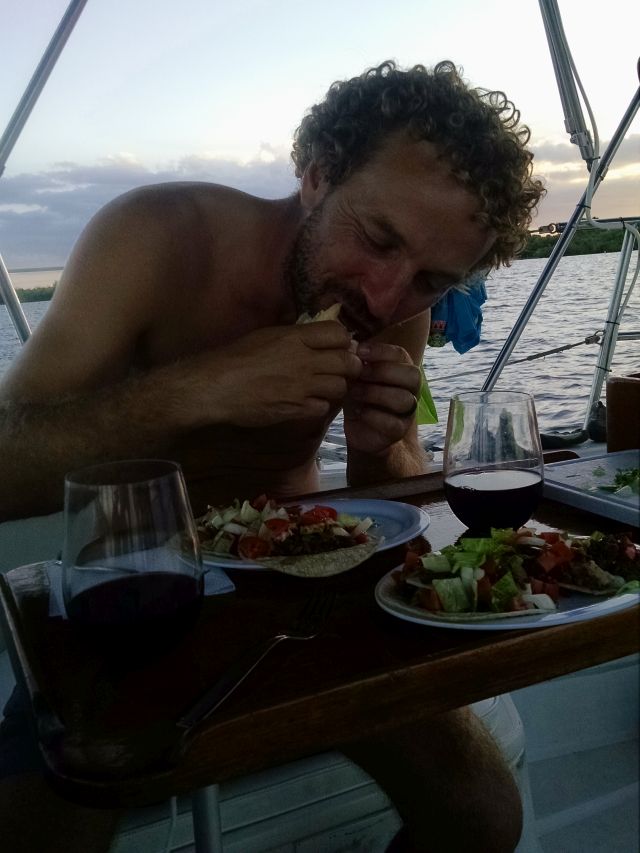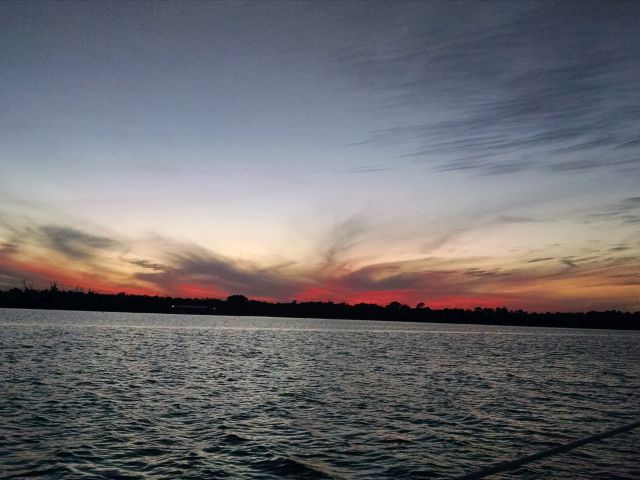 We love Pelican Bay. We'll probably stay here around another week. We also haven't picked out our next stop yet, but we know we'll need to go to a grocery store and fill up the water tanks before too long. Jen that was sailing on Oceanghost gave us some good ideas of places close by. I've gotten out the charts and guides a couple of times, but I usually put them down and decide to check on it later opting instead to live in the moment and enjoy where we are.