After the full cleaning of Holiday and while we watch Hurricane Matthew march up the east coast (Note to self: if up the east coast this time next year, don't come too far south before October 15th!), we began to load up with provisions. Our thinking is that we would like to have enough supplies on board to be able to cruise around for at least 2-3 weeks before needing to head to a town to restock. This will allow us to pick some out of the way anchorages to sort of "get away from it all" while we acclimate to our new life afloat. So, we raided our pantry at the condo and hit the grocery store to fill in the holes on all manner of packaged goods, dry goods, canned goods, cleaning supplies, etc. Basically, any non perishable foods we think we may want. We also went ahead and bought chicken, steak, ground beef, etc, seperated it out, and put it in the freezer in the condo to be transferred to the freezer on board right before we leave.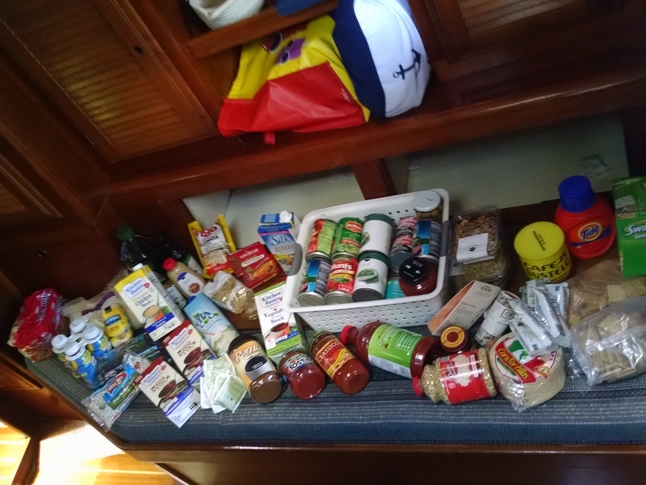 We also loaded up on the needed libations…


And also cookware…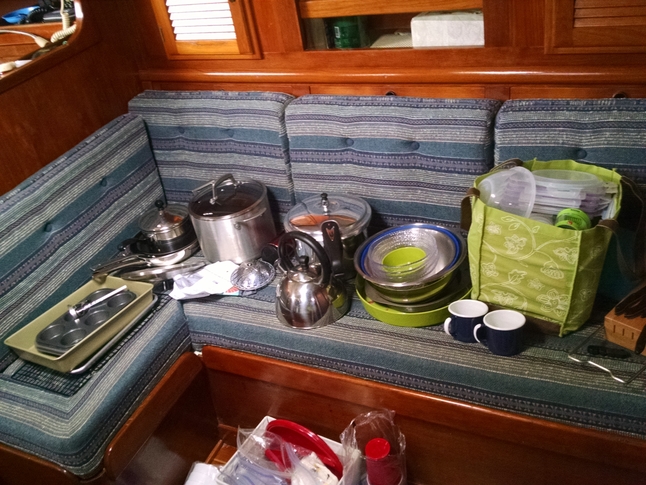 Once we got everything on board, Lindy loaded up the cabinets and organized everything. There is a little bit of room left here and there, but Holiday is packed pretty tight. Did we take too much? A lot of unnecessary things? Some canned goods that won't ever get touched? Only time will tell! When we get back from our trip to Georgia to get rid of the cars, all that is left is to take another trip to the store for perishables, load up the fridge and freezer, and also move our clothes aboard.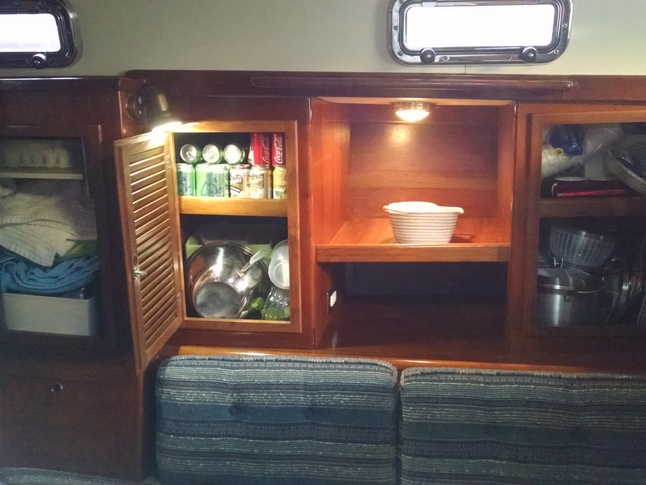 We did find one cool thing as we were unloading and reloading everything on the boat: the spinnaker sail. We had never pulled it out and checked it before so we though it would be cool to have a look. Turns out it looks in great shape. It's old, but it appears to have been totally restitched at some recent point. For those unfamiliar, this is the big light weight, parachute type sail that goes out the front of the boat when sailing down wind that you see in lots of sailing photos. Ours is an old school spinnaker that requires the use of our spinnaker pole (and usually a whole racing crew to manage!). Newer technology in sails has easier to manage sails that do the same thing and don't require the big pole. It's not necessary for us to sail so we may use it in the future or may not. We'll see. It does look cool though, and the thought of using it seems pretty intriguing.